Genesis G80
Many predicted that the seemingly unstoppable rise of the SUV would see the end of traditional saloon cars. And in some ways that prediction has proved to be correct. Both the Ford Mondeo and Vauxhall Insignia, once the staple diet of family and rep alike have bitten the dust, replaced by something that does the same job, just a few more inches from the floor. And yet, conversely, the likes of the BMW 3 & 5 Series & Mercedes' C, E & S Classes march on regardless. What this points towards is there's still a market for more premium saloon cars, then, and that's where this comes in; the Genesis G80.
Because that's the whole aim of the Genesis brand. It's no secret that it's the premium arm of Hyundai, a brand which, along with sister brand, Kia doesn't seem to be able to do any wrong at the moment. Where Genesis has spawned from is largely irrelevant, just ask Lexus, but it's a mammoth task to instantly compete with the big, mainly German boys.
Heady competition
Size-wise, the Genesis G80 runs alongside the BMW 5 Series, Merc E-Class, Audi A7 and Volvo S90 but it's been styled with more of a four-door coupe vibe. Subtlety isn't exactly what the Genesis designers have in mind, ever, and this G80 in Sport trim, with its oversized grille and serious, frowny headlights attracts all manner of looks and second glances. I lost count of the amount if times I heard 'look at that new Bentley' during my time with the G80.
Sub £42k
Unlike Crewe's finest, however, the G80 starts at a modest £41,650, almost exactly the same as a base model 5 Series and undercutting the cheapest E-Class by nearly £9k. Speccing your Genesis G80 is a fair bit simpler than the Merc or the Bimmer, though. Where the Germans offer a myriad of choices in the engine, gearbox and drive-type, the Genesis is, shall we say, a touch more limited. There's currently one engine and gearbox available and it's a 2.5 litre four-cylinder petrol, good for 300 bhp & 422Nm and it's mated to an 8-speed auto. The only decision you have to make regarding how the G80 drives is whether you go for the AWD option that'll set you back either £1,900 or £2k, depending on trim level.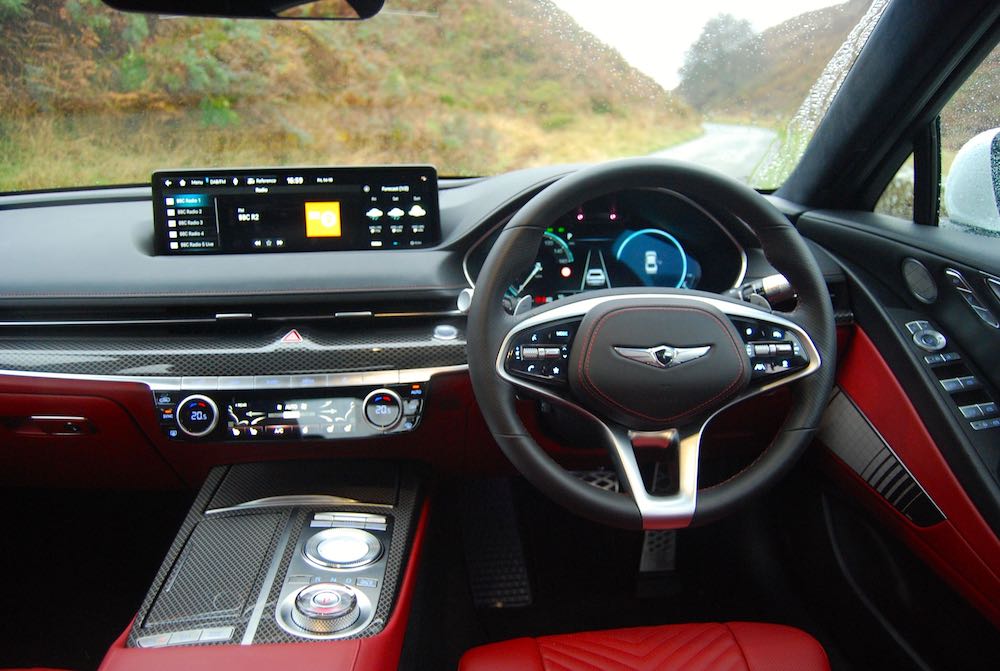 4-cylinder petrol only
So, there's no 6 or 8-cylinder option, no hybrid and, perhaps understandably, no diesel. If you particularly want or need any of these you'll have to look elsewhere for now, but if you're ok with a 4-pot, you'll find a lot worse out there than this Genesis unit. At low revs you'll be hard pressed to notice it's not a 6-cylinder thanks to all of that torque and a deep, smooth tone.
Inside the G80 feels a lot more special than sub £50k really should. Yes, you'll spot a few Hyundai bits if you look closely and happen to have just been sat in a Hyundai but they're few and far between. Leather with contrasting stitching highlights comes as standard and the rear seats are limo-spec levels of comfort and space.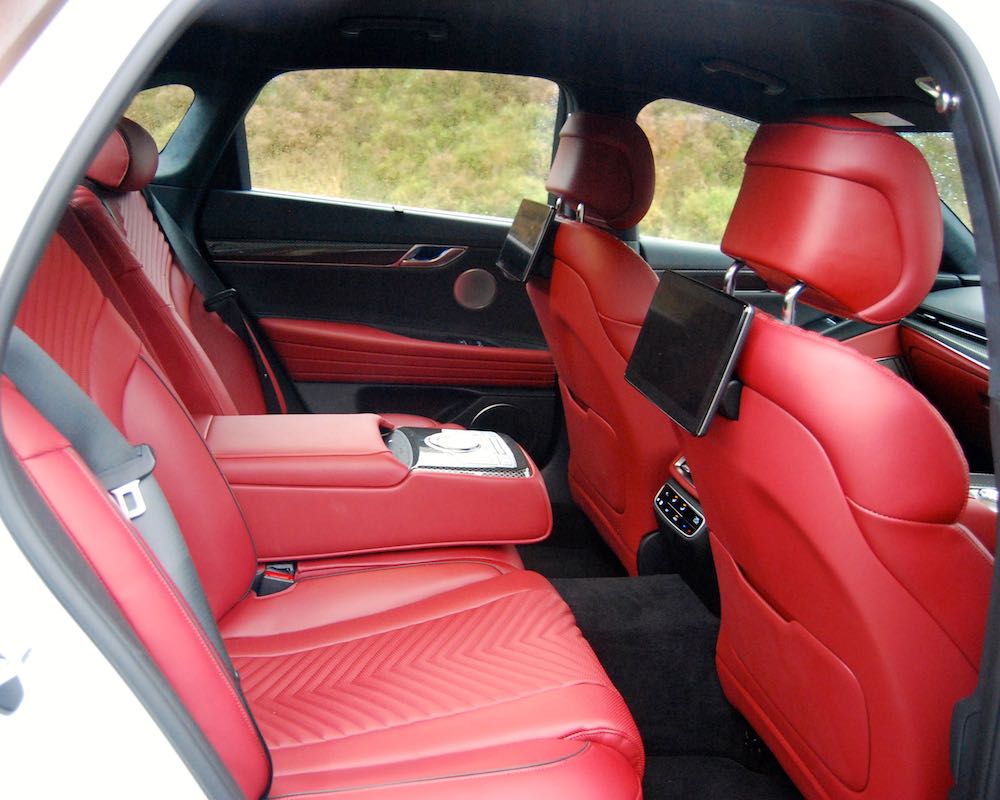 Excellent tech
Some of the technology inside the G80 is arguably too good for a sub £50k car. The driver's display is 3D – clever but nothing new I guess just as bird-eye-view parking cameras aren't. This one takes things to another level, though, displaying an image of your car from 3/4 view like someone's filming from behind. What also impresses is when you reach down to adjust the electric seat and the central display mirrors which switch your fingers are near, even if they're only hovering above. Now, that's a clever bit of kit.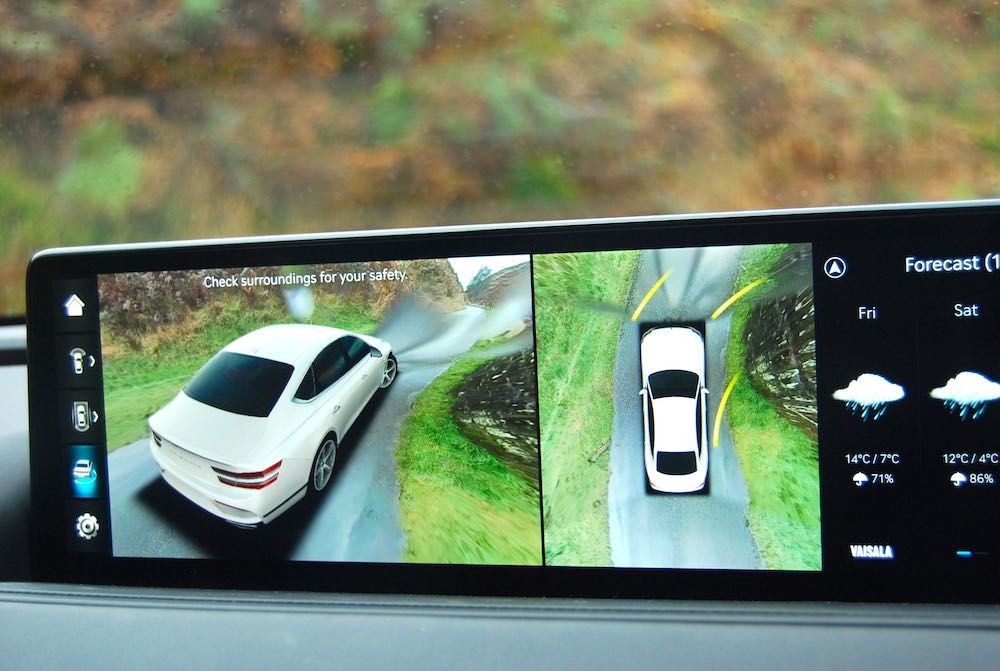 Some aspects of the interior aren't perfect; the rotary dial to select a gear is too close to the near identical infotainment dial so it's easy to inadvertently put the volume to 10 when you actually want to parallel park. If you have a really good prod and pull you may reasonably argue that the G80's interior isn't quite up to Audi and Mercedes standards in terms of materials used, but you'd be very hard pressed to notice. Overall, the G80 is a wonderful place to sit and let the hours pass by and we can't think of a more comfortable, luxurious interior for anywhere near the same money.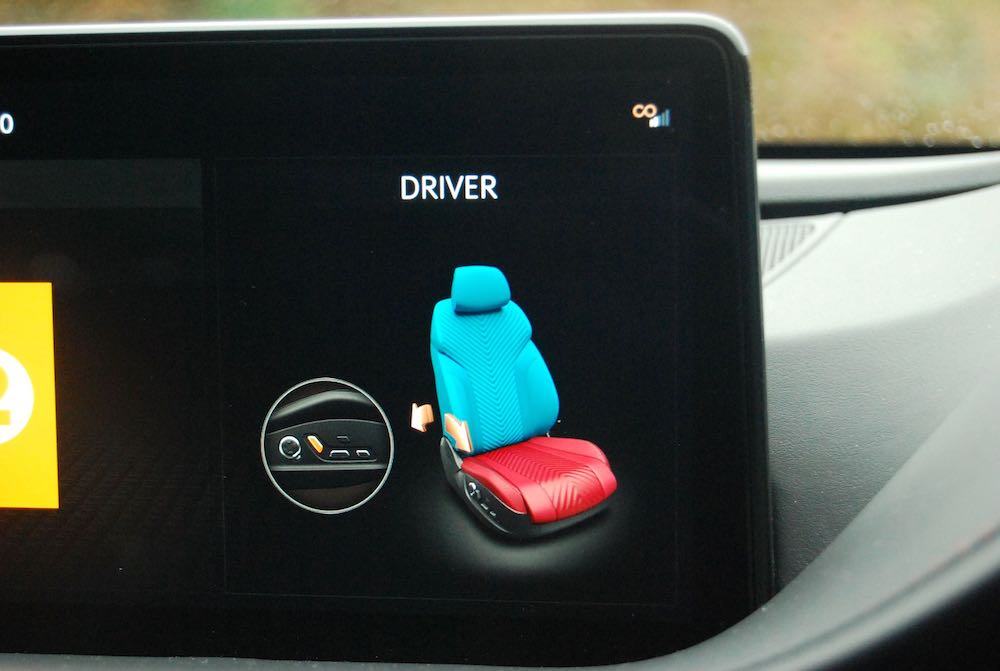 How does it drive?
And it's comfort that Genesis has primarily gone for with the G80's driving experience. That four cylinder is good, very good in fact but it's not made to compete with the monster units found in the competition's super-saloons (M5, E63 etc). The gearbox is excellent and does its job admirably but high revs in a four-cylinder just don't sound or feel as satisfying as they do from a 6 or 8-pot.
The same could be said of the G80's handling. Our test car was RWD and it inspired confidence, to a point. This is a big car and when that confidence starts to wain it can all unravel very quickly. It makes sense that the AWD version would be more assured but if it's all-out handling you're after, the G80 and its wafty nature probably isn't for you.
Should I buy a Genesis G80?
With no hybrid, no diesel, not even any showrooms, Genesis is going about things a bit differently to the norm. The G80 is a car that punches way above its weight in almost every department and it's hard to fault for the money.
By Ben Harrington
Genesis G80 Sport Specifications:
Engine – 2.5-l, 4-cylinder petrol, Transmission – 8 Speed auto, Layout – Front engine, RWD, Power – 300bhp, Emissions – 189g/km CO2, Economy – 33.9 mpg, Maximum Speed – 155mph, Acceleration – 6.0-s 0-62 mph, Price – £49,450 OTR – £61,810 as tested
The 2022 Genesis G80 is available now. For full details go to: www.genesis.com