Kia Ceed Sportswagon
Kia and its sister company, Hyundai are early pacesetters in the electric car stampede and they've both got a history of desirable yet affordable SUVs; the fashionable cars before electric power was the in thing. The fact is, though, there's still huge demand for practicality and traditional internal combustion engines, and that's where cars like Kia's Ceed Sportswagon come in.
Come on, it's an estate
Manufacturers have been trying to step away from the word estate for years now, opting for a moniker that's altogether more sexy. Let's be honest, this is an estate car – it only becomes remotely sporty if you stick a set of golf clubs in the boot. The Proceed covers the more glamorous side of the range so Kia could have gone without the Sportswagon tag in all honesty.
Anyway, name aside, what exactly do you get for your money? Well, being a Kia you perhaps unsurprisingly get quite a lot. At time of writing there's only two trim levels available – 2 & 3, so calling it a range is pushing things a bit. The 2 spec costs £21,165 and comes with a 1.0l, 3-cylinder petrol engine with 118bhp, the 3 spec gets a 1.5l, 4-cylinder petrol with 158bhp and will cost you £24,855. Both are 6-speed manuals so there's not much to ponder when speccing your Ceed Sportswagon really. There's no diesel, not even a hybrid currently but expect that to change very soon.
Plenty of space
If you're considering a Ceed Sportswagon over a regular Ceed, you're more than likely planning on carrying some stuff around. Well, with the rear seats in place you get 625 litres to fill with that stuff, put them down and it's 1,694 litres; that's more than both the Focus wagon and Golf estate on both counts. The boot floor is flat for easy loading and there's very little intrusion from the wheel arches so it gets a tick in the box usefulness there.
Looks-wise the Ceed range in general has been updated and is generally more aggressive in the face area. It's still got a tiger's nose grille, so it's definitely a Kia, but there's now some arrowheads lower down the front bumper, in-keeping with the direction the new Sportage has taken.
8" Touchscreen
Inside is acceptable without any sort of real wow factor. The plastics used have a certain squidgy quality higher up but get a bit crackly lower down. This base model 2 spec comes with a decent 8" touchscreen infotainment system with CarPlay/Android Auto, a reversing camera and many safety features like lane keep assist. There's no climate control, though and only one USB port which is the minimum requirement these days really.
The front seats are wide and comfortable but lack any real lumbar support and the steering wheel adjusts for rake and reach to get the optimum driving position. There's loads of headroom in the rear seats but not quite as much legroom for taller passengers. They may not look overly dynamic but if you go for the 2 spec Ceed Sportswagon over the 3, you get 16" wheels and that extra rubber makes for a very compliant ride. This is definitely a car with driver and passenger comfort in mind.
Economical, not exciting
With a combined MPG of over 53, that 1.0 litre, 3-cylinder engine is very welcome whilst the price of petrol climbs ever higher. Performance isn't really what it's all about, though, and taking 11.4 seconds to get from 0-60mph is about as exciting as it sounds. 172Nm torque makes for quite a bit of changing gear in low revs, and the Ceed Sportswagon is manual only. The more expensive 3 spec with its 1.5 litre engine knocks a couple of seconds off the 0-60mph time, but you'll obviously pay more and lose some precious mpg too.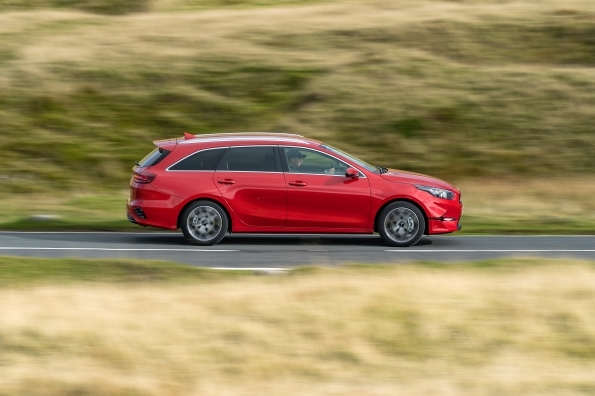 Should I buy a Ceed Sportswagon?
The Ceed Sportswagon is highly competent at carting things around; the primary role of an estate car. Go for this base model 2 spec and you'll save thousands vs the competition from VW & Skoda but you'll pay for it in terms of driver satisfaction and kerb appeal.
By Ben Harrington
2022 Kia Ceed Sportswagon 2 Specifications:
Engine – 1.0-l three-cylinder petrol, Transmission – 6-speed manual, Layout – Front engine, FWD, Power – 118bhp, Emissions – 121g/km CO2, Economy – 53.4 mpg combined, Maximum Speed – 118mph, Acceleration – 11.4-s 0-62 mph, Price – £21,165 OTR
The Kia Ceed Sportswagon is available now, priced from £21,165. For full details go to: www.kia.com