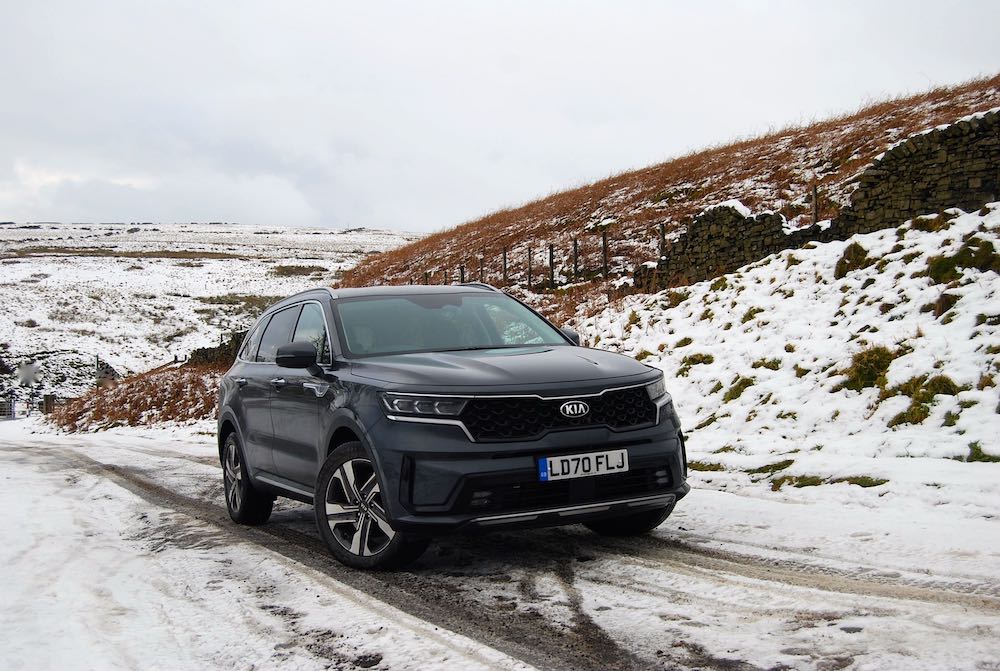 All-New Sorento
This is the all-new Kia Sorento, the Korean brand's largest SUV and, with prices starting at £38,845 OTR, one of their priciest vehicles, too. All grades of the new Sorento come with seven seats, even the plug-in hybrid. If you do want the PHEV, though, that'll set you back a minimum of £44,995. Just to put that pricing into context, the cheapest 7-seat Discovery is £53,090, but a Skoda Kodiaq with the same amount of seats can be yours for £27,940. As with most Kias these days, then, it's not the bargain-basement motoring that the brand initially offered, so just how good is it?
What, less tiger-ish?
Let's start with the looks. Kia has by no means abandoned their 'tiger-nose' design ethos entirely, but it's a heck of a lot more subtle on the new Sorento. Rather than the grille being the new Sorento's defining facial feature, it's more the sharp, triplet LED headlights flanking it that grab your attention. The sides of the new Sorento have gained a few features to stop it looking quite so slab-sided and, well – big to be honest. There's a shark-fin behind the C-pillar, what looks like a soup spoon bridging the gap between front wing and front door, and the rearmost window slopes more severely than the roof-line, giving a sleeker look.
It's from the back that we think the new Sorento looks its best, though. The Sorento name is written in large script across the bottom of the tailgate and the tail-light clusters are now vertical rather than horizontal. It all gives a look of an SUV from their spiritual homeland – the US of A.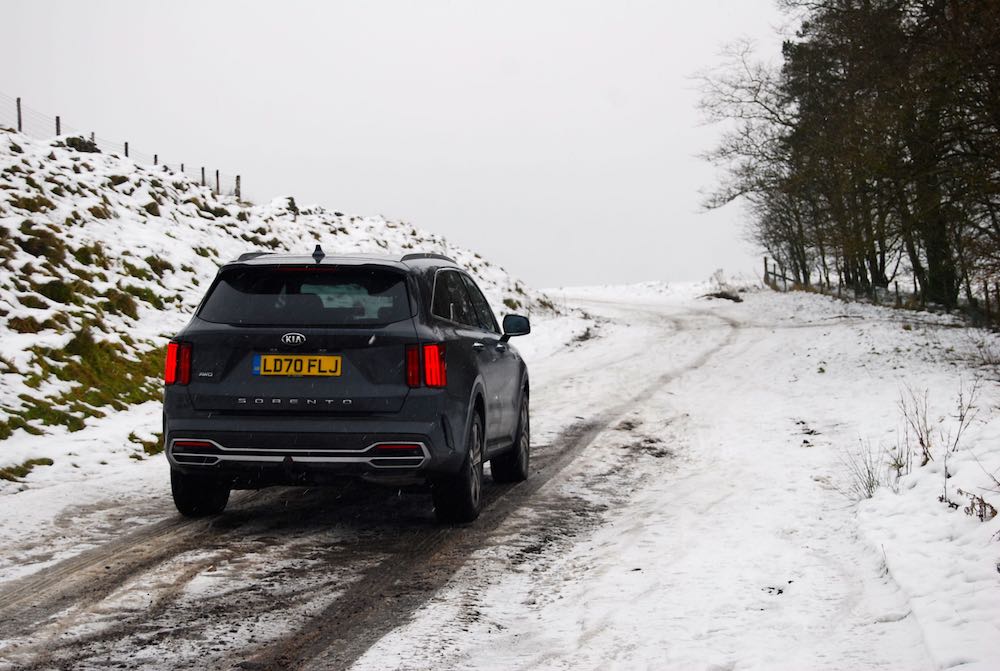 More premium inside
Inside any car is where the premium most obviously stands apart from the more affordable, in terms of materials, build quality and design. Kia's interiors have improved massively with recent models and the new Sorento is another step forwards. From the cosseting seats to the arrowhead LEDs in the doors and dash, it just feels luxurious rather than simply comfortable. It's still not quite an Audi or Volvo cabin, no, but where its out-of-sight plastics aren't quite up to their level, it has some clever touches like switches to adjust the front passenger seat from the driver's seat.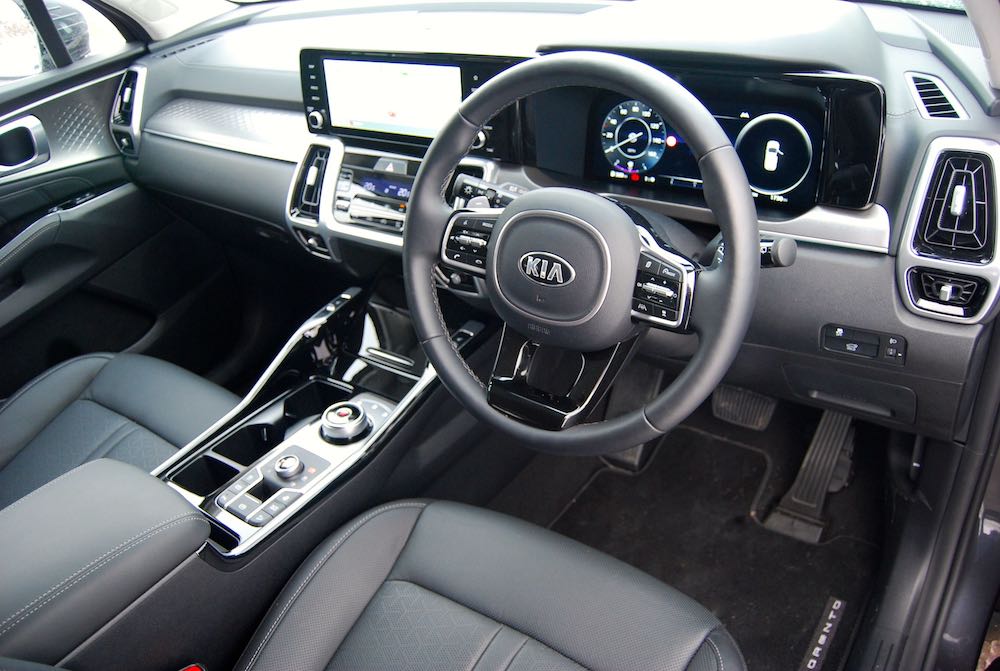 Manoeuvre the seats to suit
Every row of seats has a clever way of being adjusted so you can add leg room where necessary – obviously the third row can only offer so much, though. Boot space is 608 litres with 5 seats still useable, 7 seats takes this down to 179 litres, but if you want to carry 6 people you're left with over 400 litres. Put the 2nd and 3rd row down and you've practically turned it into a van, with a whopping 1,996 litres carrying capacity.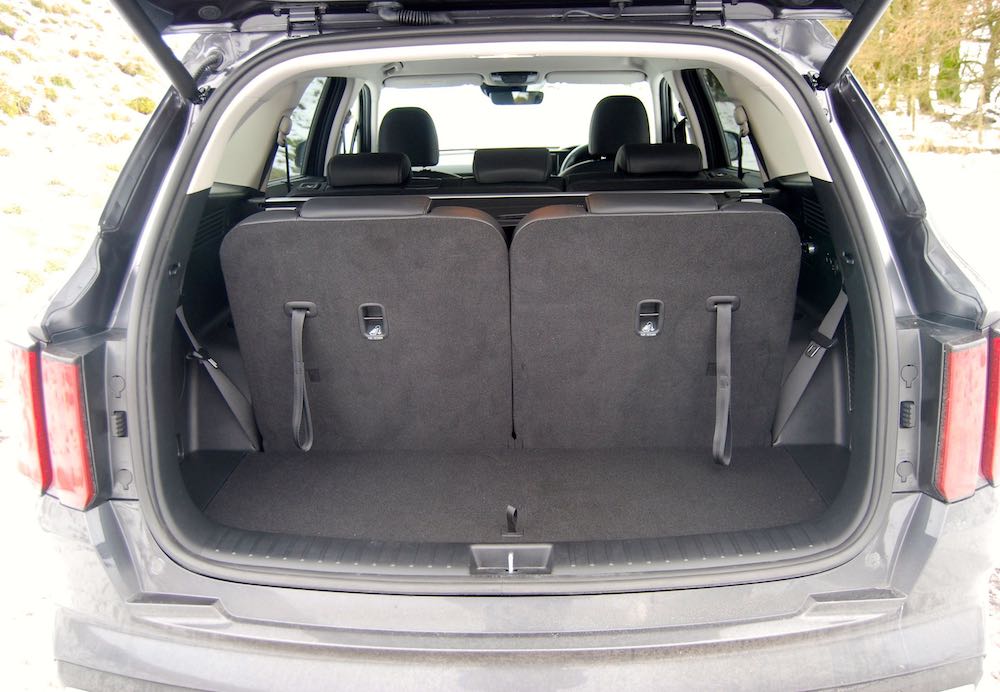 Plenty of toys
There's USB ports aplenty and even a facility to address the 3rd-row passengers via a mini PA system – KIA have stuck to their formula of including pretty much every gizmo and gimmick your heart desires. Controls are a sensible mix of actual dials and buttons and a well-defined infotainment system that's 8″ or 10.25″ dependent on spec. The only toy that seems to be missing is wireless CarPlay which is a shame as it took an age to recognise I'd plugged my phone in.
Impressive diesel
Engine choice is either a 1.6l petrol self-charging hybrid or a 2.2l diesel, but only in mid-range '3' spec like we have here. All change gear themselves, all are all-wheel drive and even the petrol can tow 1,650kg. Go for this diesel with its 199 bhp & 440 Nm torque, though, and you can tow up to 2,500kg. Not only that, you'll be getting one of the quietest, most refined diesel engines this side of a BMW. It's eerily subtle, making more of a whir than a rattle of any kind.
All all-wheel drive
Not only are all new Sorentos all-wheel drive, there's a terrain selector for mud, snow and sand driving. Does that make it a Jeep? – absolutely not – it's still a crossover. Permanent AWD that's set up for less-than-perfect tarmacced surfaces will be a great reassurance for anyone wanting to tow, though.
Sorento PHEV
For the full eco-Sorento experience, there's now also a plug-in hybrid version that adds an electric motor powered by a 13.8 kWh battery to the 1.6l petrol engine. Prices start at £44,995 and we'll bring a full review of that as soon as possible.
What's the ride like?
Back to our diesel Sorento, then. We've already said a great deal of effort's clearly been put into this engine and its refinement, but what about the rest of the driving experience? The sports SUV looks like it's here to stay, despite initial derision; the new Sorento isn't one of them. Instead, Kia has concentrated on making it absorb road scars with minimum reverberation to everyone seated inside.
Should I buy a new Sorento?
The steering is way-too assisted for the Sorento to be a 'driver's' car, but it doesn't wallow around either. What the Sorento's ride represents is another step forward for Kia, a step towards the luxurious. Too many creaks to be compared to the more 'premium' market, but undeniably a massive improvement.
By Ben Harrington
2021 Kia Sorento 3 Specifications:
Engine – 2.2l turbocharged diesel, Transmission – 8-speed DCT, Layout – Front engine, AWD, Power – 199bhp, Torque – 440Nm, Emissions – 176g/km CO2, Economy – 42.2mpg combined, Maximum Speed – 127mph, Acceleration – 9.1s 0-60mph, Price – £41,245 OTR
The all-new Kia Sorento is available now, priced from £38,845. For full details go to: www.kia.com