The Skoda Kodiaq is here to grab a piece of the SUV market for the Czech manufacturer, and therefore the seemingly omnipotent VW group.
Getting a large SUV right for a European market can be a tougher task than you might imagine. It's got to be manageable in our sometimes less than voluminous towns and carparks, and yet, well…..it's got to accommodate up to 7 people. And their associated accessories.
How big is the Kodiaq?
The Kodiaq is roughly the same length as a Mitsubishi Outlander, yet, due to sleek glasshousing and a low roofline, not as tall as a Ford Kuga. What it is, though, is relatively wide, and that's why when you get in it has a certain Tardis effect with far more living space than you'd possibly warrant.
The split level headlight clusters combined with that trademark moustachioed grille mean the Kodiaq is undeniably a Skoda, even if the SUV thing is unfamiliar to the brand. Squared-off wheel arches lend more than a touch of Jeep to the look which is no bad thing if you want to reinforce off-road ability. A very defined shoulder line runs from front to rear light clusters, visually breaking up what's still undeniably a large vehicle.
Inside is understated cool with a simple, logically designed dashboard made out of high quality materials that only get a bit scratchy in out-of-sight areas.  All but the S and SE Kodiaqs come with either an 8.0" or 9.2" touchscreen infotainment system that's crystal clear and works seamlessly when linked to your smartphone.
Skoda umbrellas?
There's some really neat touches that'll put a smile on your face such as the umbrellas in the doors, ice scraper in the fuel filler lid and door-edge protectors that appear when you open the door. The only fault I could find with the interior were the cup holders that seemed just a bit too small to accommodate a travel mug.
How much extra for 7 seats?
The Kodiaq is available as either a 5 or 7 seater, but we're guessing the majority will come with the optional extra row for £1K. The way Skoda have configured the cabin, with the ability to adjust each seat individually on its own rails makes it a breeze to use and, more importantly, keep every passenger comfortable. One great feature of the Kodiaq is that you still get a useable boot, even with the third row of seats in place.
What engines are available?
The Kodiaq is available with either a 2.0l diesel engine in a range of power outputs, a 2.0l petrol or the 1.4l TSI petrol unit that our test car is equipped with. This may sound like a small engine for a vehicle this size and it does get boomy when pressed hard. It uses every one of its 148bhp cleverly, though, especially when linked to the excellent six-speed DSG transmission. If towing with multiple passengers is your thing you might want to go for a diesel, though, as the equivalent 148bhp oil-burning engine produces 340Nm torque, compared to the petrol's 250Nm.
You can also opt for either four or two wheel drive on all but the least powerful 125bhp petrol engine. This makes it a realistic option for lighter off-roading and it does have an off-road mode, but you might also want all wheels driven if you're using its 2.5 tonne towing capability to pull a caravan etc. There's the advantage of increased road-holding, too, but you'll lose around 4mpg on the combined cycle for the privilege.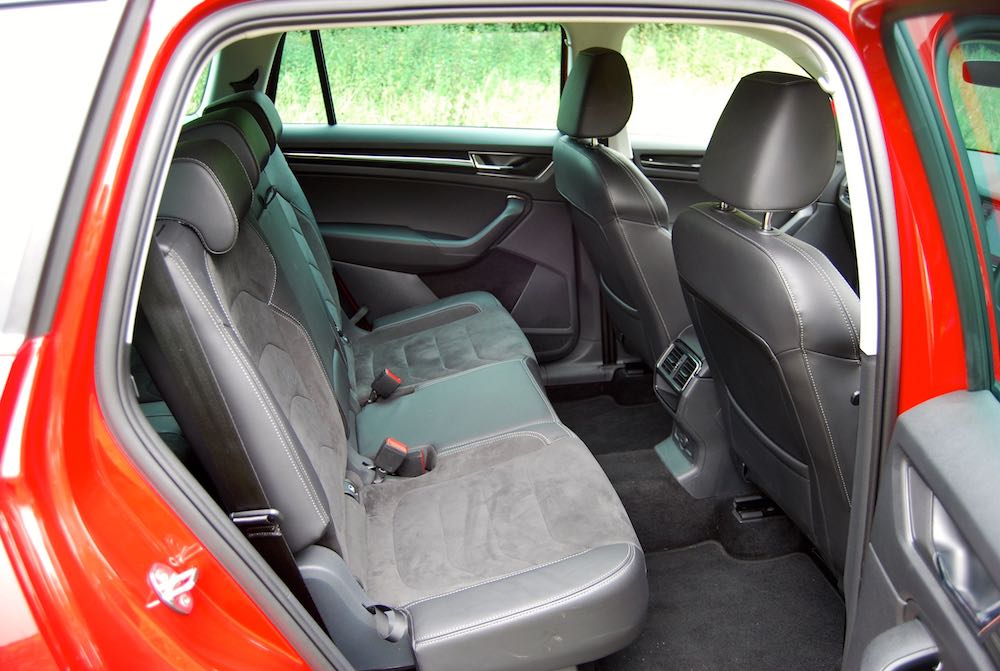 Great driving position and visibility
Despite its size, driving the Kodiaq is as easy as it gets. The A-pillars are relatively narrow and set back, making straight ahead visibility excellent. The seats offer a great, elevated position, although they could have a bit more give for ultimate comfort on longer journeys. The way the suspension deals with broken surfaces and bumps makes for a very smooth ride, even on the larger alloy wheels that can sometimes make things a bit harsh.
Should I buy a Skoda Kodiaq?
The SUV market is growing all the time, even with those that seat 7 people becoming more numerous. The Kodiaq has a clever approach, especially inside that will appeal to many and it drives superbly. This is undoubtedly one of the most complete 7-seat SUVs on the market with a winning combination of looks, ability and pricing and is hard to fault.
By Ben Harrington
Skoda Kodiaq Specifications:
Engine – 1.4l TSI petrol, Layout – front engine, 4WD, Transmission – 6-speed DSG auto, Power – 148bhp, Acceleration – 0-62mph – 10.1s, Maximum Speed – 119mph, Maximum Torque – 250Nm, Economy – 39.8mpg combined, Emissions – 163g/km CO2, Price – £30,560 OTR, £30,935 as tested
The Skoda Kodiaq is available now, priced from £22,190. For full details go to; www.skoda.co.uk