Renegade: A front-wheel-drive Jeep?!?
It was never going to be one for the purists, but Jeep needed a small, economical, easy-to-drive model in its lineup; so here's the Renegade.
To meet the criteria, front-wheel-drive had to be an option. Not the only option, mind, – you couldn't have a Jeep that isn't available as a 4×4 at all, but the economical advantages of powering solely the front wheels were essential to attract more 'everyday' buyers and boost sales figures.
It's quite handy, then, that Jeep are owned by Fiat these days; a company who know a thing or two about front-wheel-drive and small, punchy engines. In fact, the Renegade is the first Jeep to be built exclusively outside of America alongside its sister car – the Fiat 500X in Melfi, Italy and other locations Worldwide.
So, the Renegade's platform, engine and many other oily bits are essentially all Fiat, thus keeping development costs to a minimum.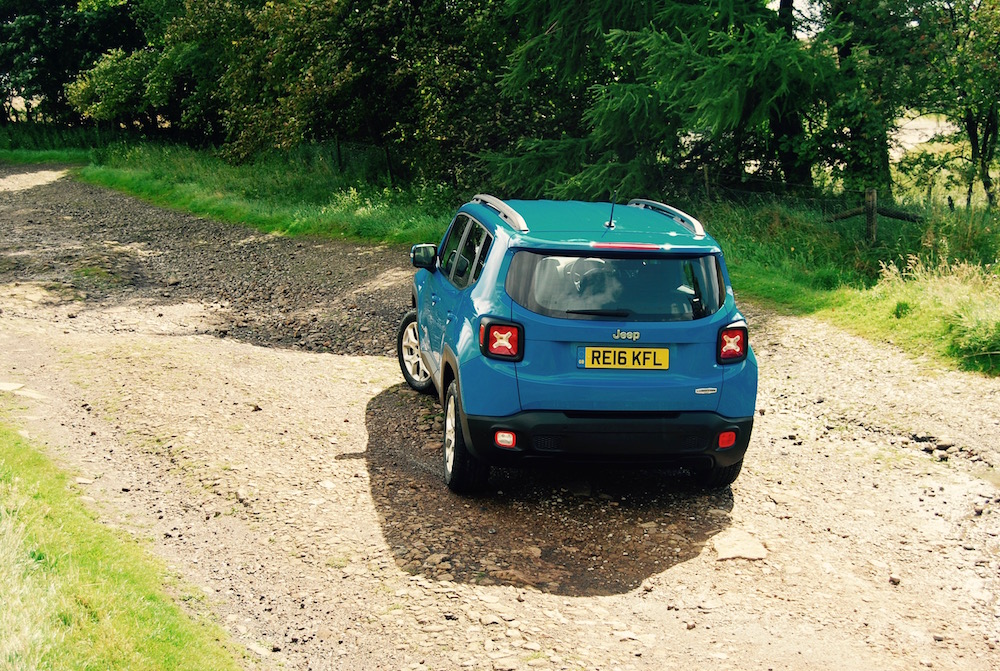 Definitely looks like a Jeep, though…..
To look at, though, you'd never say the Renegade and 500X were even distantly related. With its more angular silhouette and trademark Jeep grille and square wheel-arches, the Renegade couldn't realistically be mistaken as the product of any other marque. Whether those Jerry-can rear light clusters are a step too far is up to you.
For such a relatively small crossover, the Renegade isn't short of space inside, thanks in no small part to that boxy Jeep shape. Where this is most noticeable is in the boot which can be loaded up nicely without the worry of whether the boot-lid will close.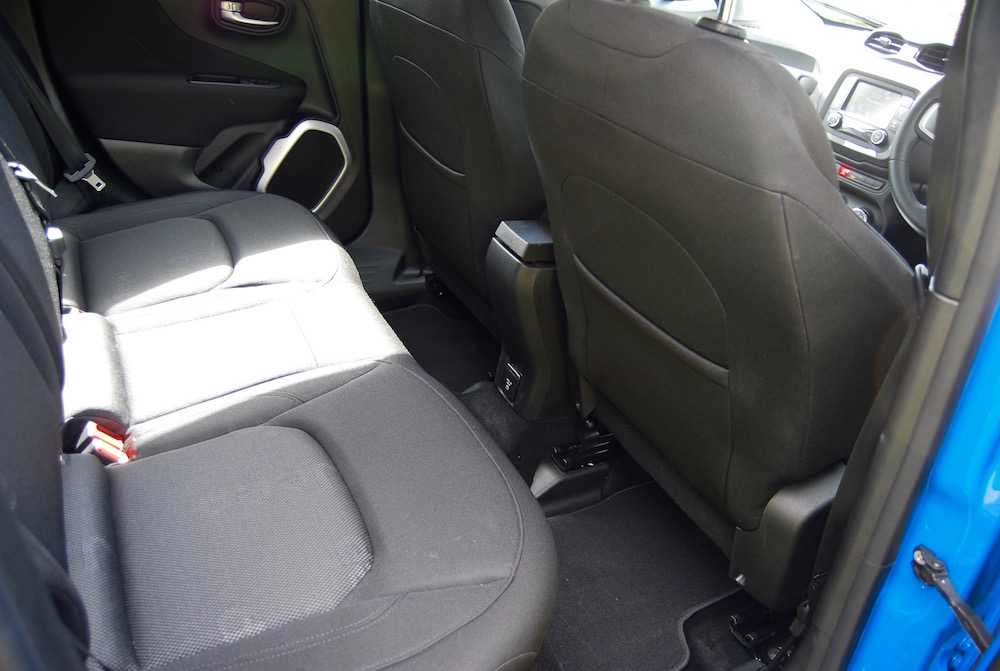 …..especially inside
The Renegade's exterior is suitably Jeep-ey enough, but it's got nothing on the interior. Everywhere you look there's maps and Jeep script – triumphantly declaring 'Since 1941′ above the infotainment system or 'To New Adventures' stirringly imprinted around the circumference of the ignition barrel.
The trademark Jeep grille and headlights image appears repeatedly, there's splattered mud patterns on the speedometer and there's even a tiny Willys Jeep climbing up the edge of the front windscreen. You're not going to forget what brand surrounds you.
Jeep garnishment aside, the Renegade is not only relatively roomy inside, it's clever too. There's power and USB sockets aplenty, as well as stowage including the very handy yet simple compartment underneath the passenger seat that comes with the 'Function 1' package. One aspect that's not-so-clever is the Tom-Tom based infotainment system; it's small, fiddly and slow to load.
Sensible engines only
The Renegade is available with a range of Fiat sourced petrol and diesel engines (1.4l, 1.6l or 2.0l) in various power outputs (110bhp – 170bhp), mated to manual or automatic transmission, four-wheel or front-wheel driven wheels and a variety of rousingly named specs such as Night Eagle, Trailhawk or in the case of our test car – Longitude.
The DDCT, auto 'box in the Renegade isn't the smoothest system we've ever used, especially before it warms up. It's advisable to change from Drive to Park when the stop/start system activates on hills, too, as the car tends to roll in the half-second until the engine fires into life.
Petrol has traditionally been the fuel of choice for Jeeps and the 1.4l, 140bhp engine in our test car is easy to live with, if possibly lacking slightly in refinement. If your budget will stretch far enough, though, I'd opt for the 1.6l, Multijet Diesel; it's cleaner, packs more punch and is marginally quicker than the petrol, you just can't have an automatic gearbox.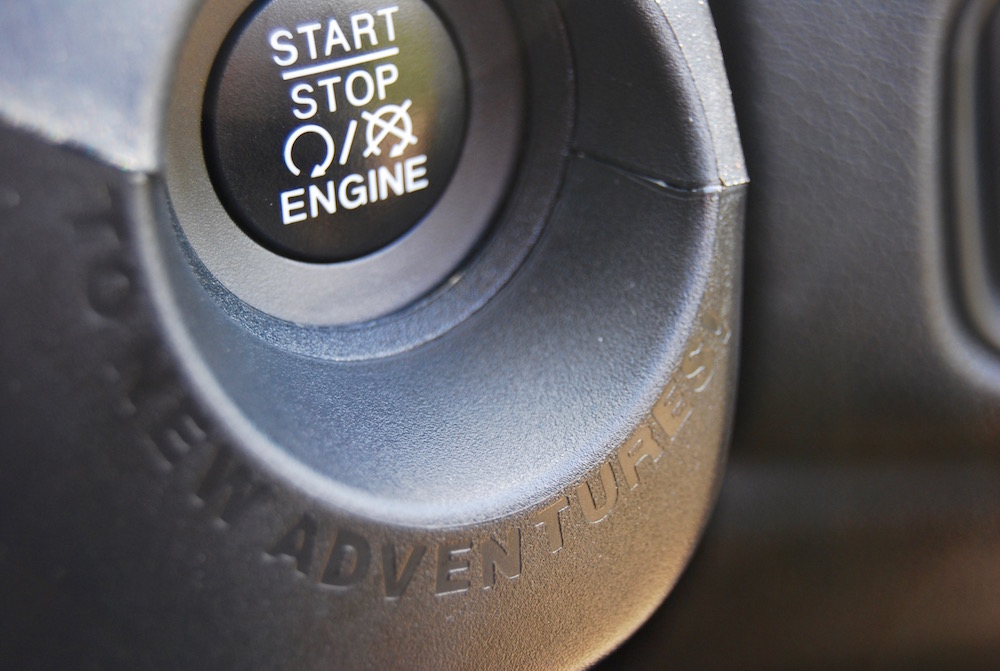 Easy to live with
The Renegade might look Jeep-ey enough, but underneath it's a real product of their Fiat ownership. Don't necessarily look upon this as a negative, though – the Renegade's a new direction for Jeep, and, unlike many of their prior models, it's genuinely easy to live with.
By Ben Harrington
Specifications; Jeep Renegade Multiair Longitude, Engine – 1.4l 140bhp Multiair petrol, Transmission – DDCT auto, Layout – Front engine, FWD, Power – 140bhp, Torque – 230Nm, Emissions – 140g/km CO2, Economy – 47.1 mpg combined, Maximum Speed – 112mph, Acceleration – 10.9s 0-62mph, Price – £20,895 OTR, £22,140 as tested.
The Jeep Renegade is on sale now. For full details, go to www.jeep.co.uk