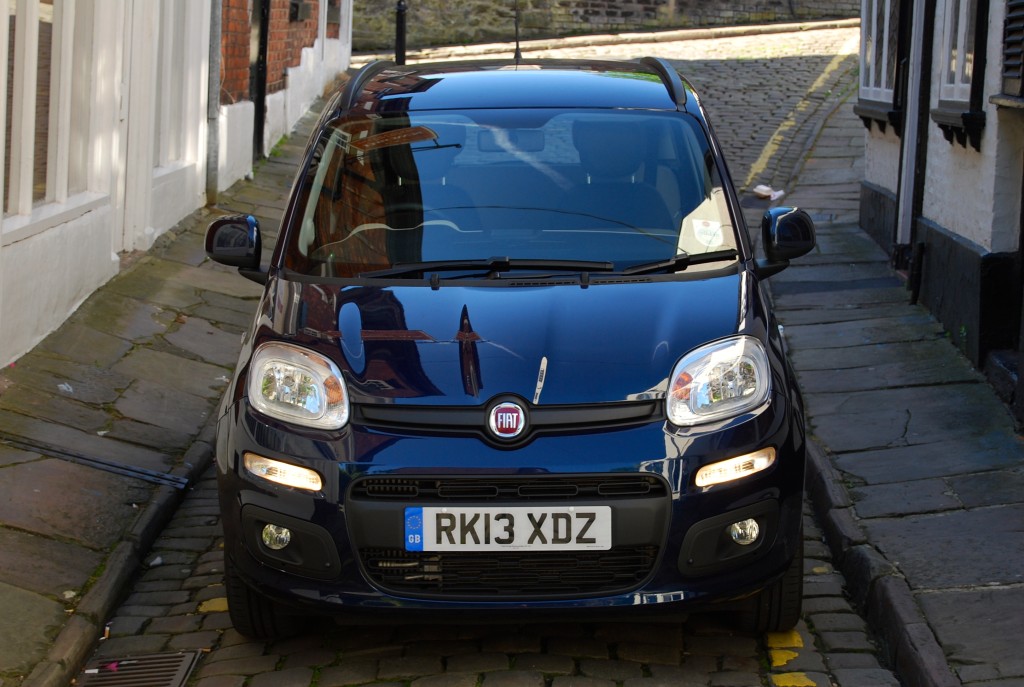 The Fiat Panda TwinAir
Four cylinder engines are just soooooo unfashionable these days you know, many people wouldn't be seen dead in one. With many manufacturers offering a three cylinder in their range, Fiat have decided to go one step further with their ecotastic offering and have lopped another cylinder off, leaving us with their somewhat diminutive 0.9l TwinAir unit, as found in our test car – this rather natty looking Panda TwinAir in (2wd) range-topping Lounge spec.
The Fiat Panda is one of those cars that doesn't seem to be trying too hard to look good, it's no retro pastiche, nor is it splattered with graphics and wild colours, it just is. Square was undoubtedly the order of the day when it came down to designing just about every element of the body, and the interior, and the dashboard. In fact, I'd be surprised if there wasn't a Fiat designer somewhere, left haunted and frustrated by his failure to reinvent the wheel – these conventional round  ones just clash with the rest of the car.
Now in its third generation, the Fiat Panda is  looking more substantial and altogether more grown-up than the last version, especially in this optional, sensible colour and Lounge spec with 15" alloys and chunky side mouldings to add some interest to the fairly flat sides. It may appeal to me but I can see how the boxy shape might not be everyone's cup of espresso – take the side and rear windows out and you're left with Postman Patrizio's van. Use the Panda TwinAir for a while, though, and you'll grow to love the practicality of the whole thing; parking just doesn't get any easier than when you can see all four corners, and that square loading area will carry more than you'd warrant – especially with the rear seat folded down.
Car interiors are increasingly hard to tell from one model to the next – it makes financial sense to design one cabin and then modify the shape and size for every car in the fleet. It's nice to see, then, that the Panda TwinAir's living space is so bespoke, even down to the eye-level plastics that have the letters P, A, N and D imprinted onto them, albeit on a very small-scale; details like that impress me – I know, it's not hard. The commitment to avoiding anything circular continues to the point of obsession in here, too. Again, the way Fiat have made new knobs and dials shows a devotion to the Panda brand – possibly best exemplified by the 1cm²  plastic trim pieces used to cover up those oh-so-unsightly speedo and rev-counter needle hubs – yep, you guessed it – square.
That lofty image comes into its own again when the subject of passenger comfort comes into account. The headroom is enough for anyone up to about 6'3", and that's not just in the front seats. The only aspect of driving the Panda TwinAir that I did find uncomfortable was the way the transmission tunnel impinged onto my left knee; I'm guessing that something was lost in translation when moving the pedals from LHD to RHD as, without actually surgically removing my left foot, there's no way I was going to plonk it on the foot rest – that could grow tiresome on a long motorway schlep.
But what about that engine? Well, this is surely the best part of an already fairly impressive car. The claimed 67.3mpg might not be achievable in the real world, but what's undoubtedly true is that it slips in just below that magical 100g/km mark for CO2 emissions. This obviously means that, for now at least, the government won't be taking one single penny for the privilege of using this particular Fiat Panda on our roads – how great is that?
Free road tax aside, just how satisfying can a car be with less than one litre of engine capacity providing propulsion? The original Panda was graced with many engines around this size, some of them even being closer to 0.5 litres, but you doubled the car's kerb weight if you left the handbook in the glovebox, so it got away with it. This car is by no means built from girders but by the very nature of modern cars, it weighs substantially more than the original. Thankfully though, as weight has gone up, so has the efficiency and performance of engines, and this turbocharged unit develops a not-too-shabby 85hp. On the road, there's very little lag and the power feels adequate, to the point of being quite good fun, even propelling the Fiat Panda to 60mph in a little over 11 seconds. One aspect of this little engine that was probably accidental, but that I feel deserves special mention nonetheless, is the great 'putt-putt' noise it makes. Anyone who ever stuck an ice-lolly stick in the spokes of their bike recognise the sound of this Panda, although my daughter was adamant it sounded 'like a race-car'. Either way – it's a great noise, even if it wasn't entirely intentional.
Now, there's a button on the dash marked 'Eco', and I'm kinda guessing that if you're the type of person who's attracted to the frugal nature of the Panda TwinAir, you'd be tempted to press this button and gaffer tape over it to prevent any possible deactivation. To these people, I say 'Don't!'. Yes, it does decrease the performance of the engine, thereby giving you a few more mpg, but sometimes a bit of fun is more important than saving money (or the planet, for that matter), and the way this amazing little engine is strangled by the effects of the Eco button is a real shame. The 'shift up' display can be a little optimistic regarding the engine's available torque at the best of times, but in Eco mode it can feel laboured to the point of irritation. If you absolutely have to use it for you conscience to allow you to sleep at night, it's effects are least noticeable at motorway speeds, so use it there.
To conclude then, the Fiat Panda's popularity is impossible to question, with over 2m units having been shifted already. It's hugely practical and I think it's cool, in an understated way, and adding this great little two-cylinder engine to the range can only add to the appeal.
By Ben Harrington
Specifications;

Fiat Panda TwinAir Lounge,

Engine

–

 

0.9l petrol two-cylinder

5 speed manual,

 Layout –

Front engine, FWD,

 Power –

145NM,

 Emissions –

99g/km CO2,

 Economy –

67.3mpg combined,

 Maximum Speed –

110 mph,

 Acceleration –

11.2s 0-62mph,

 Price – £11,295 OTR, £12,195 as tested.
For full details, go to www.fiat.co.uk/uk/new-panda