2019 Kia Ceed
What's arguably Kia's most 'normal' car – the Ceed, is here to resume the fight with some stiff competition in the form of Ford's Focus and VW's evergreen Golf.
Still a Kia, Just Sportier
From the front at least, it looks undeniably Kia which essentially means Herr Schreyer's tiger nose shows no signs of abating. The rest of the new Ceed has adopted a more squat, streamlined look, with a more vertical rear end, much like the current Focus, in fact.
This slightly sportier approach to the everyday 5-door hatchback may be an attempt to give the genre more appeal in the face of the endless wave of SUVs hitting the market. What it mustn't do is take away from the practicality these cars offer.
Apostrophe-less!
Thanks to a certain BBC motoring programme, what many people have associated with the Ceed was its apostrophe. The sharp-eyed of you will have already noticed that this generation has lost it, so now it's just Ceed; still doesn't make much sense, but since when has that mattered with car names?
More Refined
Kia don't just rely on the reassurance of their headline-grabbing 7-year warranty anymore, they're striving to give us the quality to back it up, too. Sit inside the new Ceed and, even without turning the ignition, you can feel that it's been stepped up a notch or two in terms of refinement.
The design is based around a central touchscreen in either 8" or 10.25" flavour – the only slightly odd thing about this is that the more expensive specs e.g. First Edition get the smaller screen. The rest of the cabin is solid, well built, but just a bit dull. There's too many civilised, plain black plastics, not enough actual design features for my liking – again, quite similar to the latest Focus, in fact.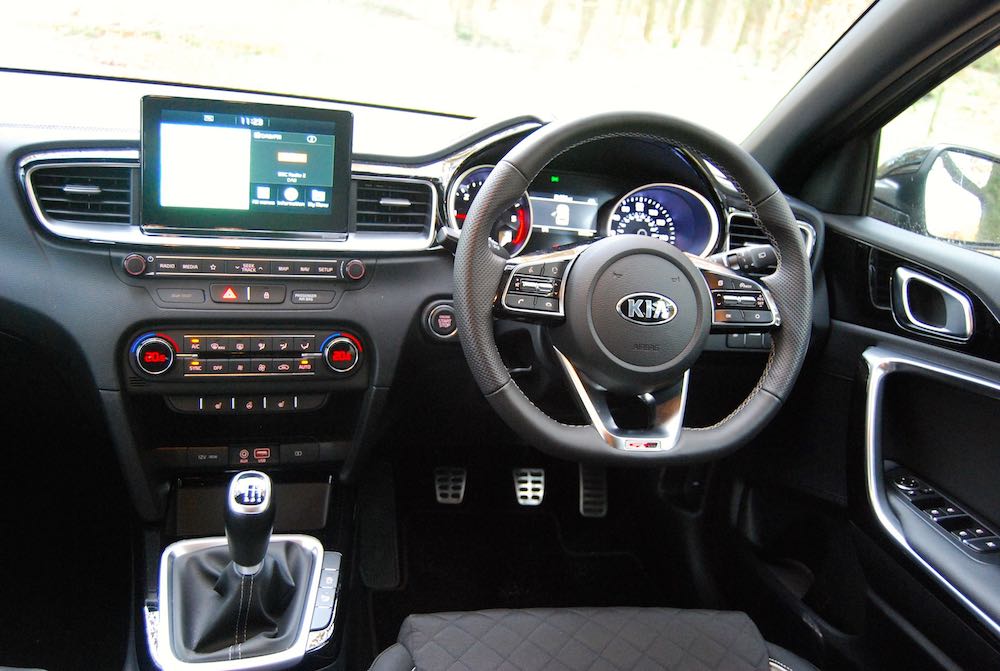 Loads of Kit
Being a Kia, you do get plenty of kit thrown in for your money, although they're not exactly bargain basement anymore. This GT-Line spec starts at a shade over £22k and for that you get the bigger touchscreen, heated front seats & steering wheel, dual air-con and reversing camera. You also get lane keep assist, although it has an annoying tendency to constantly request that you place your hands back on the steering wheel. Now, these are good systems, especially on long motorway jaunts, but I'm not in the habit of trusting them to the point of autonomous driving, so I inevitably turned the system off as it was getting irritating. Whole point = negated.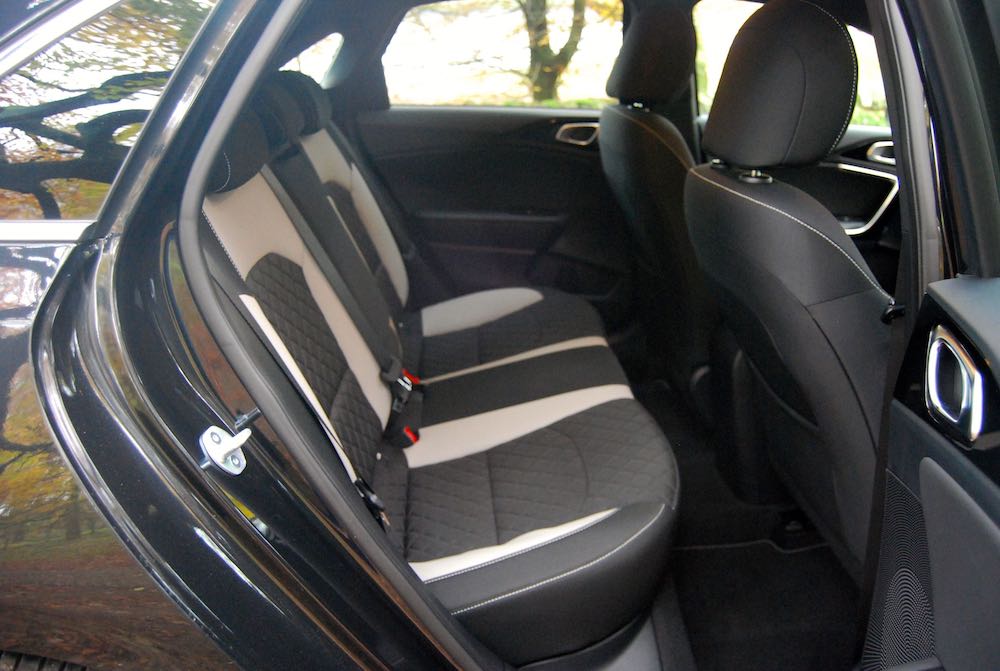 Away from the driver's seat, there's plenty of room in the back for passengers and in the boot which can accommodate 380 litres with the rear seats in place; exactly the same as a Golf and nearly 40 litres more than a Focus. The boot also has an adjustable floor so it can be made flat for easy loading and unloading.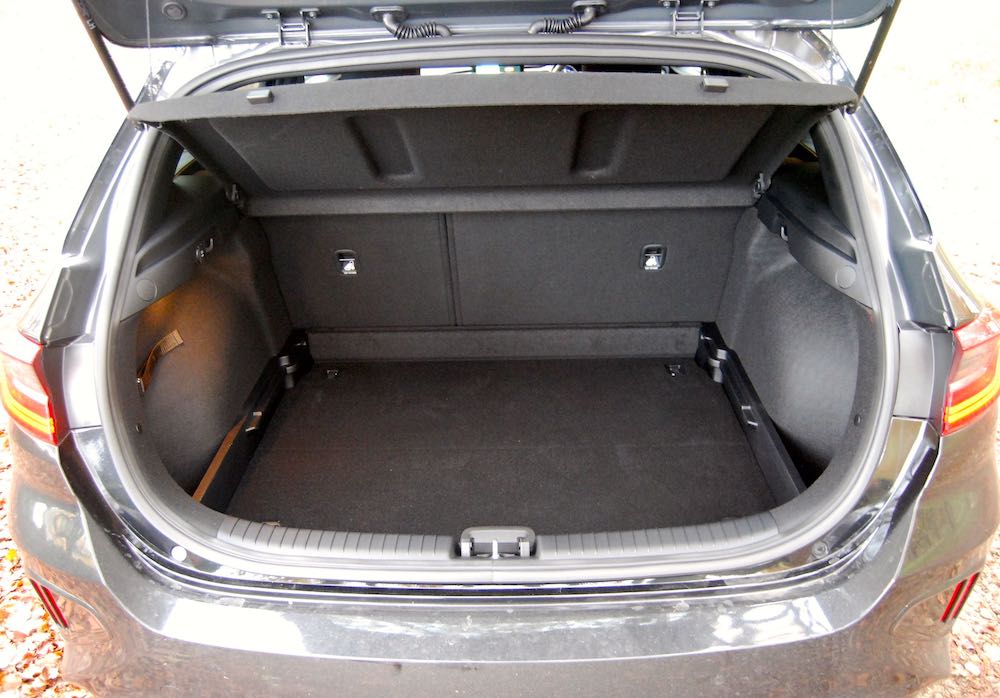 Impressive Diesel
In terms of engines, there's the diesel we have here; a 1.6l producing either 114 or 134bhp. There's also three petrol units, all with four-cylinders; a 1.0l with 118bhp, a 1.4l with 138bhp and a 1.6l with a whopping 201bhp – this engine's reserved for the full-fat GT spec only, though.
Our 'High Power' diesel engine is as quiet and refined as most similar units from the competition. We'd like to try it with the optional 7-speed automatic transmission, though, as the 6-speed manual doesn't exactly inspire spirited driving.
Manual or automatic, this engine will return well over 50mpg on the combined cycle and neither emits over 135g/km Co2; this is a truly modern diesel engine that should go some way to restoring the fuel's reputation.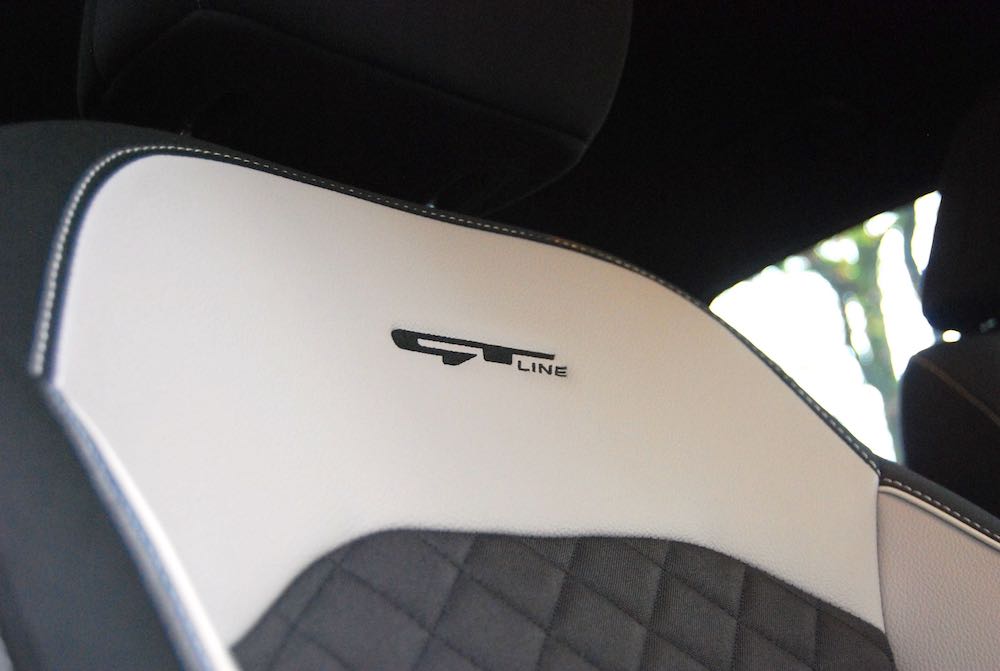 Independent Suspension
One area that Kia have clearly worked hard on is the ride and drive quality. Whichever Ceed you go for, the chassis and suspension with its independent Macpherson struts up front and independent multi links out back feels set up to actually handle twisty roads, with plenty of feedback through the steering wheel. The trade-off for this is it may be a touch hard over bumps for some, but it never feels like it's trying to rattle your teeth out.
Should I Buy a Kia Ceed?
Kias used to be cheap, they now sit at almost exactly the same level as the Ford and Vauxhall equivalents, undercutting VW's entry by a few thousand as you might expect. What you do get in the Ceed is equipment thrown in that you might otherwise be expected to pay for, plus that 7-year warranty. The Ceed does tend to fade into the background in the SUV-heavy Kia range these days, but should you still want a 5-door hatchback, you could do a lot worse.
By Ben Harrington
2019 Kia Ceed GT-Line Specifications;
Engine – 1.6l 4-Cylinder Diesel, Layout – Front engine, FWD, Transmission – 6-speed manual, Power – 134hp, Acceleration – 0-60mph – 9.8s, Maximum Speed – 124mph, Maximum Torque – 280Nm, Economy – 56.5mpg combined, Emissions – 130g/km CO2, Price – £23,530
The 2019 Kia Ceed is available now. For full details go to: www.kia.com