We've all become quite accustomed to being surprised by Kia over the years. In a relatively short space of time, they've reinvented themselves, developing a certain look that's centred around a tiger-nose grille. Any concerns people could have had regarding quality is dispelled with their infamous 7-year warranty which actually has a very good reputation for being backed-up, not just an empty publicity stunt.
Kia Stinger
So, just when you thought they'd pulled everything they could out of their bag of tricks, they go and bring this out: the fantastically aggressively titled Kia Stinger. With a name like that, you wouldn't really expect the Stinger to be a sub-1 litre A-segment runaround, and it isn't. The Stinger is a very un-Kia-like GT car, complete with a 365bhp, twin-turbo V6 powering the rear wheels (a UK first for Kia), should your heart desire. Excited? – You ought to be.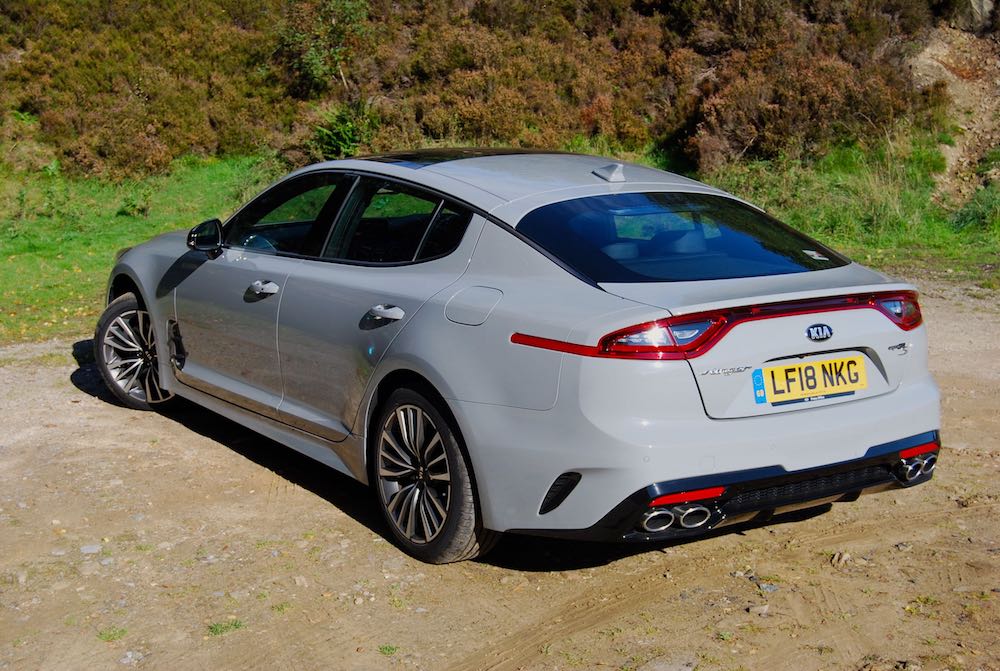 In actual fact, this is the 2.0l, 4-cylinder Stinger, but more on that later. What we need to talk about first is the automotive elephant in the room; how every single Stinger looks, regardless of what's under the bonnet.
Yes, it IS a Kia
When you've done this job for a few years, you kind of get used to getting comments from friends and strangers alike when you drive certain cars. It's actually a useful tool because you get to gauge what the general public thinks about different cars, sometimes giving a perspective you've not previously noticed. Despite their success, driving Kias around doesn't normally garner that much attention; this Kia's different, though – very different. Everyone, bar none seems to absolutely love the way the Stinger looks, their positive comments usually being backed up with some level of incredulity that it could possibly be a Kia.
They do have a point, though, 'the general public'. The only way you'd know this was from the Kia stable without looking at the badge is if you spot that trademark tiger-nose grille we mentioned. Apart from that, this long, sleek, aggressive looking GT car could have been made by anyone. Some people have been comparing the Stinger to the Ford Mustang; I'm thinking it's got more of an Audi A7/Merc CLS 4-door coupe air about it. Whichever way you look at it, Kia were apparently keen to give the Stinger a classic GT look, we think they've done a good job.
Quad Exhausts
Visual cues such as the wraparound rear lights and the air outlets behind the front wheels and the way their lines continue down the doors all make the Stinger look like it's moving at speed, even when it's stood perfectly still. Go for a petrol-engined Stinger and you get a muscular set of quad exhausts – diesels just get twins. All Stingers get air intakes on the bonnet.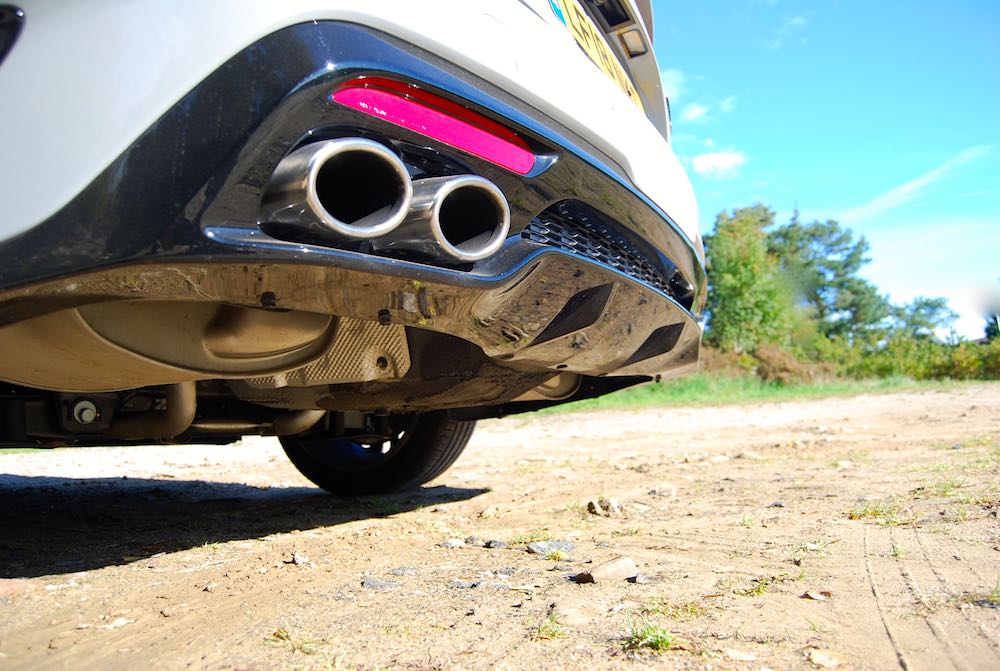 Three Engines, Three Trim Levels
The Stinger is available in three trim levels; GT-Line, GT-Line S & GT S, with Kia anticipating GT-Line S being the most popular from 1,800 predicted UK annual sales. GT-Line & GT-Line S models are available with either a 2.2l diesel or the 2.0l petrol we have here, GT S is reserved for the V6 only. Prices of this 5 model range start at £32,435, going all the way up to £41,180.
Now, the engines. All of them are turbocharged, all of them are mated to a specially designed 8-speed automatic transmission. This is the 2.0l, 4-cylinder petrol unit, producing 244bhp & 353Nm torque. It sits right in the middle of the range, both in terms of performance and economy, getting from 0-62mph in 6.0s & returning 35.8mpg combined.
V6, 4-Cylinder or Diesel?
My advice: go for the V6 if you want performance & the diesel if you're going to be doing more miles. I say this because, despite being quicker than the diesel, this 2.0l petrol doesn't offer enough drama, despite its 'Active Sound system' or outright speed to justify what it'll cost to run over the diesel. Plus, that 440Nm torque the diesel brings with it is going to be very useful in an automatic GT. Obviously, if you truly want your Stinger to go as well as it looks, the V6 is for you; 0-62mph & 510Nm torque are some pretty serious numbers.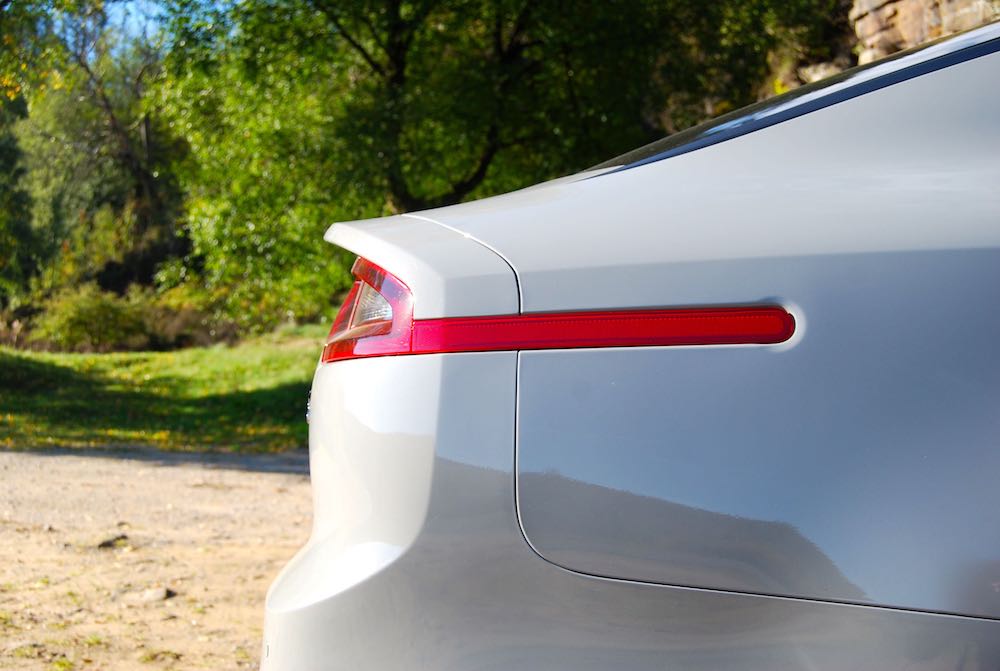 Whichever Stinger you go for, you're going to have lots of features to play with whilst you sit in your extremely wide, comfortable driver's seat. Not only this, but the Stinger's cabin sees a quality of materials used that's higher than you might expect in a Kia. Standard equipment includes 18" alloys, auto lights, auto wipers, heated front seats, leather upholstery, heated steering wheel, HUD, 8" touchscreen with Apple CarPlay & Android Auto, ESC, lane keep assistance and much, much more. Go for the V6 and you get Brembo brakes to reel things in & Dynamic Stability Damping Control for ultimate road-holding at speed.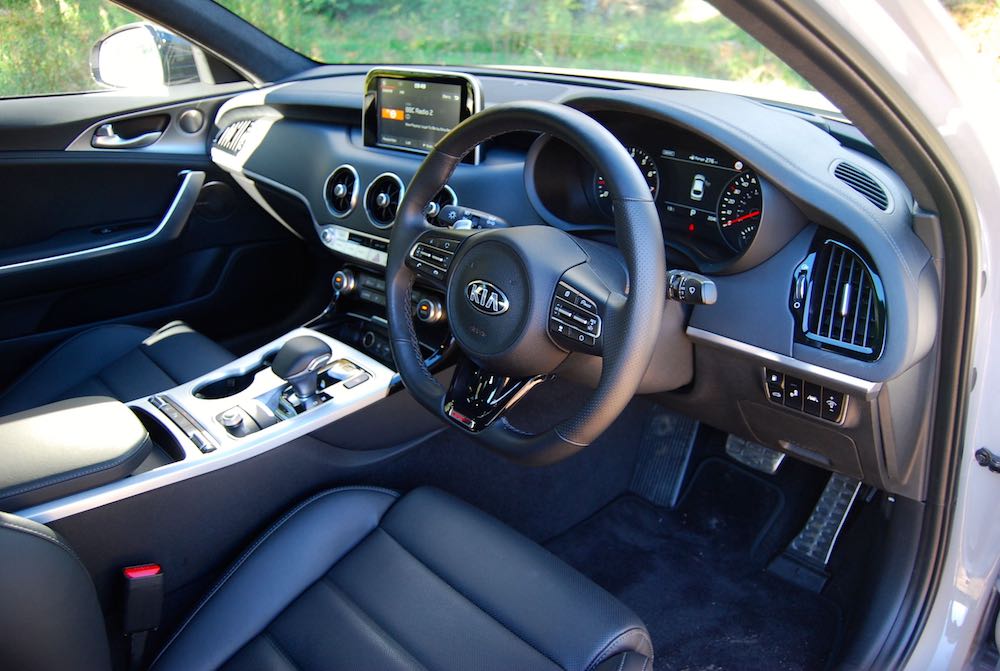 Should I Buy A Stinger?
It's hard to fault the Stinger; it looks great, it's comfortable, you can have one in economical flavour or all-out performance if you want and it comes with a 7-year warranty. Add to this the fact that it can be yours for £32,435, with the big-boy only costing £41,180 and it's easy to see why the Stinger's going down so well.
By Ben Harrington
Kia Stinger 2.0l T-GDi GT-Line S Specifications:
Engine –

 2.0l 4-cylinder petrol,

Layout – 

Front engine, RWD, 

Transmission –

 8-speed automatic,

Power –

 244bhp, 

Acceleration – 

0-62mph – 6.0s,

Maximum Speed – 

149mph, Maximum Torque – 

353

Nm,

Economy –

 35.8 mpg combined, 

Emissions – 

181

g/km CO2,

Price – 

£35,935 OTR 

The Kia Stinger is available soon. For full details go to: www.kia.com/uk