The modern-day flagship of the Audi range, consider: with our seemingly never-ending appetite for SUVs, is it the Q7, or even the imminent Q8? Traditionally, it's this; the luxury saloon that is the A8, and when it's up against the likes of the S-Class, the 7 Series and Jaguar's XJ, it's got to be good.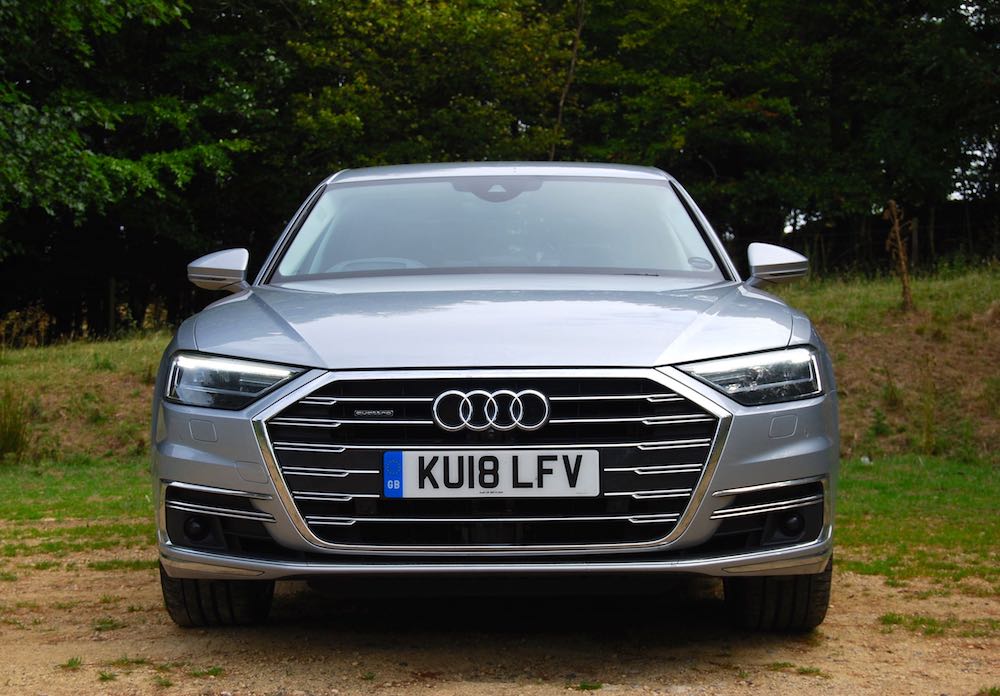 Audi A8
One thing's for sure, the A8 is clever. The smart bits you get to actually see include the near-button-free centre console, which is basically two very large touch-screens that control pretty much every function and luxury inside the cabin. Even the cabin fan speeds are controlled via light-touch electronic pads. Coupled with Audi's highly adaptable Virtual Cockpit that still never fails to impress, the A8's interior is a step forward in luxury motoring.
48V Electrics
What you won't see, well, unless you're pretty handy with a set of spanners is the water-cooled 48V electrical system. Amongst other things, this system monitors the load being placed on the engine and, when it deems appropriate, actually shuts it down for up to 40 seconds, saving fuel and recharging its own battery; every New A8 is a hybrid, albeit a mild one. Do you notice this magic happening? No, not at all, the only caveat is that you can't have your foot on the accelerator at the time.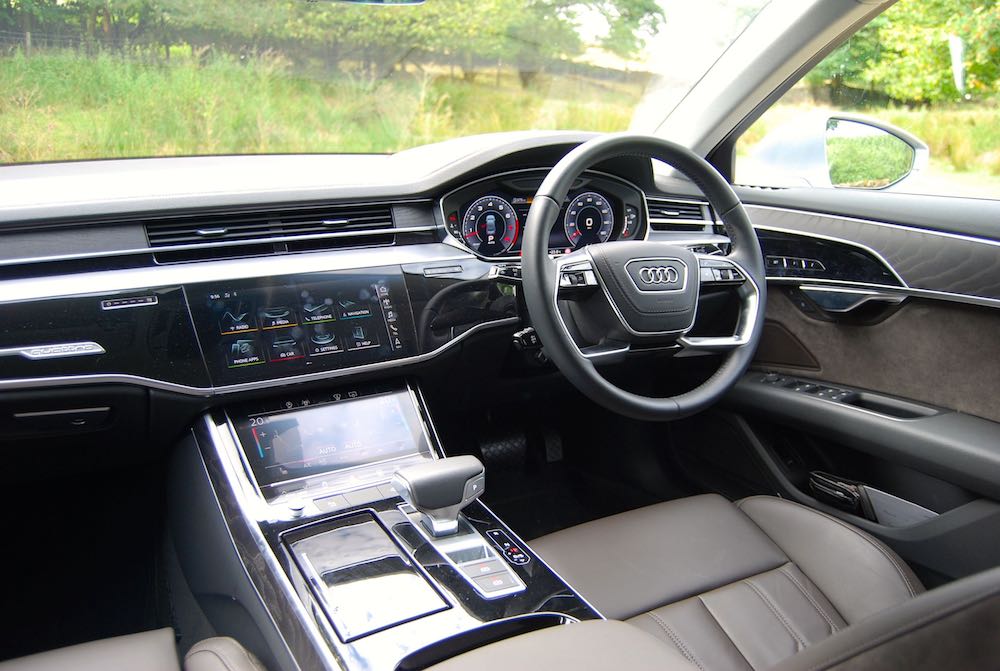 Petrol or Diesel: It's a V6
Behind all this electronic trickery is a 3.0l V6; whether you go for petrol or diesel, it's a 3.0l V6. The diesel produces 283bhp & 600Nm and, in Audi's new labelling system is a '50'. The petrol is called a '55' and gives you 336bhp & 500Nm. The diesel is marginally slower (0-62mph = 5.9s vs 5.6s), but the inevitable trade off is economy, returning 50.4mpg combined vs 36.7mpg in the petrol. Petrol or diesel, your A8 will come with a smooth 8-speed automatic transmission as standard.
The fact that Audi sent us the petrol to test, not the diesel is perhaps indicative of the way the company, as well as the whole industry is looking. No, it's not quite as cheap to run as the diesel, but that petrol V6 is so refined, so quiet. That is, until you properly exploit the A8's performance and there's the most beautiful, if a little muffled roar from the engine bay as this near-as-damn-it 2 tonne barge heads for the horizon.
Adjustable Suspension As Standard
That 48V electrical system we mentioned doesn't just aid propulsion, and this is important; it's also involved with the A8's ride and handling. Thanks to this increased wattage, every A8 gets adjustable air suspension, raising and lowering, softening and hardening for dynamic or comfortable driving. Not only this, but you can opt for a system that actually utilises cameras to spy on the road ahead and adjust the suspension accordingly.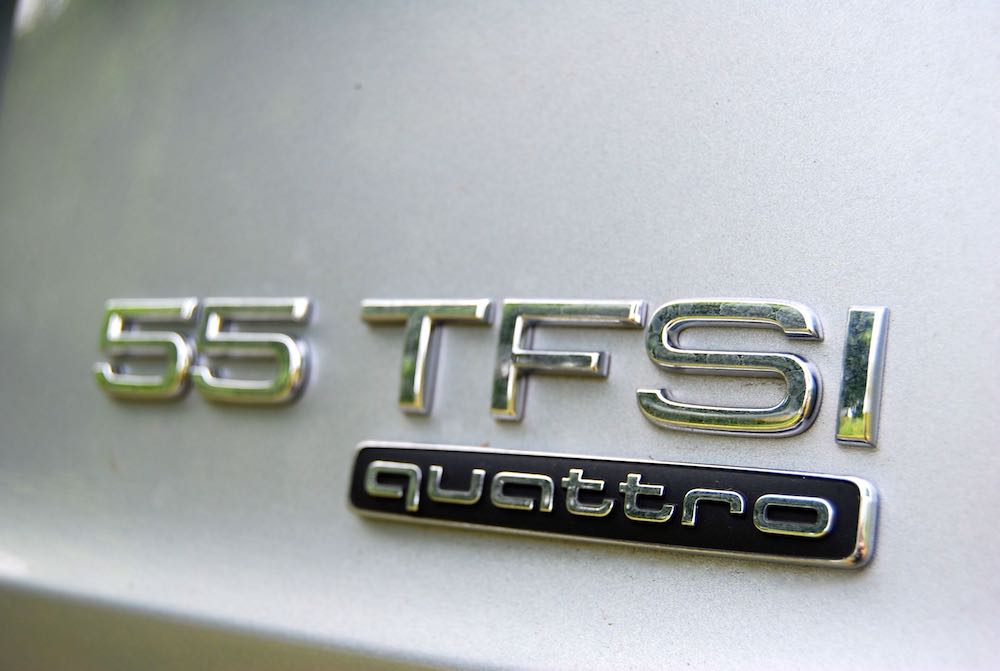 A8 = Quattro
Every A8 is also Quattro, so all four wheels will search out grip in slippery conditions. Does the A8 magically 'shrink' if you hurl it down a B-Road? No, it always feels its generous proportions, if you want a truly chuck-able car you'll need something smaller, either that or try out the optional 4-wheel steering – we've not tried it but it should increase responsiveness, as well as making the turning circle more manageable.
Clever Lighting 
So, it is big and it is clever, but what about the niceties, like aesthetics? Well, it's chunky, like all big Audis should be, so chunky in fact that it really needs wheels at least an inch larger than the standard 18"s to stop them looking a bit lost. Audi are doing clever things with lighting at the moment, too (see new A7 Sportback), and the full-width LED rear light-bar adds futuristic cool.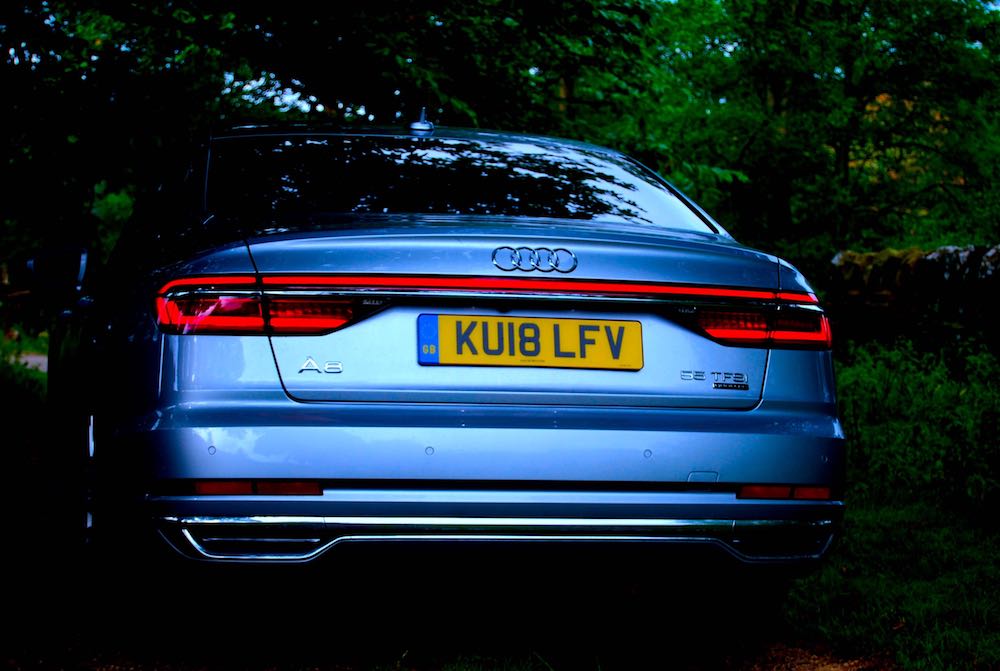 The distinctive lighting theme continues on the inside; when the sun goes down a very cool, super hi-def pin-striping effect appears. It's both original and tasteful, and really adds to the whole quality feel Audi have mastered inside their cars.
Should I Buy An Audi A8?
Audi's A8 will always have to work hard to beat off the stiff competition it faces, and it could be argued that it lacks some visual impact. What they've done with very clever electronics and driving aides keeps the A8 right up to date, possibly ahead of its peers. Revised engines and Audi's Quattro system also go a long way to add driver satisfaction and economy, not only keeping up with, but also bettering other large saloons.
By Ben Harrington
Audi A8 55 TFSI Specifications:
Engine –

 3.0l V6 petrol,

Layout – 

Front engine, 4WD, 

Transmission –

 8-speed automatic,

Power –

 336bhp, 

Acceleration – 

0-62mph – 5.6s,

Maximum Speed – 

155mph, Maximum Torque – 500Nm,

Economy –

 36.7 mpg combined, 

Emissions – 

175

g/km CO2,

Price – 

£69,515 OTR, £75,145 as tested 

The Audi A8 is available now. For full details go to: www.audi.co.uk