The Audi R8 has been with us for ten years now. Launched in 2007, way before the whole 'Porsche are buying VW……..no, VW are buying Porsche' debacle, its task in life was to knock the 911 off its slightly smug perch.
It cost £77k and was powered by a 4.2l V8 that nestled midship in a carbon fibre cradle comprising many parts from sister company – Lamborghini. Most pertinently, though, it was mouth-wateringly pretty.
Audi R8 Mk2
Much has happened since then. First, VW showed Porsche who the daddy of the fatherland really was (mainly by taking ownership of them) and the second generation R8 was launched in 2015. The V8 engine was dropped entirely from the R8 range, in its place was a V10 producing either 533hp or 602hp in Plus guise.
It's still got two seats and you still choose from either a coupe or convertible 'Spyder' body. Perhaps the most noticeable difference is the price, though. Yes, it's 10 years later and, yes, the base model now comes with an engine with 2 more cylinders, but the starting price of an R8 has risen slightly to £123k.
At this price the R8 is only really in competition with the 911 Turbo now, but I guess trying to wipe out your new cousin's longstanding legacy would create something of a family row.
How much does the R8 Spyder cost?
This, as you've probably noticed is the Audi R8 Spyder, which starts at a smidge over £132K, so what exactly are you getting for your money?
Well, the most obvious place to start is those looks. Personally, I don't think this second-gen R8 is quite as pretty as the original, I preferred the more rounded approach rather than this angular, quasi-robotic look. What's undeniable is how striking it is, though.
Drive up the road, any road, and you literally see jaws drop as you approach. Where 911s fade into the background due to their abundant popularity, the R8 Spyder has that supercar 'wow' factor.
Coupe or Spyder R8?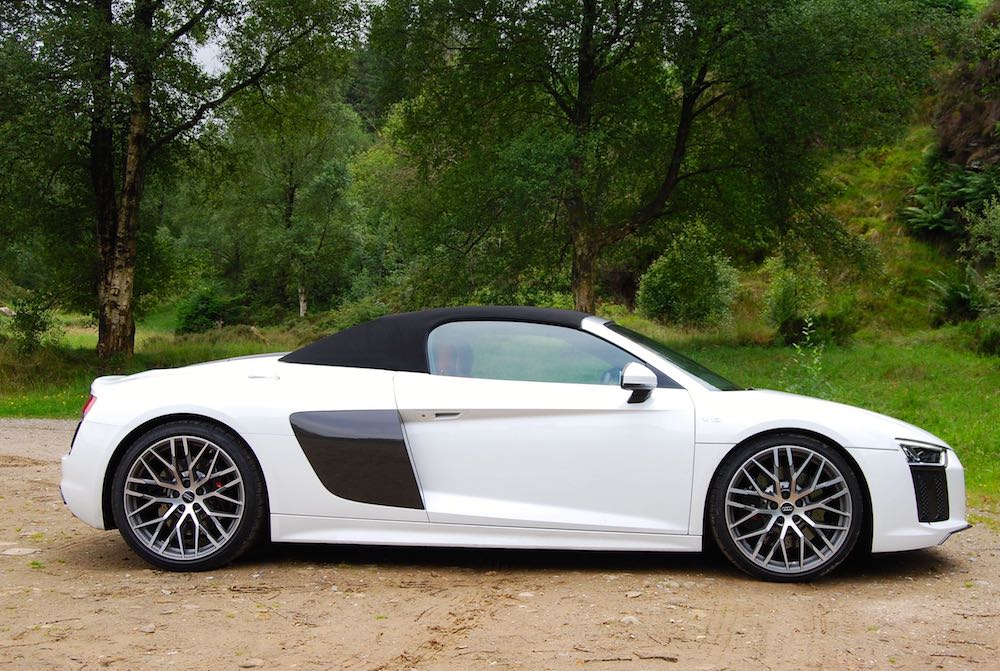 For me, this is also one of the rare occasions when the convertible trounces the coupe. That spyder roof is so graceful and lovingly crafted, whereas the coupe R8 somehow looks a little top heavy, like the roof is trying to leapfrog the bonnet.
Secondly, and this could have come first in many people's books, that engine isn't just any old V10. Oh no, Audi has borrowed the engine from sister company Lamborghini, well, you would, wouldn't you? What you get is a scaled down version of the 5.2l engine found in the Huracan, producing 533bhp (the R8 Plus gets the full 602bhp of the Huracan). Even with the extra weight the roof mechanism and body stiffening bring, the R8 Spyder gets from 0-62mph in 3.7s and doesn't stop until it reaches 197mph. Impressive.
Astounding noises
This naturally aspirated engine makes what's undeniably one of the most satisfying noises of any car on the road today. Being free to breathe without the muffling effect of a turbo means the V10 has a raw, deep snarl to it. Opt for the £1,800 sports exhaust and it becomes race-car esque; far more Italian than German, as you'd expect from a Lamborghini engine. The volume can be turned down a notch if you select 'comfort' mode, but be warned; start the R8 and the volume's always turned up to 11 whilst the engine clears its lungs. Subtle exits aren't the R8's thing.
Obviously, the best way to enjoy the glorious V10 wail is with the roof down, but the UK's not exactly renowned for its reliable sunshine. Audi have therefore fitted the R8 Spyder with a glass rear window that retracts into the body so you can enjoy that magnificent engine note whatever the weather. Not only that but the sight of the heat haze it generates in your rear view mirror is strangely satisfying and you can see this more clearly with the window down. Every convertible supercar should come with one of these rear windows as standard.
Could you use an R8 Spyder every day?
One of the R8's most endearing qualities is how its personality can be transformed. In comfort mode it's genuinely useable, comfortable even and, despite its width, driving around town and parking really don't take long to get used to thanks to large door mirrors and a reversing camera. The only thing you may wish for is more storage space as the boot and in-cabin cubby holes are on the small side to say the least.
In dynamic mode the R8 Spyder becomes sharper, louder, more responsive, especially with the optional magnetorheological suspension fitted (£1,600). Leave the drive mode in automatic, and you probably will, and the R8 alternates between calm and manic as your driving style dictates. If it's ultimate performance you desire, though, I'd leave it in dynamic as there is a slight delay if you take it by surprise and floor the loud pedal without warning.
Around town the R8 is as manageable as your average hatchback, both gearbox and steering become rounded and user-friendly. Not only this, but when you want a more spirited drive, the 7-speed S Tronic transmission changes gear so astutely you could honestly live without the option to do it yourself via paddles etc. It's that good.
Giving the R8 4WD does add a certain amount of weight, obviously. Power is nothing without control, though and 533bhp through all four wheels means the R8 Spyder handles that power with no apparent fuss, channelling it to the wheel(s) that needs it most. What this means is incredible responsiveness and negligible understeer, even at the limits.
Is the R8 Spyder comfortable?
One thing that won't have escaped you is how low the R8 is, and getting in and out can be tricky in confined spaces. Once inside, though, the seating position and seats themselves are far more accommodating than you might imagine, even with the slight loss in cabin space from the coupe.
The interior and dashboard are your usual Audi-fare; beautifully constructed using high quality materials. The driver-focussed display and infotainment system don't allow for passenger intervention which would be helpful, but it's all seamlessly smooth. If anything the R8 Spyder's interior could be a bit more 'special' though. This is a supercar with a supercar's engine but the interior could honestly have been lifted out of one of many 'normal' Audis.
Should I buy an R8 Spyder?
There aren't many supercars that you could genuinely use on a day-to-day basis, the genre doesn't lend itself well to the task. In the R8 Spyder, Audi have created just this, though; a fabulous blend of incredible performance, looks and build quality.
By Ben Harrington
Audi R8 Spyder Specifications:
Engine – 5.2l V10 n/a petrol, Layout – mid engine, 4WD, Transmission – 7-speed S Tronic auto, Power – 533bhp, Acceleration – 0-62mph – 3.7s, Maximum Speed – 197mph, Maximum Torque – 540Nm, Economy – 24.1mpg combined, Emissions – 277g/km CO2, Price – £132,020 OTR, £144,720 as tested