Audi S1
When Audi ditch the letter 'A' for the infinitely more exciting 'RS', people tend to stop what they're doing and take notice. Quattro comes as standard, things get beefed up in the looks department and power stats usually get a bit silly to keep up with or hopefully trump those pesky letters – 'M' and 'AMG'. But what about the little sisters – Audi's 'S' cars? And in this case – the Audi S1?
Despite four exhaust tips protruding defiantly from the rear valance, the S1 doesn't look that different to a 'normal' A1. There's a neat little spoiler perched on top and some slightly greedier air intakes upfront, but the S1's been kept firmly on the subtle side of gaudy.
Power's upped to 228 bhp which sounds like a lot in a car the size of the S1 – because it is. But when one considers that it's the same engine you'll find in the mighty Golf R which puts out 297bhp, this four-cylinder, turbo-charged unit isn't exactly being taxed.
Nearly wasn't a Quattro?!?
As with every RS and S-badged Audi, the S1 is a Quattro, but it very nearly wasn't, and that's what makes the S1 so special. The concept of a front wheel drive S1 was bandied around as a lack of space meant re-engineering the whole of the A1's rear end to accommodate the Quattro's Haldex system. Where there's a will, though (and enough cash), there's a way, as they say, and Audi's engineering department have kept their performance bloodline clean with all four wheels being driven.
For this alone, Audi should be applauded, because although the S1's drive bias is towards the front end, throw it into a damp corner with a large dollop of gusto and you'll be glad the Quattro system's there. The S1 can carry so much speed into a bend and it reacts so readily to adjustments that missing an apex becomes unlikely. It's when coming out of a bend that the Quattro system shows its worth, as the nose starts to creep off-line in typical Audi fashion. That's when the rear wheels decide enough's enough, do their thang and get you back on course, without getting all nanny-state and killing the experience, leaving you feeling like a driving God.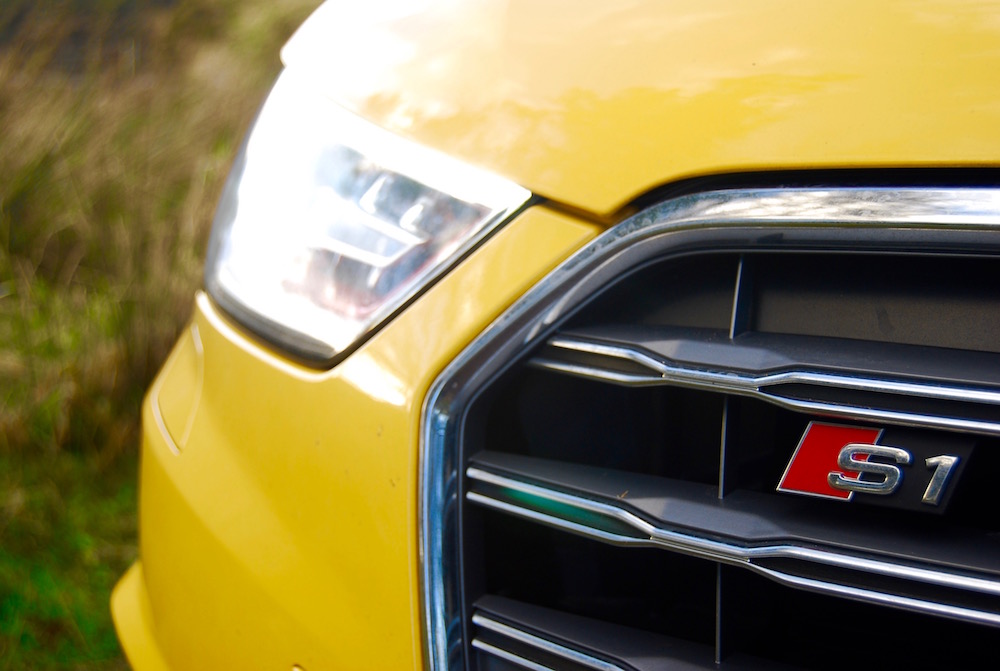 3 Drive Modes
The S1's drive mode can be toggled between Dynamic, Auto and Efficiency – adjusting throttle response and the magnetorheological adaptive dampers to suit your driving ambitions at the time. After much playing and toggling between modes, we found Auto suited our needs 99% of the time, keeping things liveable enough for everyday driving but then baring its teeth when the time comes to fulfil those Pikes Peak, Quattro fantasies.
The thing is, though, despite its Quattro system, quad exhausts and 5.8s 0-62mph time, you always get the feeling that the S1 could give so much more. The chassis never feels particularly edgy and as we've already pointed out – that engine's been proven to be capable of another notch or two in terms of bhp.
Is the S1 extreme enough?
It might be partly wishful thinking but, for me, that points towards another performance model in the A1 lineup as Audi historically aren't scared to push the boundaries. The obvious answer would be to add an 'R' and give us a louder, lairier RS1 with nearer 300bhp, but I'm not convinced it would actually be an improvement. Yes – the S1 could handle more speed, and yes – it could be more striking both visually and aurally from those four exhausts, but should it? I'm not so sure.
£25K might seem a fair chunk of cash for a little Audi, but in showing a modicum of restraint when turning up the turbo, and insisting on 4wd, of course, the S1 gets the useable fun vs performance balance just right.
By Ben Harrington
Specifications; Audi S1, Engine – 2.0l TFSI, Transmission – 6 spd manual, Layout – Front engine, 4WD, Power – 228 BHP, Torque – 370Nm, Emissions – 162g/km CO2, Economy – 40.4 mpg combined, Maximum Speed – 155mph limited, Acceleration – 5.8s 0-62mph, Price – £25,59 OTR, £31,085 As tested.
The Audi S1 is available now. For full details, go to; www.audi.co.uk