Usual interior quality in the Audi Q3 TFSI
Anyone who's ever sat in any breed of Audi, of any description, or who knows someone who has, will be well aware that they know a thing or two about making interior spaces comfortable and inviting, and this Audi Q3 is no different. Taking something like a car's dashboard for granted is an easy thing to do – it's not something people usually talk about, but when you look at the way the Q3's is sculpted and formed to be as user-friendly and attractive as possible, it gives a very good indication of just how much importance Audi place on their living spaces.
It doesn't end with a few nice shapes though – the tactile element of the Audi Q3's cabin is just as satisfying; I've pointed out before how important the feel of a steering wheel should be to manufacturers – it's the part of a car your hands will come into contact with most often, by far. Run your hands over an Audi steering wheel, especially an S Line one, and it just feels right – such an obvious detail, and yet one so often overlooked.
Let there be light……
Audi have also set the pace recently regarding illumination; they were the first manufacturer to feature DRLs (daytime running lights) – for a while, bright LED light signatures on any car were referred to as "Audi lights". Their expertise in the field is mirrored inside the car also. Combining the usual white lights with their trademark red creates an atmosphere and ambience that's unparalleled. Any photographer or interior designer will tell you that light can be your best friend or your worst enemy – depending on how it's used; Audi get on very well with light.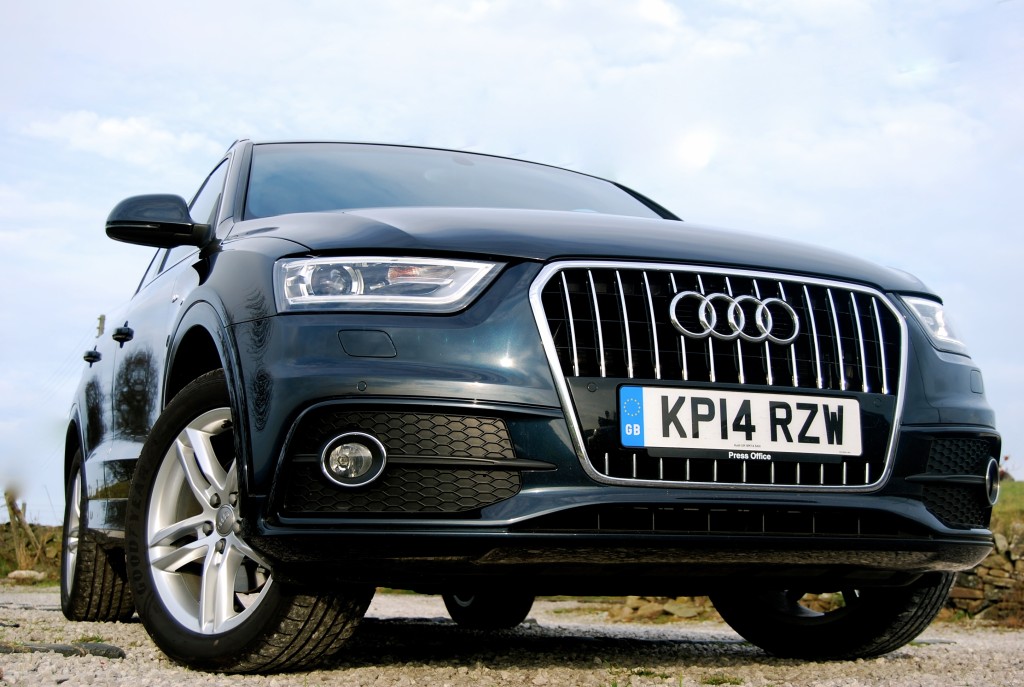 Panoramic glass sunroofs are another great way of adding light to any car and can make any small space feel more generous. If you're going to spend £1,100 on the Audi Q3's optional roof , I'd just be a bit wary if anyone driving it's over 6 feet tall. I use this height as the limit because that's how tall I am and I just about got away with it with the seat on its lowest setting – anyone any taller will curse the glass roof as it does steal a valuable couple of inches of headroom.
…….and sound
Speaking of options though, at £690, the BOSE surround sound system is an absolute must. I've driven cars with far more expensive systems from equally impressive stereo makers, and been left completely underwhelmed. Not so the BOSE – it is absolutely sublime and, I think, a bit of a bargain.
Update due soon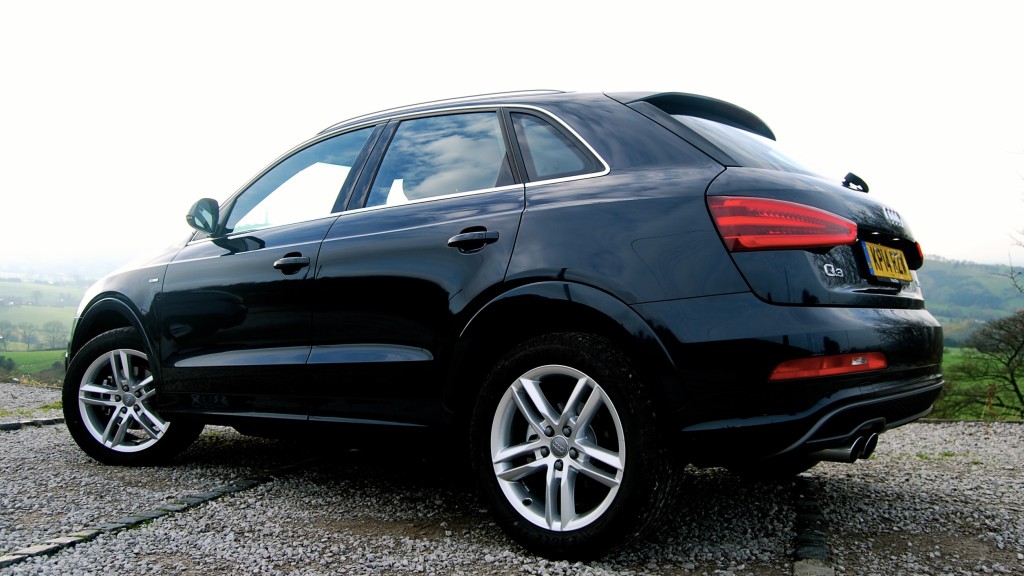 The Audi Q3 will be updated fairly soon with a bit of a facelift and slightly revised engines  – you can have a look here; http://www.audi.co.uk/new-cars/q3/q3.html – but they'll still be instantly recognisable as Audi's smallest SUV (until the rumoured Q2 comes out soon, at least). They'll also still utilise VAG's PQ35 platform – it may not be as modern and ubiquitous as the MQB platform, but it performs admirably on the Audi Q3. It handles the road with the minimum of fuss, achieving the objective of performing more like an A3 than a big, wallowy SUV when the tarmac comes over all twisty, even without Audi's much-lauded Quattro system driving all four wheels.
Part of the New Audi Q3's facelift will involve, quite literally, a facelift, with the dominant feature – the Darth Vader/Hannibal Lecter/Hoover Dam 'mouth' being remodelled into something more 3D and slightly more subtle – very much in the style of the original Q3 from 2011. This shape Audi Q3 is slightly front-heavy in the looks department, but when you add the larger wheels and other highlights that come with the S-Line spec that's on our test car, it all balances out very well.
Smaller is better
The New Audi Q3 will also come with some updated engine technology, the most frugal being a very clever, cylinder deactivating variant of the 1.4 TFSI petrol we've got here. Audi expect around one fifth of sales to be powered by their smallest unit, I'm thinking it'll be a little higher. At 137g/km it produces Diesel rivalling levels of CO2 and slots into tax band E, yet at the same time, it's genuinely good fun to drive. Sub 10s 0-60 times aren't anything to write home about, but the way this Q3 TFSI is geared, combined with that beautifully weighted chassis, makes for a hugely satisfying driving experience. An unexpected bonus is the fantastic burble from the exhausts when you hit 4000rpm; I really wasn't expecting it but the tones that resonate through the cabin just add to the sense of fun.
If you still need convincing to swap a larger oil-burner for this Q3 TFSI petrol, can I just throw in the fact that it'll cost a whopping £3,900 less than its nearest priced alternative. £4K is not to be sniffed at and it quite conveniently keeps the Audi Q3 more wallet-friendly than some other manufacturer's alternative, namely the Range Rover Evoque.
What does it all add up to?
Sometimes, every once in a while, you put all the correct ingredients together and life has a really vexing way of messing the recipe up, with no explanation offered, leaving you with a right dog's dinner where should have been a masterpiece.
Conversely, sometimes the opposite occurs and what, on paper, shouldn't turn out to be anything particularly special is actually pretty wonderful.
I think it's called equalling more than the sum of its parts, and this fairly run-of-the-mill Audi Q3 TFSI is a superb example of such an occurrence.
By Ben Harrington
Specifications;

 Audi Q3 TFSI S line, 

Transmission –

6 spd manual,

Layout –

Front engine, FWD,

Power –

150Ps,

Torque –

250Nm,

Emissions –

137g/km CO2,

Economy –

 47.9 mpg combined,

Maximum Speed –

126mph,

Acceleration –

 9.2s 0-62mph,

Price –

£25,850 OTR, £32,770 as tested
For full details go to www.audi.co.uk