New Audi A5 Cabriolet
Disregarding our recent snowfall and temporary blip as we returned to winter, summer is very nearly here. We may not get as much as some, but even in Blighty that will mean sunshine and even a rise in temperature. Good job for the family types amongst us that the new Audi A5 Cabriolet got here just in time, then.
Based on the A5 coupe that was released last year, Audi have again resisted the temptation to go down the folding hard-top route. A fabric roof not only looks more stylish and sophisticated, it doesn't require as much stowage space. No junk in this trunk, then.
More visually appealing 
As with the coupe, the styling of the new A5 Cab is definitely more evolution than revolution, with that strong undulating shoulder-line still being a standout feature. It has undoubtedly been given more than just a subtle refresh, though, and both front and rear ends benefit from more definitive, sleeker light clusters.
The new, lower position of Audi's signature front grille means the bonnet now has a more rounded curvature to it. The creases that run from grille to windscreen give the impression that the A5 is making quick progress, even when stood completely still.
Class-leading interior
When it comes down to interior design, Audi have become accustomed to coming second to pretty-much none. The new A5 Cabriolet is no different; its a winning combination of ergonomic design and up-to-date technology, with a slick infotainment system that's simple to use. Their Virtual Cockpit may be a £250 option, but it's worth going for as it's still way ahead of the competition and never fails to impress.
For the Cabriolet, Audi have even added microphones to the A5's seat belts so there's no need to shout wildly to be heard on the phone. There's also an optional head-level heating system and front seats are heated as standard. It obviously occasionally drops below 35° Celsius during German summers, too.
If it gets too cold or, heaven forbid, it rains, the roof is now a one-touch operation to close in just 18 seconds at speeds of up to 31mph so you don't even have to stop (opening the roof takes 15 seconds).
Four adults will fit comfortably in the A5 Cabriolet with the roof up or down, but a long motorway drive could become tiresome in the back seats with little protection from the wind. There is an optional wind-deflector that does an admirable job of calming things down, but it's wind-deflector OR rear-seat passengers; you can't have both.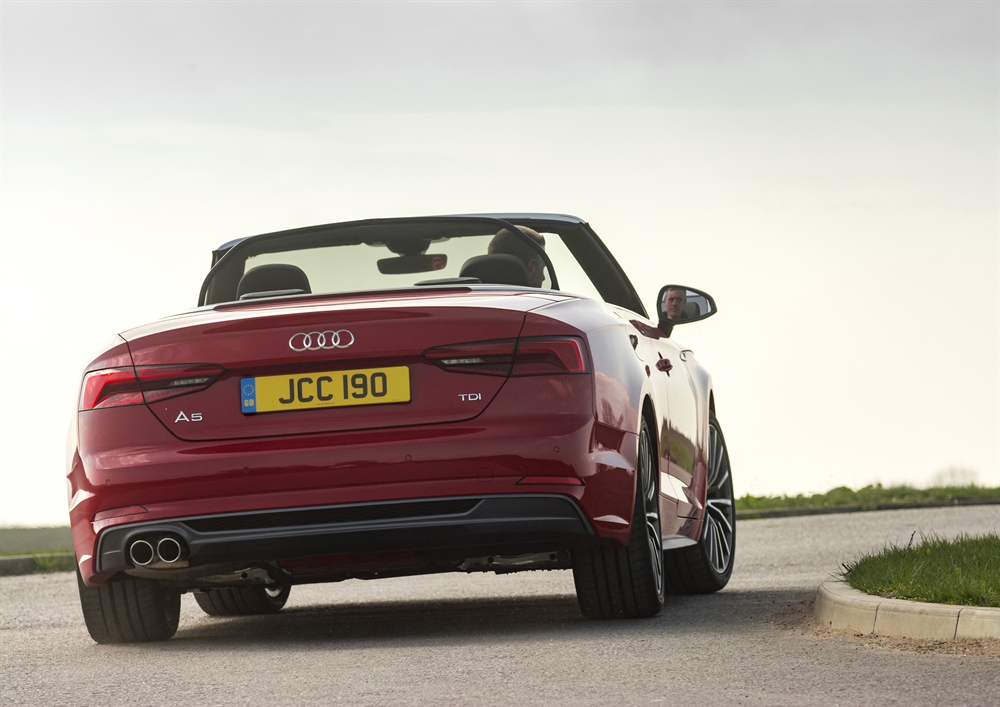 Petrol or diesel, Quattro or not
The A5 Cabriolet is available with a wide range of engines and comes in either front-wheel-drive or with that infamous Quattro badge. There's a 2.0l TFSI petrol engine producing either 188bhp or 250bhp, although the higher powered unit is available from launch solely in Quattro guise, and the 188bhp is FWD only.
There's also two diesels to choose from; a 2.0l producing 188bhp and Audi's much lauded 3.0l diesel producing 216bhp. Again, the higher powered engine is Quattro only, but this time the smaller diesel is FWD or Quattro.
Petrol or diesel, there's a choice of a 6-speed manual 'box or 7-speed S-tronic (auto). Normally a manual gearbox would be our go-to option in sportier cars. But, let's face it, the A5 Cabriolet is more about wafting than track-days. And when the self-changer is as good as this one whilst still providing paddles for when you want to have a turn, the extra investment is worth it.
And for the really adventurous…..
If you want to really go for it, there's an S5 Cabriolet option available from launch. Powered by a 3.0l petrol engine producing 350bhp driving all four wheels via an 8-speed tiptronic transmission, it'll hit 62mph from standstill in 5.1s. This is whilst returning a claimed 36.2mpg combined. We've driven it and the sound of that six-cylinder engine with no roof to muffle it is addictive to say the least.
Which A5 Cabriolet?
Diesels may be quieter and more refined than ever, and these Audi units certainly are, but we've always said that a soft-top should be petrol. For this reason, we'd opt for the 250bhp petrol Quattro in Sport guise, mated to the 7-speed S-tronic 'box (£43,980). The added reassurance of four-wheel-drive, combined with plenty of 'oomph' and a superb gearbox is a winning combination.
By Ben Harrington
The new Audi A5 & S5 Cabriolet are available now, priced from £35,235 & £51,835 respectively. 
For full details, go to; www.audi.co.uk