Porsche Cayman
I don't want to jump on the bandwagon or anything here but, to be completely honest, I didn't care much for the original Porsche Cayman. Visually I found it, well, a little half-baked – it's slightly awkward lines were reminiscent of a convertible adorned with one of those domed, all-weather hard-tops – a Boxster with a hard-hat, if you like.
The ethic of the Cayman could never be questioned though. The 911 will forever be Porsche's icon, and quite rightly so, but it's no secret that with the engine hanging over the back, it's something of an engineering nightmare. With the Cayman, Porsche had a clean slate to design a true sports car with the engine in its ideal position – just behind the driver; no rear seats to worry about, and a roof to keep things as solid as possible – something obviously lacking in the Boxster.
So, it was just the disagreeable looks that let the Porsche Cayman down a tad then.
What we have here then is the latest model, and just look how the ugly duckling's turned out. Porsche aren't where they are today by getting things wrong (well, not often, anyway) and with a few tweaks here and a couple of bulges added there, they've created a truly attractive car whilst not straying away from the original ethos behind the project.
There's undeniably hints of the 918 Hyper-Porsche in the Cayman, most noticeably being the more severe air intake behind the doors – bigger air-scoops always add a touch of purpose, don't you think? But it's the remodelling of the whole silhouette that makes this latest Porsche Cayman succeed in the looks department where the previous model failed. Just look at the angle of the roof-line – note how the incline it follows is shallower, terminating at the very back of the body and flicking back up into a little duck-tail spoiler – Porsches always look good with duck-tails. Now compare this with the Mark 1 which had a roof that finished in the middle of the rear wheel arch, directly above the wheel-hub. I can see why Porsche might have been keen to avoid this shape in the first place as it's definitely more 911 than it was before, but at the end of the day, it still differs just enough from its big brother to avoid poaching sales from the more expensive model, and it works.
Much has been written about the 'S' version of the Porsche Cayman, leaving this 2.7 litre model looking a little redundant. So just what can you expect from a sports car with a 'measly' 275bhp? Well, 0-62 comes in at 5.6 seconds and it'll max out at 164mph which is surely enough for most, although it's not performance to go singing from the roof-tops about. What is worthy of mention though is the claimed 36.7mpg it'll return on the combined cycle, and the 180g/km CO2, meaning a year's VED comes in at a paltry £220 (all of these figures are taken from a Cayman with Porsche's PDK 'box – more about that later) Admittedly, economy's surely the most boring reason to buy a Cayman – what isn't boring though, is that no matter which model you opt for, it comes with what's possibly the most sorted chassis set up and engine position this side of a McLaren.
Negotiate yourself over the door-sill and into the 911- based interior, and you'll find a view out over the typically short bonnet between the raised wings that makes you just want to point the car and go, without the intimidating feeling that the nose is out of sight and could come unstuck at any moment. The sound deadening in the cabin is just enough to let the mechanical whirr of the Porsche flat-6 behind the seats permeate in when you press-on, and I assure you, you will press-on. It's not often that cars are set up so well but Porsche have got it just right with the Cayman, making it handle every corner effortlessly without the need for granite-like suspension that'll mean every other journey's to the chiropractor as he repairs the powdery remains of your spine.
If I can find fault with the way the Porsche Cayman rides, its lack of weight over the front wheels sometimes means it loses its way over our typically undulating British roads; come off a roundabout too quickly and the lip that sometimes exists between roundabout and carriageway feels more like a stunt ramp.
So, it's beautifully built, it handles superbly and goes well enough, and now it even looks pretty, and all of this for under £40K……….erm…….well…….yes. You can get all of this for under £40K, but I'd wager that you'd struggle to find a Porsche Cayman on the roads today that hadn't had at least some extras added to perk it up a bit.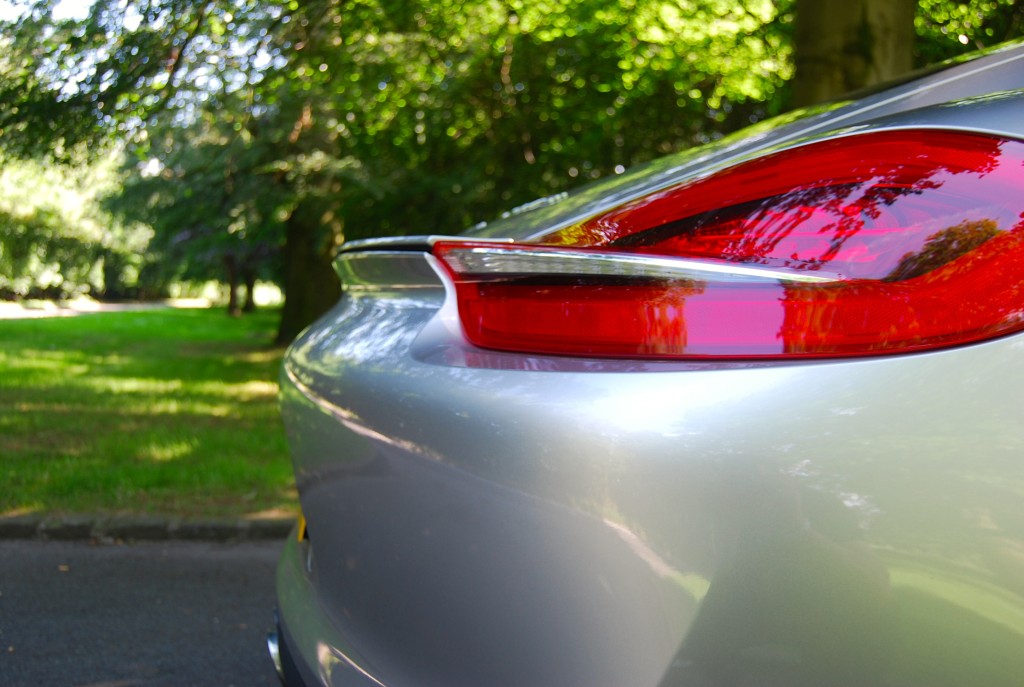 Our test car came with options that pushed the price up over ten grand to a not inconsiderable £50,603, but just how much of that extra 25% do you need to spend, and how much is just someone getting carried away with the online configurator? Well, there's a couple of tech bits like parking sensors that you could probably live without – there's £1K knocked off your bill straight away. Bi-xenon lights are another grand and they could probably be deleted, the silver paint isn't standard but there are four perfectly good colours including black and white that come for free, so there's another £558 – this is easy! Hmmm, ok, the wheels fitted to our test car wouldn't be my choice personally but the Porsche Cayman undoubtedly needs at least 19" to fill the arches so I can justify that £1K hike. Nav's £2k – that's necessary, and I'd even say that climate control is expected in a car of this nature – there's another £518. This isn't looking so simple all of a sudden.
What's absolutely, without a shadow of a doubt, unquestionably needed on the Cayman is Porsche's excellent 7 speed Doppelkupplung (PDK) gearbox. I can't quite believe I'm saying this as the demise of the manual 'box causes me much heartache and this is one of the few driver focussed cars that still comes with one, but once you've experienced PDK, you'll feel the same way too. The way it seamlessly changes gear into exactly the correct ratio for any given situation is hard to believe; it seems to instinctively know what to do, way before the chemicals in the driver's brain have even got close to mixing together, weighing everything up and deciding on a gear. Approach a corner at speed and step on the brakes, and the 'box immediately changes down, and down again, and down again if necessary, giving a delightful little blip on every change – leaving you feeling like a driving hero.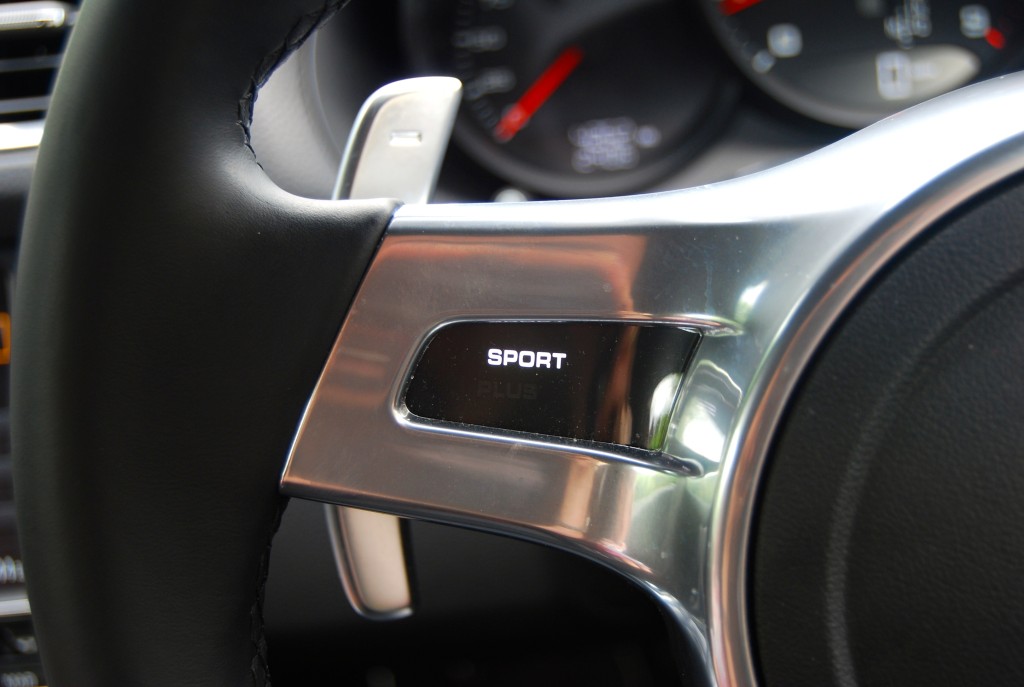 I'd also feel I was missing out slightly if I didn't opt for the sports steering wheel with paddle shift, the sports exhaust that adds a real rasp in the sound department (follow this link to experience that rasp for yourself; http://www.youtube.com/watch?v=8l_WTgJB0sk) and, perhaps most importantly – the sports chromo package. Sometimes these different driving modes are a little indistinguishable from one to the other – not so Porsche's. Left in standard, the Cayman is placid enough to use every day without a second thought; crank it up a bit into sports mode and the instant increase in revs and noise will let you know the car's ready for more serious business; go for the full-fat sport plus mode and all of a sudden, this 'standard' Cayman feels like a world-beating track monster, holding onto first and second gears like a particularly determined limpet. I don't want to come across all liberal and boring here, but if you have been enjoying sport plus mode, I'd remember to deselect it when driving around town etc, as it really sounds like you've forgotten how to change gear, screaming and howling like something that really has no place on public roads.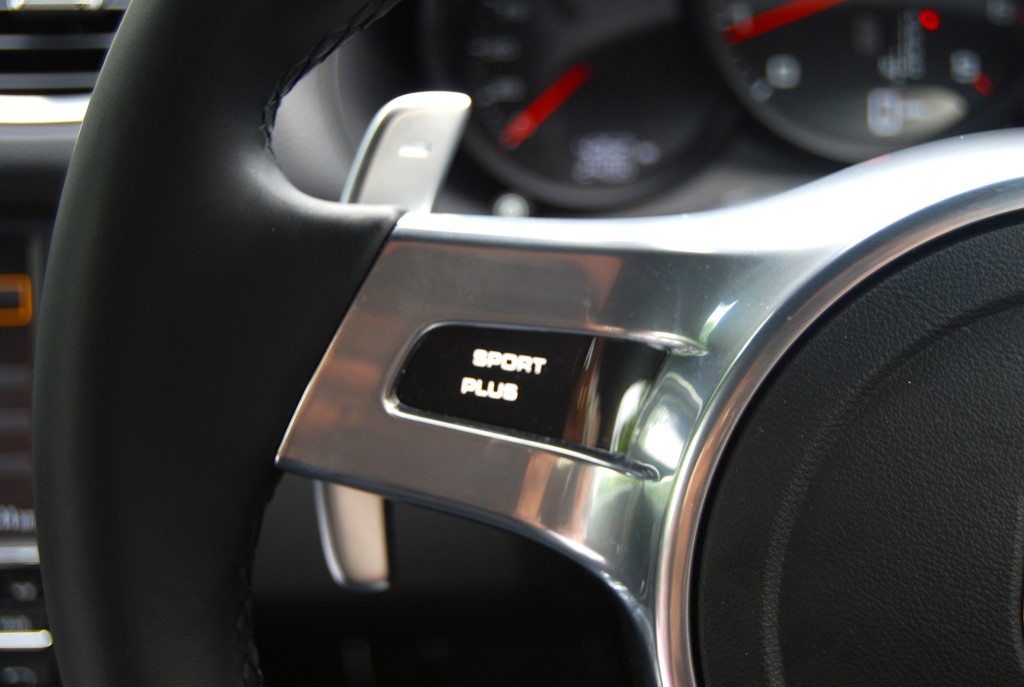 To conclude then, the Porsche Cayman in standard guise is sometimes forgotten these days, mainly because of the stunningly brilliant 'S' and 'GTS' models. It's important to remember that you get the same fabulous driving experience and looks in this variant, all for under £40K – whether you decide to spend more is entirely up to you.
By Ben Harrington
Specifications;

Porsche Cayman,

Engine – 

2.7l flat 6 NA,

 Transmission –

7 speed PDK,

 Layout –

Mid engine, RWD,

 Power –

275bhp

, Torque –

290NM,

 Emissions –

180g/km CO2,

 Economy –

36.7mpg combined,

 Maximum Speed –

164

mph,

 Acceleration –

5.6s 0-62mph,

 Price – £39,694 OTR, £50,603 as tested
p.s. – on a more practical note, £120 worth of grocery shopping does fit into the Porsche Cayman – here's the photos to prove it: