The last gen SQ5 held the then prestigious title of being Audi's first diesel 'S' badged model. With diesel-gate still in full swing and heavy oil burners even becoming vehiculum non grata in a certain German city, it was no great surprise when the new Audi SQ5 ditched the black fuel pump in favour of something altogether greener.
Petrol SQ5
Here, then is the tyre-shredding version of Audi's mid-size SUV and you'll no-doubt be delighted to hear it's more powerful than ever. Its lightweight 3.0l turbo-charged engine produces 350bhp, a 40bhp increase on the last model. Good. Fans of removing the top layer of tarmac will be disappointed to hear that torque's down, though. Where the diesel produced a whopping 650Nm @ 1450 – 2800rpm, the petrol only manages 500Nm @ 1370 – 4500rpm.
What this means in real terms is a 0-62mph time of 5.4s and a limited 155mph top speed, in a four-wheel-drive, luxury SUV full of leather and electronic trickery.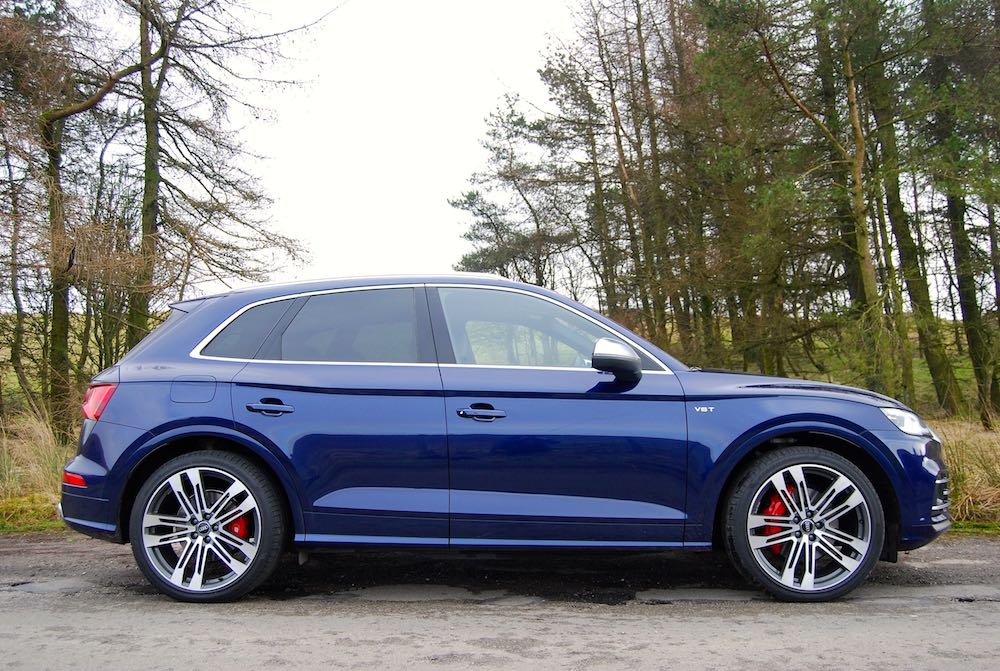 The non-S Q5 has always suffered from middle child syndrome. There's the almighty, overbearing Q7 that casts an unfeasibly large shadow. Then there's the cutesy, city-friendly Q3 that fills the second car slot perfectly. Despite selling in large numbers, somewhere in the middle of these two was the Q5, looking a bit dowdy in the corner, fighting for column inches against its siblings.
New, more streamlined look
The Q5 has had a makeover, though, and it's really rather pretty, with a far more streamlined, flowing look that many new Audi models have adopted. The 'S' bits aren't a dramatic change from the base model, mainly because the base model is pretty dynamic already. A revised, more eye-catching front end, subtly lower suspension and larger wheels (our test car sat on some very fine 21", 5-spoke alloys; they're an extra £1,500 but well worth it as they suit the car so well) make up the majority of the visual upgrades. Oh, and quad exhaust outlets in the rear bumper…………….except they're not, because they're fake, and the real exhausts sit behind them. I have to say, I expect the genuine article from my German, performance SUV.
Classic Audi interior
Audi interiors are famed for their quality and design. You'd struggle to find a poorly placed line, a toggle or switch that feels a bit flimsy or anything other than top-notch plastics and leather. The SQ5 comes with fine nappa leather sport seats as standard, subtly embossed with an S logo. They are fine places to sit, sure, but they could do with a tad more lumber support for me.
I don't usually like going on about optional extras, but at £250, Audi's Virtual Cockpit is a must. It's still a very impressive system and having detailed nav etc in clear view (i.e. not having to take your eyes off the road for too long) is a great safety feature in our increasingly distracting cabins.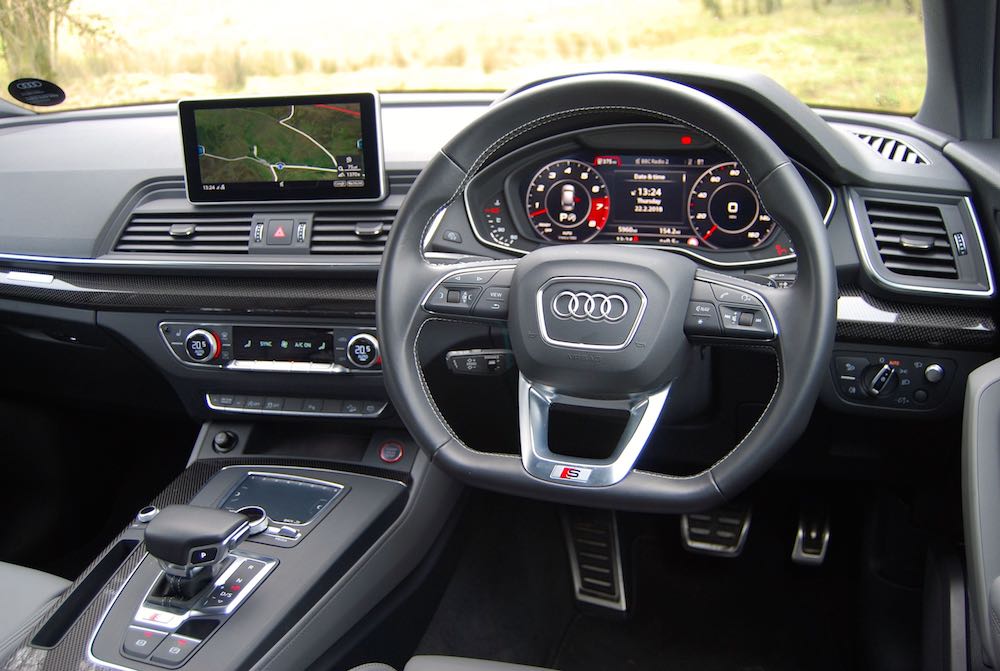 My only bugbear with the SQ5's cabin is that the 8.3" infotainment display isn't touchscreen. This is because Audi have gone with their clever touch-pad that translates your hand-writing into text instead. I've said all along that this is fine if your writing hand is the one nearest the pad i.e left hand in RHD cars, right hand in LHD cars. I, along with 85% of the planet am right handed; this car would work better for me in Germany where the system was invented.
Is the SQ5 a bit thirsty?
Anyway, back to that switch from diesel to petrol. Yes, there's the inevitable loss of economy, but the SQ5 still manages a very respectable 34mpg on the combined cycle (20" wheels) and CO2 emissions are just 189g/km. To put that into context, the similarly priced/performing Porsche Macan S returns 32.1mpg and emits 204g/km CO2.
Unfortunately, the switch to petrol has also made performance suffer slightly, and 0-62mph now comes about in 5.4s, compared to 5.1s in the previous diesel model. It's not all about the destination, though, and the journey to 62mph is much improved. There's no discernible lag from the turbo as it sends power to all four wheels via the excellent 8-speed transmission and the SQ5 heads to the horizon. The turbo does mute the engine somewhat, with a pleasant little burble rather than an almighty roar greeting your ears.
Staying on the grey-stuff is overseen by not only the permanent four wheel drive you'd expect, but a self-locking centre-differential too. I'm going to go on about optional extras again here, but for added fun if nothing else, you can go for the Sport differential our test car came with. For £1,200 it'll regulate power to each rear wheel dependent on need, meaning you get around corners even quicker. Definitely worth considering.
Should I buy an SQ5?
At over £50K, the Audi SQ5 isn't cheap, with even its equivalent Porsche Macan S stablemate undercutting it by a few grand. It is more practical than the Macan, though, with a considerably larger boot. With many manufacturers dropping diesel from certain models, a performance SUV could be a pricey vehicle to run, but the SQ5 is certainly one of the most fun.
By Ben Harrington
Audi SQ5 Quattro TFSI Specifications:
Engine –

 3.0l 6-cyl petrol,

Layout –

Front engine, 4WD,

Transmission –

 8-speed automatic,

Power –

 350bhp, 

Acceleration –

0-62mph – 5.4s,

Maximum Speed –

155mph limited, Maximum Torque –

50

0

Nm,

Economy –

 34.0 mpg combined, Emissions –

189

g/km CO2,

Price –

£50,440 OTR, £61,010 as tested

The Audi SQ5 is available now. For full details go to; www.uk.audi.com