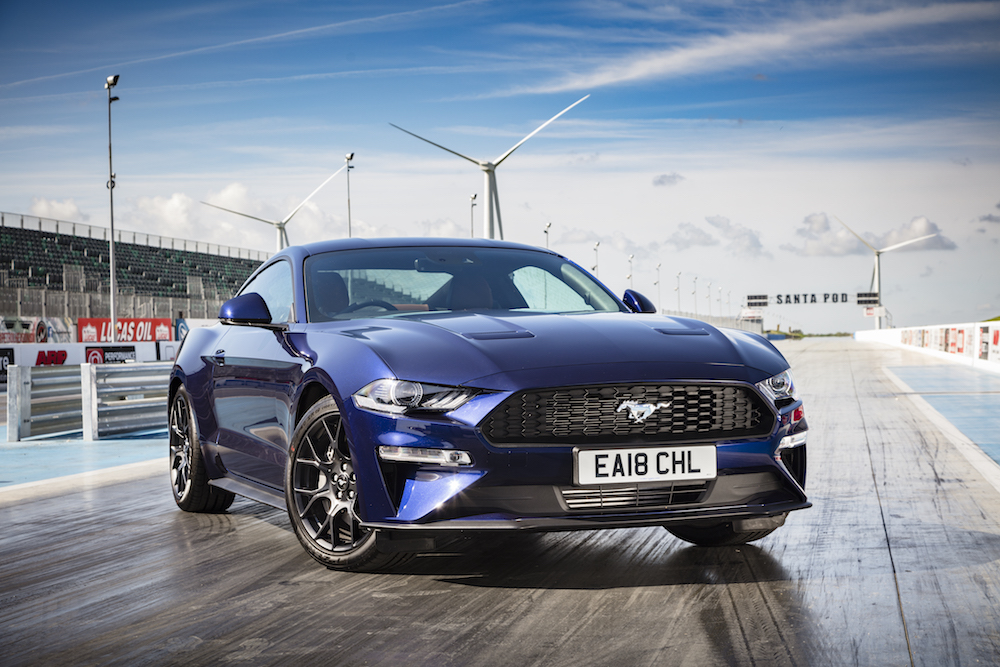 After waiting over 50 years for our very own slice of American Pie in the shape of an official, UK Ford Mustang, in 2014 we finally got one. Barely a full-length rendition of Jimi Hendrix's Star Spangled Banner later, we've got another one and…….erm…….it looks very, very similar.
Unlike European cars, the American market demands a year on year improvement in every model, but that's not what spurred on the New Mustang. No – a dismal two star Euro NCAP safety rating was surely the deciding factor behind the 2018 car. Out of every bad situation comes good, though, as my mother always says, and Ford have taken the opportunity to make significant improvements in other areas of the Mustang, although passenger safety has obviously improved too.
So, What's Changed in the New Mustang, Then?
Well, look closely and you will see some minor cosmetic tweaks. The nose is actually lower and wider, making it more aero-dynamic. There's air vents in the bonnet and the headlights are LED; the three bars in each headlight actual illuminate now – the fact they didn't was a major annoyance to last gen owners, apparently.
The interior has seen some changes, too, most noticeably a fully adaptable, electronic instrument cluster that alters with each drive mode. It's nice n' all, and I do like a digital speedometer, but I was really keen on the previous Mustang's deep binnacles with their 'Revolutions Per Minute' and 'Ground Speed MPH' scripts.
Choosing a Mustang is still deliciously simple. You decide on Fastback or Convertible, then 5.0 V8 or 2.3 EcoBoost, and finally 6-speed manual or all-new 10-speed automatic. And that's where the most significant improvement has been made in my opinion. Yes, power is up 32bhp to 446bhp in the V8, despite being down to 287bhp in the EcoBoost (70% of Mustang buyers are currently opting for the V8, this will probably now continue), but it's the excellent 10-speed auto with its slick shifting that improves the Mustang driving experience most.
Add to this a Drag Strip mode for ultimate hoonery, and the V8's new quad exhausts get a Quiet mode for late night/early morning peace-keeping with the neighbours.
Add to to all this the driving force behind the update; its new safety features which include Pre-Collision Assist, Pedestrian Detection and Lane Keeping Aid, and the New Mustang has actually seen a major improvement.
The Mustang's improved, but at what cost?
Well, the last Mustang GT was the best-selling V8 sports car in the UK, and parts of Europe, and Ford will be keen to keep it that way. Part of the Mustang's appeal has always been its affordability and our model of choice – the GT Fastback Auto comes in at £43,165; not bad for a car that'll do 0-62mph in 4.3s.
Prices for the New Mustang start at £36,305 for the Fastback EcoBoost with a manual 'box and go up to £46,665 for the Convertible GT with the automatic.
Of course, if you're after something really special, there's an even more powerful, Bullit Special Edition out soon with 460bhp and rev-matching technology. Time to live out those Steve McQueen driving fantasies……….
By Ben Harrington
Our Pick: 2018 Ford Mustang GT Fastback Specifications
Specifications; Ford Mustang GT Fastback, Transmission – 10 speed auto, Layout – Front engine, RWD, Power – 446bhp, Torque – 527Nm, Emissions – 270g/km CO2, Economy – 23.3 mpg combined, Maximum Speed – 155mph ltd, Acceleration – 4.3s 0-62mph, Price – from £43,165