First, a dictionary definition:
icon |ˈʌɪkɒn, -k(ə)n|
noun
1. a person or thing regarded as a representative symbol or as worthy of veneration: this iron-jawed icon of American manhood.
So, how does one go about recreating a symbol that's worthy of veneration? The question's as relevant in the car world as any other; BMW and FIAT have had astronomical success with the MINI and 500 families respectively whereas VW have always missed the mark somewhat with the New Beetle.
How on Earth, then are Ford going to introduce the legendary Mustang into the UK – where they never officially sold it in the first place?
Mustang: A most desirable nameplate
Well, it might not be as tricky as it sounds; recent surveys have revealed that the Mustang is the most desirable classic car nameplate in Blighty, so that lack of indigeneity shouldn't be a major stumbling block.
The last 'New' Mustang looked great, a huge improvement over the dubious styling from the 80s and 90s efforts. Its Achilles heel was always its, shall we say, less than current approach to technology; it featured a live rear axle that traced its roots back to the 1964 original, and a choice of either a stinking great 4.6l V8, or a 4.0l V6 for the more economically minded. Neither engine achieved over 20mpg combined, and it was only made in left-hand-drive.
This one's different, though. This is a global Mustang, and as such it will be on sale through Ford dealers in the UK with the steering wheel on the right, civilised suspension and a 2.3l engine from Ford's much-lauded EcoBoost range. Purists are well catered for, too – there's also a 5.0l V8 option that can be mated to an auto 'box for that authentic feel.
5.0l V8 GT or 2.3l EcoBoost……..
V8 GT or EcoBoost, auto or manual, and fastback or convertible; 'ya pays ya money, ya makes ya choices' – all combinations are possible and prices range from £28,995 for the 2.3l, manual fastback, up to £38,495 for the 5.0l, auto convertible. We've driven the V8 fastback and the EcoBoost convertible, both with manual 'boxes to see if the 50 year wait for a UK Mustang was worth it.
This Mustang pays great homage to the 60s original, possibly more than any of its recent predecessors thanks to a slightly more dainty, less beefy image. The fastback's lines ape the original's so faithfully that its bloodline is instantly recognisable, and that's no bad thing as those very lines seem to stir emotions like no other. You'll notice also that there's not a blue oval to be found, not anywhere; it's just the galloping steed, almost making the Mustang a sub-brand for Ford.
It's not all retro-tastic, though, there are some more modern touches in the shape of a body-coloured rear diffuser and a crystal clear rear-light cluster; neither of which are to my taste, personally, but they do save the Mustang from looking completely out of touch.
The convertible is visually identical to the fastback, except for the obvious lack of roof. May not sound like much but that raked rear window line is such a vital part of the Mustang silhouette that from any angle other than head-on, the convertible could be a different model entirely.
Ford's fastest ever production coupe
The 5.0l V8 unit produces 413 bhp and 530Nm of torque, getting the Mustang to 62mph in 4.8s, making it Ford of Europe's fastest ever production coupe. There's launch control to help get all that power down, and a system called 'line-lock' that activates the front brakes whilst allowing the rear tyres to go up in smoke for up to 15 seconds. Fun.
Launch controlled or not, lines locked or unlocked – dump the throttle, watch the long nose rear up and you'll find the horizon is a lot closer than you thought.
It not only goes like stink, the rumble and roar you'd expect from a V8 is one of the most addictive noises you'll ever hear from a car. There's no sound-symposer trickery going on here, either; put it in third, keep the revs above 5K and it's pure aural Nirvana.
The 2.3l EcoBoost engine was always going to pale by comparison next to the V8, and it does lack the wow factor of the more traditional Mustang engine. It only loses by a second in the race to 62mph, though (5.8s), and output figures of 309bhp and 432Nm are impressive, especially considering its 35.3mpg average which is a tad more wallet-friendly than the V8's 20.9mpg (ouch). This engine does rely on a sound-symposer for its soundtrack and, although it's just not a V8, it makes a respectable howl nonetheless. Some of this sound is lost with the convertible's roof down as you'd expect, but roof-up it's just loud enough.
The Ford-sourced auto 'box wasn't available for test at the time of launch, so both engines were married to 6-speed manuals from Getrag. It's a short-shift unit with a positive, definite feel, but like many Getrag 'boxes it doesn't like to be rushed. It actually felt more at home in the more easy-going EcoBoost Mustang than the V8 – some flappy paddles and a promised blip on downshifts could be the icing on the cake in the feisty 5.0l.
Does the inside live up to the outside, though?
Inside the Mustang is a bit of a Jekyll and Hyde affair. There's some really funky touches such as the deep-dish dials and steering wheel, and the splashes of real aluminium that add a premium feel, but then there's some nasty, scratchy plastics at eye level and the glovebox lid that doesn't feel like it'd take much abuse. This is one of the few places that the Mustang's sub £30K base price is obvious, but when you look out over a pair of rifle-sight-esque bonnet creases, and 'Ground Speed' is written on the speedometer, I daresay you'll forgive a multitude of sins.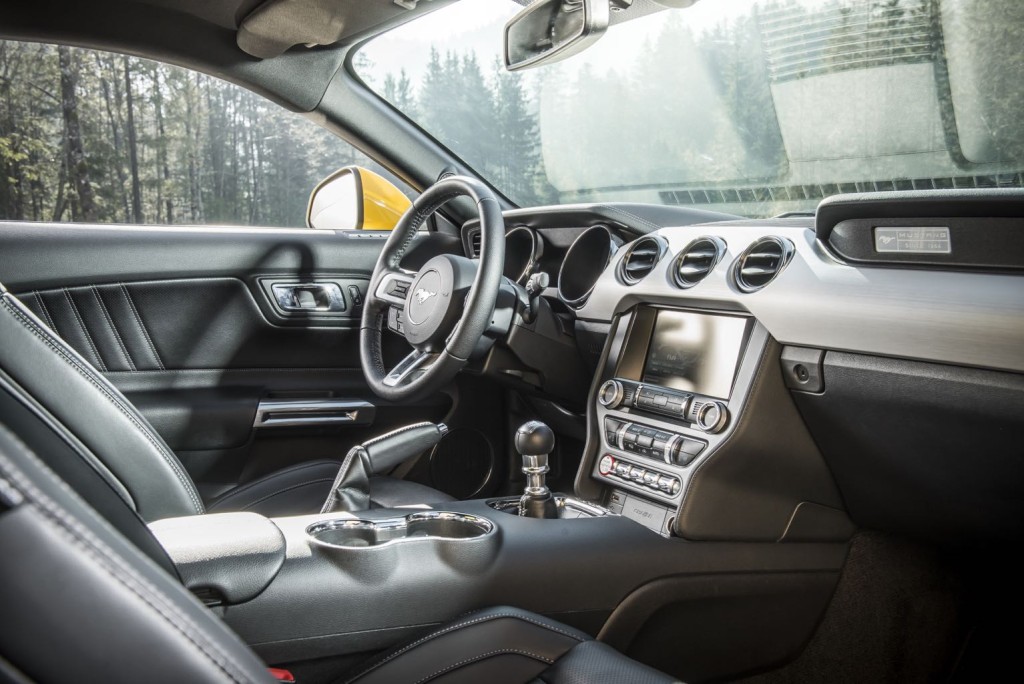 The new Ford Mustang is by no means a perfect, polished sports car, created to compete with the yardstick 911. What it is, though is an absolutely stunning piece of design with a choice of two very different engines to suit different needs and a modern chassis set up that now makes sense on our narrow, twisty roads. There's a certain amount of transmission-shunt, especially in the GT, and you're always aware that this is a big car, even if it's not quite as wide as previous Mustangs.
What's absolutely certain is that there's nothing else that turns heads quite like the Mustang available in the UK today for anywhere near £30K. In fact, you can double your budget to £60K, or even treble it to £90K, and it'll still be the biggest crowd-pleaser. This year's UK allocation of 1,200 cars sold out some time ago, but when you look at just how much car you get for the money, and what a massive chunk of U.S. heritage you're buying into, that's no real surprise.
By Ben Harrington
Specifications; Ford Mustang GT Fastback, Transmission – 6 speed manual, Layout – Front engine, RWD, Power – 413bhp, Torque – 530Nm, Emissions – 299g/km CO2, Economy – 20.9 mpg combined, Maximum Speed – 155mph ltd, Acceleration – 4.8s 0-62mph, Price – from £32,995
Specifications; Ford Mustang EcoBoost Convertible, Transmission – 6 speed manual, Layout – Front engine, RWD, Power – 309bhp, Torque – 432Nm, Emissions – 184g/km CO2, Economy – 34.4 mpg combined, Maximum Speed – 145mph ltd, Acceleration – 6.0s 0-62mph, Price – from £28,995
For full details go to: www.ford.co.uk/Cars/NewMustang