All-New Picanto
This is the all-new Kia Picanto, the third generation of the nameplate and the Korean brand's fourth-gen city-car (Pride being the first, in case you were wondering).
Visually it's not a million miles away from the outgoing Picanto. It's edgier and more aggressive looking with some very determined headlights and a more defined tiger nose – a distinguishing feature of the Kia marque.
The same size, yet larger……
Quite importantly for a city car, the new Picanto takes up exactly the same amount of space as its predecessor. Through some clever jiggery-pokery with the wheel-base, though, there's actually more room inside for both luggage and passengers.
If you're wondering why there's no pictures of a three-door Picanto, that's because there won't be one. Apparently, 3-door models only account for 10% of sales in the sector so demand just wasn't there. Kia, then – like many manufacturers have discontinued this option.
Two petrol engines with another to follow
From launch there's a choice of two petrol engines which are both re-engineered versions of existing units to make them more powerful yet more economical. There's a 1.0l three-cylinder producing 66bhp and a 1.25l four-cylinder which gives us 83bhp. Later in the year we're promised a 99bhp turbo option, again a three-cylinder; this will be the most powerful Picanto ever.
Economy ranges from 64.2mpg to 52.3mpg combined, emissions from 101g/km CO2 to 124g/km. The nippiest Picanto manages 0-60mph in 11.6s whilst the most sluggish takes 13.8s.
Transmission is a choice of either a 5-speed manual 'box or a 4-speed auto. The automatic is only available with the larger engine, though, and it has a dramatic effect on economy and performance.
As is Kia's way, the choice of specifications for the Picanto is numbered 1-3: the greater the number, the more generous the equipment. There's then a GT-Line which is about a 2.5 and a GT-Line S perched on top of the pile. '1'-spec Picantos are 1.0l only, '3' & GT-Line S are 1.25l only. Everything else, it's either engine.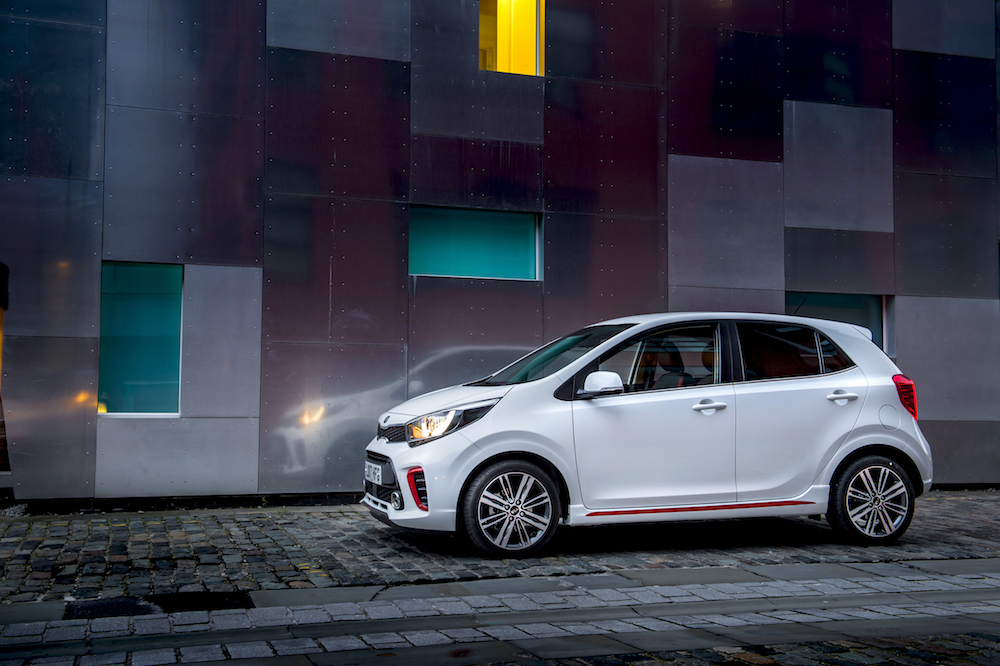 Very impressive interior quality
Inside the new Picanto is where vast improvements have been made. The overall design and quality of materials used, especially the plastics found on the horizontal dashboard is excellent and belies a car that's available for just £9,450 OTR.
Base-model Picanto '1's comes with electric front windows, remote locking, USB ports, auto' lights, electronic stability control, vehicle stability management, hill-start and six airbags. Work up through the grades and air-con, climate, alloys and an infotainment system with Apple CarPlay and Nav are all available.
More rigid body, yet lighter
Another huge step up for the new car is how it feels on the road, especially at motorway speeds. Not only is it quieter, with only the slightest wind-noise blowing around the door-mirrors, but it's more refined, too.
This is undoubtedly down to the Picanto's increased use of high-strength steel and structural adhesives in its body construction. High-strength steel now accounts for 44% of the shell which actually makes it 23kg lighter, whilst structural adhesives have increased by 900%.
What this accounts to in the real world is a small car that feels much larger, more settled. Scarred, undulating road surfaces at 65mph+ can be unnerving but the new Picanto feels far more composed than its size would suggest.
First impressions
What the new Picanto offers is a far more grown-up approach to city-car motoring, without any dreaded middle-aged spread or drab looks. We predict the new 99bhp engine is going to make it an absolute hoot, too, as the body feels more than capable of handling it.
By Ben Harrington
Specifications: All-New Kia Picanto, Engines – 1.0l three-cylinder petrol & 1.25l four cylinder petrol, Layout – Front engine, FWD, Transmission – Five-speed manual or four-speed auto, Power – 66bhp – 83bhp, Acceleration – 0-62mph – 11.6s – 13.8s, Torque – 96Nm – 122Nm Maximum Speed – 100mph – 107mph, Economy – 52.3mpg – 64.2mpg combined, Emissions – 101 – 124g/km CO2, Price – £9,450 – £13,950 OTR