KIA Sorento
KIA regard their Sorento as something of a landmark product. It's looked upon as the car that made Europeans, and in particular the UK take a second look at the, then pretty-much unknown Korean outfit when it arrived on our roads back in 2002.
Since then, they've become a major player in the UK market with cars like the chunky Sportage and the unconventionally named pro_cee'd GT, with their flagship Sorento taking something of a back seat.
Say hello, then, to the New KIA Sorento. From the front it's obvious it's a KIA even on first glance, thanks to the ever-present 'Tiger nose" KIA trademark. Admittedly, the nose is less feline on the upmarket Sorento than some more budget KIA offerings, but it's definitely there, and it's housing a whole Australian mine's worth of floating diamonds which really makes the front end stand out.
With its high shoulder line and sturdy image, the design brief for the New KIA Sorento seems to have been to strive for a level of quality and refinement, previously not achieved from KIA. There are hints of Audi Q7 around the Sorento's flanks which is probably thanks to ex-Audi designer – Peter Schreyer's influence. The rear is very similar to Jeep's new Cherokee, especially around the lights, and the whole look obviously draws inspiration from its popular sibling – the Sportage.
The New KIA Sorento is available with one Diesel engine, the same unit that's found a home in Hyundai's Santa Fe. It's a 2.2 litre, 197bhp offering which can be mated to a choice of two 'boxes – a 6 speed manual or 6 speed auto. It's not the most cutting edge power-train in the world and only the most basic spec 'KX-1' manual Sorento achieves sub 150g/km CO2, but performance is spirited enough and there's little engine noise intrusion in the cabin. 'Intelligent AWD' is standard across the whole Sorento range, with the front wheels providing power by default, and the rears being called upon when required.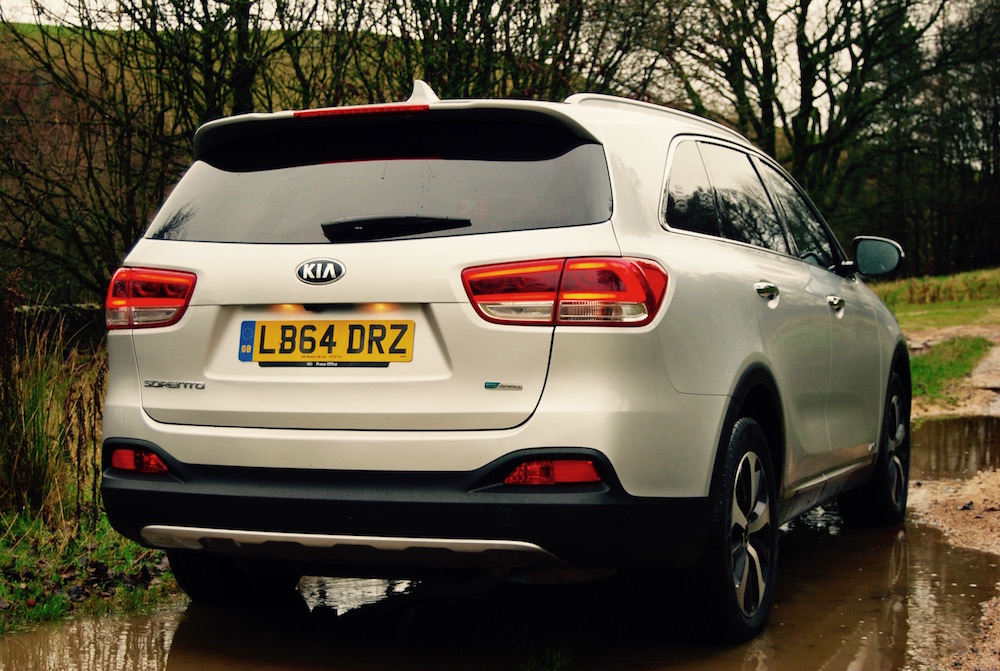 The KIA Sorento's ride has been engineered more for comfort than on-the-limit handling and there's a fair amount of rock 'n' roll going on. For such a large, hefty craft, though, it's settled and predictable at speed and when pushed around bends; the suspension just needs a second to get itself ready for a change of direction or rapidity.
One of the New KIA Sorento's major allures is the fact that it comes as standard as a seven-seater. We're not talking about a couple of additional seats that leave you with zero luggage space here, either – there's still enough room for a fair number of shopping bags, even with seven occupants, unlike some of the competition.
The theme of enhanced quality carries on from outside the New KIA Sorento to inside the cabin, with high-grade leather seats on all-but KX-1 models and some super-squidgy, liquorice-like dashboard plastics. The infotainment system is far more user-friendly and attractive than some far more 'premium' marques and DAB and Bluetooth are standard across the range.
The relatively high shoulder line and reduced glass housing make for a cosseted feel in the front two seats, to the point that shorter passengers may struggle to see out of the lower specced car's windows (KX-4 spec come with a height-adjustable passenger seat).
For a 7-seater SUV with a fairly premium feel, the New KIA Sorento is pretty good value with prices starting at £28,795 for the entry-level model, especially when compared to the likes of the Discovery Sport. If you want a few more creature comforts, though, you'll be looking at paying between £32-£35K and that's when the competition gets a bit more serious, with the Sorento's sister car – Hyundai's Santa Fe offering similar equipment and space for the money.. I'm guessing that the range topping KX-4 will be something of rarity thanks to its £41K price tag – that puts it in the same ballpark as the full-fat Land Rover Discovery and Audi's Q7 – you'd have to really want a seven-year warranty to buy the Sorento ahead of these.
By Ben Harrington
Specifications; KIA Sportage CRDi KX-3 Eco, Engine – 2.2l diesel, Transmission – 6 spd manual, Layout – Front engine, 4WD, Power – 197 BHP, Torque – 441Nm, Emissions – 161g/km CO2, Economy – 46.3 mpg combined, Maximum Speed – 124mph, Acceleration – 9.0s 0-60mph, Price – £35,845 OTR, (Sorento range is available from £28,795)
The KIA Sorento is available now. For full details go to; www.kia.co.uk