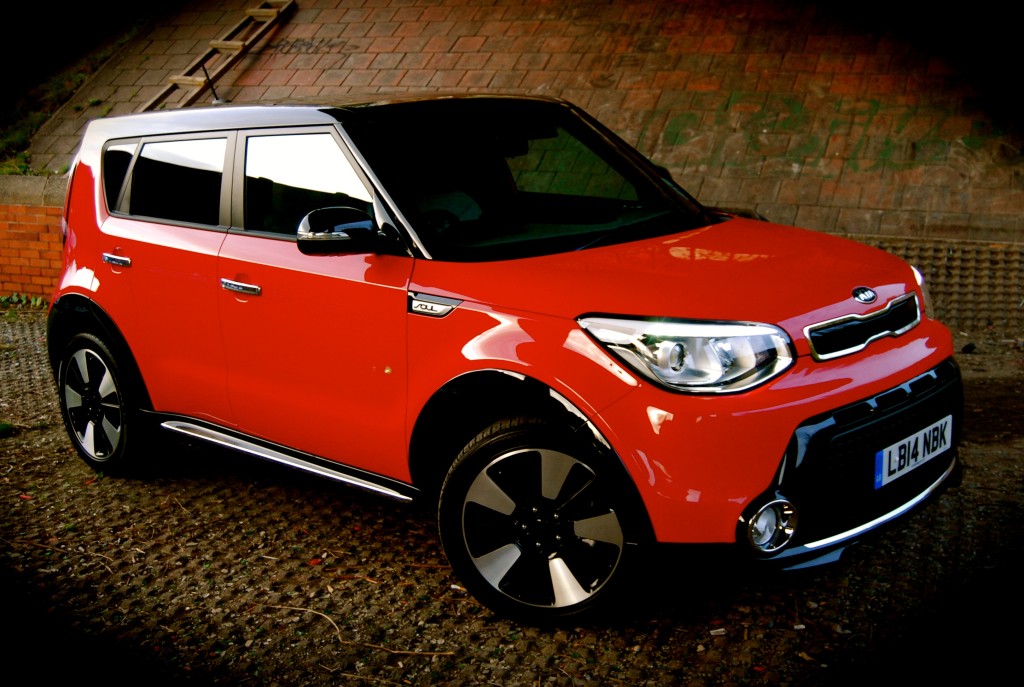 Let's face it – the inherent shape and dimensions of the first Soul was 'slightly boxy' – if you're being kind, and 'a bread van' – if you're not. With this New Soul, KIA haven't completely deserted their original concept, but it's certainly been 'jazzed up' (excuse the music-based pun) a bit.
Look Familiar?…….
The New KIA Soul is unashamedly aimed at the ultra-lucrative 'want-a-4×4-but-don't-want-the-running-costs' market. Gone is the slightly dopey face of the Mk1, in its place is a far more determined look and an elongated version of the all-important 'tiger nose'. Coupled with its bulgier, muscular bodywork, the New KIA Soul is a far more visually attractive proposition than its predecessor, especially in this eye-catching 'Mixx' spec we have on test. Parked side-by-side, I was really surprised at how similar the New KIA Soul was to the MINI Countryman – they may have come at it from completely different angles, but it's interesting to see how two polar-opposite manufacturers can come to very similar conclusions regarding what the public wants.
In the New KIA Soul Mixx
It may retail at nearly £20K (£19,750), but this model doesn't represent the top of the Soul range – that'd be the Maxx. I'd say that if it's total domination of all possible attention that you're after, though – this will be the one to go for. The dual-colour, contrasting roof option is a brave move but it really works on the New KIA Soul and fits in well with its youthful persona. It is only available on the Mixx (see what they've done there), in fact – if you want a monochromatic Soul – you'll have to opt for one of the other trim levels.
The New KIA Soul's interior is a well thought out, funky place to be seen, with a better standard of plastics and design than you'd expect from previous Korean efforts. This isn't just a generic dash and fascia that could be found in any number of similar models, it's fresh, new and some real thought's obviously been put into making the New Soul's 'in' as eye-catching and original as the 'out'.
Infinity audio system
All but the two cheapest model Souls come equipped with an 8 speaker Infinity audio system, complete with its very own amp and subwoofer. I'd have given a minor body-part to have my car kitted-out with an Infinity sound system when I was younger, and the make still holds major weight in the 'tunes' market today. The flashing speakers are possibly a little OTT (that could just be my age, though), but the noise that your Infinity equipped New Soul will make is 'absolutely bangin"(or whatever the cool-kids are saying these days). It may not matter to some, but I was really impressed with the way this Infinity multimedia system has been personalised with the 'Soul' font, rather than using the standard one it's manufactured with. For me, it's little bits of attention to detail like this that make a car stand out from the competition.
There's plenty of head and leg room for all inhabitants of the New KIA Soul, and anyone with young children will be thankful for the spine-friendly seat height that makes getting said-children in and out less of a chore. The trade-off for this voluminous living space is a bit of a pokey boot that, at 354l, is surprisingly stingy considering the shape of the car. It will fit a decent sized supermarket shop in – I tested this personally, but getting a modern buggy in – and the other paraphernalia that young children come with these days, will require some manoeuvring and possibly putting a rear seat down.
1.6l or 1.6l
In the very near future, an electric Soul (EV) will be available to buy, if that takes your fancy, but for the moment, the New KIA Soul comes with a choice of two 1.6l fossil-fuel burners. There's a petrol or a Diesel, the latter being available with an auto 'box in Connect, Connect Plus and Mixx specs. Equipped with a manual 'box, they both produce near-identical levels of power and performance (126bhp & 130bhp, 0-60mph in 10.6 & 10.81s respectively). The petrol variant does represent a £1,600 saving over the equivalent Diesel, and that would take some time to recoup, but for my money, I'd opt for the Diesel manual New Soul, like our test car. The extra low-down grunt (260Nm vs 161Nm), coupled with the less frequent trips to the petrol station (56.5mpg combined vs 41.5mpg) just about edges it in favour of the Diesel.
On the road, the New Soul is surprisingly civilised, especially on the motorway. The Diesel engine is barely audible from the inside and, speaking of noise, KIA have done an admirable job of keeping wind noise to an absolute minimum. With such a square shape and over-sized door mirrors, you'd expect a fair amount of buffeting and whistling, increasing to levels of annoyance at higher speeds – not so, the New Soul – it's whisper quiet (apart from your bangin' Infinity tunes, of course).
Just love those wheels
The ride is also far more settled and smooth than you'd expect from this type of car, again, even at 60mph+. Anyone slightly scared by the effect on ride quality that the very-cool 18" wheels on our test car might have – fear not! There's no banging or crashing over bumps, even with the low-profile tyres; they make the New KIA Soul look absolutely brilliant on the move, too – I'd tick that option box every time!
One thing the New Soul isn't made for is break-neck performance. In the Diesel, first and second gear are nice and friendly, and 30mph comes around quickly enough, it's when you venture into the higher gears that the Soul seems to struggle and there's a distinct lack of oomph. With either engine choice, it'll keep up well enough with traffic but don't expect to break any records around the 'Ring – not until a Soul's made available with the turbo engine from the pro_cee'd GT, anyway.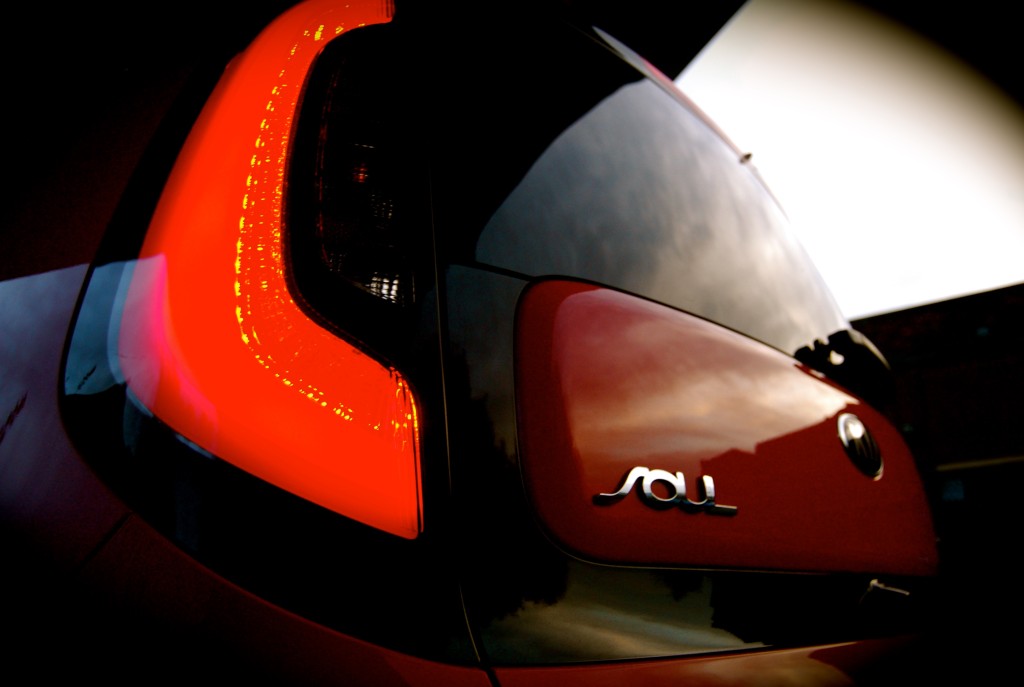 At £19,750, the New KIA Soul 'Mixx' couldn't really be described as 'cheap as chips', no matter how funky it is. If you want the Diesel variant, you can get in a New Soul for a more wallet-friendly £16,400, or if you prefer your fuel unleaded, there's a Soul that'll only cost £12,600. Neither of these will be as fun or smile-inducing as the higher-specced models, but it's still a decent bit of family friendly kit and that 7 year warranty still comes as standard across the range.
By Ben Harrington
Specifications;

 KIA Soul 'Mixx',

Transmission –

6 spd manual,

Layout –

Front engine, FWD,

Power –

126bhp,

Torque –

260Nm,

Emissions –

132g/km CO2,

Economy –

 56.5 mpg combined,

Maximum Speed –

112mph,

Acceleration –

 10.8s 0-60mph,

Price –

£19,750 OTR
For full details, go to www.kia.co.uk