KIA Sportage CRDi 
The Peter Schreyer designed, 3rd-gen Sportage kinda moved the goalposts for KIA when it was introduced in 2010. It altered the public's perception of the Korean brand's image from 'I've heard those KIAs are ok, they can't be that bad – they've got a seven year warranty' to 'Look how pretty that SUV is – I can't believe it's a KIA'.
Minor face-lifts and headlight updates aside, this is pretty much the same car that's sold in bucket-loads since its launch, winning many fans and awards for customer satisfaction along the way. There's been a huge influx in competition since then, though, so does the Sportage still have the same appeal?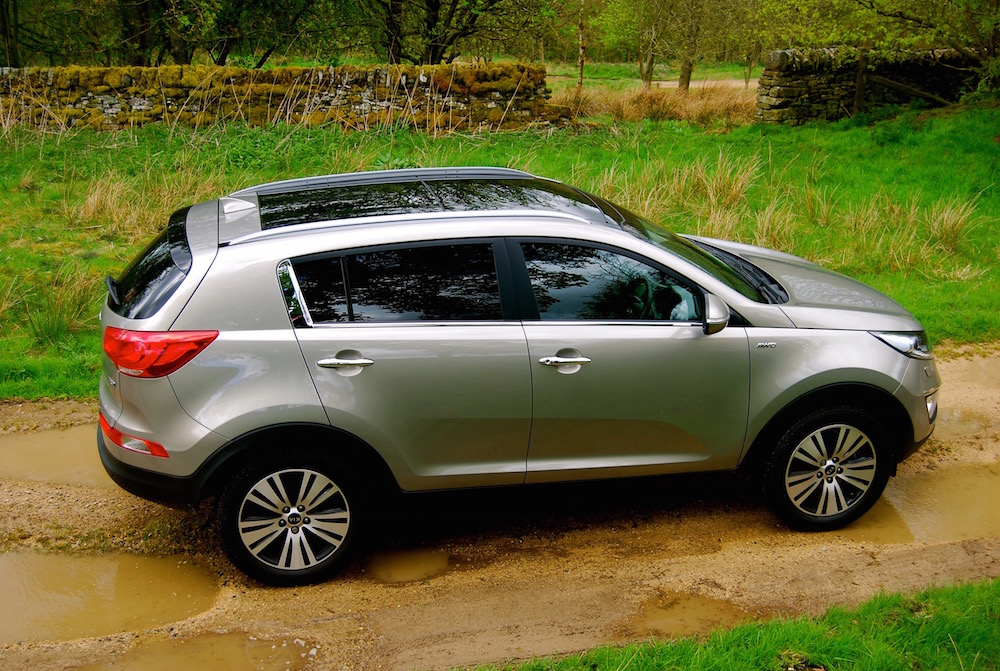 The basic shape and design is still fresh enough to hold its own, but only just. The Sportage was always so easily identified as being Herr Schreyer's handiwork, mainly because it looked like an Audi, but Audis have moved on since then and they don't look like they did five years ago. The new Sportage should be with us in early 2016 – I think we'll be ready for it.
You can have your own Sportage for £17.5K, which is something of a bargain in anyone's money. This, though, doesn't cost £17.5K, this is the range-topping KX-4 model, equipped with the Hyundai-sourced 2.0l Diesel, mated to a 6 speed auto 'box. And it's nearly £30K.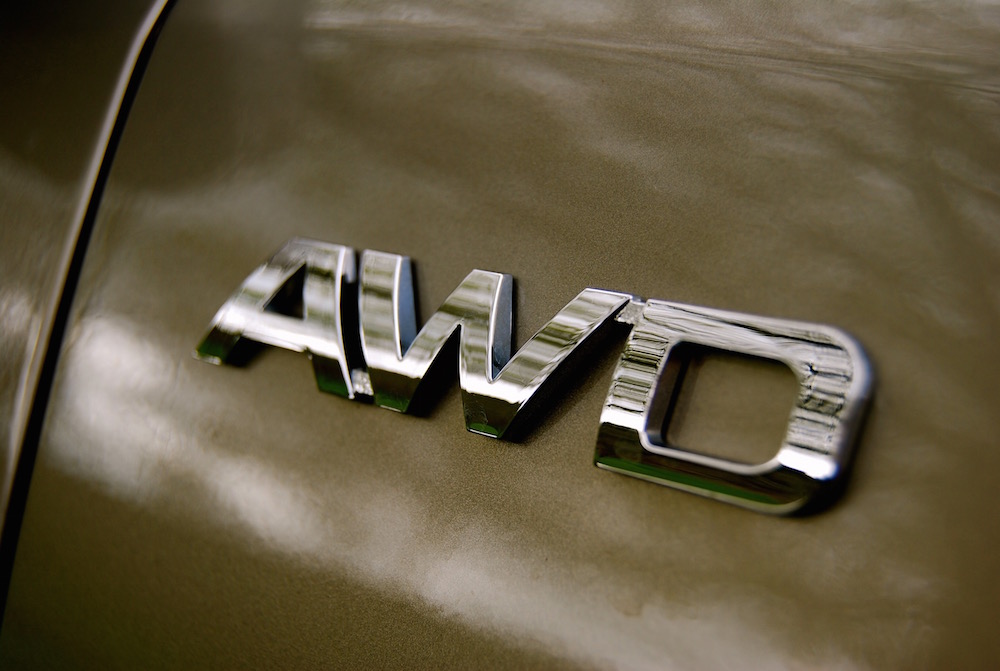 Expensive KIA, or cheap go-anywhere SUV?
Now, there's two ways of looking at this. One is to scoff audibly at such a high price-tag for a KIA, wondering why anyone in their right mind would pay that for an SUV that'll never see more action than a high kerb outside a school. Another, though, is to bear in mind that this is a 4×4 with diff-locks and everything, and a cabin stuffed full of leather and gadgetry that you'd pay a fortune for in more 'premium' marques. Even the rear seats are heated.
I didn't test the Sportage's off-road prowess, and £30K is a lot for a Sportage; I'm just saying that if you managed to get a deal on it, it could tick many boxes.
That said, the 4-cylinder Diesel unit isn't the most high-tech engine in the World; It rattles like a ball-bearing in a metal bucket on startup, has no stop/start function, and when mated to a 4×4 system and a lazy auto 'box, the claimed range from a tank of fuel is roughly double what you'll achieve in real terms. It is pretty thirsty and I daresay that KIA's claimed 39.2mpg combined is, if anything, a touch optimistic. It's not the cleanest engine in the world, either, emitting 189g/km CO2 – not good for the company car driver.
Usual KIA interior
Inside the Sportage is up to usual KIA standards. By this I mean that it's well laid out, looks attractive and the quality is slightly better than the competition without being up to German levels of fit and materials.
The infotainment system is showing its age now, too, and the way it forgets your personalised settings (shuffle tracks etc.) every time you switch the ignition off does grate after a while. I may have been doing something wrong, but to enter a new destination into the nav, I had to first input the country, every time. This meant scrolling down to United Kingdom, every time, which, you guessed it, is towards the very bottom of the list of countries. I stand to be corrected on this, but if I'm right, that's surely a matter that needs addressing.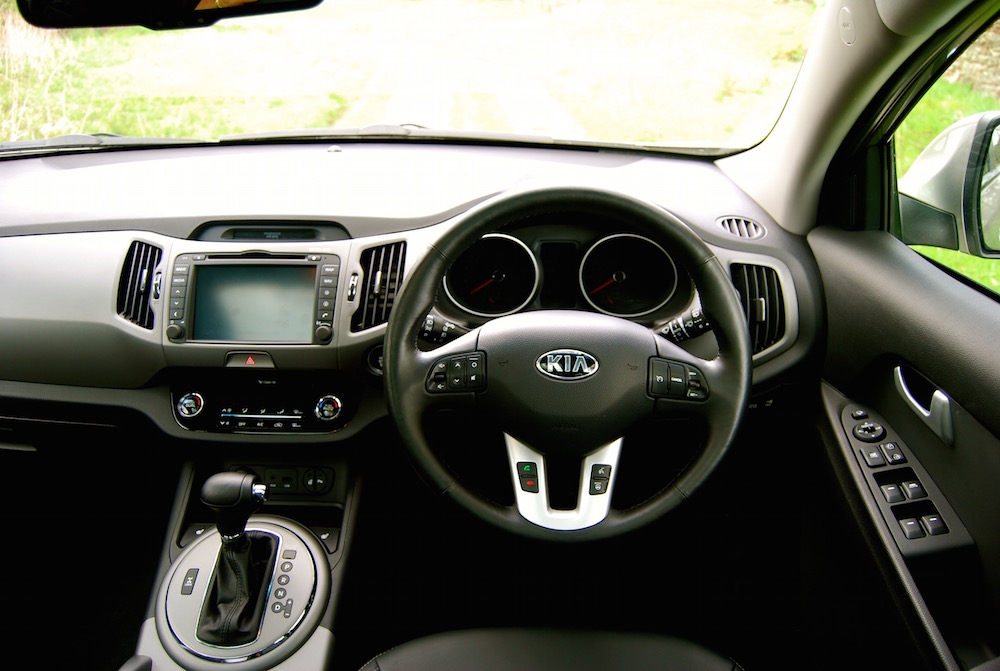 There is plenty of room inside the Sportage, for leg, heads and luggage, and it's all very easily accessible. Its 465 litre boot should swallow everything that it's asked to and with rear seats folded flat, this rises to a colossal 1353 litres.
The Sportage has been a huge success for KIA, but ultimately it's bit long in the tooth now and next year's replacement is well due. This £30K range-topping model is a bit rich for this segment of the market and the price tag highlights its imperfections. Opt for the 1.6l petrol or the 1.7l  in a lower spec, though, and it can still hold its own in the sub £20K market.
By Ben Harrington
Specifications; KIA Sportage 2.0l CRDi KX-4 Auto, Transmission – 6 speed automatic, Layout – Front engine, 4WD, Power – 181bhp, Torque – 392Nm, Emissions – 189g/km CO2, Economy – 39.2 mpg combined, Maximum Speed – 121mph, Acceleration – 9.8s 0-62mph, Price – £29,510 OTR
For full details, go to www.kia.co.uk