Discovery Sport
On size alone the Land Rover Discovery Sport appears to be slightly more than a direct replacement for the outgoing Freelander – more of a Freelander + ½. Backing this up is an extra pair of seats that have sprouted in the boot, making the Discovery Sport a 5+2 as the rearmost seats are suitable for teenagers up to the age of 15 or adults on shorter journeys, according to Land Rover themselves.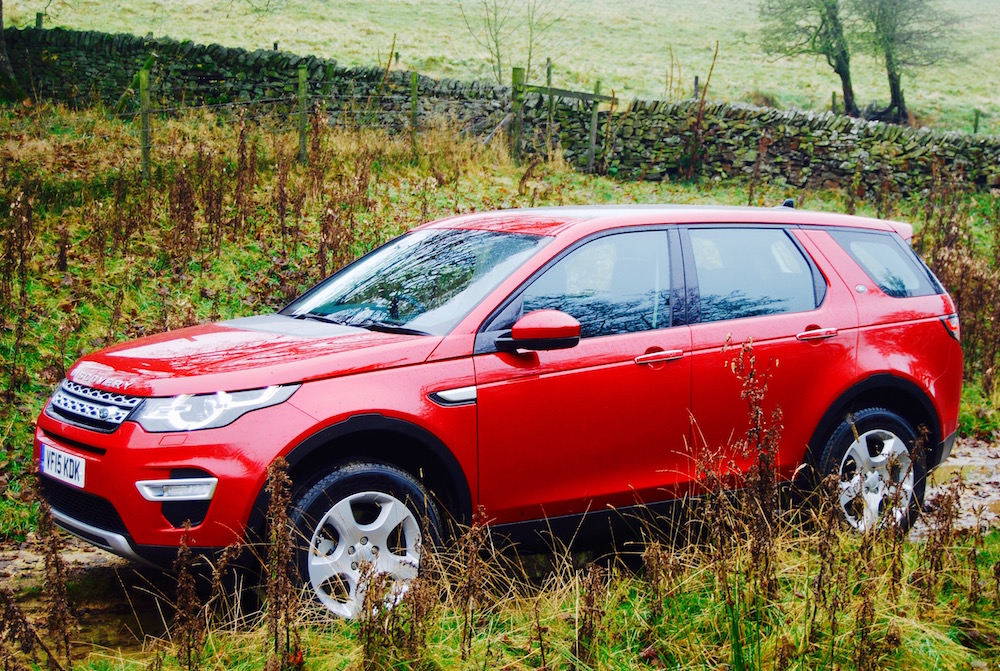 And it's true – the Discovery Sport is larger than its predecessor, but not by that much – it's the levels refinement and image that the Discovery Sport's adopted that puts it streets ahead of the somewhat apologetic Freelander.
DRL signatures are such a distinguishable design feature these days and the Discovery Sport's crosshair-esque, segmented rings make it instantly recognisable. Mirroring them in the rear light cluster which are also constantly lit is a clever move and one that we'll no doubt see from other manufacturers soon.
New, sleek image
Visual cues that survive from the Freelander include a clamshell bonnet and distinctive, forward-canted, oversize C-pillar. By reducing the glasshousing and introducing a more flowing silhouette, the little Discovery is altogether less utilitarian – justifying that new Sport moniker.
That feeling of enhanced size continues inside the Discovery Sport with plenty of space to spread out in the front and stadium style, raised seating in the rear meaning smaller passengers can see over that raised belt line. Moving the Range Rover Sport onto the full-blown RR chassis has left a gap just-about big enough for the Discovery Sport to squeeze into without treading on its stablemate's toes.
Chunky C-pillars and high belt lines aside, visibility is actually pretty good in the Discovery Sport. This is in part thanks to a lofty driving position on a seat that can lower automatically for ease of access. The cabin feels well-built with materials and switch gear that are just that bit chunkier and more sensible than a Range Rover's, keeping the Discovery Sport within the bounds of Land Rover's workhorse persona.
Ingenium engines
There was apparently a bit of a rush to get the Discovery Sport to market and the first few months saw it equipped with an ageing 2.2l unit that was years behind the rest of the car. Now Jaguar have had their turn with the new range of Ingenium engines, though, and you'll find them in the Discovery Sport. The 2.0l engine comes in two flavours; 180bhp & 150bhp – both output models are available with a six-speed manual 'box.  The excellent 9-speed ZF auto we already know and love is reserved for the 180bhp variant.
It's the 'E-Capability' 150bhp manual model we've got here which is identifiable by its blue Sport badge and slightly pokey 18" wheels. Don't be confused with the 'E' bit of 'E-Capability', by the way – it doesn't stand for Electric and the Discovery Sport isn't available as a hybrid yet – it stands for Efficiency and denotes Land Rover's least thirsty models.
Claimed combined mpg is 57.7, whilst emitting just 129g/km Co2 which is impressive stuff for a 7 seat SUV. A 0-60mph time of 11s won't break any records and the manual 'box is lacking in terms of feel and involvement, but that 129g/km figure makes it all worth it when the tax-man comes knocking. On a more positive note, those 18" wheels might not be the most impressive you'll see, but as well as their fuel advantages, that additional rubber makes an otherwise firm ride more compliant.
Chassis and suspension set-up are adapted Evoque parts so they've already proven themselves to be more than capable. The Discovery Sport does sit higher than the Evoque, though, for essential off-road clearance, the disadvantage of this being more pitch and roll in the bends.
Should I buy a Discovery Sport?
At £30,695 OTR, the 150bhp E-Capability is the cheapest way into Discovery Sport ownership. Being a Land Rover, its off-road prowess should be unquestionable, making it a very attractive proposition due to its 7 seat practicality and sleek looks. More power and an excellent 9-speed auto 'box would be our preferred option (obviously) but if cost is the bottom line – this is the Discovery Sport for you.
By Ben Harrington
Specifications; Land Rover Discovery Sport HSE E-Capability, Engine – 2.0l TD4 diesel, Transmission – 6 speed manual, Layout – Front engine, 4WD, Power – 150bhp, Torque – 380Nm, Emissions – 129g/km CO2, Economy – 57.7mpg combined, Maximum Speed – 112mph, Acceleration – 11.0s 0-60mph, Price – £35,395 OTR, £43,551 as tested
The Discovery Sport is available now. For full details go to; www.landrover.co.uk