Hyundai i40 
If we're going to get all stereotypical, car manufacturers from the Far East have a good reputation when it comes down to making more diminutive models.
Now, despite a certain North Korean dictator's best attempts to be rid of South Korea via either some imaginative adjustments to his Usborne atlas with an eraser, or just flat denial of its existence, both of these countries are still situated slap-bang between Japan and China and yet, this Hyundai i40 really isn't that small at all.
Admittedly it loses around 10cm in length to the Mondeo and Insignia which are surely its target rivals in the UK, but the space on offer inside the i40 is cavernous, especially in the rear where there's acres of leg room.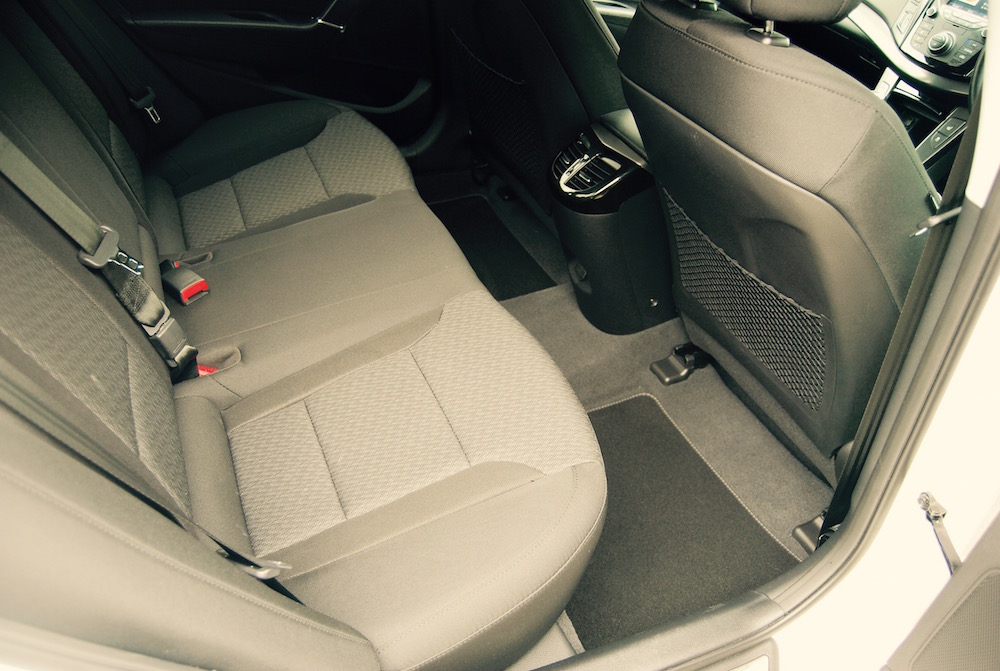 No Hatchback option
Obviously this space has to come from somewhere and in the case of the Hyundai i40, it's from the boot. At just over 500 litres capacity it loses a fair chunk to its rivals, but it's more the access to this space that throws up an issue. You see, where the Mondeo and Insignia are available as either estates or hatchbacks (ignoring Ford's Vignale specials), the i40 is only made in either estate (tourer) or saloon guise – like the one we have here, and this makes using all of those 500 litres+ a slightly trickier prospect due to a fairly small boot portal.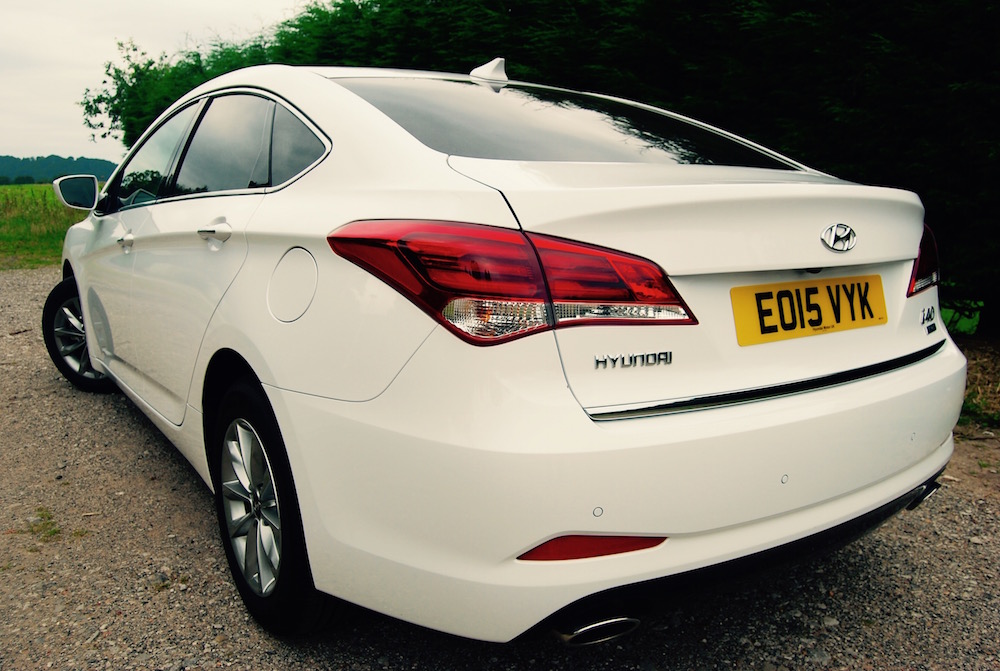 That probably explains why the i40 saloon is a relatively rare sight on our roads compared to the estate, and on a purely aesthetic level that's a bit of a shame as this 4-door model has a certain presence that's lacking on the rather bland estate model, plus a set of properly chunky-looking twin exhausts. That always helps.
Usual high spec
The i40 is comprehensively specced and jam-packed full of technology and features, even on this mid-range SE Nav model. The infotainment screen is large and easy to use, there's a reversing camera and even a heated steering wheel – not bad for a sub £23K car. Some features fall behind the competition in terms of refinement, though; the parking sensors remain active, even when the hand brake is engaged, making getting out of a car parking space a constant assault on the senses. They also seem to bing and bong at random, inexplicable times such as when sat still in a queue of stationary traffic.
Another slightly confusing feature on the i40 is its hill-hold. There's nothing odd about hill-hold per se, and it's standard fit on many modern cars, it's just that to activate it on the i40, you've got to remember to press a button. Every other car I've ever driven has hill-hold's default set to on, not off, and I'm more than a little confused as to why Hyundai have opted for the other way around?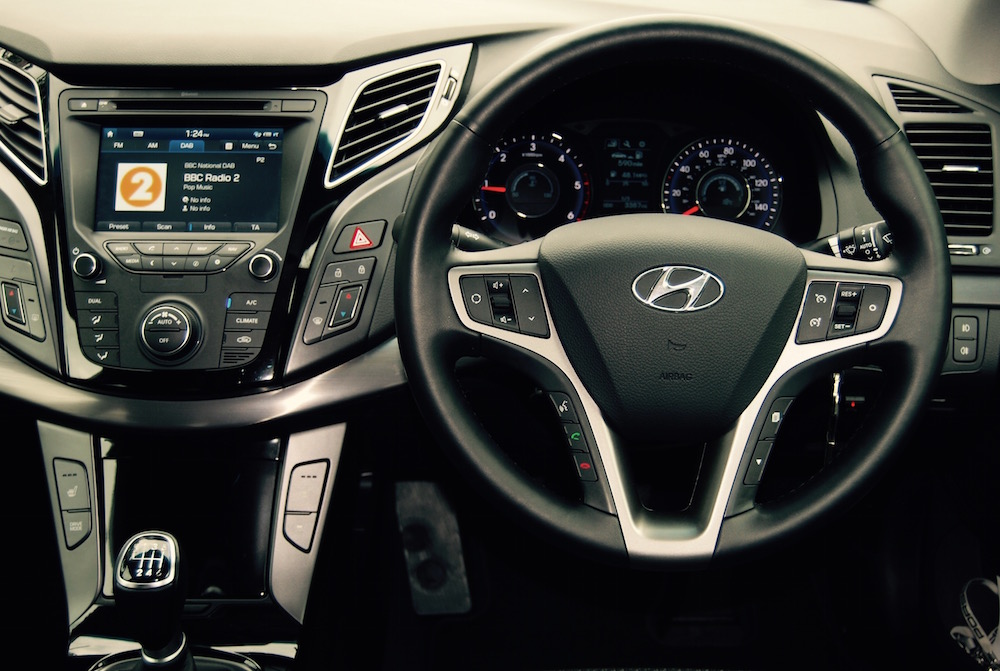 Impressive engine
There's a choice of one engine to choose from in the i40 – Hyundai's 1.7l diesel unit. It is available in different power outputs, though and you can either have it mated to a traditional manual 'box or a DCT auto unit. Our test car came with the most oomph available – 139bhp and with a 6 speed manual 'box – we'd say this is the combination to go for. Performance isn't going to set the world alight at 10.3 seconds to 62mph, but it's refined enough, economical (65mpg & 114g/KM Co2), and the relatively short-shift manual 'box is easy to use whilst not being totally without feel.
The i40 does lack a certain amount of driver satisfaction, again when compared to the yardstick Mondeo, and the whole driving feel is more comfortable than involving. There is a sport button which is full of promise, but the only noticeable change when it's selected is some slightly weightier steering so I wouldn't get your hopes up – 'sport' is perhaps pushing it a bit.
The Hyundai i40 is well-built, full of tech, spacious and good value in SE spec. It does nothing particularly badly, and it even looks good in saloon guise, just don't expect it to ignite your passion for driving.
By Ben Harrington
Specifications; Hyundai i40 SL SE Nav, Engine – 1.7l Diesel, Transmission – 6 speed manual, Layout – Front engine, FWD, Power – 138bhp, Torque – 340Nm, Emissions – 114g/km CO2, Economy – 65 mpg combined, Maximum Speed – 126 mph, Acceleration – 10.3s 0-62mph, Price – £22,400 OTR
For full details, go to; www.hyundai.co.uk