Vauxhall Insignia
Although it sold well and was the staple diet for many, many company car fleets across Europe, the Vectra was tarnished with a reputation that's probably best described as unenviable.
This brought along the birth of the Insignia – a completely new model and nameplate charged with the responsibility of restoring Vauxhall's status in the D-segment market. It had to be good.
First impressions are promising; this SRi, VX-Line model we have on test is certainly eye-catching, with its 19" wheels that come as standard, as well as many lips and spoilers that visually suck the car closer to the ground.
The Insignia's 'face' is dominated by a large grille and some pretty sizeable wraparound headlights, stuffed full of LEDs and similar clever illumination techniques. The headlight shape is mirrored directly below in the Insignia's chin spoiler, again giving the impression of a squat, purposeful stance.
A more severely raked windscreen and relatively stunted glasshousing also give the Insignia a certain sex appeal in what's traditionally a rather dour segment that's had its market share diminished somewhat in recent years by hordes of SUVs.
Inside the Insignia everything's got a real feel of quality about it and Vauxhall's 'Intellilink' infotainment system with its 8" screen is simple to fathom and reliable. Vauxhall have even supplied their own Audi-esque mouse-pad to navigate around, although it doesn't support as many functions or work quite as smoothly as the German's.
Anyone who's driven a modern Ford will draw certain comparisons between their button layout etc and the one found in the Insignia, with its symmetrical, mobile phone style design. All switchgear and plastics are of a level you'd expect in this bracket, but the speedometer markings are small to say the least and do require a bit of squinting to read.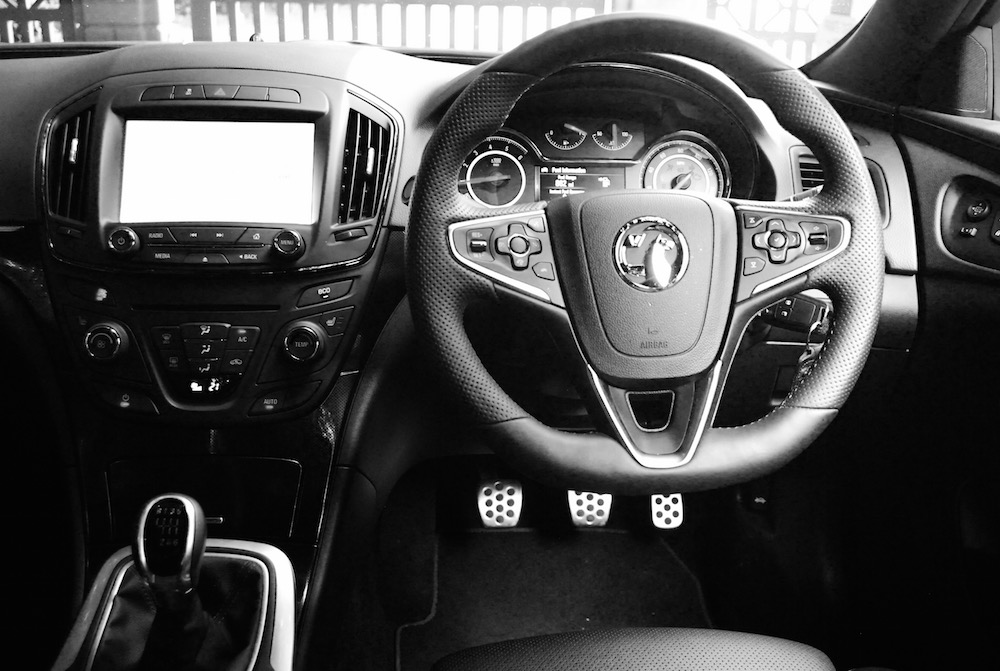 One area where the Insignia falls down is rear visibility; the rear window is relatively small, its C-pillars are positively huge and the door mirrors may look nifty but they're just not big enough. At over 4.8 metres in length, the Insignia couldn't exactly be described as wee, and at over £23K, this SRi VX-Line isn't exactly budget either. So, to not come as standard with either rear parking sensors (£450 option) or a rear view camera (£300 option) is a bit stingy and I'd thoroughly recommend opting for one or the other to make manoeuvring the Insignia safer and less stressful.
This particular Insignia may carry the SRi legend that traditionally was reserved for tastier Vauxhalls, but under the bonnet is a 2.0l diesel unit, producing 136bhp. Now, that may not sound overly impressive, and taking 10.5s to reach 60mph isn't going to win any pub bragging rights, but what is impressive is its claimed 76.3 combined mpg and 98g/km CO2 emissions, meaning a range of nearly 800 miles on a single tank.
As much as you'd be unlikely to win a race from the lights in this Insignia as the turbo takes an age to kick in thus making it super-economical, it's a really accomplished drive once up to speed. At motorway speeds which, lets face it, is where the Insignia will probably be found most, it's super-comfy and soaks up bumps and scars with ease, even on its standard 19" wheels.
This settled, smooth ride, coupled with its ergonomic seats with expandable base cushions make long journeys about as bearable as they can be, putting the Insignia's long-haul credentials up there with some more premium marques.
Away from the M-roads and moving towards the B-roads, the Insignia SRi and SRi VX-Line such as this one come with lowered and uprated sports suspension – and it shows. For a big, heavy, front wheel drive car, there's very little in the way of understeer and it reacts to changes in conditions and direction more competently than you may expect.
If you do decide on a blast down a country road, though, just make sure you keep the revs high and the gears low; try to change-up too soon and it'll stutter and jump as the lack of low-end grunt struggles to cope. Remember – this engine is primarily set up for economy.
The Insignia isn't just a huge improvement over its ill-fated predecessor, it's a great looking car that does stand out in the segment, especially with the GM group's new range of clever engines. It could just do with a bit more standard equipment to fend off the increasing competition from the likes of Korea, particularly some rear parking sensors.
By Ben Harrington
Specifications; Vauxhall Insignia SRi VX-Line Nav ecoFLEX, Transmission – 6 speed manual, Layout – Front engine, FWD, Power – 137bhp, Torque – 350Nm, Emissions – 98g/km CO2, Economy – 76.3 mpg combined, Maximum Speed – 127mph, Acceleration – 10.5s 0-60mph, Price – £23,204 OTR, £25,139 as tested
For full details, go to: www.vauxhall.co.uk