For every action there's an equal and opposite reaction, a very clever man once said, apparently. For every Hyundai or Kia, there's more and more a close equivalent from the sister company; makes sense to share the hideously expensive R & D costs across two brands.
The Stonic to Hyundai's Kona
This, then is the Kia Stonic – the sister car to Hyundai's Kona we reviewed a few weeks ago. It's a small crossover; so small in fact that you really have to look to tell it apart from a regular 5-door hatch. The Stonic is subtle where the Kona's look is aggressive – it's a taste thing I guess.
Starting at the front, there's the brand's standard tiger-nose grille. Look closely, though, and you'll see that it's actually just a cosmetic thing – it's blanked off, it couldn't feed air to a radiator even if it wanted to. Kia have done this before with certain electric/PHEV models, so why the Stonic – a fossil-fuel-only crossover? Well, there's an electric only Kona and – surprise, surprise, Kia have announced an electric Stonic for later in 2018 – that's why.
More subtle than most
The Stonic sits at a fairly 'normal' height without much of a gap between its wheels and chunky wheel-arches. These arches, sill protectors and and some shiny roof-rails mean this is a crossover, thank you very much.
Conversely, sit inside the Stonic and it's actually a bit more radical than its sister car. Our test car sports flashes of lime green to mirror that subtle roof. This isn't compulsory, but the dash-design on the whole is fresh and youthful – no doubting the target market here.
Choice of two specifications
The Stonic range follows Kia's usual numerical system, except in this case, it's currently limited to '2' or 'First Edition'. Even the most basic Stonic comes with 17" alloy wheels, air con, rear parking sensors and smart-phone mirroring in the shape of either Apple CarPlay or Android Auto. Go for the First Edition and there's a reversing camera, heated seats and steering wheel, optional two-tone paint, blind spot detection and rear cross traffic alert.
Which engine?
One aspect that sets the Stonic apart from its sister car is increased engine choice. It's only one more, granted, but on top of the 1.0, 3-cyl petrol & 1.6 diesel there's a 1.4 4-cyl petrol. Somewhat perversely, you can only have the 1.4 in the lower 2 spec cars, and that's because it's a budget engine that brings the Stonic's pricing in at £16,300, undercutting the Kona's £16,450.
Be warned, though, your saving of £700 by going for the 4-cylinder petrol comes at at cost. It's thirstier, slower and less economical than the 3-cylinder. We've not actually sampled the 1.4, but it'll also have to go a long way to beat the 1.0 litre's character and sense of fun.
No 4×4
Some small crossovers gain extra kudos by being available as 'proper' 4x4s, whether anyone actually buys one or not. Not so the Stonic; it's FWD only here – if you're doing a bit of mud-plugging in between school runs you'll have to look elsewhere.
Whichever Stonic you go for, it'll come equipped with the whole range's trump card; an excellent chassis set up. Small crossover's aren't exactly renowned for their rewarding, spirited driving characteristics, but the Stonic is a real hoot to throw around a B-road. With limited power it's certainly not about all-out speed, but what it lacks in sheer performance, it more than makes up for in grip and old-fashioned driver involvement.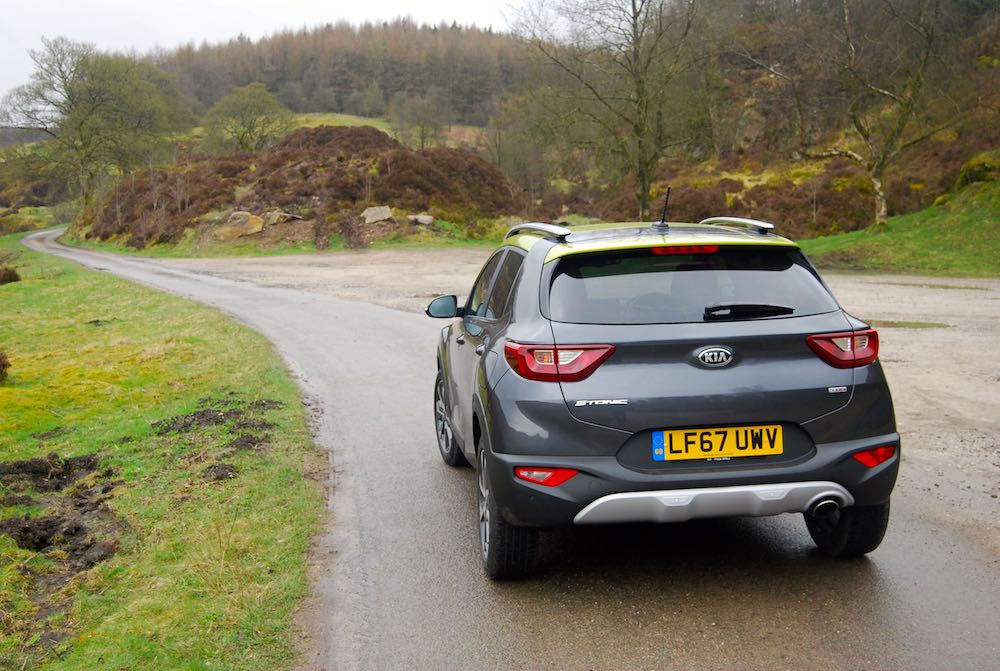 Should I buy a Kia Stonic?
With so many crossovers on the market now, big, small or middle-sized, it can be hard to choose between them. The Stonic drives well and is well equipped, even if it looks a tad 'normal' next to the competition. One thing that could sway you towards any Kia is that 7-year warranty; still a reassuring aspect for any buyer.
By Ben Harrington
Kia Stonic First Edition 1.0 T-GDi Specifications:
Engine –

 1.0l 3-cyl petrol,

Layout –

Front engine, FWD,

Transmission –

 6-speed manual,

Power –

 119bhp, 

Acceleration –

0-60mph – 9.9s,

Maximum Speed –

115mph, Maximum Torque – 172Nm,

Economy –

 56.5 mpg combined, Emissions –

115

g/km CO2,

Price –

£19,695 OTR

The Kia Stonic is available now. For full details go to; www.kia.com