Hyundai i30 N
GTi, RS, Type-R and now, N. For years we've had all manner of alphabetic and numeric combinations, differentiating a powerful car from its lesser brethren. We've never had a Hyundai one before, though, until now…….. Say hello to the i30 N.
It's only just been spawned and yet already it comes in two flavours: N and N Performance, coming with 247 and 271 bhp respectively from its 2.0l, 4-cylinder turbo-charged engine. Both are front-wheel-drive, both come with an uprated 6-speed manual transmission only and the more powerful i30 N even comes with a clever electronic LSD. Oh, and they both have an overboost function, providing an extra 25Nm torque on demand. The standard N is £24,995, and the N Performance is £27,995; that's a lot of horsepower for not-a-lot of money.
So, with next-to-no experience in the hot-hatch market, Hyundai realised they'd need a bit of help getting the i30 N to the required standard. The head of BMW's M division wouldn't have been a bad place to start, they thought, so that's who they got – Albert Biermann. Herr Biermann employed, Hyundai gave him an i30, a blank piece of paper and, I'm just guessing here, quite a large budget. What he came back with was a car that's had its chassis, brakes, just about everything modified to make it a serious contender. Well, they did ask.
Bpm, not rpm
Not only did the i30 N come with some heavy-duty go faster bits, though, there's a crackling, spitting exhaust and a rev-match button for nothing other than pure, unadulterated fun. The tagline Hyundai have adopted for the i30 N is 'Bpm, not rpm', I see what they mean now.
The i30 N has pre-set levels of lunacy from comfort to full-fat N mode; Hyundai are quite aware it's still got to do the school run and many trips to Sainsbury's. There's an N custom mode, too, for when you want to mix it up a bit. This is because Hyundai admit that N-mode is too harsh for every day use on British roads. They fully expect the i30 N to see track use, so much so that their 5-year warranty includes any damage suffered whilst on a track.
Nurburgring tuning
Speaking of tracks, the i30 N was honed at the Nurburgring where Hyundai have a major presence these days. That's apparently what the N refers to, as well as Namyang, but that doesn't sound quite as cool. Hyundai have so much confidence in their new baby's abilities that they've brought us to Cadwell Park (commonly referred to as the British Nurburgring – see what they've done there?) to put it through its paces.
We're in the N Performance model, in N mode, naturally, and not only does the i30 N look cool in its exclusive Performance Blue hue, it sounds the part, too. Hyundai are right; it is stiff in this setup. The ability to customise everything for full-on performance without dissolving your vertebrae will be very welcome on Britain's roads.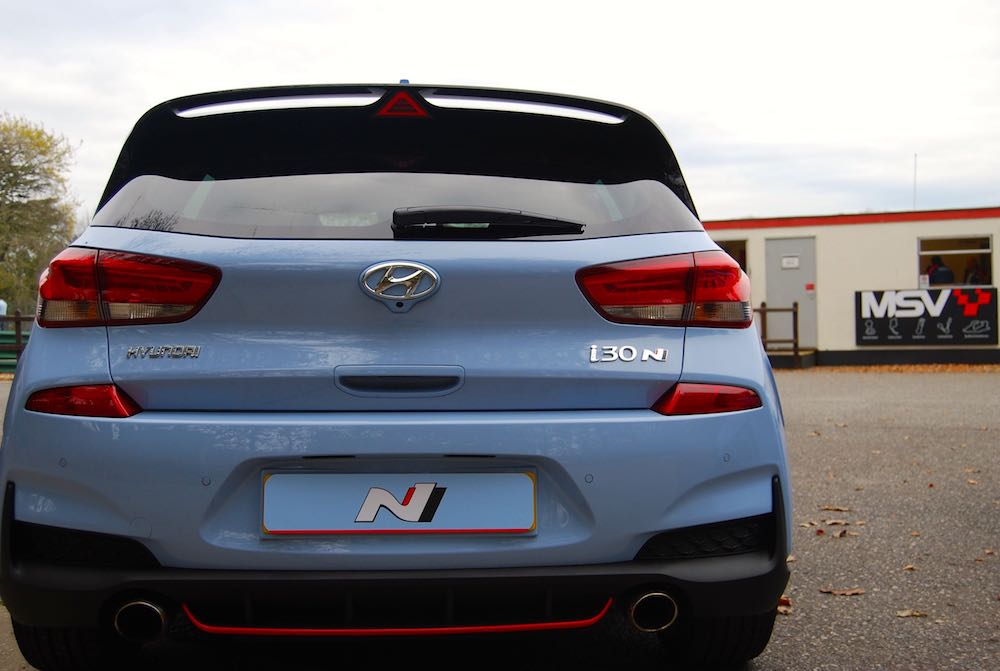 Your reward for the ride is, of course, handling. On the N Performance's Pirelli P-Zeros (the standard N gets Michelins), the levels of grip are outstanding and that electronic LSD nearly justifies the N Performance's £3K premium on its own. There's launch control to get you going and an anti-lag system to keep you going, and the results are nothing short of excellent with more power seemingly always on tap, right across the rev-range. The reinforced gearbox feels more than up to the job and it was only the steel brakes that started to object after some extremely hot laps on what is a very hilly circuit.
It remains to be seen what the i30 N is like to live with day-to-day. From the time we shared with it, though, buyers will not be disappointed. What Hyundai have done is created a car that's more than the sum of its parts: a lot more, and that's surely what the original mantra of hot-hatches was. Yes, it's only got 271 bhp and, yes, it's only got a manual 'box – there's no DSG option, even the handbrake is manual. But you won't care about all that, because it just does everything so well.
By Ben Harrington
Hyundai i30 N Specifications:
Engine – 2.0l turbocharged 4-cyl petrol, Layout – Front engine, FWD, Transmission – 6-speed manual, Power – 247 – 271bhp, Acceleration – 0-62mph – 6.4 – 6.1s, Maximum Speed – 155mph limited, Maximum Torque – 353 = 378Nm, Price – £24,995 – £27,995