You could argue that the Mustang GT sits atop the Ford UK 'Blue-collar hero' tree but, let's face it, despite now being officially sold here with the steering wheel on the right side, it's still as American as apple-pie and unhinged heads of state.
No, on our little island, hot-hatches are king when it comes down to cheap thrills, and they don't get much more thrilling than this: the Focus RS. The fact that the Mustang's a Grand Tourer and the Focus is a Rallye Sport gives some idea of the two nations' differing approaches to performance.
How powerful is the Focus RS?
This is the third generation of the breed and Ford are obviously determined not to lose face in the power stakes as the Focus RS now produces 347 bhp. That's still 30 more horses than the recently launched Civic Type R.
It's powered by the same 2.3l Ecoboost engine found in the tamer Mustang, it's just been turned up a notch. Or two.
AWD Focus RS
Thankfully, Ford have seen fit to grace the Focus RS with all-wheel-drive. Previous generations of the Focus RS have wrestled with the laws of physics solely through their front wheels with the use of RevoKnuckles etc.
347 bhp through the front wheels was deemed a step too far, though, and power is now managed by all four wheels via a clever torque-vectoring system. It's a system that GKN Driveline of Sweden had a large part in developing and up to 70% of available power can be channeled to the rear wheels, dependent on demand.
Now, the mother of all Ford hot-hatches was never going to be subtle, and this optional Nitrous Blue hue that's exclusive to the Focus RS is striking to say the least. The body sits nice and low on its adjustable 'Öhlins Tenneco' suspension and the front of the car is a mixture of several geometric shapes which either house lights or allow precious cool air in.
Hints of Cosworth
It's when you get around to the back of the Focus RS that things get seriously eye catching, though. Fast Fords have a long-standing relationship with big wings and, aerial aside, the spoiler is actually the highest point of the car.
Properly cavernous twin-exhausts were once the preserve of aftermarket tuning companies; not anymore. The rear diffuser, twin pipes and wing all add up to give this Focus real drama. One thing the Focus RS doesn't do is go OTT on the fins, slashes and scoops. Yes, there's those in-yer-face performance add-ons but the lines are relatively clean and uninterrupted despite its obviously track-focused intentions.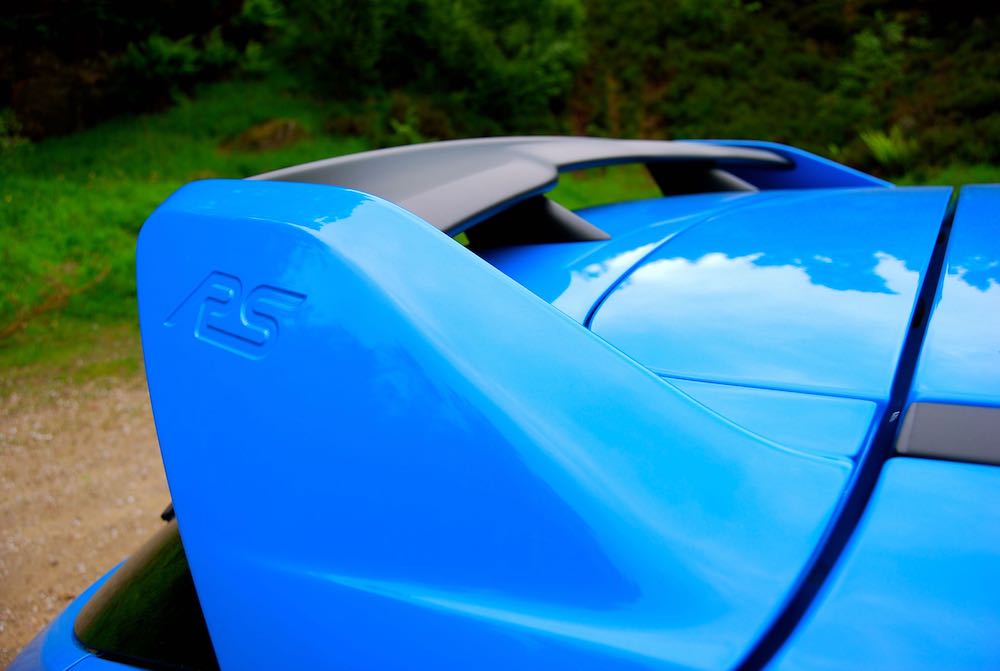 Focus RS Interior
A few alterations have been made to the inside of the Focus RS. There's a pod sprouting from the dash which houses three performance-related gauges and if you go for that Nitrous Blue exterior, your seats get a few splashes of it, too.
Speaking of seats, there's been a lot said about the Focus RS' seating position, in particular its height. The facts are these; if you go for the standard Recaros, they ARE height adjustable. Pay £1145 for the Recaro 'Shell' seats with gaps for racing harnesses and 'authentic motorsport microfibre' instead of leather, and they're NOT height adjustable. Personally, I've always found Ford's standard Recaros plenty grippy enough and, at 6ft, I certainly welcome my head not bouncing off the ceiling.
Focus RS Driving Experience
Right, onto the important stuff; how the Focus RS drives.
If there's one point to remember about the Focus RS, it's that this is a no-messing car that needs 100% participation to get the most out of it. Passive driving isn't an option.
Press the start button and the engine rumbles into life, tick-over fluctuating and even sporadically missing as it warms up. There's no automatic option for the Focus RS: like I said, you're driving it, it's not driving you.
Three modes; normal, sport and track adjust the settings of the AWD, dampers, ESC, ABS, steering and engine responses. They also give those exhausts more bark to go with the extra bite. There's another option to firm up those Öhlins dampers for minimal roll. Be warned, though, even the Focus RS' handbook states this is really a a track-only setting; it's unyielding to say the least.
Twin-scroll turbo
Extracting 347 bhp out of a 2.3l turbo-charged engine will incur a fair amount of lag, or so you'd think. Twin-scroll turbos produce more pressure in less time, thereby practically eliminating that awful delay. Want to get away even quicker? There's launch mode to get everything spinning and circulating, ready to propel you from 0-62mph in 4.7 seconds, grinning wildly, no doubt.
Even in its most relaxed setting, the steering isn't overly assisted, keeping that pure driving experience intact. Go up a notch into sports mode or even track and you may well be sitting a touch further forward than usual as you get to grips with the steering wheel as it reacts to every input from you and the tarmac.
The drivetrain makes 100 alterations a second to keep the Focus RS in line. It's all very behind-the-scenes, though, leaving you – the driver feeling like something of a hero. Somewhat ironically, if you don't want all of that AWD grip, there's a drift mode to make the Focus RS do a venerable impression of a RWD car. Probably not a good idea away from the track, though.
Should I buy a Focus RS?
Ford have pulled out all the stops to make the Focus RS the experience its customers expect. Want a rally-esque, spitting exhaust note, rather than an apologetic whir that's had the life sucked out of it by a turbo? That's exactly what you've got. It's not going to do much for your mpg but the Focus RS will crackle and pop if you want it to. Unnecessary?- possibly. Fun? – unashamedly, and that's exactly what the Focus RS is all about.
By Ben Harrington
F

ord Focus RS Specifications
Engine – 2.3l 4-cylinder turbo-charged petrol, Layout – Front engine, 4WD, Transmission – 6-speed manual, Power – 347bhp, Acceleration – 0-62mph – 4.7s, Maximum Speed – 165mph, Maximum Torque – 470Nm, Economy – 36.7mpg combined, Emissions – 175g/km CO2, Price – £32,365 OTR
The Focus RS is available now. For full details go to: www.ford.co.uk