Civic Type R
The first and last time we experienced the ever-so-slightly nutty-looking Civic Type R was in Slovakia, in temperatures that a British summertime could only dream of. It felt right at home on a hot, tacky, ribbon-like Slovakia-Ring, and the majority of the Slovakian public roads we experienced put our battle-worn highways to shame. But those guys really know how to nurture a pot hole, too, and the rigid Type R didn't like these. Not one bit.
This left me wondering how the resurgent bearer of the red 'H' would fare in the UK, complete with neglected tarmac and damp, unpredictable climate. The Type R is built here, after all, despite its somewhat radical, exotic image.
Can it handle Britain, though?……
And, you know what? – It's actually more accommodating than I was expecting. Despite being as stiff and performance focussed as the Type R is, the wince-inducing, cacophonous jolt I was expecting as black alloy met pothole never came. Nor did the Type R beat a path to the nearest large tree, the minute it was asked to perform after a bit of good-old British drizzle. Yes – 306 bhp all-at-once through the front wheels will spin for fun on greasy surfaces, but in terms of grip and handling, the Type R remained more poised and predictable in the wet than you might expect.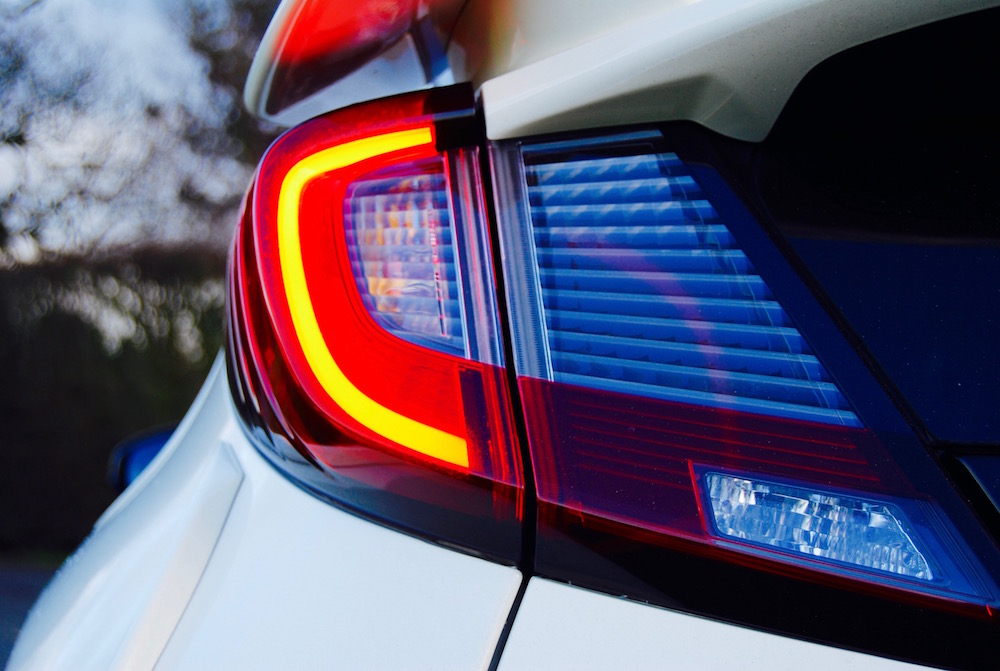 The Type R's short-shift, 6-speed manual 'box gets increasingly satisfying the more you use it, and Honda's insistence on steering away from double-clutch units and flappy-paddles deserves respect at the very least. Every gear clicks into place with a satisfying thunk; slide the lever into where you expect a particular cog to be and it just is – no mean feat with such a short-shift action.
Whatever way you look at it, the Type R's new, turbocharged engine was always likely to falls short of Honda's manic, high-revving, naturally aspirated VTEC units in the character stakes. And it does. Not so much that it ruins an otherwise excellent car and Honda have utilised their vast VTEC knowhow to keep the dreaded lag to a minimum, but there is a certain muffled woolliness to it that's not befitting the Type R's otherwise razor-sharp image.
Of course, you could press the very tempting

+R

button.
Doing so will firm up the magnetorheological adaptive dampers by 30% and the steering gets similar treatment. Responsiveness is increased and the ESC system is relaxed a touch. There's no way of altering any one of these settings individually – it's all or nothing, and that's great, because the cumulative effect is quite dramatic.
What the +R button does is turn an otherwise good hot-hatch that can hold its own with the Golf R, etc into a real, track-day weapon. The Type R becomes an aggressive, unforgiving, but ultimately ultra-focussed piece of kit that the competition just won't be able to keep up with. As you hunker down in its 'proper', grippy racing seats, you feel as low down, and close to the centre of the car as possible.
It's all-of-a-sudden shifted from B-road champ to BTCC and the fact that, whilst maximum torque (400Nm) kicks in at 2500rpm, the engine wants to be pushed to 6500rpm to achieve max power (306bhp). This gives some indication how hard the Type R likes to be pushed before its 'change-up' lights start blinking manically from the binnacle surrounds in perfect line of sight.
Putting it into print can't really do justice to what a change the +R button makes, but I'd think twice about pressing it in anything less-than-perfect road conditions as the price for that extra R-ness is a hair-trigger throttle and a ride with as much give as a granite worktop.
How the Type R holds the front-wheel-drive record around the all-important-pub-claim Nürburgring comes screaming into focus with something of a jolt. If you need one car that can do the school run one day and a track blast the next – the Civic Type R is undoubtedly for you, as I can't think of another car for sale today in Britain that manages this dual personality so well.
By Ben Harrington
Specifications; Honda Civic Type R GT, Transmission – 6 speed manual, Layout – Front engine, FWD, Power – 306bhp, Torque – 400Nm, Emissions – 170g/km CO2, Economy – 38.7 mpg combined, Maximum Speed – 168mph, Acceleration – 5.7s 0-62mph, Price – £32,295 OTR with GT pack, £29,995 without.
The Honda Civic Type R is available now. For full details go to; www.honda.co.uk