R

eturn of the Civic Type

R
Thanks in no small part to a slight hiccup on the global financial scene, the UK has been without a Honda Type R for over five years now, but that's about to change.
Say hello, then, to the new Civic Type R (Racing, in case you were wondering). Subtle, it ain't.
On first impression, it's as though the pent-up frustration suffered by Honda's design department of late has been unleashed in one fell swoop. The standard Civic isn't exactly short in the fins department; the Civic Type R is absolutely awash with spoilers, splitters, vents, slashes and many other exciting nouns. The rear gives the most dramatic view, though; that rear wing and those oversized quad-exhaust tips have more than a hint of WRX, Evo and GTR about them.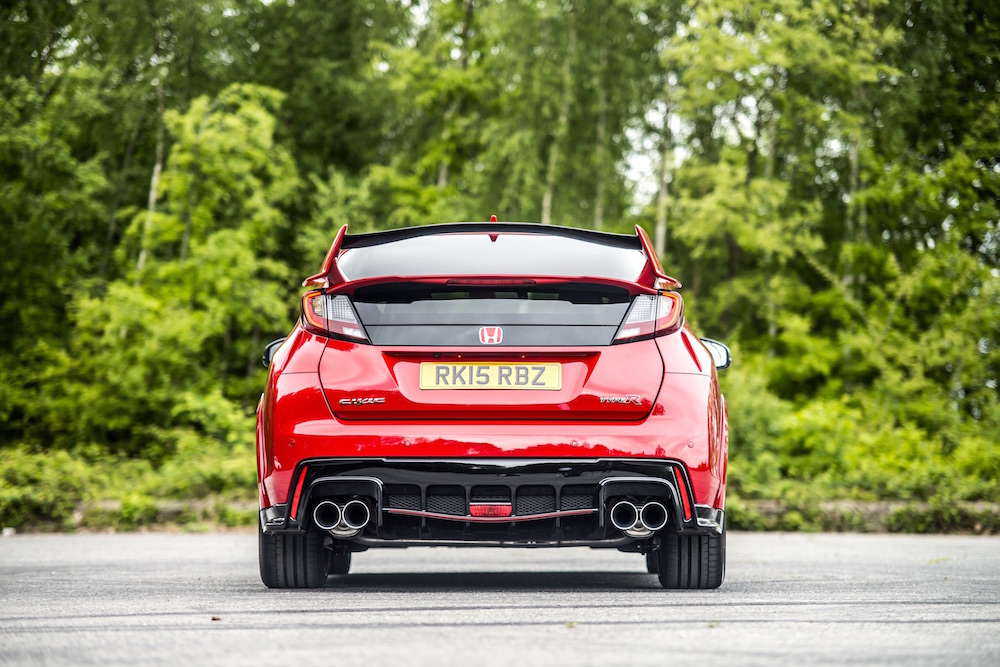 Without wanting to come over all stereotypical about the Japanese, though, one gets the impression that these visual enhancements haven't been added to make the Civic Type R look fast, it's more that they're necessary because the Civic Type R is fast. A set of 350mm drilled Brembo front discs lurking inside its 19" wheels only backup this suspicion.
The numbers…..and the small matter of a turbo…..
So, the numbers: 306bhp at 6,500rpm, 400Nm at 2,500rpm, 167mph, 0-62mph in 5.7s, £29,995 (£32,295 with GT package) 6 speeds through a manual 'box – no auto allowed. As usual, though, the numbers are only half the story.
Honda have utilised their clever VTEC system, as you'd expect. What you probably wouldn't expect, though, is a forced induction system in the shape of a turbocharger. Shocked? Don't be; even Honda have to fit in with emissions regulations, and the added grunt the turbo provides lower down the rev range adds a new element to the high-revving VTEC unit. Fear not – purists, the Civic Type R still redlines at 7,000rpm.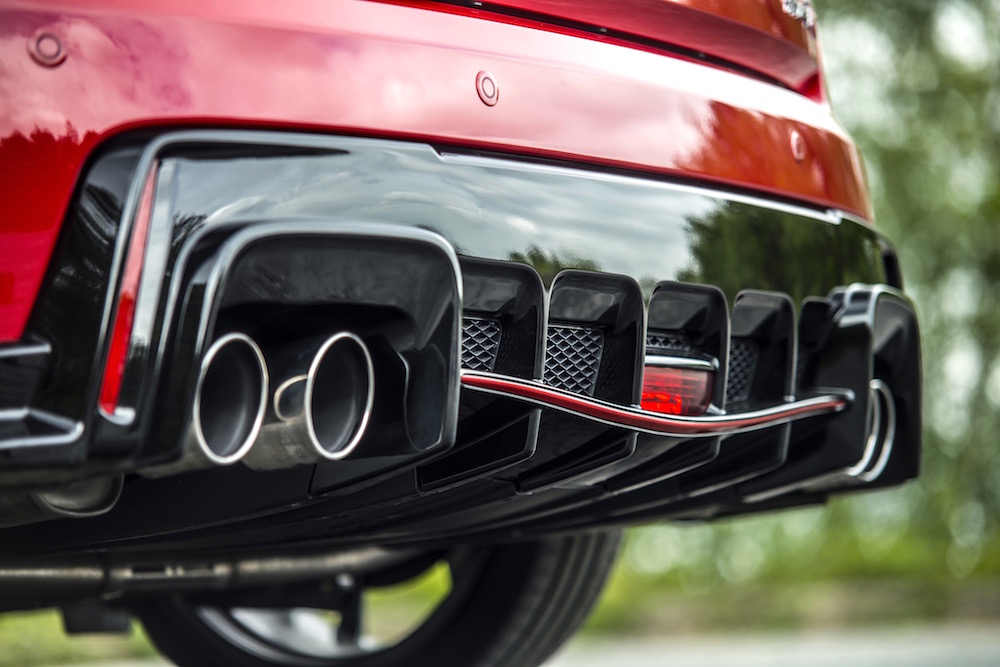 Traditionalists and driving enthusiasts will also rejoice in the number of 'boxes you can spec your Civic Type R in: one. No double-clutch, flappy-paddle affairs on offer here – oh no, it's a six-speed manual with an ultra-short 40mm throw, a clutch pedal and everything. 
Honda are calling the Civic Type R a race-car for the road; I've driven it around the World-famous Slovakia Ring and, perhaps more pertinently, been shown exactly how to maximise its potential by non-other than BTCC drivers Gordon Sheddon and Matt Neal. If track days are your thing, the Civic Type R can be repeatedly stopped, thrown around and started again as many times as your heart desires with no sign of fade in the brakes and nearly none of the dreaded torque-steer you'd associate with putting this much power through the front wheels, thanks to some very clever front suspension components.
On top of this Mensa accredited suspension setup, there's the attention grabbing aero-aides you can't fail to spot all over the Civic Type R, and a virtually flat floorpan that's a bit more subtly positioned. If you think any of this is just aesthetics, you've possibly missed the point about Japan's attitude to detail; every wing, curve, fin, flat floor and vent will be there to make the car get from point A to point B a fraction quicker, sucking it to the road like a magnet.
+R 

Button
Oh, and it's got a +R button for added R-ness. Press it and the steering becomes less assisted for a purer driving experience, the suspension stiffens by 30%, and the engine torque mapping is adjusted to be more aggressive.
That's all well and good, but what about the other 99% of its life, when it's on public roads?
Well, it's stiff. There's no getting around it; go over a typically British pothole and it jars through the low-profile tyres, up the sports suspension setup and through the base of the BTCC inspired seat. The upside of this is a front-drive car with plenty of power that turns in for fun with very little in the way of understeer. This chassis is so stiff it'll power-slide, if that's your thing.
The turbo doesn't impinge on the driving experience like turbos of old; it spools quickly and does its job predictably with the minimum of fuss. You'll never forget it's there, though. The sound of the pressure building up and then whooshing upon release fills the cabin, drowning out the relatively quiet, non-symposed exhaust note.
5.7s to 62mph and 167mph were the performance figures of dreams in the not-too-distant past, reserved for hideously expensive exotica that mere mortals could only dream of owning, so how does it actually feel in a 5 door hatchback (rear door handles are hidden, just like 'normal' Civics) with a cavernous, Tesco-friendly boot?
The power-band is progressive and linear, coming in smoothly and predictably with very little in the way of sudden surges that turbos (and VTEC engines for that matter) have been associated with in the past. It's by no means a sleepy cruiser, but this more relaxed attitude to power delivery, combined with that reduction in unwanted torque-steer makes for a useable everyday car, albeit one with over 306bhp that'll set your hair on fire without a moment's hesitation.
Does this more user-friendly approach take some of the drama out of the Civic Type R? Yes, possibly, but sometimes you're damned if you do, and you're damned if you don't. I always felt when driving the car that its engineering tech could handle even more power, more performance, maybe this'll come in the shape of a Mugen edition?
Halo Car
Honda admit that the Civic Type R is more of a 'halo' car than anything, with sales of around 1500 predicted by March 2016. With looks like these and that all-important, front-drive King of the 'Ring title in its grasp, the Red Type R halo is back with a vengeance.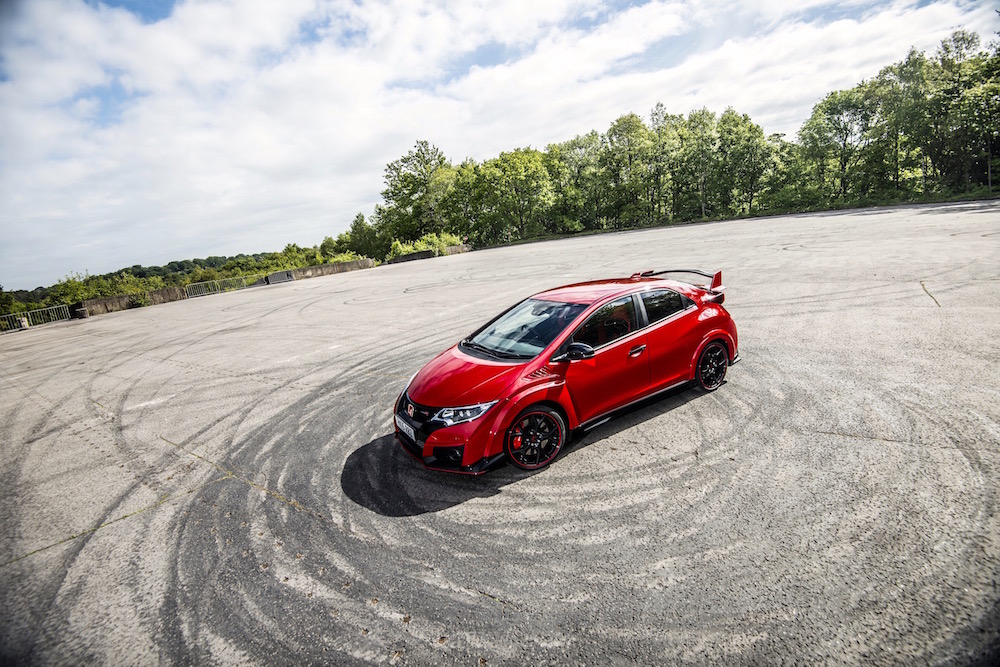 By Ben Harrington
Specifications; Honda Civic Type R, Transmission – 6 speed manual, Layout – Front engine, FWD, Power – 306bhp, Torque – 400Nm, Emissions – 170g/km CO2, Economy – 38.7 mpg combined, Maximum Speed – 168mph, Acceleration – 5.7s 0-62mph, Price – £29,995 OTR, £32,295 with GT pack
For full details, go to: www.honda.co.uk