Hyundai i30
This is the Hyundai i30 – the Korean manufacturer's answer to the likes of the Focus, Astra and Golf: some pretty stiff competition there, then.
On the face of it, the i30's not the most exciting car in the looks department, in fact, it's quite dull. The police-car-spec, flat-white hue of our test car probably doesn't do the i30 any favours, though, as its lines and creases get a bit lost with no real contrast to add depth.
The front of the i30 is pure Hyundai, with their trademark, oversized grille sitting low down the i30's 'face', greedily scooping up air from just above the tarmac.
The i30's belt-line forms the base of the headlight surrounds, follows the top of its front wheel arches and then dips back down again, leaving the arches quite pronounced. This prominent line then rises steadily towards the rear light clusters, bisecting both front and rear door handles before dropping back down to a proud rear bumper.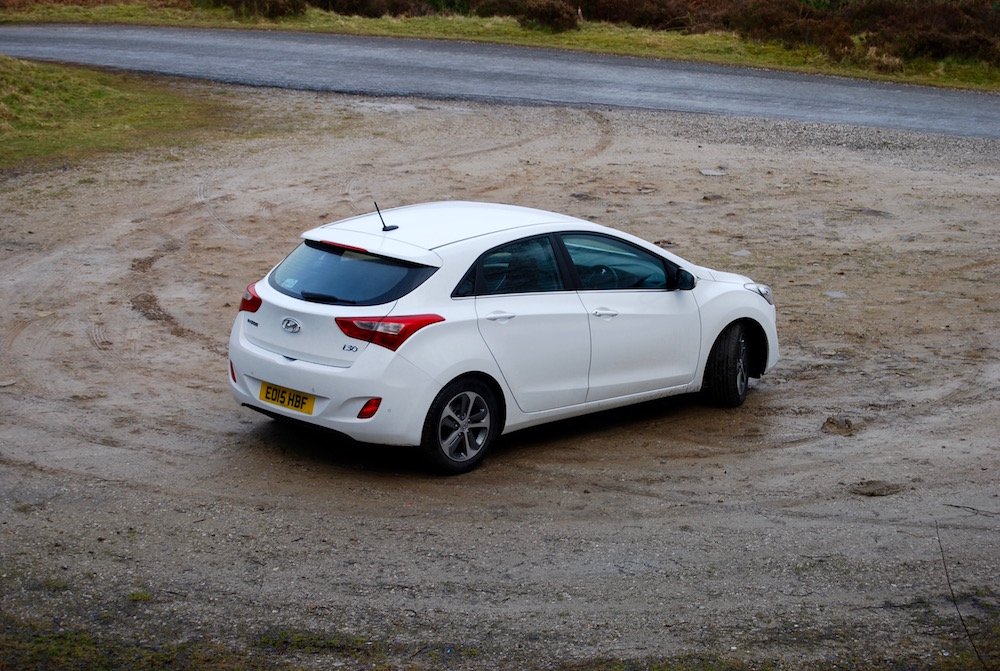 Roomy inside 
Inside the i30 it feels solid and looks attractive enough without being flashy. What's really impressive, though, is the sensation of space one gets in every seat, with ample room for four large adults to sit in comfort, and five for shorter journeys. Does this expanse come at the expense of boot space? – no, that'll swallow 378 litres – it's a relatively short engine bay, housing the transverse engine that allows for more living room.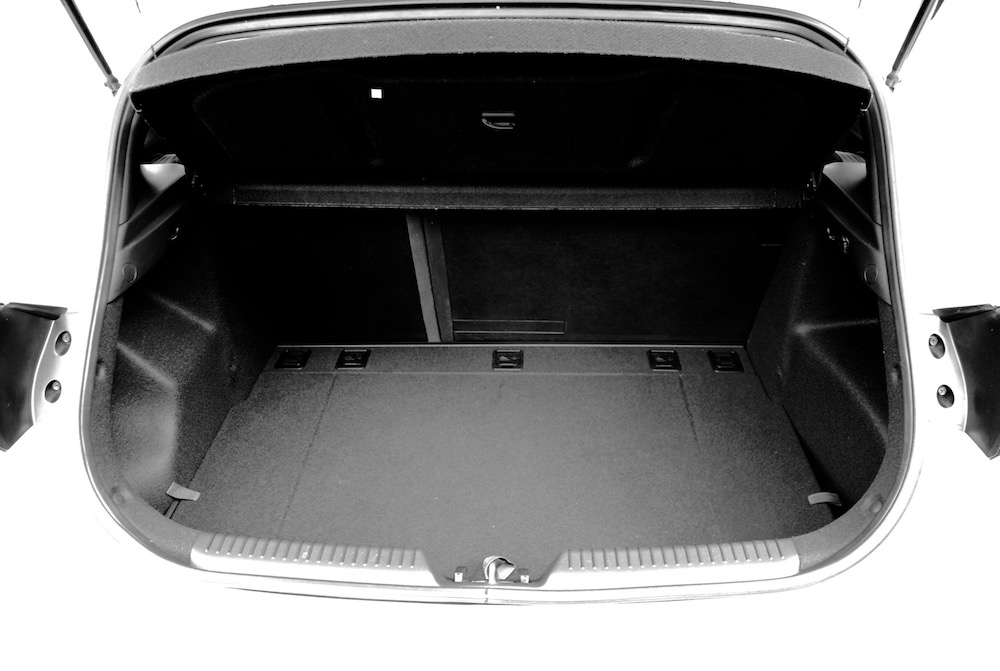 Look closely at the i30's glasshousing and you'll observe that it follows the same angle as its belt-line – sloping noticeably forwards  towards the A-pillars. What this adds to the driving experience is fabulous visibility; without feeling 'perched' on top of a high seat, there's a confidence inspiring view both sideways and forwards, and some relatively slimline A-pillars add to the vista.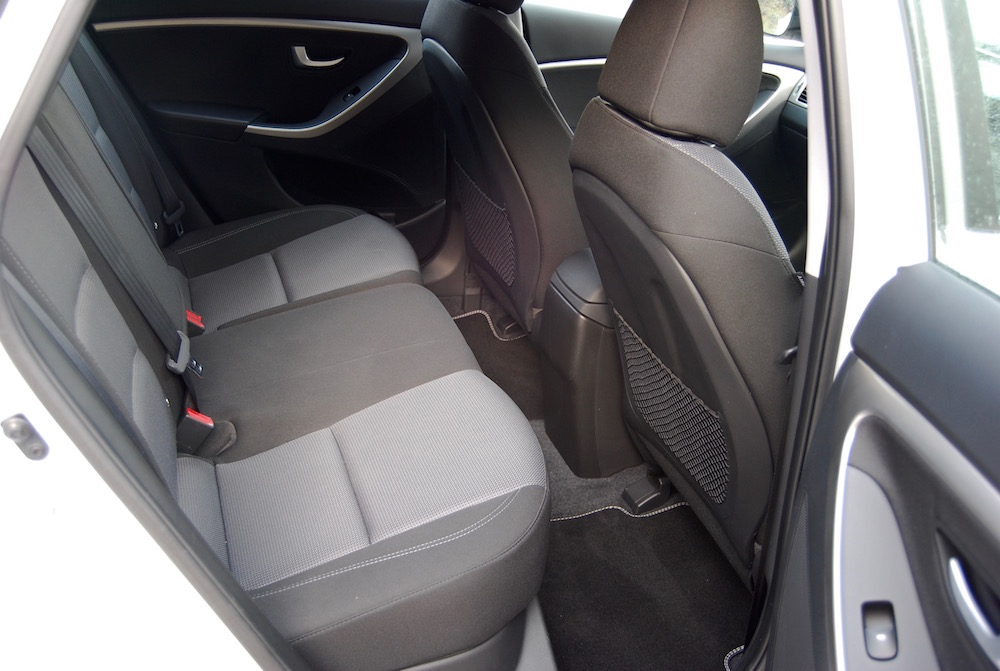 This i30 SE Nav is very much in the middle of the range, both in terms of specification and engine. It's powered by their 1.6l CRDi diesel unit, producing 108bhp and 300Nm torque, whilst achieving a claimed 67.3 mpg combined and emitting 109g/km CO2.
Almost well specced
It's got plenty of convenient extras, such as bluetooth, parking cameras and a decent touchscreen, so it's far from poverty-spec. What I couldn't fathom, though, was why it only comes equipped with air-conditioning and not climate control; if it's a choice between puddle lamps and heated door mirrors – or climate control – I know which I'd choose.
A £1,300 option on this model is its 7-speed DCT (automatic) gearbox: a relatively small diesel engine and an auto 'box aren't two items I'd traditionally pair, but this combination is actually rather good. Don't expect the auto 'box to perform any lightning-quick gear changes – either upwards or down, and manual mode will only allow liberation to a point, but it's smooth and doesn't completely take the fun out of driving like some similar 'boxes do.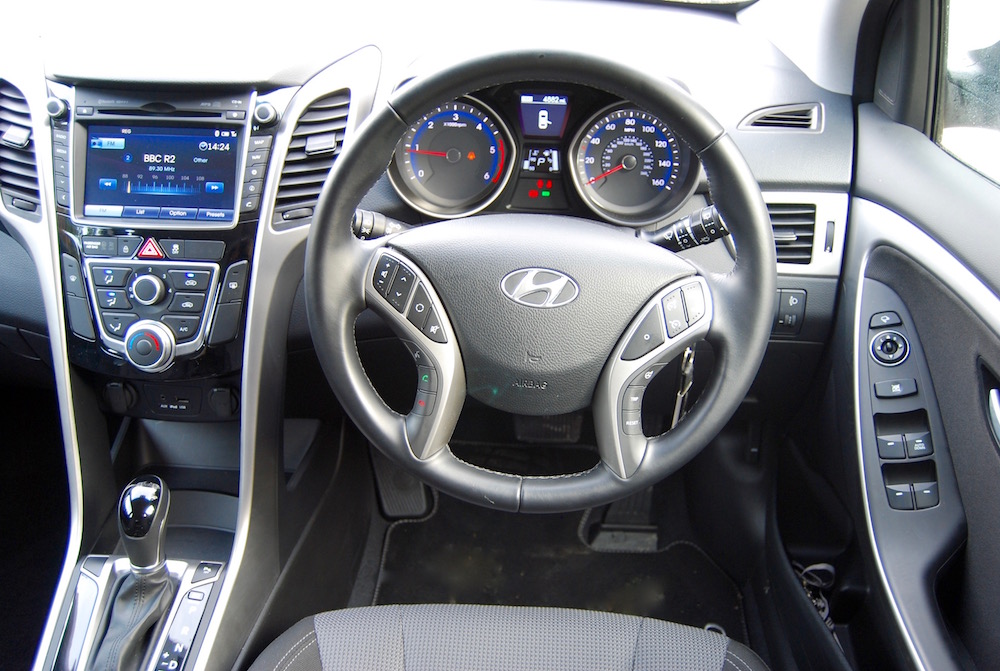 Active Eco mode
There's an Active Eco mode in the i30; again – usually the bane of 'proper' driving, but on this occasion, I'd keep it firmly pressed. It essentially allows the gearbox to change-up sooner, limiting engine speed and keeping fuel economy at its highest. That may seem like a complete killjoy thing to do in, say, something built for thrills, but it actually makes this i30 a more pleasant place to be, as that 1.6l diesel does tend to drone if it's left to rev.
The steering mode can also be adjusted – cycling through 'Normal/Comfort/Sport'; there are differences in feel and reactivity between the three, but it's negligible, and unless you opted for the new i30 Turbo, I'm not sure it's of much benefit.
A diesel, automatic i30's never going to win any plaudits in the excitement stakes, that's for sure. What it does do, though, is offer a decent drive, a quality feel, good economy and acres of space, all for under £21K, or if you go for the base 'S' model – under £16K.
By Ben Harrington
Specifications; Hyundai i30 SE Nav, Engine – 1.6l CRDi Blue Drive, Transmission – 7-speed DCT Auto, Layout – Front engine, FWD, Power – 108bhp, Torque – 300Nm, Emissions – 109g/km CO2, Economy – 67.3 mpg combined, Maximum Speed – 115mph, Acceleration – 11.8s 0-62mph, Price – £20,795 OTR
The Hyundai i30 is available now. For full details go to; www.hyundai.co.uk