Hyundai Tucson
Having been temporarily replaced by the ix35 nameplate, the infinitely more catchily named Tucson is back in Hyundai's lineup as their offering in the small SUV lineup.
It shares many components with its sister car, Kia's Sportage, including a designer – Peter Schreyer. It doesn't take much scrutiny to see the lineage – many basic shapes and lines are similar. A large, feature grille dominates the front of both cars, with some narrow headlights wrapping themselves around the wing-tops.
We think the Tucson is a far more agreeable design than the somewhat divisive Sportage, though; it's chunky whilst also sporting some eye-catching angles.
Sport Edition
This Tucson is the Sport Edition which sits pretty-much in the middle of the range. This is the lowest priced Tucson to be equipped as standard with those distinctive 19" alloys and they are so important to the look. Some cars just suit a certain set of wheels – this is one of them and once you've seen a Tucson wearing them, no other wheel looks quite as appealing.
There's a choice of petrol and diesel engines; a 1.6l, 130bhp petrol, a 1.7l diesel and a 2.0l diesel, both available with two outputs. There is a 4×4 option but it's only available on the 2.0l diesel Tucson. Transmission is a choice of 6-speed manual, 6-speed automatic or a 7-speed dual-clutch.
Very economical
This Sport Edition Tucson is powered by the lower powered, 114bhp 1.7l diesel engine. o-62mph comes around in 13.7s and top speed is 109mph. Being the 'Sport', maybe the higher output 1.7l would be justifiable, but that's only available with an auto 'box, which isn't quite as, erm……..sporty. Economy would also suffer; this Tucson emits just 119g'km CO2 and returns a claimed 61.4mpg combined which are very impressive figures for an SUV.
The 1.7l diesel engine is audible in the cabin at tick-over but it's certainly not intrusive. On the road and especially at motorway speeds it's very smooth and quiet, making longer journeys a pleasure. Around town the Tucson is very user-friendly with all of its driver aides including parking sensors on all but the lowest grade and reversing camera on all but the two lowest specs.
The Sport Edition Tucson feels a lot more willing and nimble than its 13.7s 0-62mph time would suggest. The 6-speed manual 'box is light and positive enough, if a bit on the squidgy side.
Impressive ride, even on 19" wheels
Even with those 19" alloys, the ride isn't harsh in the slightest, although they do add a certain amount of tyre roar. The suspension soaks up bumps even without the help of much tyre rubber, yet the Tucson is no soft, wallowy barge. As with many Hyundais there is a sport setting for the steering but this just adds some weight and doesn't really feel all that relevant in the Tucson.
Sit inside the Tucson and you'll find very little to complain about. N0, if you were blindfolded until you got in, you'd never think you were in an Audi or a Volvo. But it's attractive, logically designed and has enough quality to stand up to scrutiny in this sector.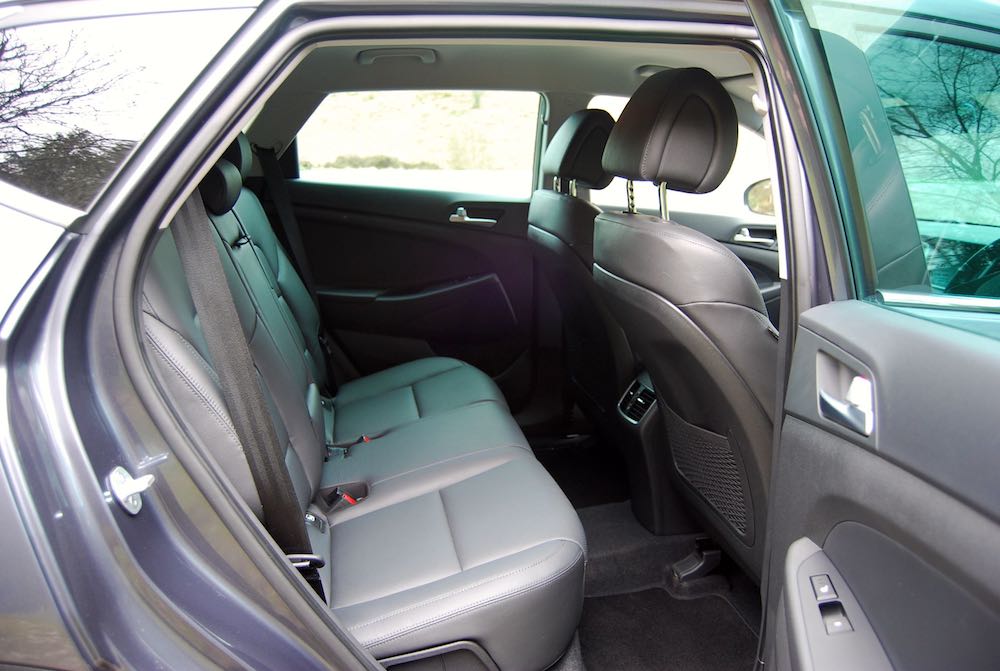 The seats are comfortable and the miles pass by soothingly on long journeys. This is true in the rear, too, and even adults won't feel they've been vacuum-packed to fit. At 513l capacity there's plenty of space in the sensibly shaped boot, even with 5 passengers on board.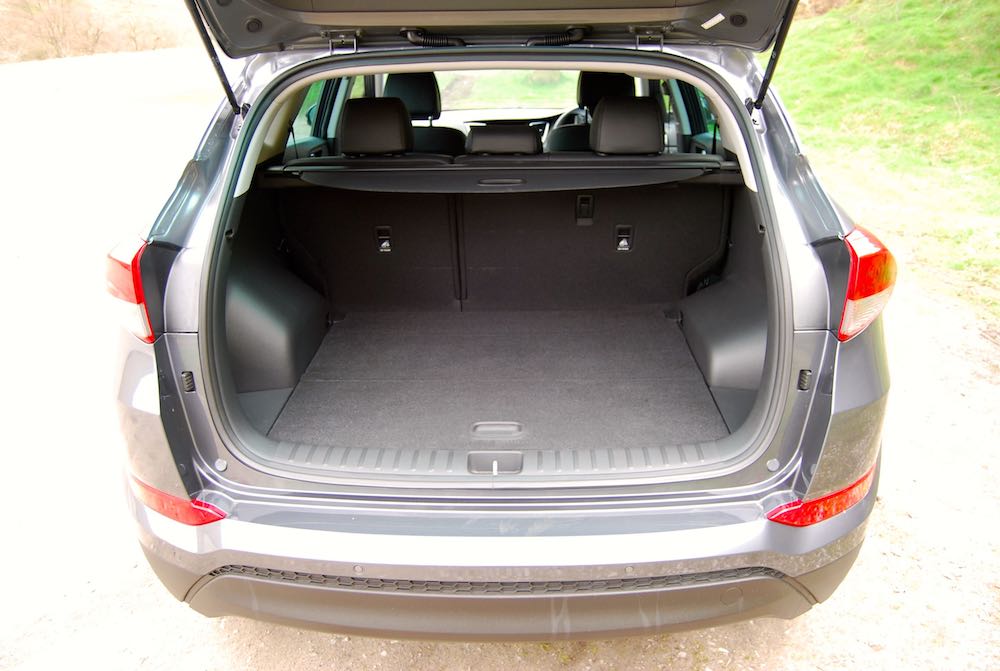 Generous extras
One thing that deserves special mention in the Tucson Sport is its plethora of extra features, especially considering it's a mid-range model. There's heated seats front and rear, 8" touchscreen infotainment, parking sensors all-round and more power sockets than you could shake a USB stick at.
The only luxury that's missing on all but the very top of the Tucson range – the Premium SE is keyless entry and starting. After recent revelations about the ease with which these can be infiltrated, though, this might not be a bad thing! What you do get on Sport Edition and above, though, is Hyundai's automatic dimming mirror with built in compass; nice 'lifestyle' touch, but not overly necessary if I'm honest.
To conclude
The Tucson does everything well and is well worth consideration in this most competitive of sectors. It's full of technology for both safety and convenience and is backed up by Hyundai's 5-year, unlimited mileage warranty. There's probably more dynamic SUVs on the market, but for comfort, space and all-round user-friendliness, the Tucson is right up there.
By Ben Harrington
Specifications: Hyundai Tucson Sport Edition, Engine – 1.7l CRDi, Layout – Front engine, FWD, Transmission – Six speed manual, Power – 114bhp, Acceleration – 0-62mph – 13.7s, Maximum Speed – 109mph, Economy – 61.7mpg combined, Emissions – 119g/km CO2, Price – £25,855 OTR, £26,160 as tested