Volvo XC90
Volvo's original XC90 was always considered the understated, large SUV; cool in a rugged, utilitarian kind of way. This 2nd generation XC90 takes things to a whole new level, though.
On the face of it, the XC90 just looks so sorted; never before has a Volvo garnered so much positive press from all and sundry, and I don't just mean diehard fans of the Swedish marque either. Yes, I had current owners of XC60s and mk 1 '90s heaping praise and wanting to experience it for themselves, but what I wasn't expecting were the compliments that came pouring in through the driver's window from BMW and Audi owners. Vyctöry Sverige.
Large Swede
The XC90 does kinda force you to take a look at it, due to its sheer size. Every model of car grows with each new iteration, but usually only by a few millimetres: at 4960mm the new XC90 is a full 153mm (6") longer than the car it replaces, and 49mm wider  (1.9"). That's acres in automotive terms and, when coupled with the fact that it's actually got marginally lower with age, partly explains its new svelte image.
Size is only part of the story, though – it's sheer design that really grabs your attention. That prominent nose dominates the front of the XC90, bisected grille standing upright and sporting the new Volvo Iron Mark logo. Thor's Hammer headlights are perhaps unashamed in a non-typically Volvo style, but they don't half make the XC90 stand out.
Bonnet flows into wing with no apparent gap or deviation, which then in turn become rounded flanks which rise slightly until they reach the more conventional Volvo Rear end. It all gives the XC90 a smooth, clean look like a polished pebble with light clusters.
Inscription
This is the range-topping, £50K+ Inscription spec, complete with theatre lighting, soft nappa, contoured seats and the most incredible Bowers & Wilkins sound system this side of downtown Gothenburg.
Inside every XC90 there's a super-simple, lay-flat 7 seat layout, which seats 7 'proper' adults, without the need for a gymnastics display to reach the rearmost seats. It even leaves a reasonable boot with all seats in place – that'll be what the increased length was for.
Sensus central display
There's a 9" 'Sensus' central display screen for music, navigation, climate etc., and, Tesla aside perhaps, it shows the way for other manufacturers. It's HD clear, accurate and easy to navigate, despite being as multifunctional as a certain brand of army-knives. If you're as hopelessly addicted to Apple as I am, it's an absolute treat, utilising their very own CarPlay app to communicate with your iPhone.
The dashboard isn't as original or tactile as the rest of the Volvo range, and it even feels a touch flimsy in places, but the attention to detail that's been lavished on the rest of the cabin is such understated cool. Take the knurled drive-select wheel, for example, or each seatbelt tongue that's inscribed with 'Since 1959' – a nod to the date on which Volvo's engineers invented the 3-point system and gave it to the world, free of charge. Cool.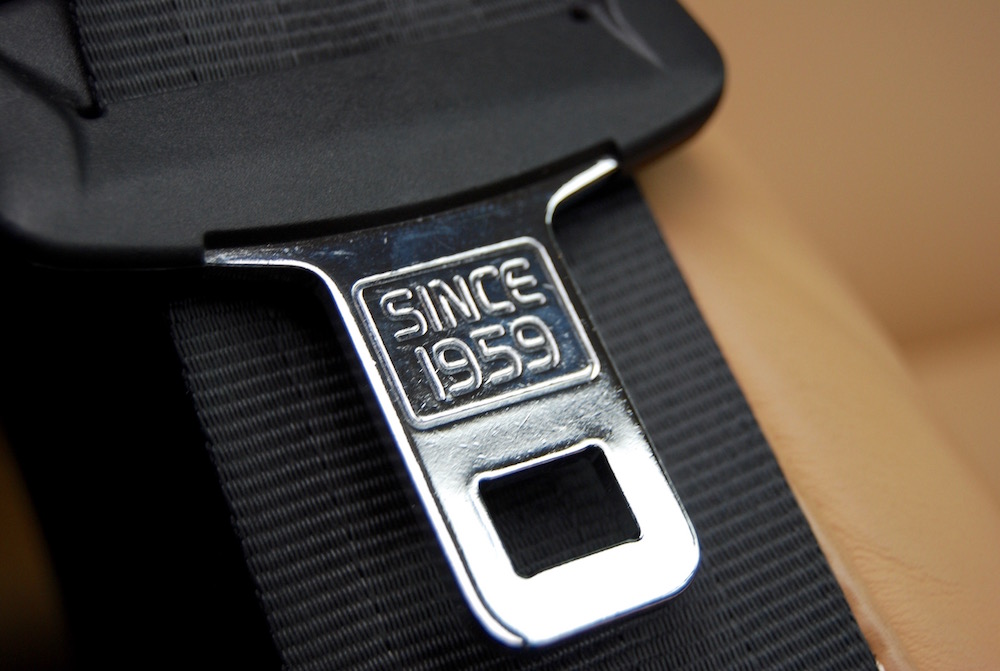 4 Cylinder engines only
All XC90s are 4 cylinder, 2.0l units, either petrol, diesel or the brand-new hybrid version, and all are mated to an 8 speed, Geartronic, auto 'box. This is the diesel variant, producing 225bhp and 470Nm torque, whilst getting the XC90 to 60mph in 7.4s and producing 152 g/km CO2. The powertrain's refined enough, especially the auto 'box, but it will clatter some if asked to overtake in a hurry.
Ride quality isn't quite Range Rover Vogue in terms of refinement, or Range Rover Sport in terms of reactivity and feedback. It tends to loll about over really bumpy surfaces and comes unstuck through rapid changes of direction, even in 'Dynamic' mode: this was clearly a car made more for comfort and off-roading than speed on tarmac.
Volvo have quite confidently announced their vision –  that they 'expect no-one to die or be seriously injured in one of their new cars by 2020′. Talk about setting yourself a target – that's less than 4 years away, but if the XC90 is anything to go by, they might just do it.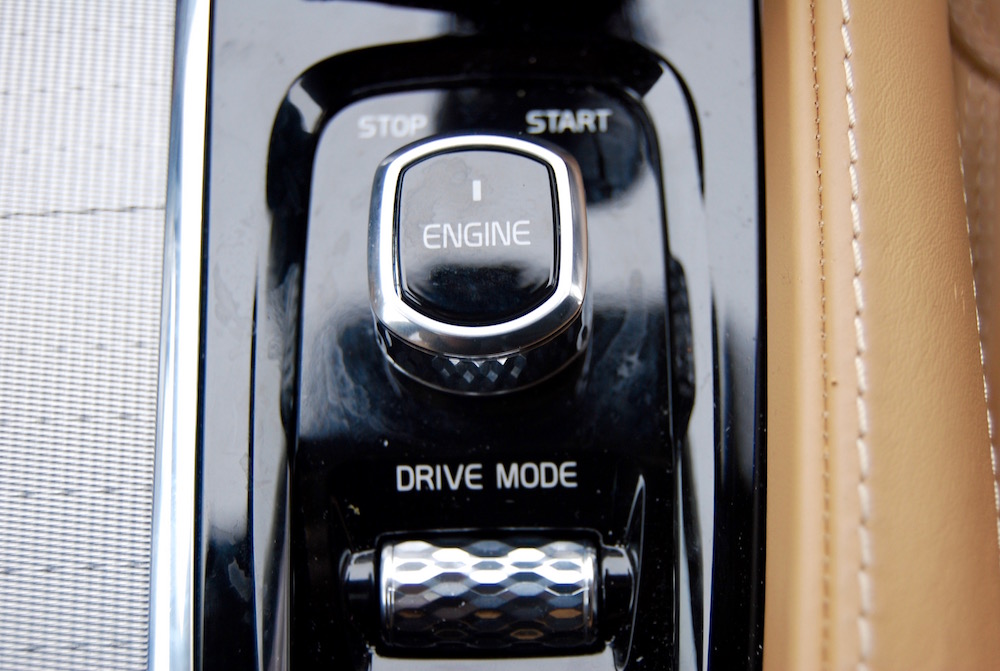 No drama
It's absolutely stuffed with safety features, you wouldn't expect anything less from Volvo, but what's so refreshing about the XC90 is the way it goes about keeping you alive. Whereas previous models binged and bonged to the point of distraction (I'm looking at you, XC60) the XC90 just subtly does it's thing without you really knowing about it. Case in point being the lane keeping aid that detects white lines and gently keeps you in them. Or the forward collision warning system that points out via the heads-up display if you've exceeded your pre-determined distance limit.
No sirens, no disco-lights, just genteel help and reminders. Very civilised.
Volvo have never had such a flagship model in their range before, even the last XC90 couldn't touch it. With this XC90, they've really harnessed everything that's chic about their own heritage and homeland, without losing their brand-identity i.e. being the safest way of transporting people around.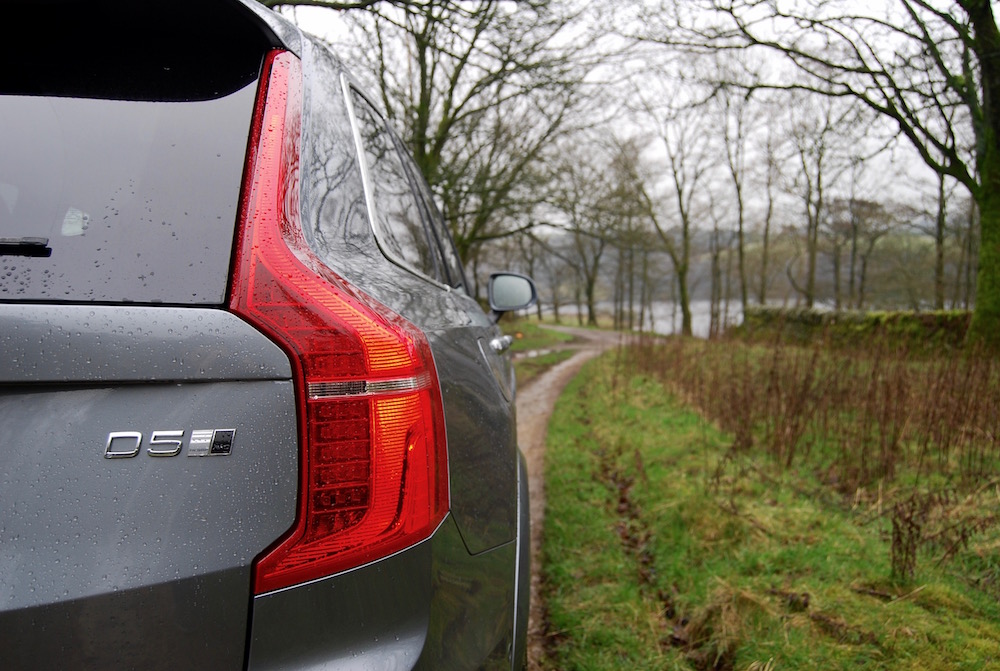 By Ben Harrington
Specifications; Volvo XC90 D5 Inscription, Transmission – 8 speed automatic, Layout – Front engine, 4WD, Power – 225bhp, Torque – 470Nm, Emissions – 152g/km CO2, Economy – 49.6 mpg combined, Maximum Speed – 137mph, Acceleration – 7.4s 0-60mph, Price – £50,685 OTR.
The Volvo XC90 is on sale now. For full details go to; www.volvocars.com