What is the V40 Cross Country?
We tested the standard Volvo V40 a while back and we were thoroughly impressed with the looks, the practicality and what a great overall package this mid-sized hatch – brought to you by the Kings of Estates – was.
So, what happens when it's jacked up a couple of inches and liberally garnished with some tough, chunky looking bits of trim? The Volvo V40 Cross Country is what happens, oh, and the price goes up by a thousand pounds.
Unlike similar models of this genre, the V40 Cross Country is available in 4×4 guise, for those customers who need the off-road capability to match the looks, but it's only available with the most powerful of petrol engines. That'll cost you a not-inconsiderable £34K, so I think it's a fair guess that the majority of CCs sold will be Diesels, just like this D3 model we have on test here.
Chic Interior
Apart from a 'Cross Country' logo above the glovebox, the interior of the V40 Cross Country is exactly the same as the standard V40 model, and that's no bad thing. The more Volvos I drive, the more I'm certain that their cabins are some of the nicest places you could wish to find yourself. Say what you want about the likes of Audi and Jaguar, but the effortlessly stylish design features in this V40 Cross Country, coupled with some innovative, high quality materials and the most attractive multimedia system add up to provide an ambience that's second to none.
Take, for example, the seat fabrics in our V40 Cross Country. It's not leather or Alcantara, so the generic description of the material used would simply be 'cloth'. But that's not doing it justice. It's like sitting on a pair of reassuringly expensive designer jeans – not the kind you'd do the gardening in, more like a pair you'd don with a crisp white shirt and wear on a first date. It's little touches like this that put the V40 Cross Country a place above most similarly sized hatches.
Road Manners
The CC guise may add ruggedness and road-prescence, but what does that extra height do to the agreeable road manners found in the V40? Apart from the obvious advantage when it comes down to tackling speed-humps and our increasingly scarred roads,  the fact is that it still sticks to the road very well and the slight addition of body-roll is only noticeable if you really push-on. If you were to ask any potential customer whether they'd trade a tiny loss in handling for the highly sought after gain in ride height over the standard car, I'm fairly sure they'd go for the V40 Cross Country.
This D3 model comes with Volvo's torquey 5-cylinder Diesel engine with 150bhp, and it does very little wrong. It's economical enough (114g/km & 64.2mpg) and once some initial rattle at start-up's calmed down, you'll merely detect a pleasant, distant sounding rumble, and that's only if you turn the excellent sound system down that comes as standard.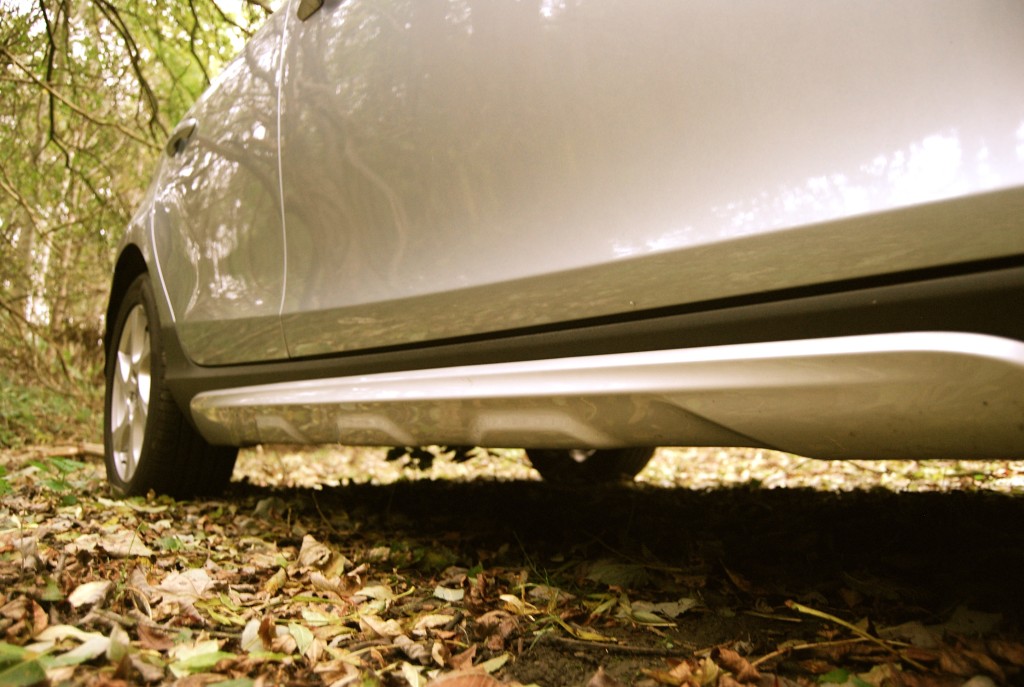 Mated to Volvo's 'Powershift' automatic 'box, driving the V40 Cross Country is a far more engaging experience than you'd possible warrant in this genre. The 'box works very well and has an uncanny knack of being in the right gear without any over-revving or labouring most of the time; it's far more satisfying than you'd expect the sum of its parts to be. There is a 'Sport' mode that changes up later and down earlier, as most sport modes do, but, if I'm honest, it feels a touch out of place in the V40 Cross Country, especially when the driving experience is so sorted to start with.
Does it work?
It would actually have been quite difficult for Volvo to mess this car up, as the V40 it's based on is a great car in itself. Some subtle off-roady touches and a dash of extra road presence are well worth the £1000 price tag over the standard car, but even against similar competition, the V40 Cross Country is a fabulous piece of kit.
By Ben Harrington
Specifications;

Volvo V40 Cross Country D3 SE Nav Powershift,

Transmission –

6 spd automatic,

Layout –

Front engine, FWD,

Power

– 150bhp,

Torque –

 350Nm,

Emissions –

114g/km CO2,

Economy –

 64.2 mpg combined,

Maximum

Speed –

127mph,

Acceleration –

 9.6s 0-62mph,

Price –

£25,770 OTR, £31,905 as tested.
For full details, go to; www.volvocars.com