This is the Kona, or KONA to be exact – Hyundai's assault on the ever-so-popular small SUV market. Anyone who views Hyundais as being traditionally conventional, 'normal' looking cars are going to get something of a shock with the Kona. Hyundai have really gone all-out to make sure that it stands out in an ever burgeoning market, even making the all-conquering Juke look slightly staid.
The Kona: Not exactly a Shrinking Violet
Let's start out with that front end because, well, it kind of screams for attention. The headlights are arranged in a narrow, slashed running-light over recessed main-light, much like Citroen's latest Cactus-inspired offerings. To say the Kona's look is 'busy' would be an understatement. There's grilles, angles, lights and shapes aplenty; pretty? – possibly not, distinctive? – definitely.
I always say that there's nothing like an air-scoop to add an air of menacing cool to a car. The Kona's may be smaller than some, but it is there, sat right above the main trapezoid grille. Look further back and the line of the bulbous bonnet rises up before dipping back down underneath the door mirrors. Rugged, tough plastics and scuff plates protect the bottom 6 inches of the Kona's bodywork all the way around, magically transforming any workaday hatchback into an SUV.
Part of the Kona's appeal is its proportions and stance. There are no huge, ugly overhangs and, despite raised slightly above the norm, it sits well, especially on the 18" wheels that this Premium spec car comes with.
Make it your own
Hyundai have leapt on the personalisation band wagon with the Kona and there are some pretty daring colour schemes to choose from. You can opt for a floating, two-tone roof and even add splashes of lime, orange or red to the Kona's interior.
Vibrant colour options aside, get inside the Kona and things couldn't be more different to that eye-catching exterior. By this I mean it reverts to typical Hyundai fare i.e. nothing particularly special. Swathes of grey plastic are the order of the day here and the only real highlight is the central 8" touchscreen that comes on Premium models & above (SE and S models come with a 7" touchscreen and 5" LCD respectively). Apple CarPlay and Android Auto connectivity are included with all touch screens and there's even wireless charging, again, on Premium models & above.
The driving position is good, with reassuring all-round visibility. The driver's seat itself could do with a wider back section for larger drivers but there's good knee and elbow room. There are three seats in the back, but the middle seat is very narrow; strictly for children only I feel. Again, head and leg room is good in the back, even for taller adults.
For a small car, Hyundai have nailed storage solutions in the Kona and you'll never be short of a cubbyhole. The boot capacity is 361 litres, rising to 1143 litres with the rear seats down. 60/40 split rear seats comes as standard, as does a flat boot floor for easy loading/unloading.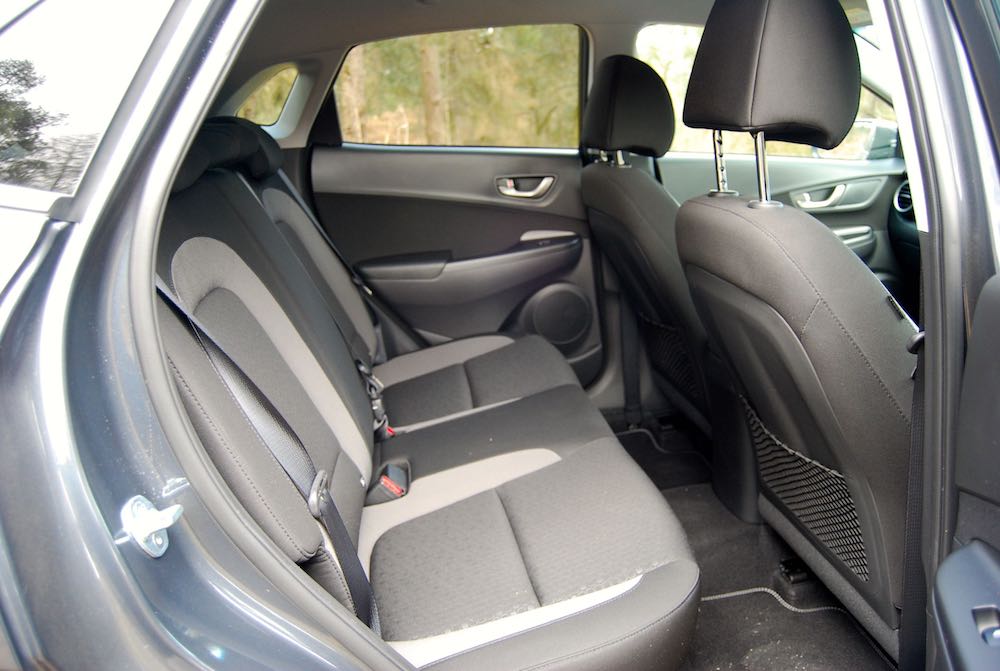 The Kona comes packed with safety features as standard. Every model gets Driver Attention Alert, ESC, hill-start, lane keep assist and multiple airbags. Highest spec models even come with Autonomous Emergency Braking and Pedestrian Recognition as part of their Safety Pack. It's only £235 to add it to any other Kona so well worth considering.
Great fun to drive
The Kona comes with either a 1.0l, 119bhp 3-cylinder engine or 1.6l, 175bhp 4-cylinder engine – there's no diesel at present. Choosing which engine you want is pretty simple; go for the top-spec Premium GT Kona and you get the more powerful engine, mated to a 7-speed DCT automatic transmission. Any other spec Kona and it's the 3-cylinder with a 6-speed manual.
Want 4WD? No problem, it is an option with the Kona. Again, though, it's an easy choice; you have to go for the top of the range Premium GT, otherwise it's FWD only.
Even comes with 4WD
Our Premium spec inevitably came with the 3-cylinder engine and FWD, then. You know what? – unless you really need 4WD, I wouldn't bother. The way this little SUV corners is nothing short of amazing. Its no-nonsense approach is reminiscent of a 1980s hot hatch with hardly any lean and a safe, predictable line held, even in the wet.
Tempted with 175bhp? Again, I wouldn't bother. You can't miss the unmistakable chatter of a 3-cylinder engine, but this one chatters more than most. Don't hold what it's missing in refinement against it, though, because with 172Nm torque, the way it pulls in every gear will undoubtedly put a smile on your face. The only weak link is that 6-speed transmission; possibly the most vague, imprecise 'box I've driven.
Should I buy a Kona?
In such a bloated segment, the Kona was going to have to be something special for it to shine. If you can't get on with the looks, forget it – move on. If you like the Kona, though, it's more fun to drive than most of the competition, and it's spacious inside, if a little bland.
By Ben Harrington
Hyundai Kona Premium 1.0 T-GDi Specifications:
Engine –

 1.0l 3-cyl petrol,

Layout –

Front engine, FWD,

Transmission –

 6-speed manual,

Power –

 119bhp, 

Acceleration –

0-62mph – 12.0s,

Maximum Speed –

112mph,

Maximum Torque –

172

Nm,

Economy –

 52.3 mpgcombined,

Emissions –

125

g/km CO2,

Price –

£18,830 OTR

The Hyundai Kona is available now. For full details go to; www.hyundai.co.uk