What? Only Petrol or Diesel?!
What a disappointment. No – not the C4 Cactus, but the realisation that it comes with a typical choice of four petrol engines and two diesels. No Doc-Brown's Delorean-style household rubbish-powered option then? Or any similarly futuristic fuel choice – like moon-dust, or liquidised bubble wrap? Because the C4 Cactus' moon-buggy-esque looks could easily warrant a ground-breaking method of propulsion, and that's a great place to start – a Citroen that grabs attention wherever it goes, just like they used to.
The name suggests that the C4 Cactus is based on one of Citroen's more humdrum models – the C4. There's "based on", and "based on", though; some cars are just their parent model with a few accessories liberally stuck on, and then there are cars like the C4 and C4 Cactus – cars that may share part of a name, but that's pretty-much where it ends. The C4 Cactus is all about saving weight so it's based on their 'PF1' platform. This makes it's wheelbase equal to the C4, but it's only as wide as a C3 Picasso, so don't read too much into that C4 moniker.
I am Ironman
Whichever way you look at it, the C4 Cactus is like nothing else currently on the market. You've got a perfectly smooth front end with some well hidden headlights and the sharpest of slashy DRLs, the result being a car with a 'face' like Ironman's helmet – very cool. The whole car is jacked up a bit, and that's evident by the gap from tyre to wheel arch. But this is no 'crossover' or 'SUV' in the truest sense, it really is a hatchback on raised suspension, as if room's been created for some 4×4 running gear, which it hasn't.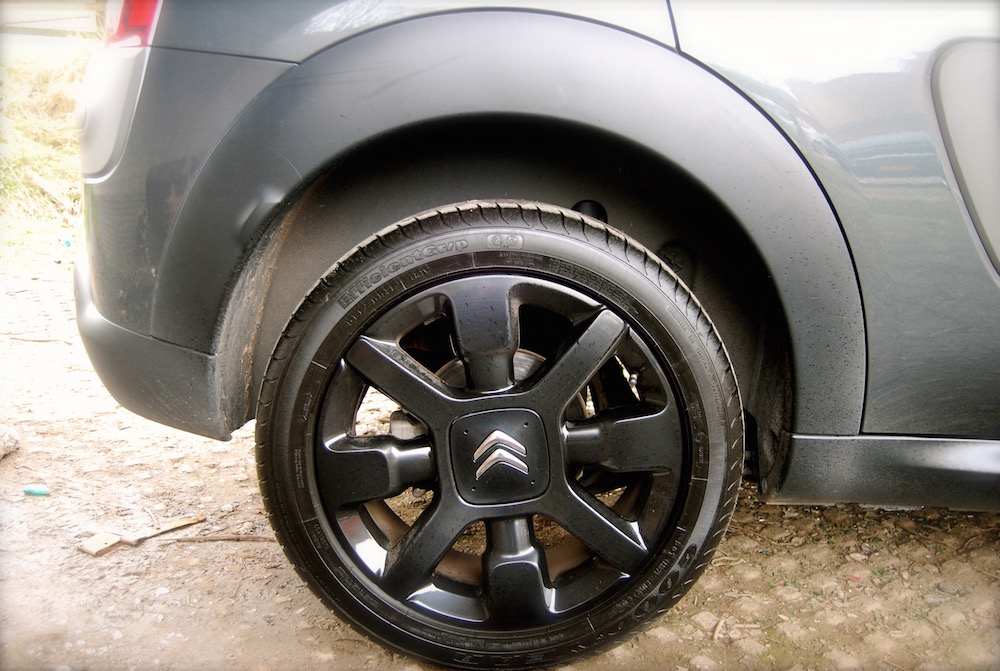 Bumpy C4 Cactus
Now, onto the C4 Cactus' party-piece; the side of the car, which is dominated by those love-em-or-hate-em 'Airbumps'. These anti-shopping-trolley sheets of plastic are basically there to protect the doors from scratches and prangs, but they add so much to the individual character of the car that they've become just as much form as function.
The rear of the C4 Cactus has got a few more little bumpy bits, which can only help with its self-preservation, apart from that, it's all a bit more everyday. It is slightly reminiscent of the legendary Peugeot 205′s rump with its small small light clusters and simplistic design, but apart from that, it's not that noteworthy when you've got Ironman upfront and some mattresses on the sides.
There's also a shark-fin just behind the rear window, echoing the DS3's trademark – could this car have made the jump from everyday Citroen to upmarket DS? – probably, but part of the ethos of the C4 Cactus is being lightweight and inexpensive, just like Citroen's used to be, so the DS brand's more luxurious ethos doesn't really fit.
Retro yet Innovative inside
It would've been a huge let-down to find a generic Citroen interior inside the C4 Cactus, but the good news is that it's just as fun and progressive as the outside. The front passenger airbags are stowed in the ceiling which leaves the dashboard free for the glovebox to be opened upwards like a suitcase. Quite conversely to the car's space-age design, this glovebox is a retro-luggage-like design, which is also manifest in the leather-strap door pulls.
So many cars are equipped with unnecessarily grippy, bucket-style seats these days – they're an easily added 'sporty' touch. Citroen, on the other hand, are proud to have fitted the C4 Cactus with what they call 'Sofa-style' front seats – sit in them and the name's easily justified. There's no delusions of grandeur here – these seats aren't for a twisty rally stage, they're for lounging in and getting comfy, just like you used to in Citroens.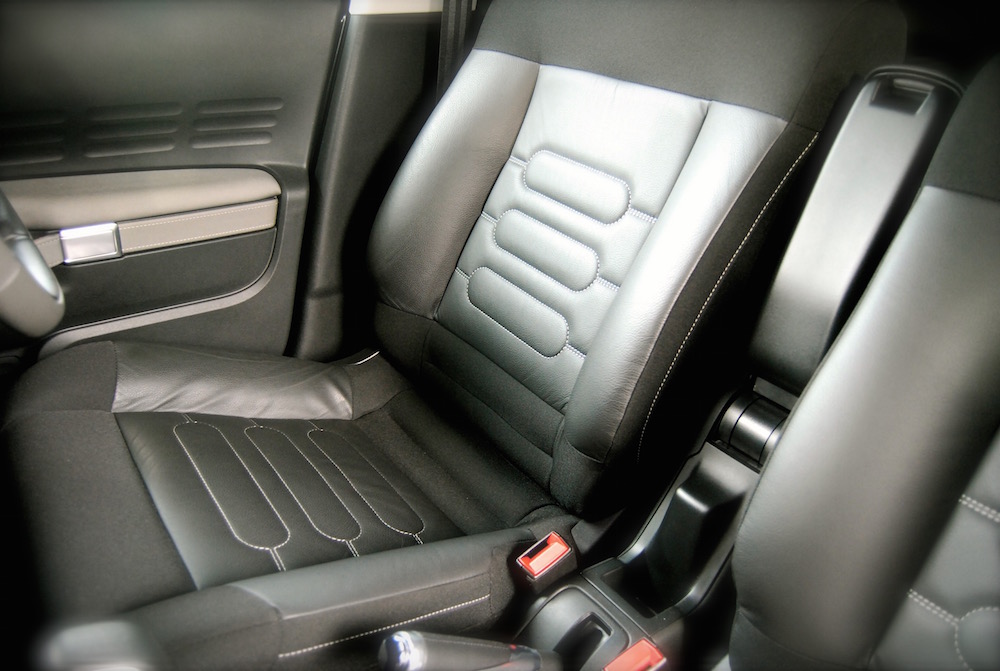 Visibility and seating position is good, with that slightly raised ride height inspiring some confidence, even if it's no towering 4×4. The omission of reach adjustment on the steering wheel is presumably in the name of cost and weight saving, but personally, I think it should have been included to provide the best all-round driving feel. Any concerns about a lack of space due to the car's narrower platform are taken car of with some clever design cues such as hollows in the doors for your elbows. Some real thought's gone into this.
There's the usual PSA group multimedia system with its app-based software and hi-res reversing camera – yes, it is generic, but I've always found it simple and fun to use so that's no bad thing. It has its glitches, especially when trying to talk to an iPhone, but compared to the problems I've experienced with multimedia systems in more 'premium' marques, it handles things pretty well. There's also a neat little shelf to rest your phone on whilst it's plugged into the USB socket; you wouldn't believe how many cars come with a USB but nowhere to then stow your phone. Nice thinking, Citroen.
Quarter-light rear windows
The rear of the C4 Cactus is as inviting and comfy as the front, just make sure you consider the potential height of any rear passengers if you opt for the panoramic glass roof. Another weight and cost-saving measure in the C4 Cactus is the hinged, quarter-light style windows, rather than conventional fully opening glass, and I think this is a step too-far. As my children got towards school age, they increasingly liked to stamp their independence by opening their very own car window – take this choice away and I foresee some frustrated children, and equally frustrated parents.
Our C4 Cactus test car in 'Flair' guise came with their BlueHDI diesel engine which is the most expensive power plant to go for, and with 92g/km CO2 and a claimed 80.7mpg, it's undoubtedly the prudential choice when it comes down to fuel and VED. If high mileage isn't your intention, though, and you're ok with paying a bit of road tax, I'd be tempted to save some money on initial cost and go for the 110hp petrol engine for that extra responsiveness, as the most powerful diesel engine still feels a tad sluggish. You can go for a 'box with an automatic mode, but our Cactus was equipped with an everyday 5 speed manual; it's not the most direct or satisfying 'box I've ever used, and it'll work you hard if you're in a rush.
All of that weight-saving in the C4 Cactus really shines through in the car's economy figures, but do it's road manners and driving experience match? Well, not really; point-to-point handling and razor sharp reactions are not what the Cactus is all about – soft, compliant suspension, and tall, forgiving tyre walls result in more of a wafting, comfortable feel than most of the competition, just like Citroens used to.
Should I buy a C4 Cactus?
The C4 Cactus is a brave step forward for Citroen, and it's definitely eye-catching. It's also slightly contrary, though; for all its forward thinking and innovative features, there's some aspects that are pure Citroen of old, like the relaxed nature of the ride and handling. At over £20K with options, our 'Flair' test car would take a brave consumer, but you can get a C4 Cactus for just under £13K (albeit in 'Hello Yellow'), and that's before the legendary Citroen dealers' discounts. At the more sensible end of the Cactus' price range, it's a practical, fun car with bags of character, just like Citroens used to be.
By Ben Harrington
Specifications;

 Citroen C4 Cactus Flair Blue HDi 1.6l,

Transmission –

5 speed manual,

Layout –

 Front Engine, FWD,

Power –

 100bhp,

Torque –

 254NM,

Emissions –

92g/km CO2,

Economy –

 80.7mpg combined,

Maximum

Speed

–

114 mph,

Acceleration –

10.7s 0-62mph,

Price –

£18,090 OTR, £20,555 as tested
For full details, go to; http://www.citroen.co.uk/home