Citroen DS3 Cabrio
The Citroen DS3 has been on our roads for an almost unbelievable four years now, and this cabriolet version has been allowing us to maximise our enjoyment of the sporadic British sunshine since 2013. Just prior to this article being published, Citroen announced a slight midlife refresh of the model including new headlights and a few new, ultra-efficient engines, two of them being Diesels.
That news may encourage some buyers to hang on a while so that they can get the most bang for their buck, but the fact remains that if you like your Citroen DS3 Cabrio to perform and sound as well as it looks (I don't believe in Diesel cabrios – it's something of an oxymoron, IMO), and you're not prepared to shell out the somewhat lofty sum of £30k for the DS3 Racing – this 155bhp petrol model is the one you'll most likely opt for.
The DS3 might be four years old but the look is still very fresh and I challenge anyone to say that shark-fin doesn't continue to raise a smile. Speaking of 'the' fin – I was initially worried that the release of this DS3 cabrio model would do away with this most pleasing of features. Thankfully though, Citroen opted to give their soft-top just that – a soft top. This means that the roof frame stays in tact, as do the rear side windows and the cloth section simply slides rearwards, kind of like an enlarged sun-roof. Not only does this mean my favourite bit of the whole design stays in tact – yes, the dorsal – but the structural rigidity of the car only required a bit of strengthening where the parcel shelf used to be, in order to maintain the taut feeling of the hardtop. Kind of a win-win situation really as it only adds 25kg to the overall weight, too.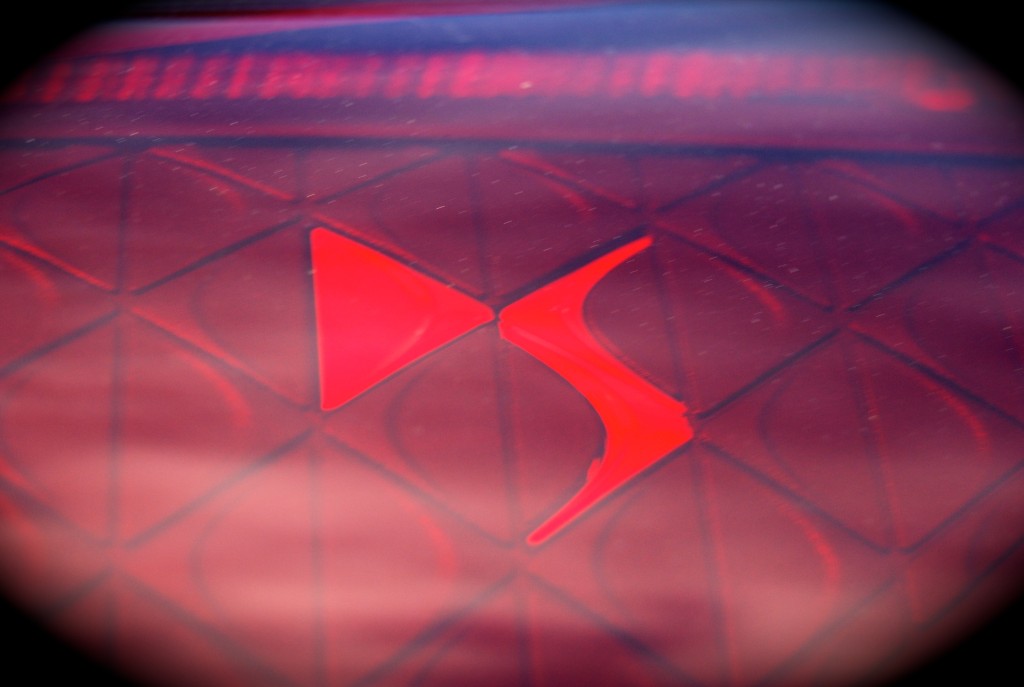 Citroen were always very keen to distance the DS sub brand from their mainstream models, even selling them in DS-only dealerships in some countries, and they've achieved this aim with aplomb. There are Citroen badges on the DS3 cabrio, obviously, but they're subtle and require some searching for. In their place are the modern, slightly cryptic DS logos that are splashed around the whole car in various formats. In fact, the only double chevron I found on the whole car that was actually combined with the Citroen name was a diminutive blanking piece in the cabin – it's no accident that this could easily be missed.
It's not just the look of the DS3 cabrio that's separate from the Citroen hoi polloi, though – the way the car drives and feels is quite different too. The flamboyance and character of the DS3 cabrio is quite French, in so many ways. Contrarily though, the soft, accommodating ride you'd normally associate with cars of this origin, especially Citroens, is dismissed in favour of an altogether harder, more focused approach. This is obviously something of a double-edged sword as the DS3 Cabrio's handling is precise, with hardly any roll to speak of, but when your primary concern isn't kissing apexes, and you just want to get home in comfort after a tough day at work – the DS3 Cabrio's ride could jar a little, especially over our typically pot-holed roads.
It's a tired old cliché that French cars aren't built very well, and a tag that's not as relevant as it used to be. If you need some convincing – just drive this DS3 Cabrio for a while – the build quality feels excellent and everything has a solid, chunky air about it. Put the roof up and the sensation of calm and quiet could easily embarrass some drop-heads that cost twice as much. You could of course argue that for nearly £20k, it shouldn't be anything other than screwed together properly, but it's not just money that's been thrown at the DS3 Cabrio, the imagination and flair that's especially evident in the cabin comes from ambition, not a chequebook.
When discussing practicality, cabriolets often crop up in the same sentence, usually accompanied with the words 'a distinct lack of'. Because of the way the DS3 Cabrio has been developed, the soft top doesn't impinge on the boot space as such, it just leaves you with a letter-box style aperture to access said boot. But negotiate that and you can easily fit a decent sized fortnightly shop in – trust me, I did it. The counter balance to this, though, is that if you retract the two-stage roof all the way back, your rear-view is reduced slightly. Actually, it's annihilated, it's probably a better idea to keep the roof at its first stage which keeps the rear window in its correct position. The slight revamp of the model I mentioned earlier does include the option of a reversing camera – I think it's a must if you go for the cab.
The DS3 Cabrio uses the four-cylinder, turbocharged engine that, until recently, was found in various MINIs. The fact that BMW have opted to go down the tri-cylinder route shouldn't reflect badly on this Citroën developed engine as it's still really rather good. Yes, it can be a tad frustrating and a little gutless at low revs, as you wait for the turbo to wake up and do its stuff, but once you get going, it's a sweet unit that suits the DS3 well, especially with the clunky, satisfying gear changes from the six-speed 'box. My only real complaint with this engine is that the turbos stifle the sound too much, but get the roof down and drive through your favourite tunnel and it's just loud enough to keep you coming back to do it again.
The Citroen DS3 is one of those cars that remains affordable, whilst offering a certain element of quality to make it stand out from the crowd, much in the same way as the Fiat 500 and MINIs do. The difference with this, though, is that it's not some retro-mobile, cashing in on past glories, it's ultra modern and the first of its kind. This DS3 Cabrio model stands apart from the soft-top competition due to its increased levels of practicality and comfort. Opt for this 155bhp engine, and it's a hoot to drive, too.
By Ben Harrington
Specifications;

Citroën DS3 Cabrio DSport THP155,

 Engine –

1.6l petrol four cylinder turbocharged,

Transmission –

6 speed manual,

Layout –

Front engine, FWD,

Power –

155bhp,

Torque –

240Nm

, Emissions –

137g/km CO2,

Economy –

47.9mpg combined,

Maximum Speed –

132 mph

, Acceleration –

8.2s 0-62mph,

Price – £19,845 OTR, £21,490 as tested.
For full details, go to: www.citroen.co.uk/DS3