It's time for a little mind reading: Name me a hugely successful rally car from the '90s. Ok, ok, forget the Impreza, now name me another one. It's the Mitsubishi Lancer, isn't it? These two 4wd turbo-charged monsters thrust rallying back into the limelight and brought an element of excitement back to the WRC not seen since the hair-raising days of Group B.
It's therefore fair to say that Mitsubishi know a thing or two about screwing a 4wd system together and, perhaps more importantly, getting it to work in the real world, predominately on tarmac. Step forward the Shogun. Before the X5, the Cayenne or the Touraeg had even been roughly sketched, the Japanese were providing the only really credible opposition to anything coming out of Solihull with the Landcruiser and the Shogun. They were even screwed together properly.
What we have here then is the most recent incarnation of Mitsubishi's go-anywhere limousine and it's time to see whether it can still cut it in today's highly competitive 4×4 segment or if it should simply retire back to the Land of the Rising Sun.
It has to be said that first impressions are good. If it's road presence and drama you're after, this is undoubtedly the tank for you. Subtlety must have been having a day off when the designers dreamt this car up as there's more shiny bling than an episode of TOWIE (!?), and those ultra-large rims give the Shogun that sense of attitude that many 4×4 owners so heartily lust after. Indeed, it was the recipient of many approving comments from image-conscious 20-somethings, which surely represents something of an acid test.
After a few double-takes though, the reason for the Shogun's nagging familiarity dawned on me; with its flattish bonnet and wrap-around headlights, it bears a certain resemblance to the latest Range Rover. This, of course, represents a role swap of epic proportions as the Japanese have long been accused of producing uncanny facsimiles of Western cars but, in this instance, the horse seems to be following the cart as the Shogun was available in this guise a long time before the new Range Rover breathed its first. A long, long time.
So, we've established that, from the outside at least, it's something of an oldie but a goodie, possibly even a trendsetter that was way ahead of its time. But what's it like on the inside? Can it offer levels of ambience and quality, hitherto unseen on a Japanese automobile, with fixtures and fittings to make the big three German marques feel uneasy?
Put simply – no. It's not an unpleasant place to be, don't get me wrong, in much the same way that a Virgin Pendolino isn't an unpleasant place to be. But neither of them are leading the way in the field of opulence either. The seats are supportive and comfortable enough and the basic design of the cabin area is fairly inoffensive but to compete in this segment, it's in need of something of a rethink.
Standard equipment in this range-topping SG4 model is impressive, boasting DVD players in the front and rear mated to a Rockford Fosgate entertainment system, a rear view camera and the all important hidden row of seats to transform your Shogun into a MPV. Mitsubishi's Fold2Hide system really does make this extra seating disappear into the boot when not required and isn't too uncomfortable when it is. For this at least, they should be applauded.
However, the multimedia system somehow manages to confuse and be confused, all at the same time, never appearing completely sure what's being asked of it. It claims to be proficient in the ways of the Iphone yet gets completely flummoxed when asked to interact with one, ultimately denying almost all knowledge of their existence.
There are other aspects of the Mitsubishi Shogun's cabin that, although minor on the face of it, prove to detract from an otherwise pleasurable experience. There are cubby holes and storage areas aplenty, as one would expect with a tough, rugged 4×4. All good so far, until the wide variation of plastics used is noticed. Surely it couldn't have been that hard to match a lid or door to the rest of the surrounding surface and yet they mostly stick out like a sore thumb due to their differing colour or material.
The door-bins are another bugbear. They are voluminous and would be extremely useful, if it weren't for the fact that once the car's doors are shut, they are rendered completely inaccessible due to the location of the door's armrest. If this is a clever safety feature to prevent the driver being distracted by the contents of his door-bin then I apologise. But if this is the case and the vehicle should be stationary whilst keys, boiled sweets etc are being found, surely it begs the question; why not just store everything in the boot?
Back to what Mitsubishi do rather excel at – a 4×4 system. No manufacturer would be naive enough to believe that the majority of their 4x4s are going to spend much less than 98% of their lives on tarmac, but to be unable to cut it on the rough stuff when required could prove to be an SUV's downfall.
I was 'lucky' enough to be in a position to test this Shogun out properly as our recent Baltic weather conditions left many roads covered in an inch of ice and snow. Green-laning it may-not-be, but it's about as hairy as most Shogun's will ever see so, how did it do? Well, on one occasion, in two-wheel drive mode, on its standard road tyres, it was left pretty stranded on a particularly icy back street. One press of a button engaged 4wd, but again, progress was impossible. A further button press engaged the Shogun's very clever differential lock and this is where those years of practice bore fruition: Those road tyres all of a sudden found grip where previously it didn't exist and the mighty Mitsubishi simply strode on where lesser cars would have been stranded and this is what it does very well; it reassures you that, ultimately, it knows what it's doing.
Back on terra firma, at slightly less inclement temperatures, the Shogun's 4×4 system continues to impress. If the road is wet, slippery or compromised in any other way, a simple press of a button invites the front wheels to join in and all concern is instantly dissolved as grip levels are restored to confidence inspiring standards with little loss in economy.
The 3.2l, 4 cylinder, common rail Diesel found in this Shogun has been around a fair while now and, with recent advances in engine technology, it could hardly be described as cutting edge. Mitsubishi have recognised this fact and by tweaking this and modifying that, they've lowered emissions from 246g/km to 213g/km and 280g/km to 224g/km on manual and automatic models respectively. MPG is also up from 30.7 to 36.2 on the manuals and to 33.2 from 26.7 on the autos. Not exactly figures to worry Mr Prius but a step in the right direction that keep this drivetrain more relevant.
One aspect of this engine that can't be ignored, no matter how hard one tries, is the noise. There's insulation aplenty inside the Shogun to muffle the Diesel clatter but from the outside, it's just not acceptable in a car that retails at £42,000. 4×4 or not.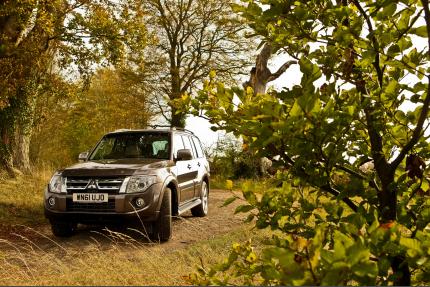 Overall, to dismiss the Mitsubishi Shogun as a relic from a bygone age would be somewhat unfair and inaccurate. It has many good points, not least of which is it's bulletproof build quality and reputation for reliability. It's just that, this SG4 model is priced up there with some pretty tasty competition and this is where it's inadequacies are magnified. Strip it back to it's bare bones however, taking away some unnecessary indulgencies and leaving only the bits we like and you can have a LWB Shogun for £32k. For that money, it's a go-anywhere 7 seater that represents something of a bargain.
By Ben Harrington
Specifications;

Mitsubishi Shogun LWB DI-DC SG4,

Engine – 

3.2 TD, Layout – Front engine, 4WD,

Power – 

197bhp,

Maximum Speed – 

111mph,

Economy – 

34.4mpg combined,

Emissions – 

 216g/km CO2,

Price – 

£41,799 OTR