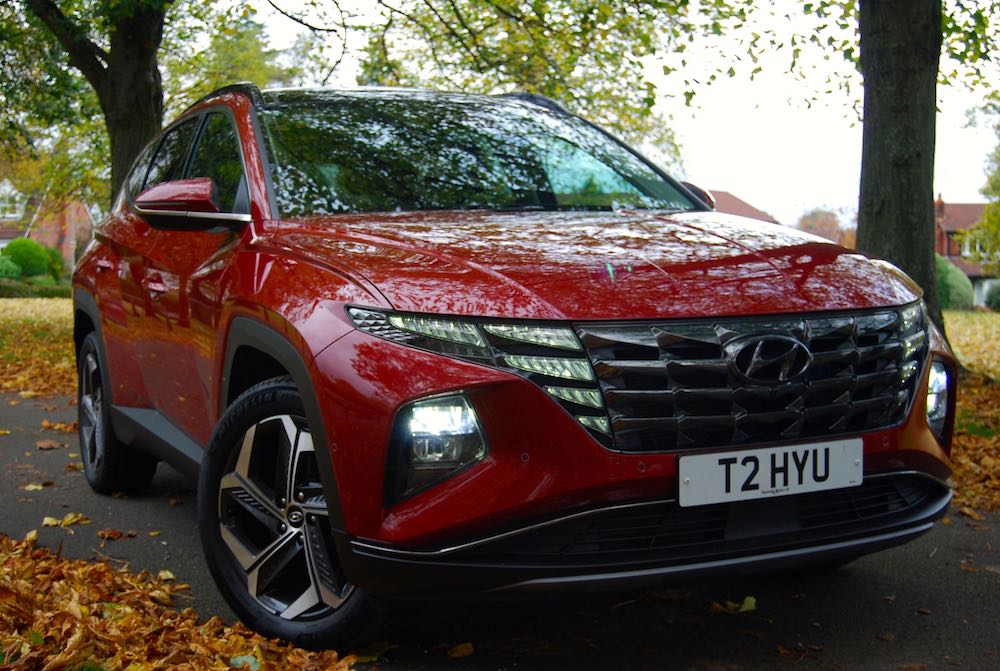 Hyundai Tucson
Next year (1982) marks 40 years since Hyundai hit the UK car market, and it's fair to say they've come quite a long way. It's also pretty fair to say the last couple of years have been the Hyundai's most adventurous. When they're not tuning family hatchbacks and slapping an 'N' on them (one letter more advanced than 'M', remember) they're bringing out some pretty brave retro/futuristic electric offerings in the shape of the IONIQ5.
This is the new Tucson, and it could actually be the most surprising product to come from the South Korean brand. We've had Tucsons competing with the sea of other mid-size crossovers for years, but not one of them could have given any clue that this latest version was going to look like this. Everywhere you look there's lines, creases, angles, recesses, interesting shapes and lights – oh my word, are there lights! The attention grabbers are the ship's sails shaped headlights and DRLs, recessed into the skeletal front grille. These are a real marmite moment for the Tucson; they could make you admire the fresh, brave move forwards or make you look elsewhere before you've even looked at the rest of the car.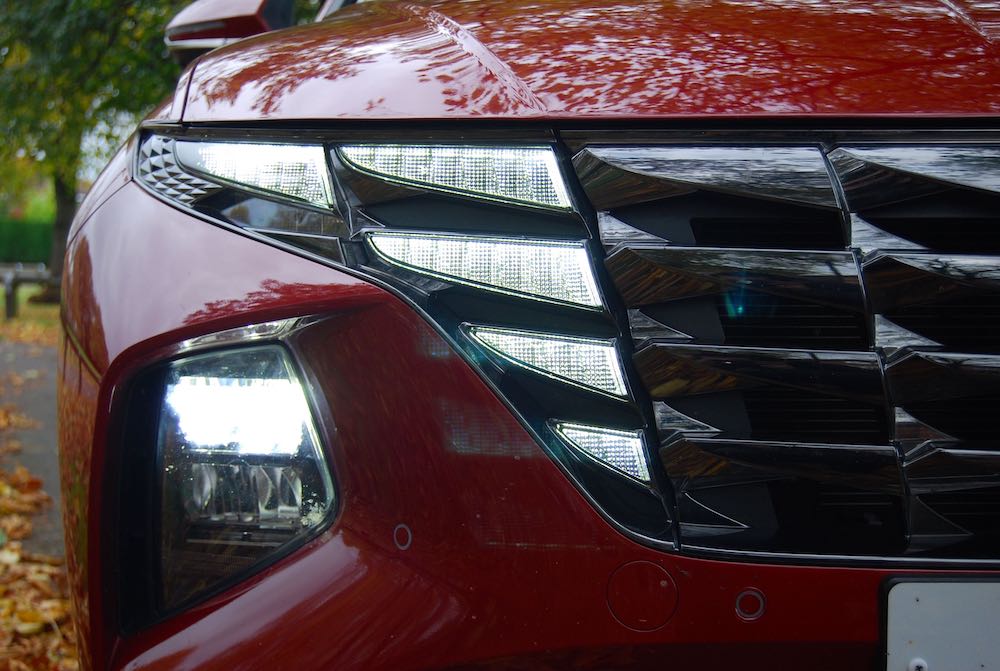 Is the back as wild as the front?
The rear is again dominated by lights but these ones are a touch more conventional. They give an air of Mustang Mach E so it's pretty inoffensive and the full-length strip light will be a crowd-pleaser. It's when you look at the sides of the new Tucson that things get almost as creative as the front. The plastics clad wheel-arches are squared off, as a proper off-roader's should be i.e. Jeep or Land Rover Series, yet they're also leaning forwards, reminiscent of the entirely improper Lamborghini Urus. Not only that, both of the arches sit on some pretty bulbous wings, the front wing taking on the form of an arrowhead. The whole side view has your eyes darting from shape to feature crease; the new Tucson ain't subtle.
Surely the interior's a bit more conventional?
Sit inside the new Tucson and after the assault on the senses the exterior's given you, it's altogether more 'normal'. The layout's been brought up to date with two large screens, one in the usual mid-dashboard position, the other where your speedo etc would normally be. The rest of the cabin is the usual 'good quality but not quite an Audi' standard we've come to expect from Hyundai. The rear seats are slightly elevated to give a better view out and they split 40/20/40 for optimum luggage/passenger ferrying ability.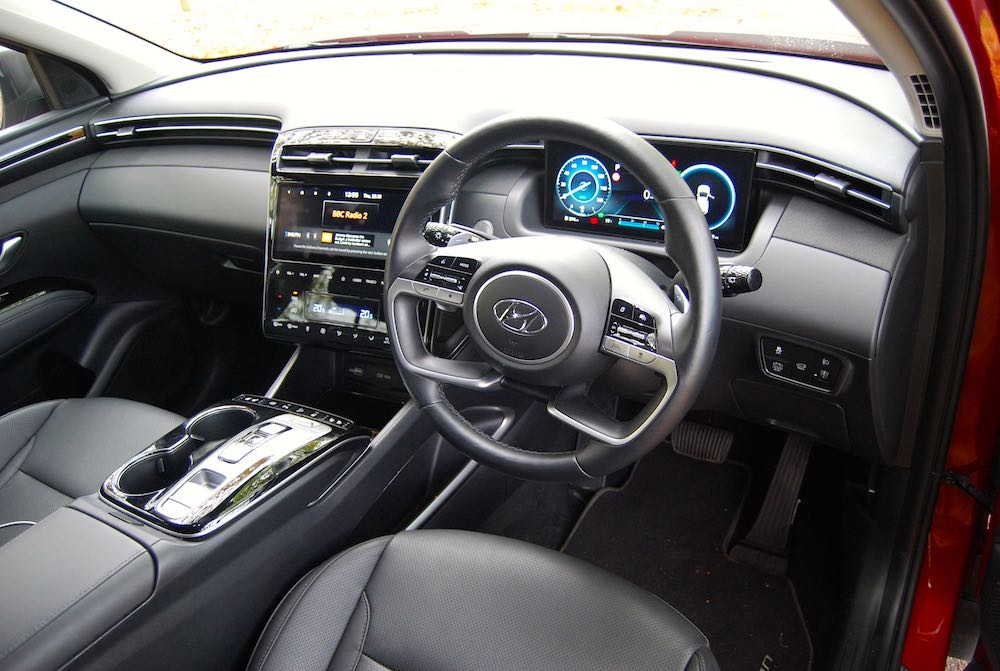 Plenty of kit
Standard equipment in the Tucson is generous, especially in the safety department with collision assist coming as standard. Go for the Tech pack on higher spec Tucsons and you get their rather excellent blind spot view monitor (BVM) which gives you a view of your blind spot on your driver's screen via two cameras every time you indicate. There's cubby holes aplenty as well as USB ports in front and rear. Let's be honest; it's the USB ports that's going to keep people happy.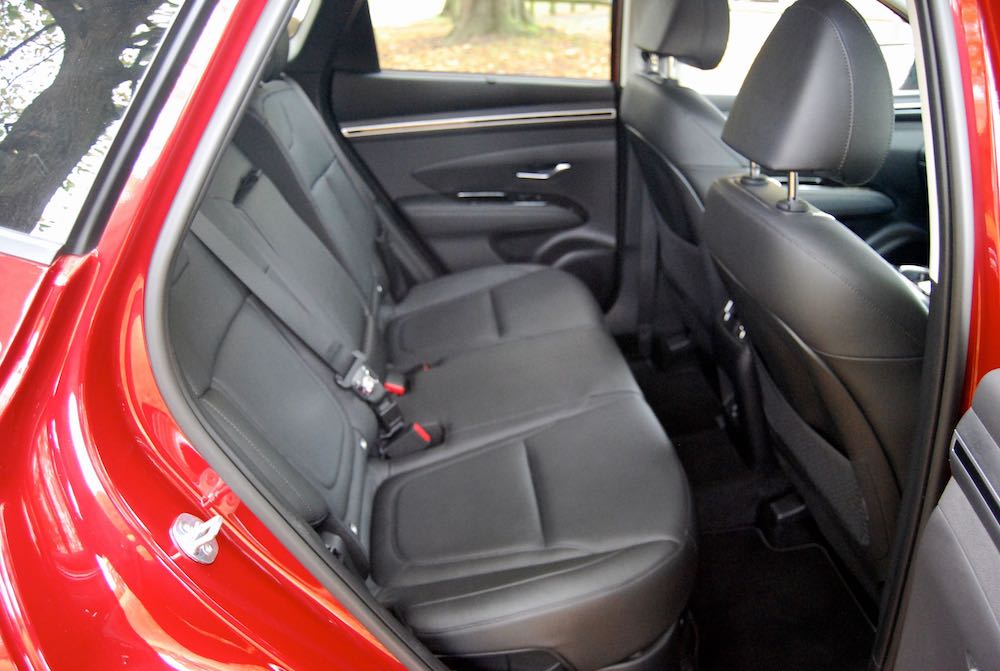 Many options based around a 1.6 litre petrol engine
Under the bonnet it'll come as no surprise that diesel's been banished. An all-electric version is on the cards for the near future but for now you can have pure petrol, a 48v mild hybrid, a self charging hybrid or a plug in hybrid so that's all eco options covered. The base for all Tucsons is a 1.6-l TGD-i petrol engine with either 149 or 178 bhp in the mild hybrid, 228 bhp in hybrid guise and 262 in the plug-in hybrid. The pure petrol Tucson drives the front wheels only via a six-speed manual 'box or 7-speed DCT – the higher powered version is auto only and hybrid Tucsons also have the option of a traditional 6-speed automatic.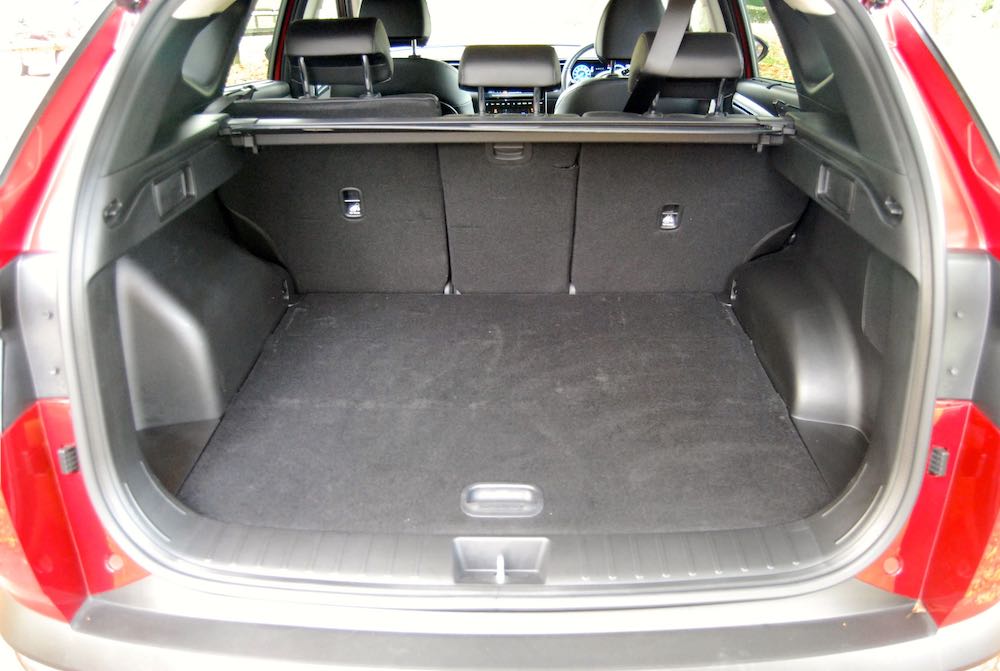 This is the 228 bhp hybrid Tucson. Start it up and it reverts to its Eco drive mode – there's also a Sport mode but interestingly there's no Normal mode in between. Eco mode may sound a bit dull but it doesn't leave the Tucson feeling like you've turned the power all the way down to notch 1. Go for Sport mode if you must but it hangs onto low gears and can bring pangs of guilt as you force the otherwise refined 1.6-l petrol engine into high revs that it may not like to visit.
No self respecting crossover would be without Mud, Snow and Sand modes to flick through and the Tucson doesn't disappoint. Snow mode will probably be a help in the middle of winter but apart from that it's possibly best not to plan on taking green-laning up in your Tucson. Leave it in its everyday normal terrain mode and the Tucson handles twists, turns and bumps well, it's just not something you'd possibly call exciting; leave that for the Tucson N we're all hoping for.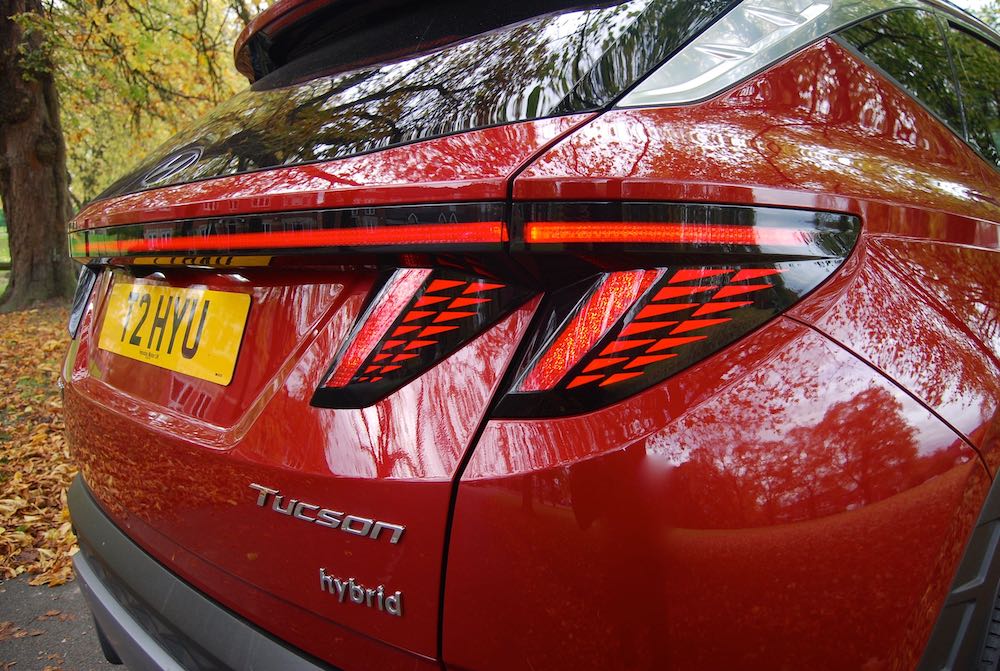 Should I buy the new Tucson?
Hyundai have been brave to say the least with the new Tucson's styling, wether it pay off or not remains to be seen. If you like its looks, and I have to say we're quite partial to it, you'll be getting a clever, well equipped crossover with plenty of room inside as well as storage options, plus a 5 year warranty for peace of mind.
By Ben Harrington
2021 Hyundai Tucson Ultimate Hybrid Specifications:
Engine – 1.6-l petrol & 44.2 kW electric motor, Transmission – 6-speed auto, Layout – Front engine, FWD, Power – 238 bhp, Torque – 265Nm, Emissions – 131g/km CO2, Economy – 36 mpg combined, Maximum Speed – 120 mph, Acceleration – 8.0-s 0-62 mph, Price – £37,450 OTR
The 2021 Hyundai Tucson is available now. For full details go to: www.hyundai.co.uk