Hyundai IONIQ
Whether you like it or not, it's only a matter of time before the powers that be won't allow a car to be sold in the UK that relies on internal combustion alone.
How each manufacturer goes about adhering to these rules is already adding an extra dimension to the automotive world. Some are apparently choosing to shoehorn an ickle electric motor into their existing petrol or diesel engine, others are going the whole hog and veering towards full electrickery.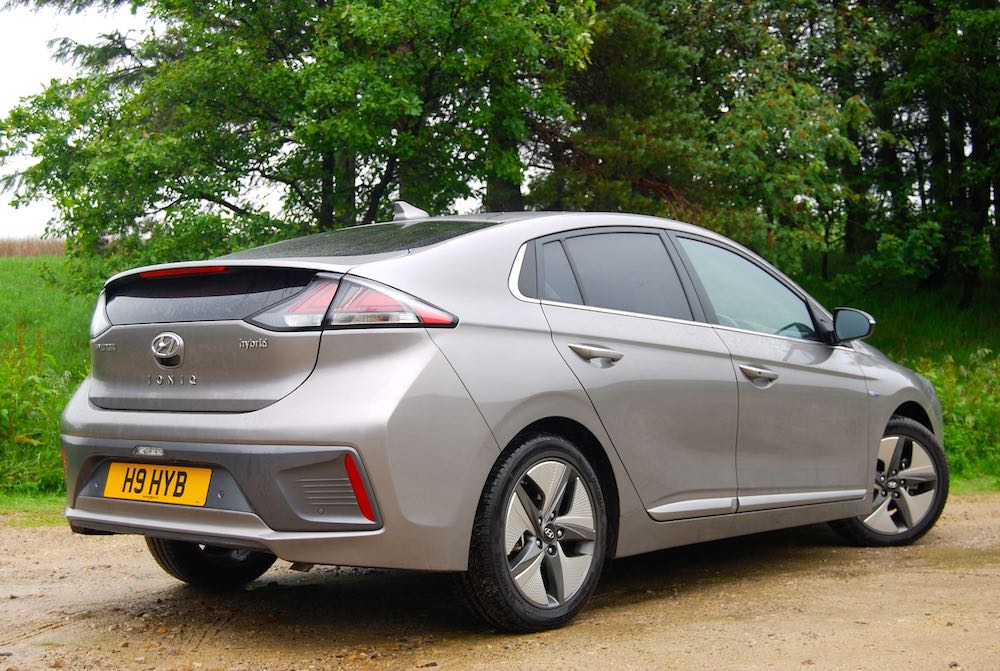 Quarter of a century of hybrids
Hybrids have been in the mainstream for nearly quarter of a century now. Everyone knows they incorporate some form of voltage to go with the fossils, but that's often about how deep the knowledge gets, and possibly needs to get.
This is Hyundai's eco-warrior; the IONIQ (we're not shouting, its name is spelt with capitals). It comes in three guises; plug-in hybrid, full electric and the one we have here – the self-charging hybrid. They all look the same, with their ultra-slippery, fastback styling, but this version is nearly £7K less than the others at £23,840. That undercuts the obvious competition – Toyota's Prius by over £1,000, so that's a good start.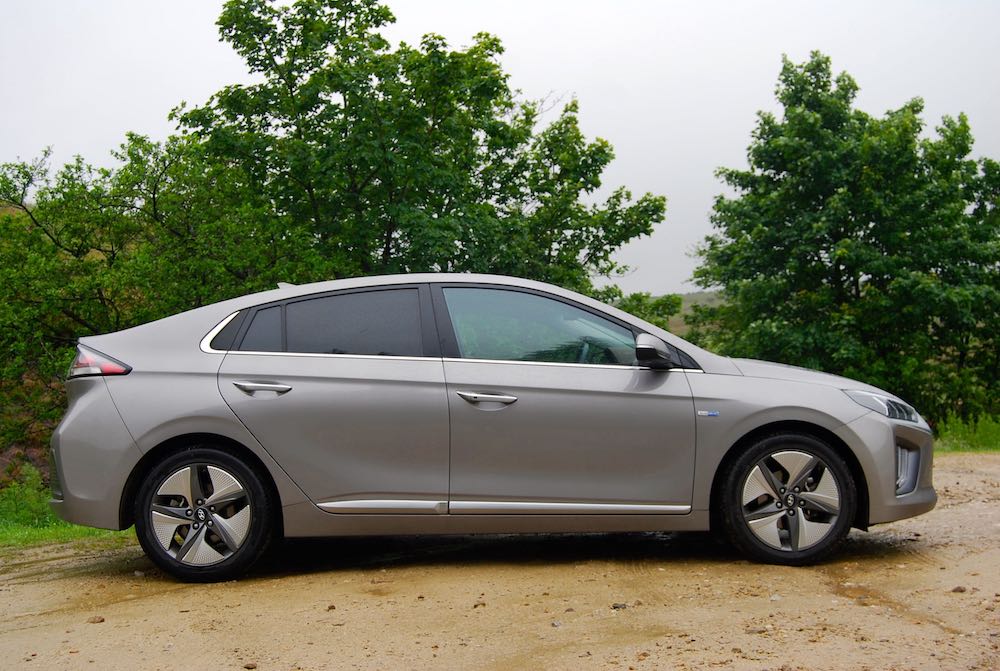 What powers the IONIQ?
Under the skin, you get a 1.6l petrol, Atkinson cycle engine that's attached to a 6-speed DCT transmission, giving you 98bhp. Being a hybrid, there's also a 41bhp electric motor that gets its power from a 1.56 kWh lithium-ion battery that's stowed under the rear seats so it doesn't rob precious boot space.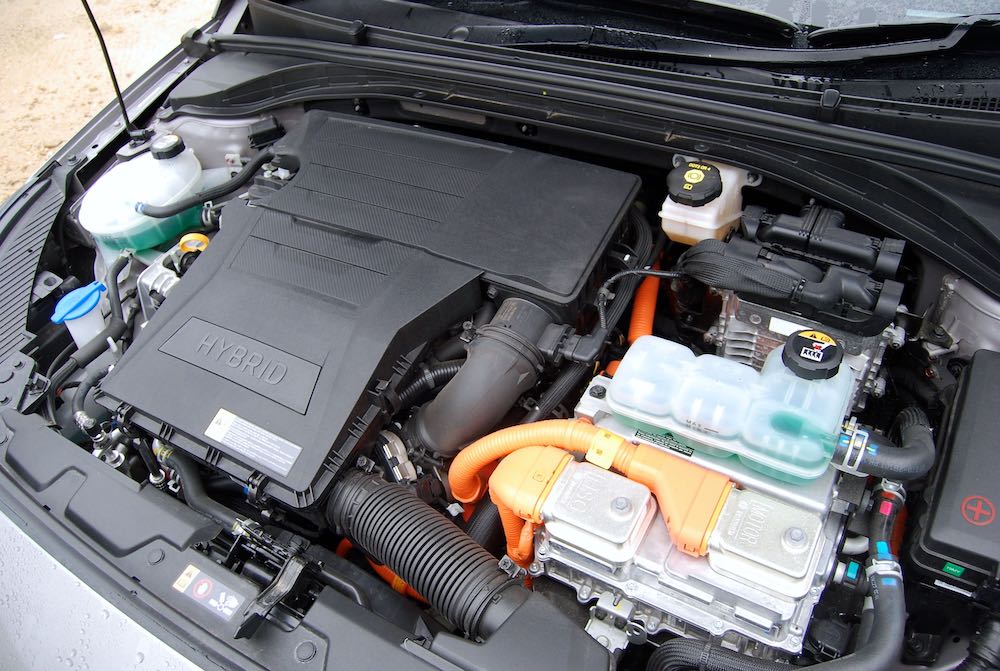 This environmentally friendly powertrain, coupled with a shape that manages a drag coefficient of just 0.25 means economy is a claimed 62.8mpg and emissions are 102g/km CO2 (105g/km in Premium SE spec). Out of interest, the Prius manages 61.4mpg & 104g/km CO2 at best.
Inside the IONIQ
But what's it actually like to drive? From the driver's seat, the whole hybrid-ness of the IONIQ isn't forced upon you from every angle like some hybrids. You get a charge-level indicator on top of your fuel gauge, and you can display what's powering what on the infotainment screen, should you so choose, but it's not overly emphasised.
There's ample space in the front seats, but rear passengers lose headroom due to the fastback styling. The rear doors are compromised for the same reason, too, so you may want to consider this if you're planning on regularly carrying adults in the back.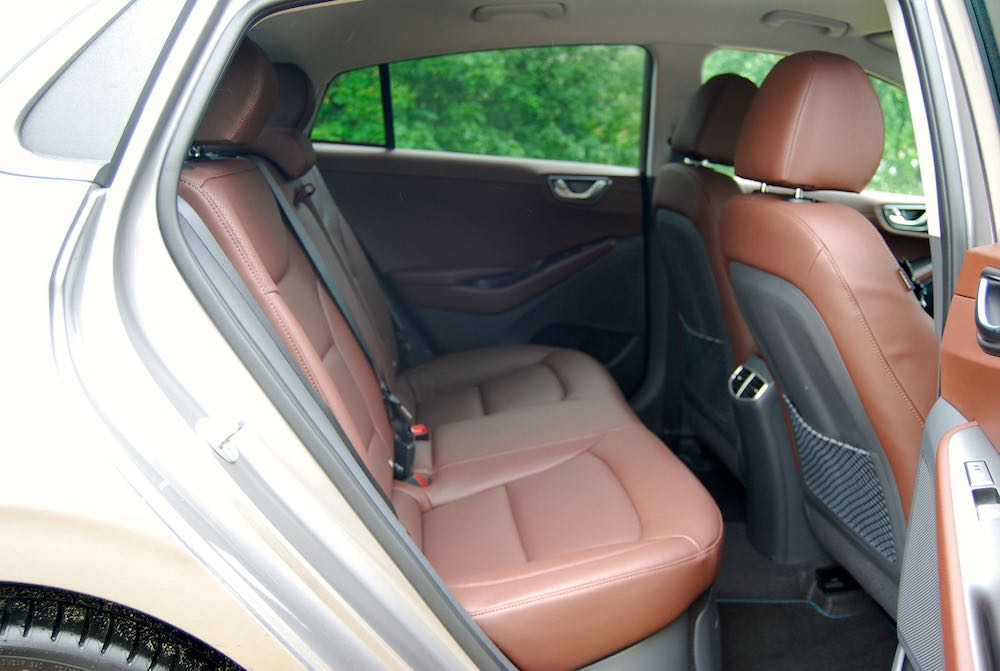 As with all self-charging hybrids, the electric motor works as a kind of backup to the engine. It can move the car itself, but it's mainly just from a standing start when the engine would be working hardest. The engine then shares its duties with the electric side, turning itself on and off when necessary and recharging the batteries at the same time.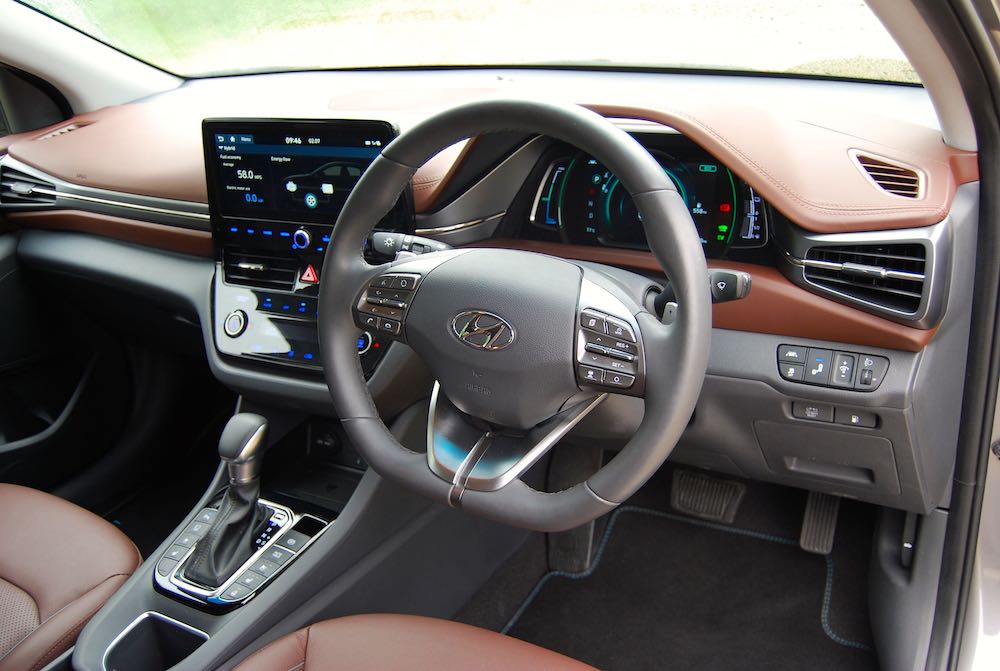 Sport mode = no, no
How each hybrid puts this into practice varies, but the IONIQ is more seamless than most, with the petrol engine only becoming really noticeable if you venture higher into the rev range. There is a sport mode which sharpens throttle response etc; don't bother. It only serves to ruin an otherwise calm experience, although it does have the added effect of recharging the batteries more quickly.
You see, what the IONIQ driving experience is about is serene wafting, as you smugly elevate yourself to a higher moral plain. Try to push it to be something it's not i.e. sporty, and it lets itself down.
Visibility suffers
The IONIQ is so quiet at creeping speeds that Hyundai have seen fit to provide it with a reversing beeper. It's not quite like bin-day every time you back off your drive, thankfully, but it could save you from colliding with someone in your blindspot. And that's a good job, because the downside of the IONIQ's fastback shape is fairly poor visibility. The C-pillars are wide and that split rear windscreen doesn't help either. Add to this a lack of rear wiper and rear visibility is severely hampered in the wet.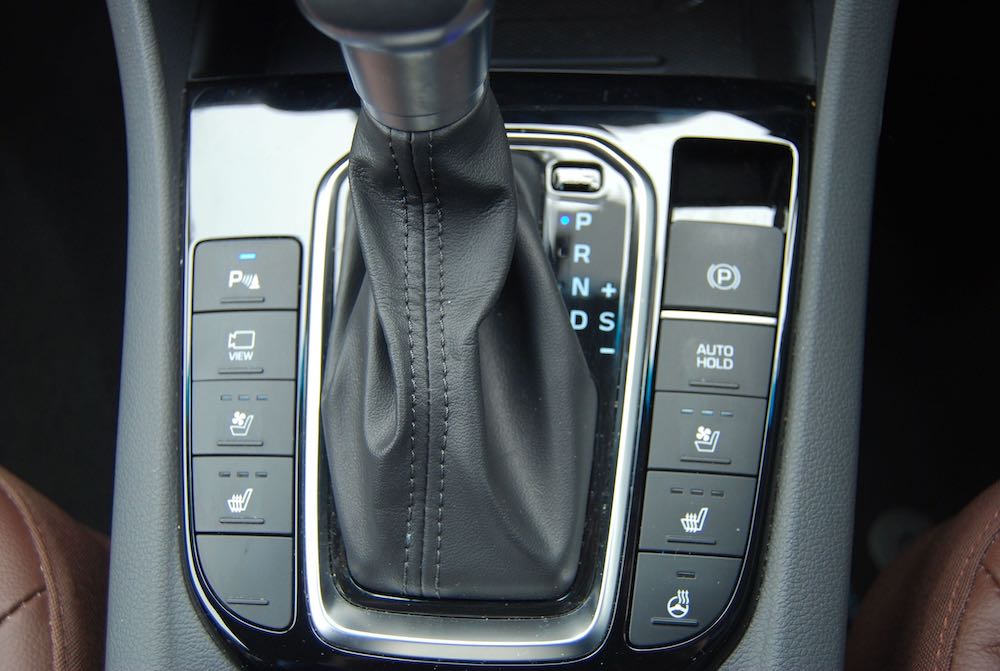 Clever autonomy
Not only are hybrids commonplace these days, but we're also pretty well accustomed to cars becoming more autonomous. No, we're not quite ready for full self-driving, but lane keep assist and automatic braking are increasingly becoming standard fit. The IONIQ takes this to a slightly higher level, though. A camera on the front monitors the direction of the road ahead, and if it doesn't feel your reactions correspond, it'll steer the car for you. Slightly eerie at first, yes, but it can ultimately be overridden and it's one step ahead of lane keep assist as we know it.
Unexpected luxuries
The interior of this Premium SE version is more luxurious than you may think. Heated and ventilated seats, plus a heated steering wheel are luxuries you possibly wouldn't associate with a car that's MO is saving the planet, but they're included all the same. Prod around a bit and the fitments aren't quite as high spec as they appear; more than acceptable on a sub £24k car, just about in one costing £28k.
Connectivity is supplied via an 8" or 10.25" screen, dependent on spec. It's impressive, especially when the noise is delivered through the excellent Infinity sound system. You can even do things like locking the car and uploading future destinations to the sat-nav via Hyundai's Bluelink app on your phone.
Should I buy an IONIQ?
Hyundai's IONIQ is clean and it's clever, providing worthy competition for the well-established Prius. It'll never be a sports-car, though, so just drive it as intended and elevate yourself to a higher plane.
By Ben Harrington.
2020 Hyundai IONIQ Hybrid Premium SE Specifications
Engine – 1.6l Atkinson + electric motor, Transmission – 6-speed DCT, Layout – Front engine, FWD, Power – 139bhp, Torque – 265Nm, Emissions – 105g/km CO2, Economy – 62.8 mpg combined, Maximum Speed – 115 mph, Acceleration – 10.8s 0-62mph, Price – £28,040 OTR
The Hyundai IONIQ is available now, priced from £23,840. For full details go to: www.hyundai.co.uk