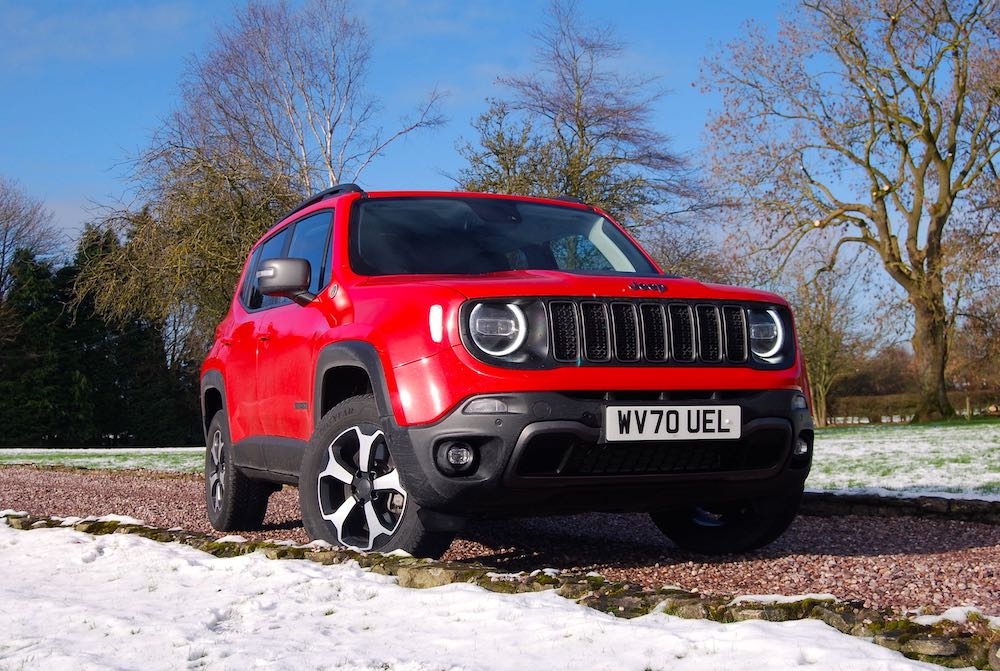 Renegade 4xe
This is the Renegade 4xe, the first plug-in hybrid or PHEV from the company that invented the SUV. It's certainly not going to be there last PHEV, though – the next few years are going to see every other Jeep get some electrical assistance, even the proper ones.
A few electrically themed new blue badges aside, oh, and the extra 'fuel' cap, of course, the Renegade 4xe looks identical to its internal combustion-only siblings, so here's a few facts for you to mull over to help you distinguish between the two.
It's got a 60bhp electric motor, powered by an 11.4kWH battery
It comes as a 6-speed automatic only – no manual
It's got three modes; Hybrid, Electric and E-Save that runs the combustion engine only, charging the batteries
Under the bonnet is a 1.3l petrol engine, providing either 130 Hp or 180 Hp
26 miles electric range
Jeep claims a 26 mile range solely using the batteries. In the real world with inconveniences like hills and winter, we'd expect nearer 18 miles – that's still a decent commute, you just need somewhere to recharge it at both ends. Should you be lucky enough to have this, the Renegade 4xe manages a full charge from a domestic wall socket in 4 hours, or 2 hours from Jeep's dedicated Easy Wallbox; pretty impressive stuff.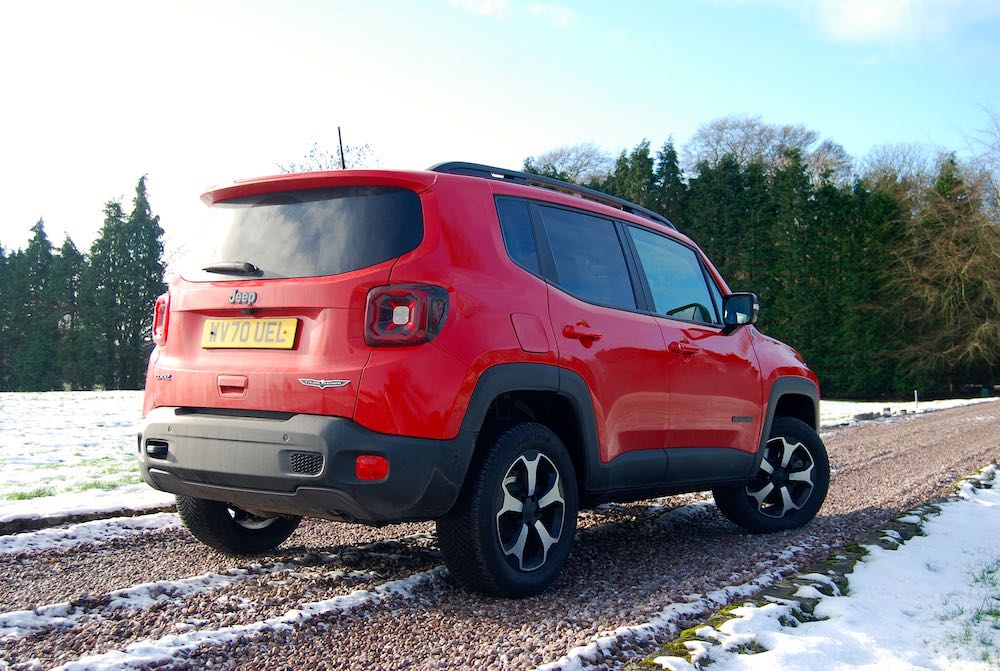 Not the smoothest engine
Run out of electricity or run on hybrid mode and the 4-cylinder petrol engine kicks in. According to Jeep, this engine was designed from the get-go with hybrids in mind. Run the petrol engine on its own and it's not exactly the smoothest – we assume that's what they meant. The transition from battery to ICE should you need it comes with a jolt and anything above 3,000 rpm doesn't sound like a place this engine wants to go to.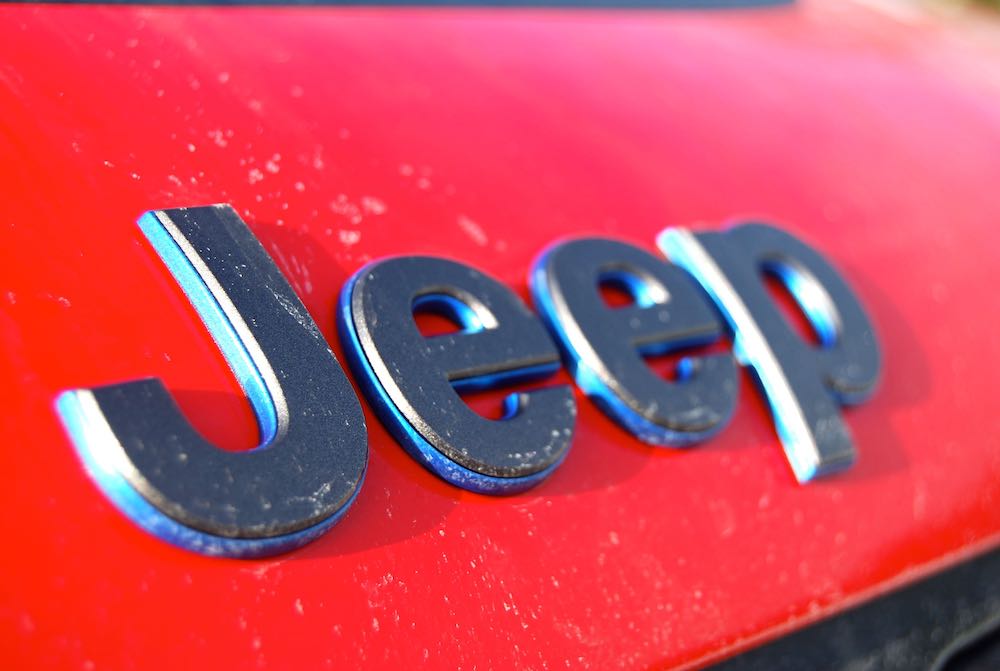 What price, this hybridisation?
So, Jeep's first PHEV is comparable to much of the competition in terms of electric range, but what about what Jeeps were made for – off-roading? Well, one of the downsides of all this electrical tech is the additional weight – in this case around an extra 200kg. You do notice it on the road around bends etc, but it's not overly detrimental. Jeep actually claims the torque electric power brings is beneficial off-road, and this Trailhawk version even wears their Trail Rated seal of approval – the reserve of their more serious kit that has to be able to cut it across all kinds of terrain, including the Rubicon Trail. Despite the front and rear axles not actually being connected (the petrol engine drives the front wheels, the electric motor the rear), it even comes with low ratio and lockable 4WD.
So, what cost in terms of actually money for this hybridisation? At the time of writing the conventional Renegade Trailhawk wasn't listed on Jeep's UK website. If we compare conventional vs 4xe for the Longitude and Limited trims both powertrains are available in, it's £23,400 vs £32,600 & £26,100 vs £34,500 respectively. That's quite a premium that could take some time to recoup in terms of fuel etc. This Trailhawk version of the 4xe is listed at £36,500, should the fossil fuel version reappear, it's around £31,000 – that's actually less of a price hike and far more palatable.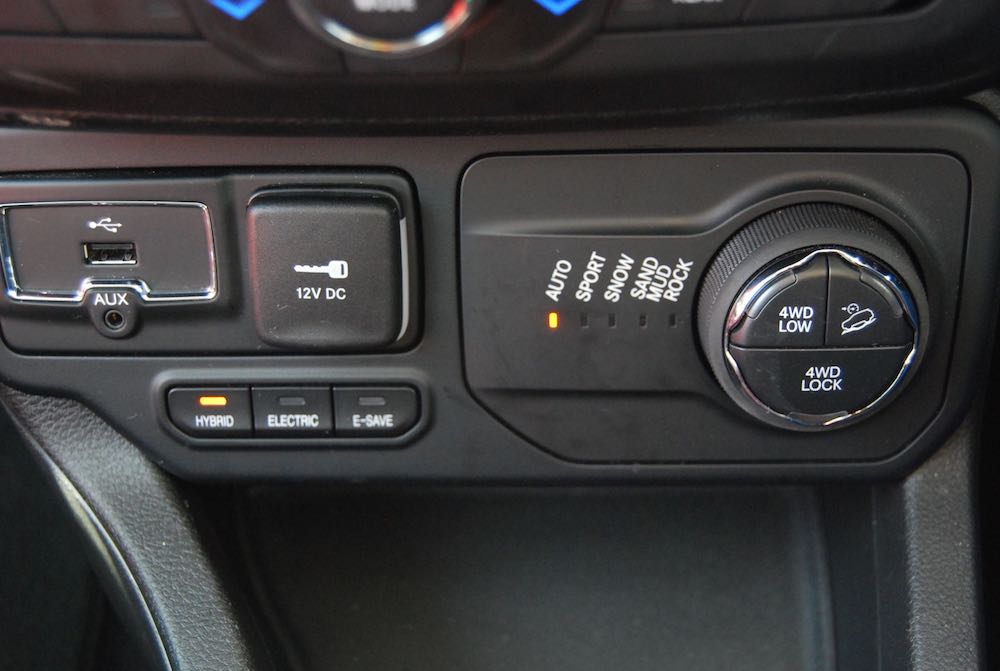 Should I buy a Renegade 4xe?
The Renegade 4xe does a good job of bringing Jeep up to date by adding a PHEV to their range whilst retaining their go anywhere reputation. Like all hybrids, the technology comes at a price and it's not the most refined hybrid in the world, so you'd have to really need to go off-roading in your PHEV to justify the higher spec versions. Stick to the Longitude spec and it's very similarly priced to a Kia Niro PHEV, or a Ford Kuga PHEV, but you're also getting a little bit of the Jeep way of life.
By Ben Harrington
2021 Jeep Renegade 4xe Trailhawk specifications:
Engine – 1.3l petrol & electric motor, Transmission – 6-speed auto, Layout – Front & rear engine, AWD, Power – 180bhp + 60bp, Torque – 350Nm, Emissions – 51g/km CO2, Economy – 128mpg combined, Maximum Speed – 124mph, Acceleration – 7.1s 0-62mph, Price – £36,500 OTR
The Jeep Renegade 4xe is available now, priced from £32,600. For full details go to: www.jeep.co.uk