Despite being arguably the most authentic manufacturers of off-road vehicles, this mid-sized SUV segment has proved to be something of a headache for Jeep. We've had a Compass in Europe before but you'd be forgiven for not knowing – it was a bit of a dog and sales reflected this. The thing is, though, this particular segment is incredibly lucrative, as demonstrated by Nissan's Qashqai, so it's no surprise that Jeep have come back for another bite of the apple.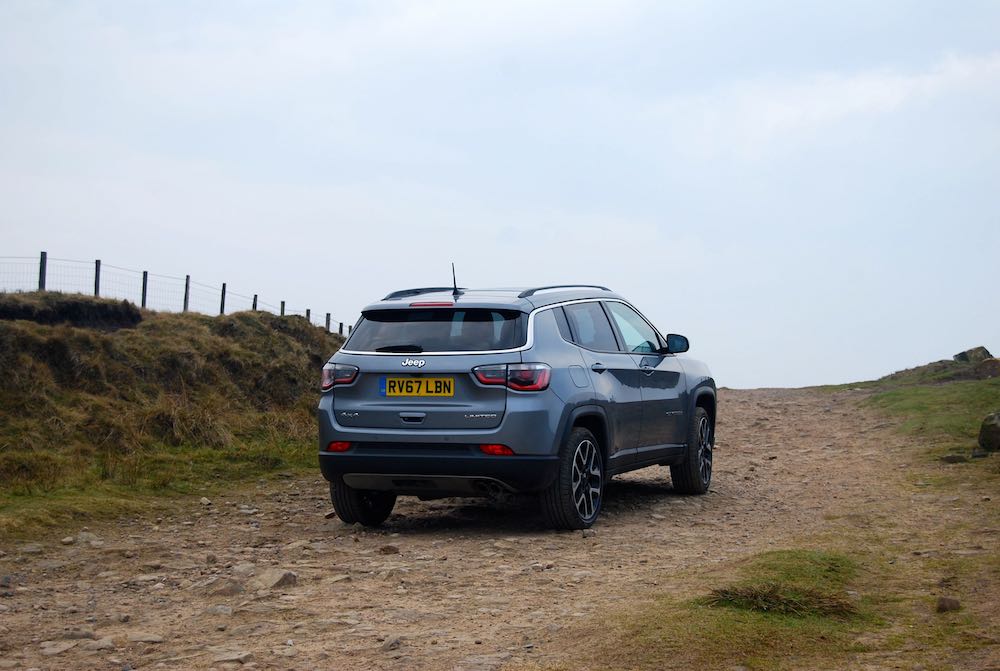 2019 Jeep Compass
Thankfully they've not made the same mistake with the new Compass's looks. The front especially is a triumph of authentically butch 4×4-ness and they've cleverly incorporated the mandatory seven-slot grille without it totally dominating. The Compass is more a modern design than you might expect from a Jeep, with a floating (albeit ribbed) roof and a rising waistline that's not dissimilar to Volvo's XC40. There's trapezoidal wheel-arches, obviously; they could do with being slightly more filled with wheels but it doesn't totally ruin what's essentially a good-looking crossover.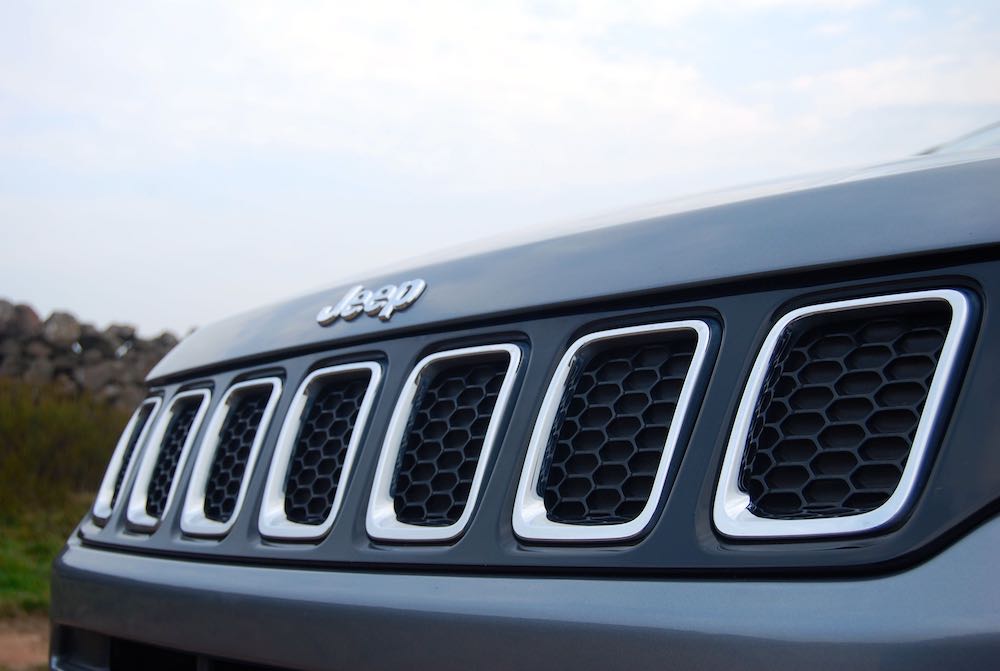 The Inevitable Question…….
Thanks to their own heritage, the first question many people ask of a Jeep is whether it can cut it off-road, regardless of whether they ever plan to take their SUV off the tarmac or not. The answer is, the Compass is available in front-wheel-drive flavour. Some might say that makes it a non-Jeep, but the fact is that their smallest offering, the Renegade is an absolute success for Jeep and the majority of those aren't 4x4s.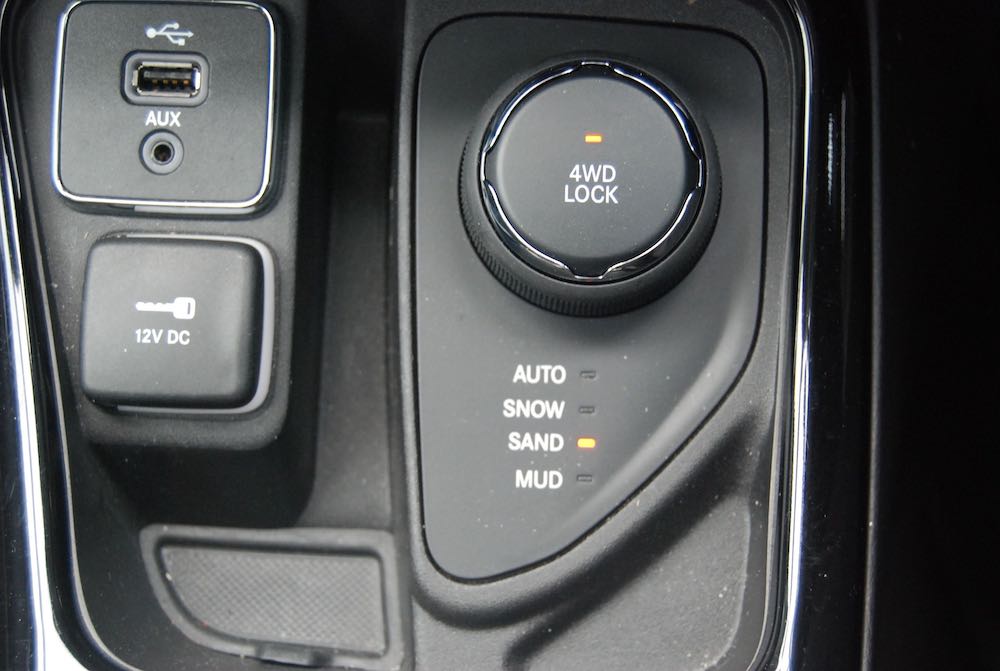 If you do fancy a 4WD Compass, there's a few options available. None of them comes with the Command-Trac system you'll find underneath a Wrangler, but it does come with the Active Drive set up found on some other Jeeps. We took our test Compass on some light green-lanes, put the Selec-Terrain dial onto mud mode and, even on road tyres, it sent power to the required wheel and negotiated the terrain.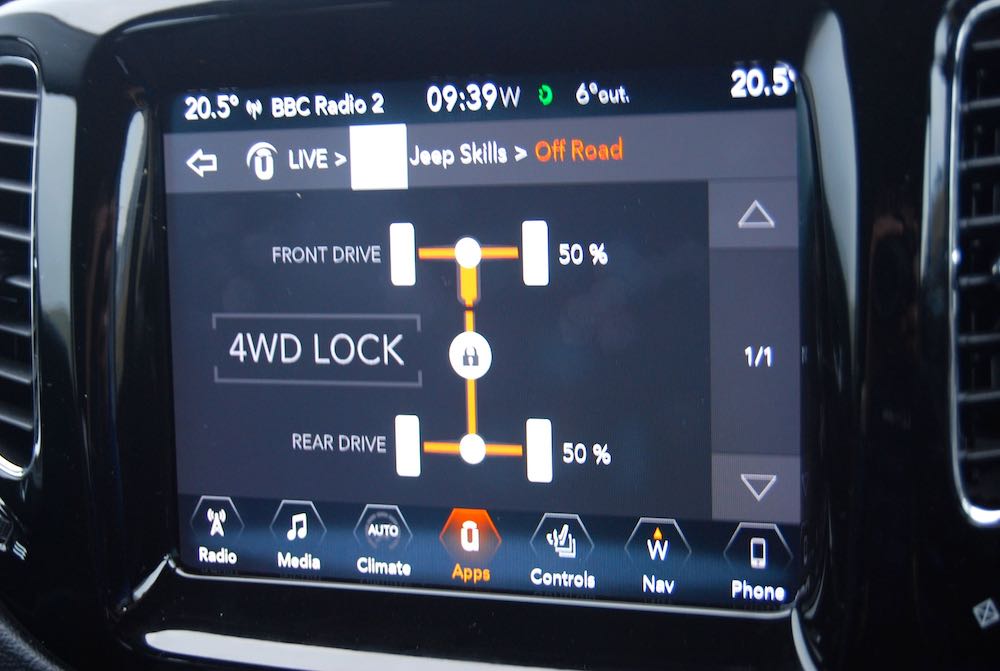 The Compass's own on-board graphics demonstrate just how biased towards the front wheels the 4WD system is, only bringing the rear two into play when required. However you dress it up, though, this is a car with tarmac priorities, and it does feel most at home on the black-top.
Jeep Compass Trailhawk
If you're more serious about your off-roading, there is a Trail Rated Compass called the Trailhawk. It has extra protection underneath and, more importantly, a 20:1 low ratio setting for rock-crawling.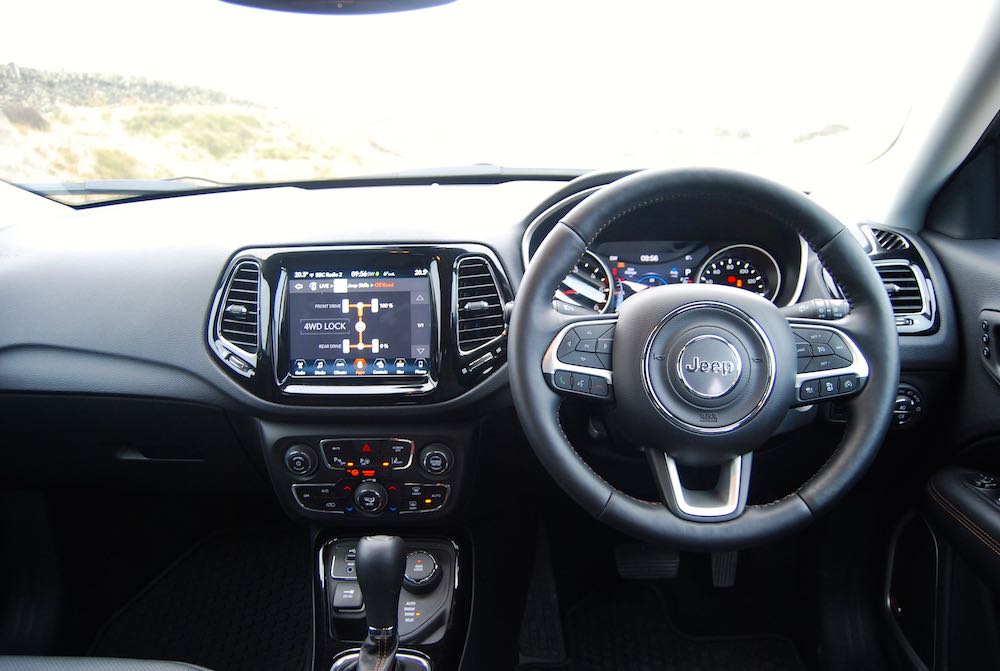 Petrol or Diesel, 4×4 or FWD
If you do go for a 4×4 Compass, you can opt for either a 1.4l petrol engine providing 170 bhp or a 2.0l diesel with 140 or 170 bhp. The petrol is available with a 9-speed, ZF automatic 'box only, as is the more powerful diesel, the 140 bhp diesel is 6-speed manual only. FWD Compasses are 6-speed manual only and are powered by either a 140 bhp, 1.4l petrol engine or a 1.6l diesel providing 120 bhp whilst emitting just 117g/km Co2.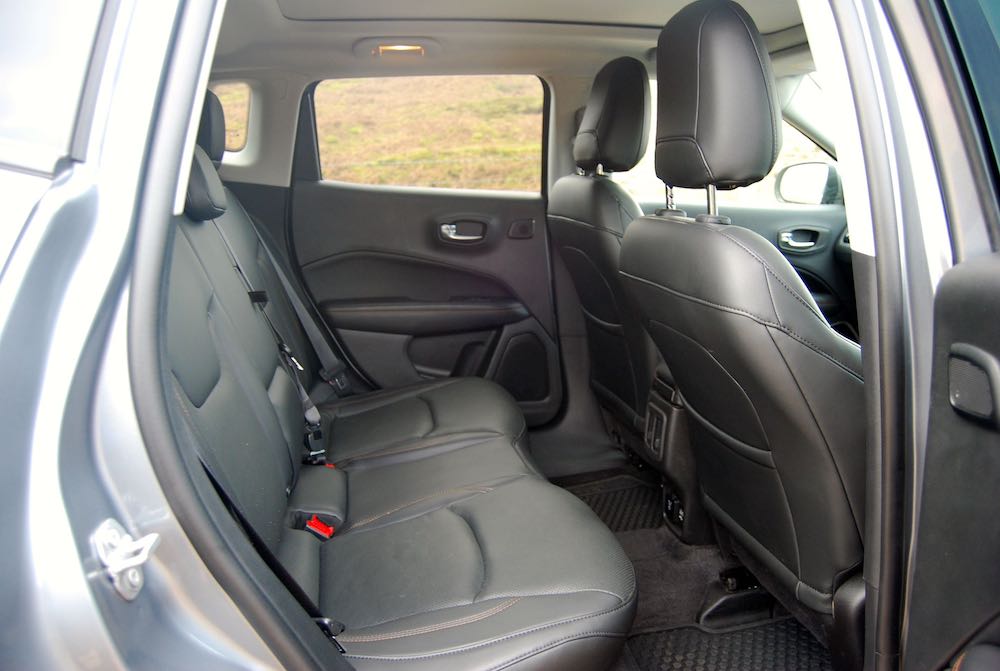 With 380 Nm torque, the 2.0l,
Fiat
-spawned Multijet diesel engine in our test car felt like it had enough grunt for whatever was thrown at it. More importantly, that 380 Nm torque comes in at just 1750 rpm, so there's no need to over-work the engine. It's more refined than you might think, too, although the usually silky-smooth ZF gearbox had a tendency to change gear with a jerk, especially until the powertrain had time to suitably warm up.
Restrained Interior
Inside the Compass is something of an exercise in restraint for Jeep. The Renegade and even the latest Wrangler are festooned with little images of Jeeps and splashes of mud, but the Compass goes about things with a bit more maturity. The infotainment system is good without being spectacular, and they've left a decent amount of functions to be operated by actual buttons, so you don't have to scroll through menu after menu just to turn the heated seats on.
Quality of plastics and switchgear could be better, though – it's still a little too 1990s Fiat for my liking. Also, if your Compass happens to be equipped with the park-assist function, the system is extraordinarily sensitive to anything within a 3m radius, so expect lots of parking sensor beeps. I'd be very cautious about turning it off, though; the Compass's A-pillars are wide enough to lose a fairly sizeable object behind.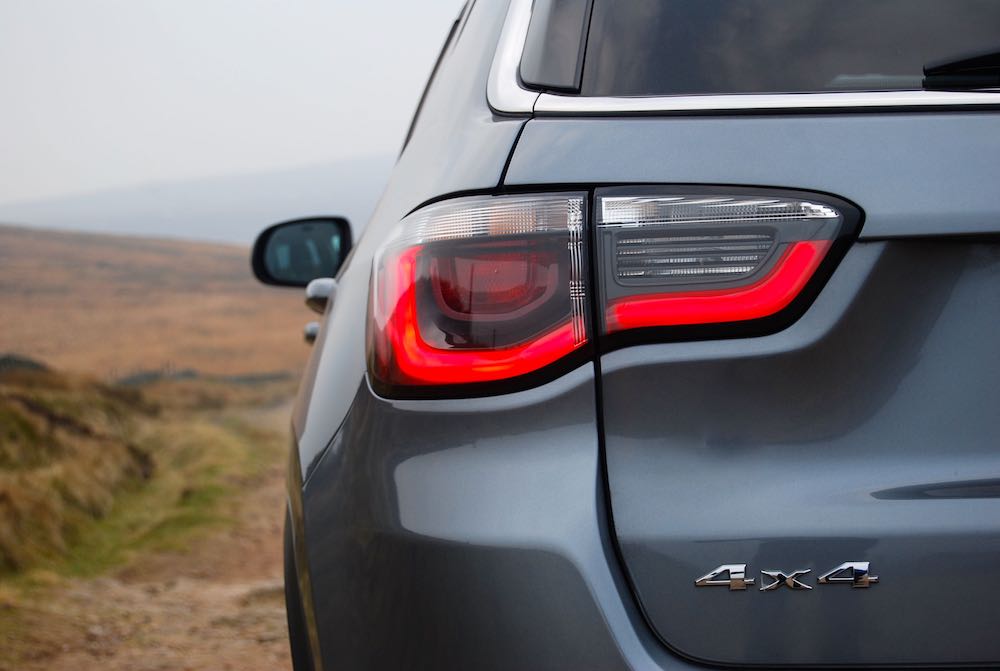 Should I Buy a Jeep Compass?
It seems strange that the originators of the SUV brand are trying to catch up with the likes of Nissan, but that's the way it's gone. The Jeep Compass is a good looking, well thought out addition to their range, and they offer it with a good mixture of on-road practicality and serious, Jeep-ish off-road ability, which is an essential part of the brand.
By Ben Harrington
Jeep Compass 2.0 Auto Limited Specifications
Engine – 2.0l 4-Cylinder Diesel, Transmission – 9–speed automatic, Layout – Front engine, 4WD, Power – 170bhp, Torque – 380Nm, Emissions – 148g/km CO2, Economy – 49.6mpg combined, Maximum Speed – 122mph, Acceleration – 9.5-s 0-62 mph, Price – £34,295 OTR, £39,645 as tested
The Jeep Compass is available now. For full details go to: www.jeep.co.uk