In a world full of SUVs, 4x4s, crossovers, off-roaders & soft-roaders, the original (yes it is, Land-Rover fans) is back – the Jeep Wrangler. Jeep think that the Wrangler is now the most instantly recognisable car on the planet, so they've not upset the apple-cart by messing about with it. They've got a point – with its round headlights, rectangular shape, trapezoidal wheel arches and seven-slat grille it couldn't be mistaken for anything else.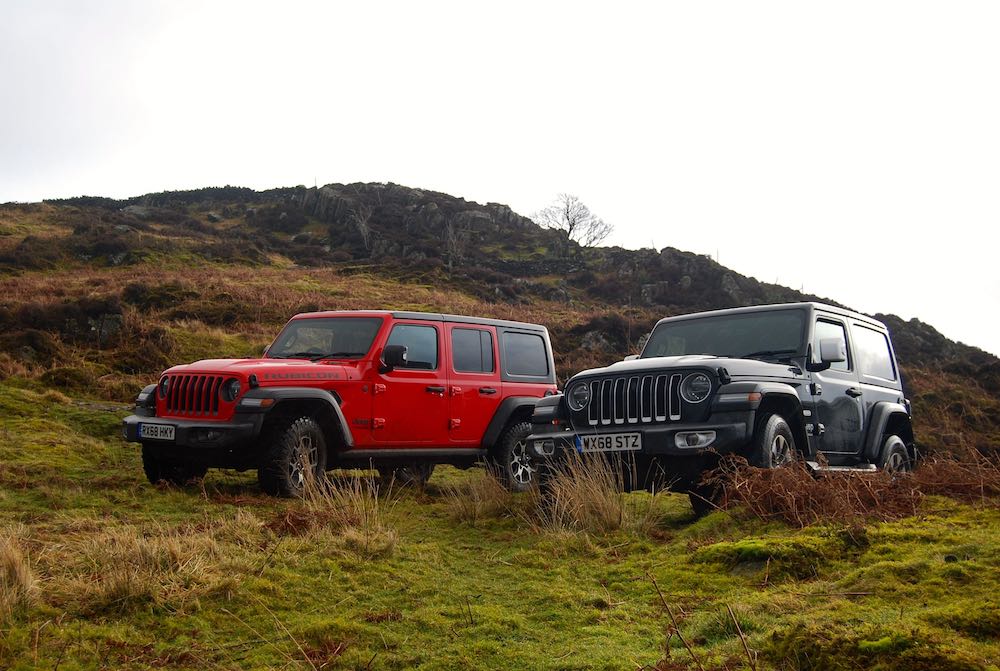 2019 Jeep Wrangler
Even before the Wrangler name was spawned, all of these Jeeps came with a two-letter model code that, depending on who you ask, stands for something. CJ was Civilian Jeep, TJ was True Jeep, apparently. This latest Wrangler is the Jl – Jeep Lifestyle, but more on that later.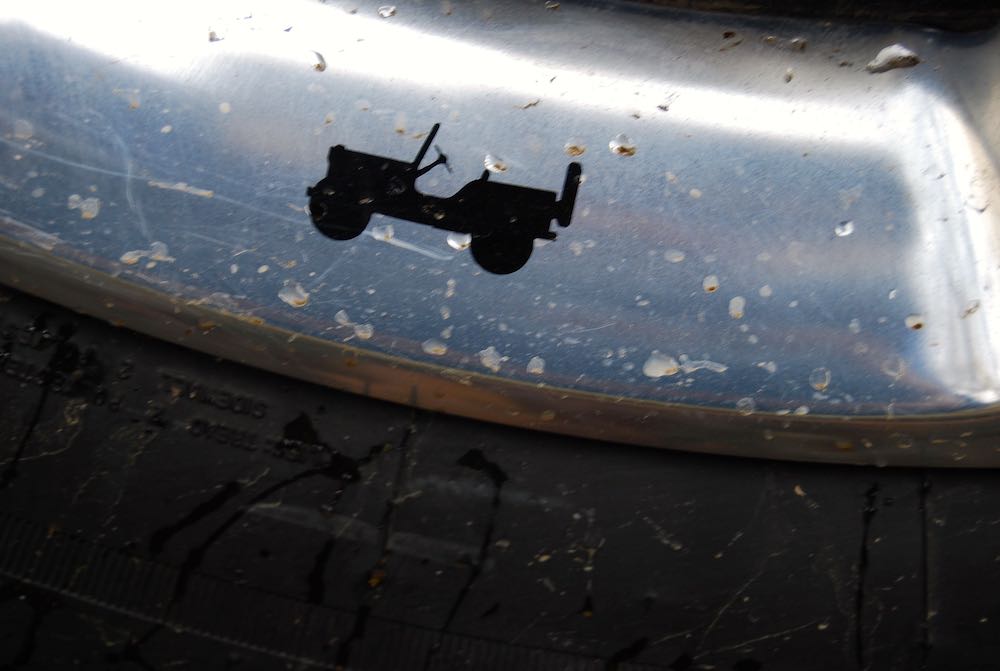 Longer Overall
The New Wrangler has grown in all directions – standard. It's mainly in terms of length that you'll notice a difference, though. The 2-door model has been extended over 20cm, the 4-door nearly 19cm. In automotive terms, that's a lot. Interestingly, though, this only translates to an extra 3cm in terms of wheelbase on the 2-door & 6cm on the 4-door. The shorter the wheelbase, the better when you're off-roading; less nasty, scraping noises.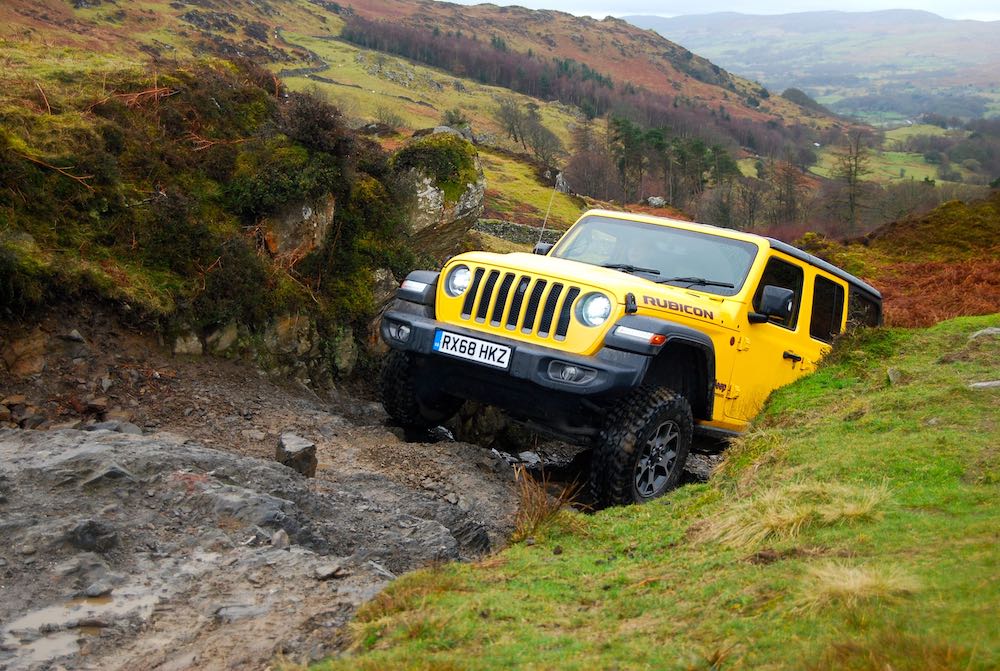 4-Cylinder Engines Only
In terms of engines, the Wrangler has been brought a bit more up to date. There's a choice of one diesel engine – a 2.2l Multijet providing 200bhp or a 2.0l turbocharged 4-cylinder petrol which puts out 272bhp. Gone is the option of a big 6-cylinder engine, they're just deemed too thirsty for European tastes, although you can still have a 3.6l V6 in the States.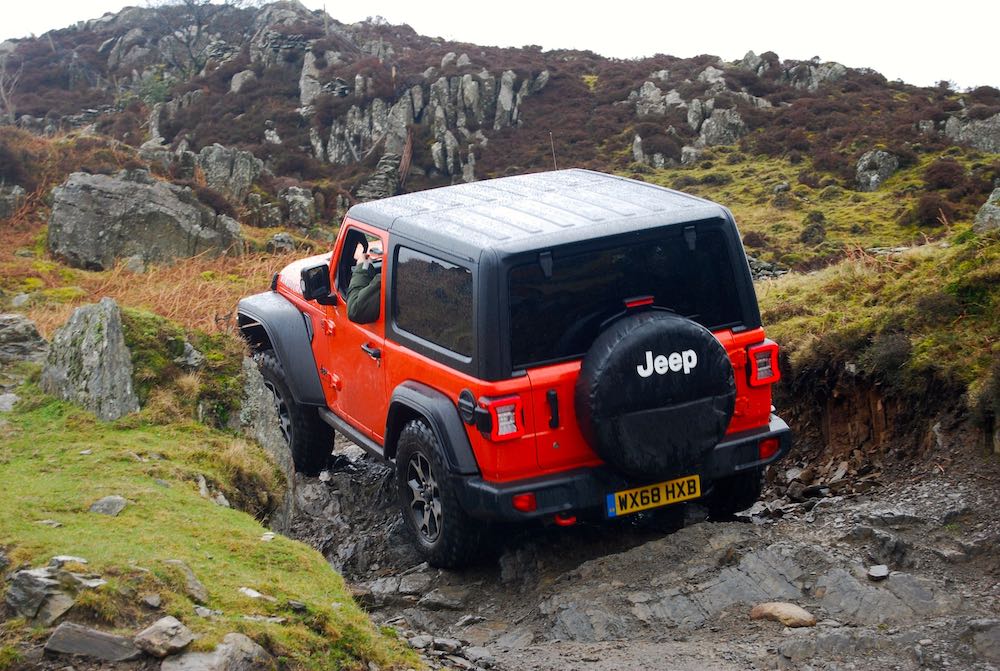 Whichever Wrangler you go for, it'll be driven through an 8-speed automatic transmission and, obviously, it'll have 4WD. Selecting 4WD is still through a fairly rugged lever, but you can leave it in 4WD auto where it'll switch between 4 & 2WD as needed. There's still a part-time 4WD high range setting, and a 4WD low-range 'box for when the going gets properly serious.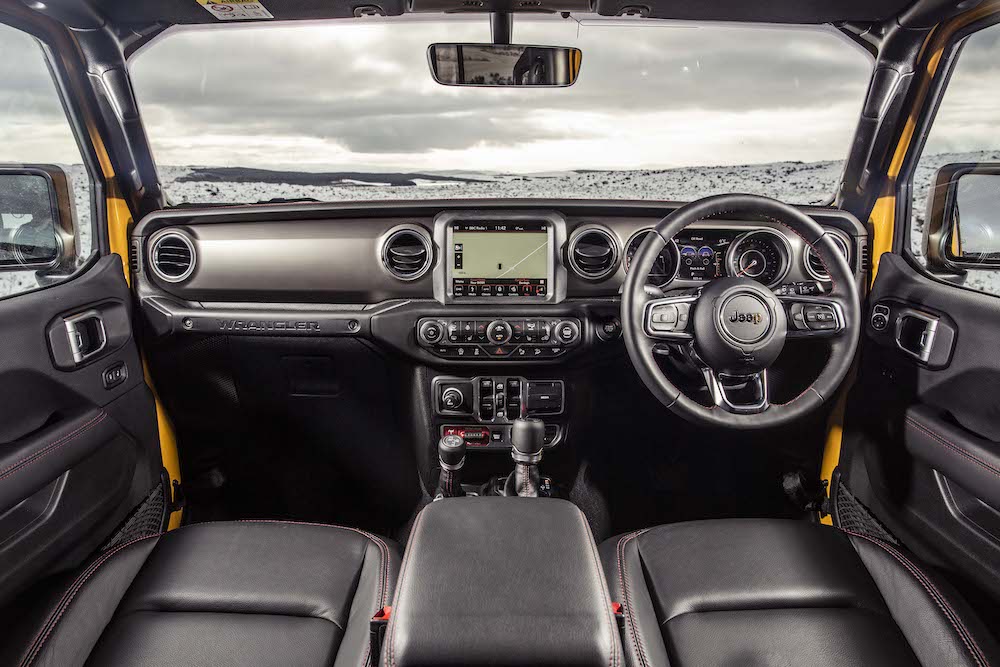 Even the Base-Model Cuts it Off-Road
Speaking of which, we put our seriously amateur off-roading skills to the test in the new Wrangler on what can only be described as a soggy rock-face. With the help of the very knowledgeable (and patient) chaps from Ardent Off Road, even the base-model Sahara on its very road-biased tyres skipped up with no more than a slight wheel spin. With the Defender shaped hole in Land Rover's lineup, the Wrangler must currently be the best 4x4xFar.
Wrangler Rubicon
All New Wranglers are trail rated, but if you're buying your off-roader with some determined non-tarmac driving in mind, the Rubicon sits at the top of the range. You can electronically disconnect the sway bar for maximum suspension travel from the comfort of the driver's seat, it also comes with some knobbly BF Goodrich, 32" tyres for grip. Just bear in mind that you do lose some on-road comfort with these tyres, plus they're noisier so make sure you're not just trying to fool the neighbours.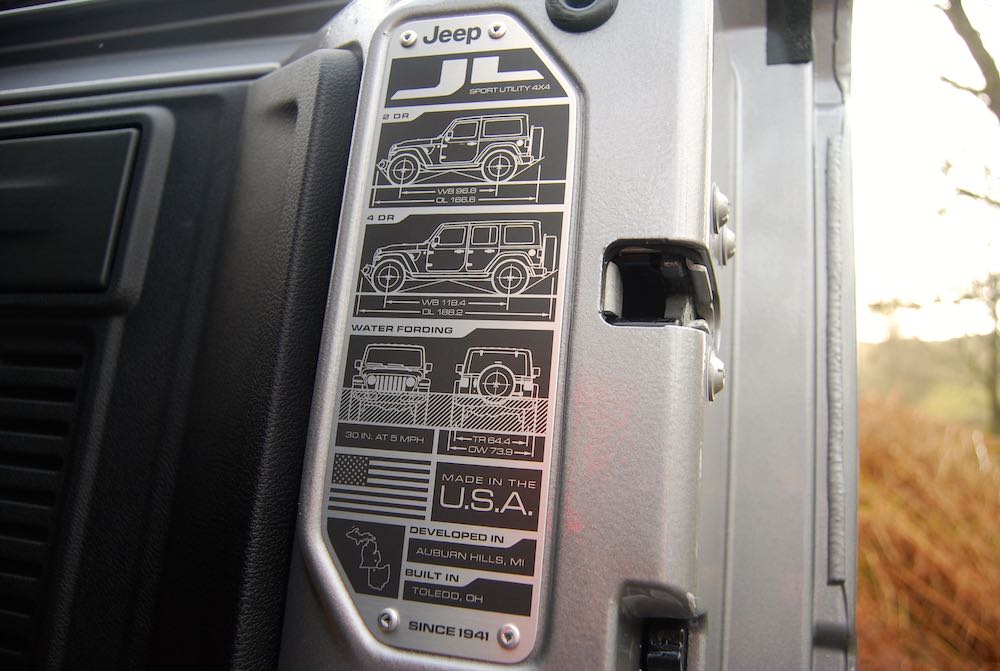 Improved Creature Comforts
So, the New Wrangler is a proper off-roading tool; no surprise there. As we said, though, its model code is JL, and Jeep are keen to impress that for your £44,865 starting price (2-door Sahara), you get more creature comforts than in previous generations. There's a 7" TFT screen in-between the driver's dials and either a 7" or a new 8.4" infotainment screen incorporating Apple CarPlay and Android Auto in the middle of the dash. Being a Wrangler, the infotainment system features Jeep's own Off-Road Pages function.
Not only have the materials used in the Wrangler been improved, you now get better sound deadening, plus features such as park assist, LED lights all round and even a power roof on certain models. Despite this, the dashboard is still fairly flat, the doors come off, the windscreen can be folded down and you can hose out the floor if it gets muddy. There's even a speaker in the boot floor that you can pour water on if you so wish.
Should I Buy a New Wrangler?
The Wrangler isn't a big seller in the UK by any means, even with a recent upturn in numbers. This is possibly down to its £44,865 starting price (Wranglers in the USA start from $27,945 – £21,053 at time of writing – although this is for the Sport model that we don't get), but Jeep see the Wrangler as a flagship model that people with plenty of disposable income are prepared to buy and even modify. The New Wrangler is undoubtedly more evolution than revolution, but when you make what's apparently the most recognisable car on the planet, you don't go messing with it too much.
By Ben Harrington
The 2019 Jeep Wrangler is available now. Prices start at £44,865 for the 2-door model, £46,385 for the 4-door. Full details are available here: www.jeep.co.uk