Is there a more iconic car on the road these days than the Jeep Wrangler? Well, there certainly isn't a more iconic 4×4, that's for sure, thanks to its basic silhouette going mainly unchanged for over 75 years. There used to be an argument for the Land Rover Defender and its ancestors but, as I'm sure you're aware, that's recently faced a sad demise.
In case you're wondering which came first; the Jeep inspired the Land Rover. And now it's outlived it.
Jeep Wrangler 75th Anniversary
This is the 4-door Wrangler, but not just any old 4-door Wrangler. What we have here is the 75th anniversary special edition and to celebrate this incredible milestone it comes with a host of extras including 18" aluminium wheels sporting a bronze hue, embossed leather seats made out of saddle leather and many, many plaques and stickers to remind you it's the Jeep's 75th birthday.
Not only this, the 75th anniversary Wrangler proudly shows off its military roots with its army-spec dark green paint. Anyone who's ever seen any of the films won't miss the nod to Disney's Cars in what they named this shade; Sarge Green.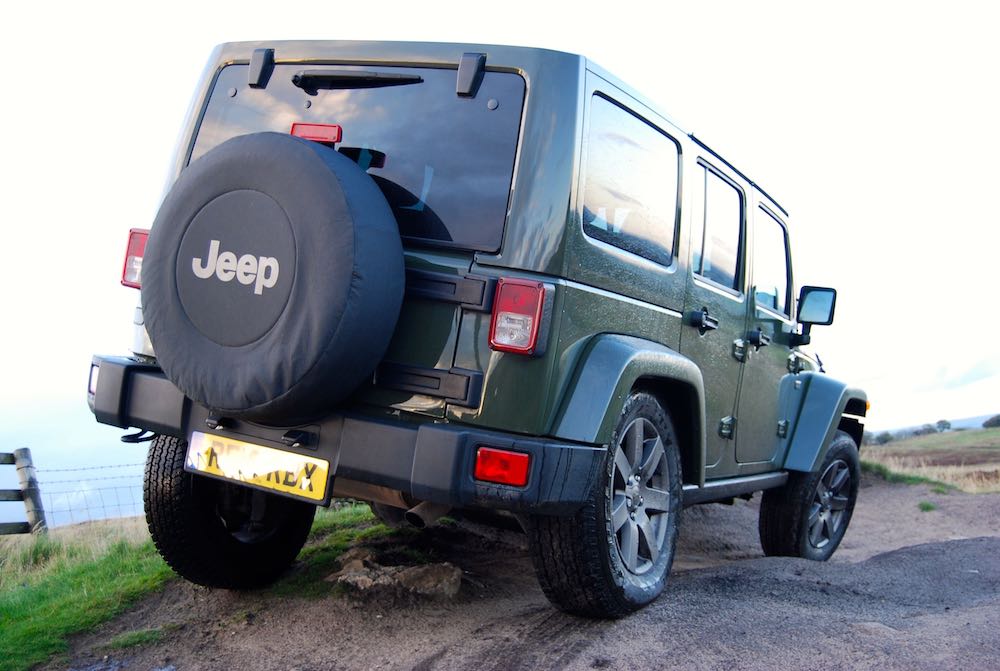 Special Editions
Like the look of it? Fancy owning a little slice of Jeep history? Well, bad news I'm afraid; all of the 75th anniversary Wranglers are sold out. The good news, though, is that you can still buy a 'normal' Wrangler, if normal's not playing them down a bit, or you can go for one of the special editions that are being constantly dreamt up. At the moment they go by the stirring monikers 'Night Eagle' and……..erm…… 'Rubicon Recon' (the Rubicon Trail is in California and was originally used as a clear path across the Nevadas by explorers. It's now a popular 4×4 trail, especially for Jeep owners.)
Dependent on which spec you go for, you can now opt to have your Wrangler with a 2.8l diesel engine, which returns a near-respectable claimed 31mpg on the combined cycle. Some Wranglers are stuck with petrol only though, and this is one of them. It's a 3.6l V6 Pentastar unit which returns a more traditional sounding 24.1mpg combined. With 280hp available, this V6 is nowhere near as lazy as the 4.0l straight-six engine it replaced which produced a pathetic 185bhp whilst getting just 15 miles from a gallon of petrol.
Automatic only
Whichever Wrangler you go for, it's a limited choice when it comes down to transmission. Very limited in fact; it's a 5-speed automatic 'box or nothing, although there is the choice to change gears yourself if you wanted to for some reason.
Drive the Wrangler on the road and it does a good job of being comfortable without bouncing you all over the place. It's not that slow, either; 0-62mph in 8.9s is respectable in something weighing well over 2 tonnes. Don't get too confident and start throwing this around with gay abandon, though. It does have traction control these days, but it's a basic system that kicks in when you forget that the Jeep is made for climbing mountains, not racing down damp dual carriageways.
4WD? But, of course…..
No Wrangler could wear the badge if it didn't come equipped with 4WD and a low ratio 'box to slip into when the going gets tough, and an old fashioned stick shifter lets you do just that. 4WD was purely for off-roading or snow in bygone Wranglers, it wasn't a permanent system, but this one can be left driving all four wheels if conditions get a bit slippy on tarmac.
Take the Wrangler out of our urban jungles and any slightly awry road manners are instantly forgiven as boulders become pebbles and ravines become potholes. Put it into its natural environment and what the Wrangler can do is nothing short of astounding. Yes, I've driven many 4x4s that can scale obstacles slowly without getting stuck, but it's the way the Jeep approaches off-roading without ever feeling slightly troubled that makes it feel so much more unstoppable than the rest.
Should I buy a Jeep Wrangler?
Is the Jeep perfect? No, it isn't; it's thirsty, lacks certain road-manners and the infotainment system is laughable, as is the storage. What it is, though, is an icon, and not a false one at that, it can still achieve exactly what it was made for whilst being useable every day.
By Ben Harrington
Jeep Wrangler 75th Anniversary Specifications:
Engine – 3.6l V6 petrol, Layout – Front engine, 4WD, Transmission – 5-speed automatic, Power – 280bhp, Acceleration – 0-62mph – 8.9s, Maximum Speed – 112mph, Maximum Torque – 347Nm @4300rpm, Economy – 24.1mpg combined, Emissions – 273g/km CO2, Price – £36,453 OTR, £37,210 as tested
The Jeep Wrangler is available now. for full details go to: www.jeep.co.uk