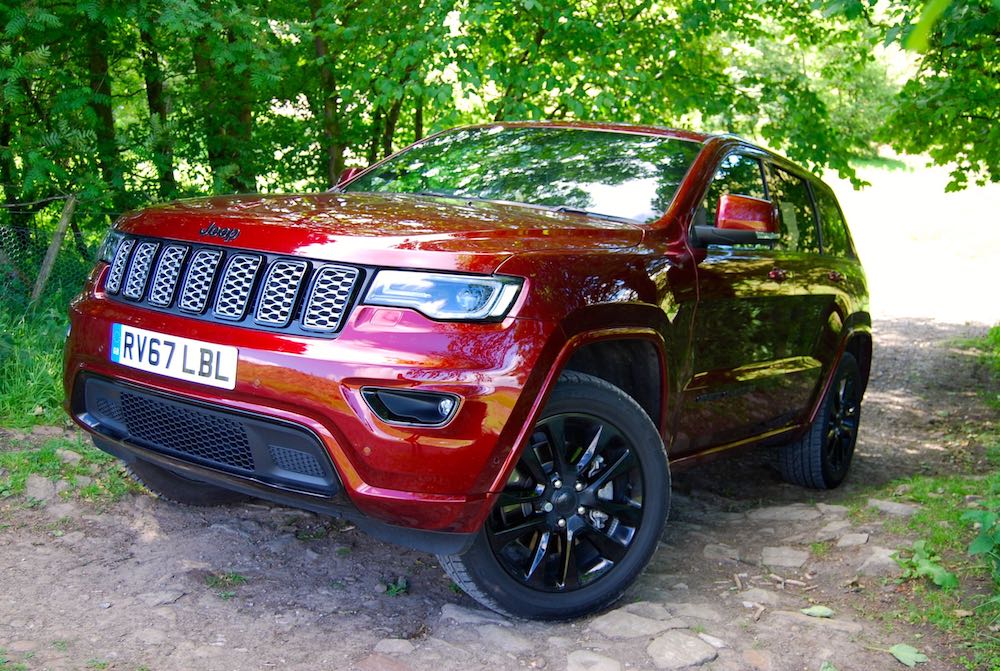 The Grand Cherokee has always been the largest, most luxurious model in the Jeep range, whilst ultimately still being able to cut it off-road, even if it's not quite a Wrangler. So, it's big; think BMW X5, Mercedes GLE, that kind of thing. Unfortunately, though, it's 5-seats only which is one area it might lose out to its rivals.
Grand Cherokee Night Eagle
Previous Grand Cherokees have been very, very American. By that I mean, where other Jeep products (Wrangler excepted) have seen ride and refinement improve dramatically, the Grand Cherokee couldn't hold a candle to its European 'premium SUV' peers. Engines were thirsty, the ride was bouncy and interior plastics were scratchy.
Not anymore, though……….
One Spec, One Engine
This particular Grand Cherokee is the Night Eagle Limited Edition. Cool name? – Definitely. At time of writing, though, it's the only spec Grand Cherokee you can actually buy in the UK, so it's essentially cool or nothing. There's only one choice of engine, too – a 3.0l V6 diesel. So, if you want a Grand Cherokee, it shouldn't take long to choose which one you want, it's pretty much "Which colour would you like your diesel-engined Night Eagle in, Sir/Madam?"
The good news is that the Grand Cherokee Night Eagle not only has one of the most deliciously dark, ice-cold nameplates you could wish for, it's got the looks to match. 20" gloss black aluminium wheels as well as a black grille surround come as standard, as does a range of fantastically named monochrome colours; my particular favourite being Rhino. A pair of pretty-meaty looking exhausts finish off the rear and give the Night Eagle a little whiff of sportiness.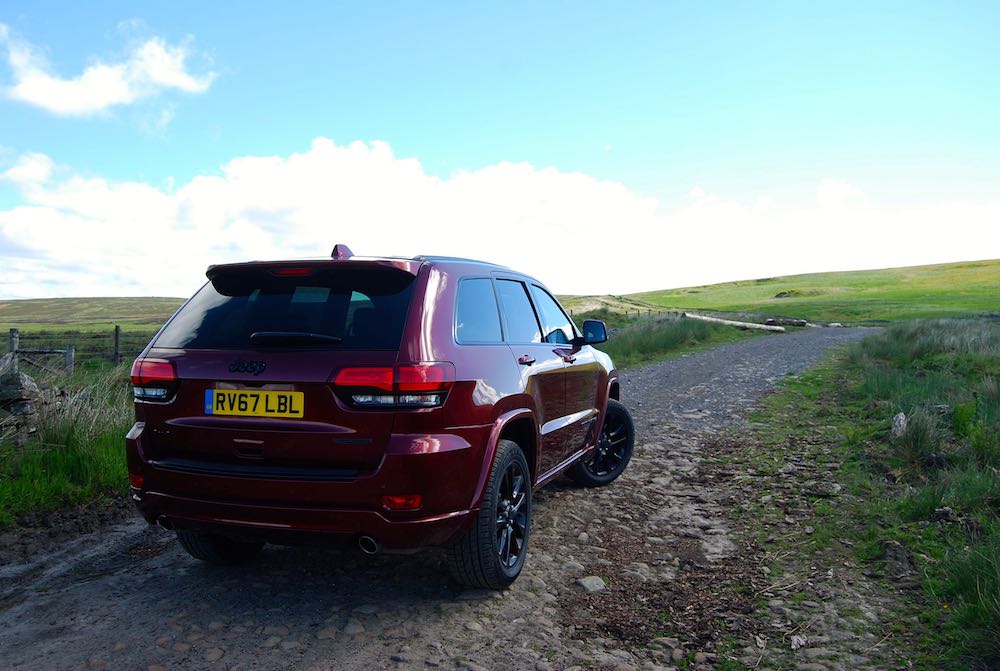 Little Jeeps…….Everywhere
Now, call it gimmicky, but Jeep seem to be having much merriment hiding little pictures and Since 1941 logos on their cars at the moment, and the Grand Cherokee hasn't been spared. Look closely at the headlights and you'll find them, it's almost like driving your own Jeep version of Where's Wally? Or should that be Where's Willys?
As I said, one of the areas previously Grand Cherokees let themselves down was on the inside, where materials and design would fall woefully behind the competition. This model's seen a vast improvement, though. Premium leather seats are included, as is Jeep's 8.4" Uconnect infotainment system. The dashboard now has a far more ergonomic design and where once was scratchy, budget-spec plastic, there's now some really squishy, liquorice-y stuff in its place. Plastics aren't this quality all the way to the floor and the 'wood' trim doesn't feel overly sturdy but, hey, you can't have everything.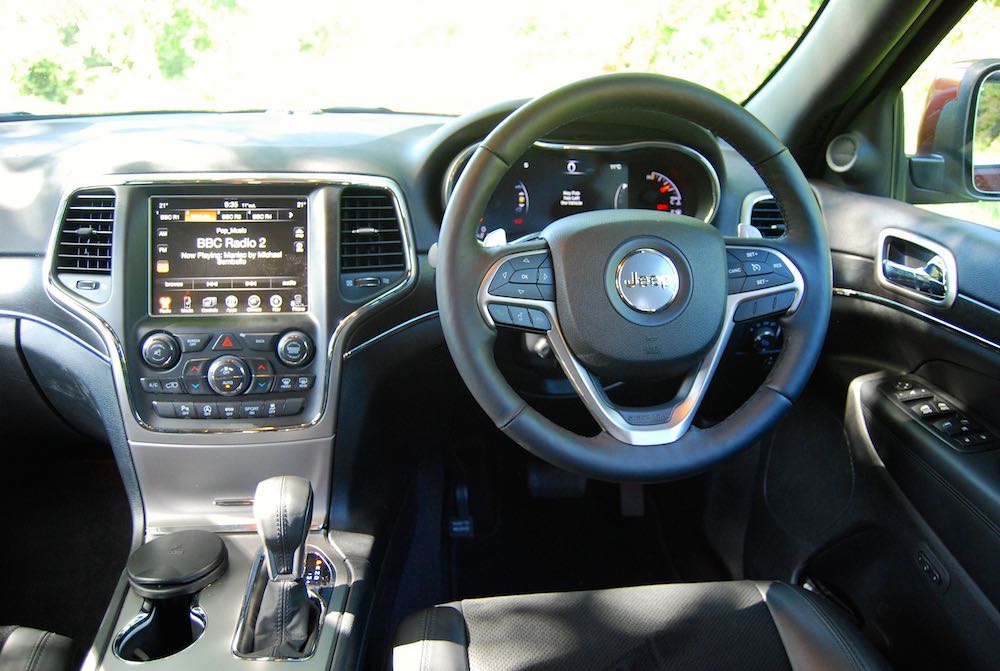 Quadra-Trac II
It's pretty much a prerequisite that Jeeps have to be able to cut it off road, regardless of size. The Grand Cherokee shares many of its base parts with the Mercedes GLE, but they use a Quadra-Trac II system for the proper 4×4 mechanicals. It has selectable mud, rock, sand and snow settings, as well as a low ratio 'box. There's even an off-roading app in the infotainment system to help you progress on your muddy way.
On the tarmac which, lets face it, is where the majority of UK Jeeps will spend their time, the Grand Cherokee handles well enough but it does feel every kg of its 2.4 tonne+ kerb weight. It's comfortable – not quite as compliant as a Range Rover but long journeys won't feel overly strenuous.
So, that one engine choice; a Fiat-sourced 3.0l V6 Multijet diesel. This is where the Grand Cherokee plays its trump card, because this engine is an absolute peach. It's refined, quiet and feels more responsive than you'd warrant from a large diesel. 250bhp isn't that much power, but 570Nm is a whole chunk of torque, and that's what matters when it hauls this massive SUV to 62mph in 8.2s. Even with my sometimes unsympathetic right foot, the Grand Cherokee returned over 31mpg which is pretty impressive.
The 8-speed automatic gearbox handles that torque well and only gets ruffled if you really push it. The one aspect of the Grand Cherokee that could do with being upgraded are the brakes; they really struggle to keep it together after a few high speed decelerations.
Should I Buy A Jeep Grand Cherokee?
So, how much does this rugged cool from Stateside cost? Well, you might be surprised to hear that it starts at £49,880. Yep, sub-£50K for all that car, undercutting its similarly sized rivals by a fair chunk of change. Not only this, but Jeep have just announced that the Grand Cherokee, as well as the rest of the range will come with 5 years warranty, 3 years servicing & 5 years roadside assistance, for any peace of mind issues you might have been having.
By Ben Harrington
Jeep Grand Cherokee Night Eagle Specifications:
Engine –

 3.0l V6 diesel,

Layout –

Front engine, 4WD, 

Transmission –

 8-speed automatic,

Power –

 250bhp, 

Acceleration –

0-62mph – 8.2s,

Maximum Speed –

126mph, Maximum Torque –

570

Nm,

Economy –

 40.4 mpg combined, 

Emissions –

184

g/km CO2,

Price –

£49,880 OTR

The Jeep Grand Cherokee is available now. For full details go to; www.jeep.co.uk