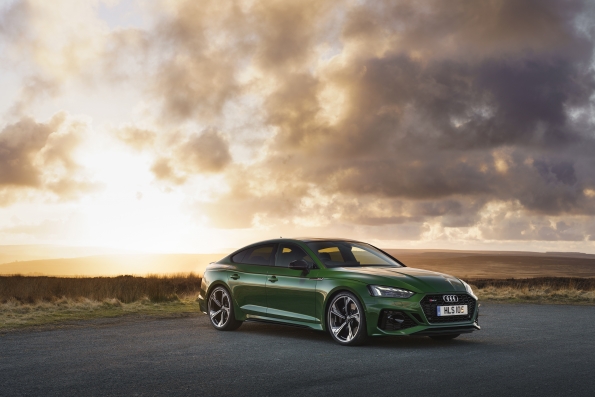 Audi RS 5 Sportback
As the UK, and inevitably the world continues its march towards electrification, Audi has taken the decision to revert back to solely diesel power for its S badged models. This means that if you now want a properly quick Audi that runs on the arguably better fuel for the job – petrol – before internal combustion disappears forever, you're going to have to stump up a bit more for one of their RS models. Models like this one; the RS 5 Sportback.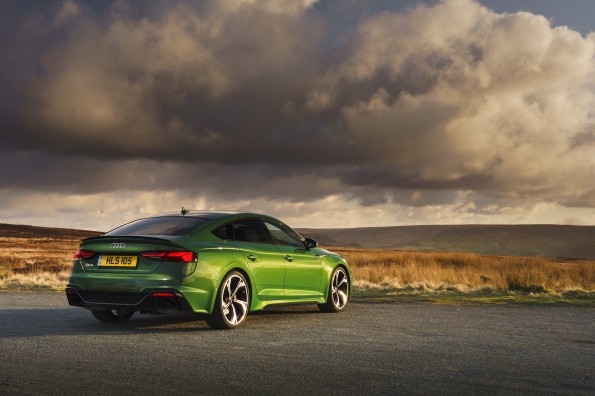 V8 out, twin-turbo V6 in
Now, I don't want to disappoint anyone after building them up, but if you're expecting a V8 under the bonnet, no such luck unfortunately. That's not to say the RS 5 is all show and no go, though, far from it. A V8 it may not be, but only by two cylinders, or one V which sounds even less of a sacrifice. What it does have nestled alongside its 2.9-litre, 6-cylinder is a pair of whopping great turbos and when they spool up you're looking at a very healthy 444 bhp at the wheels. Apologies if I'm stating the obvious now, but the RS 5 is 4WD, or Quattro as it's an Audi and it splits power 40% to the front, 60% to the rear with a trick differential thrown in as standard on UK cars to keep things feeling as it should in a car built for performance.
The more observant of you will have noticed this isn't just an RS 5 – ahem, just. Where the RS 5 is a coupe, this is the RS 5 Sportback and that means it gains 2 more doors and a hatchback – it's practically a Volvo estate! Well, not quite; there's a potential 1,300-litres of space with the rear seats down, but even with them up you can seat 5 people. That's one of the advantages this Sportback RS 5 has over its Coupe sister which is a 2+2; the middle rear seat may not be the most voluminous but at least it's there with a seatbelt.
Virtual Cockpit
Interior equipment and trim is high spec and beautifully finished, just as we've come to expect from pricier Audis. Sit in the driver's seat and you're looking at Audi's enduringly impressive Virtual Cockpit which can be manipulated to suit your needs i.e. nav, infotainment or this RS 5's multi coloured, F1-esque rev counter. The driver's seat is deep and grippy in all the right places for a car with a performance bent. The best bit about it, though, is its multi-function massage settings that come as standard. This is a massage seat that isn't playing at it; it's capable of ironing out the hardiest knots on an arduous autobahn schlep.
0-62mph in 3.9 seconds
Anyway, middle-aged chiropractic issues aside, what we really need to know is how the RS 5 drives; that's what it's primary function is to do at the end of the day. Look purely at its figures and this semi-practical car's performance is knocking on the door of supercar territory. 0-62mph takes just 3.9 seconds, exactly the same as the coupe version so there's no compromise there. Let's just take a minute to look at that; three point nine seconds – that's quicker than the AMG CLA coupe (just) and BMW had to make all M3's Competition spec to keep them relevant.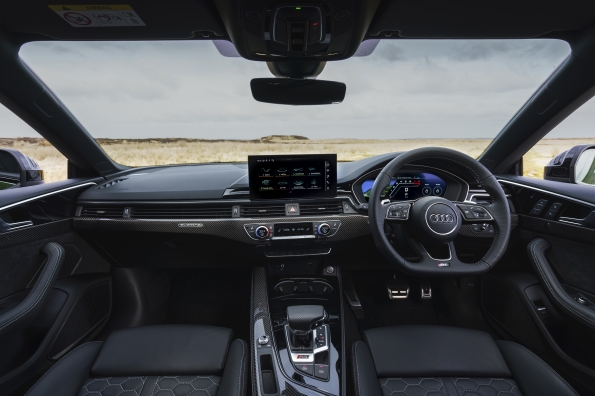 And yet, despite the staggering way the RS 5 Sportback gets itself up to speed, this twin-turbo V6 powered car, with its 600Nm torque is actually relatively clean. It'll squeeze a claimed 29.4 miles out of every gallon of unleaded and whilst doing so it emits just 218 g/km CO2. Not numbers to shout about at COP26, granted, but they do justify Audi's move away from V8 power, no matter how much we miss them.
So, what's the catch?
And miss them we do, because as much as the RS 5 Sportback is earth-shatteringly quick and its Quattro system allows for some levels of grip that can be hard to comprehend, the whole thing's just lost some drama. Yes, its sports exhaust does a good job of barking on startup and then in all the right places, but it's like someone turned down the bass on your amp and cranked the middle up. We should really applaud Audi's engineers for practically eliminating turbo lag – it responds in a heartbeat, but it's left the V6 feeling almost electric, and if I wanted that I'd buy an e-tron GT.
Should I buy an Audi RS 5 Sportback?
The next decade is looking like the end of cars in the vein of the RS 5 as we know it, and manufacturers like Audi should be lauded for continuing to sell them in the face of much politically charged pressure. Stricter emissions regulations and, well, just doing the right thing has lead to certain compromises being made and you can tell, but before internal combustion and the emotions it stirs disappears forever, let's just appreciate cars like the RS 5 Sportback, V6 or not.
By Ben Harrington
Audi RS 5 Carbon Black Specifications:
Engine – 2.9-l twin-turbo V6, Transmission – 8-speed tiptronic, Layout – Front engine, 4WD, Power – 444bhp, Torque – 600Nm, Emissions – 218g/km CO2, Economy – 29.4 mpg combined, Maximum Speed – 155mph limited, Acceleration – 3.9-s 0-62 mph, Price – £74,685 OTR, £79,011 as tested
The Audi RS 5 Sportback is available now. For full details go to: www.audi.co.uk