This is the Volvo V60 Polestar. A mid-sized estate car that'll happily ferry your family, luggage and dog around in classy, understated comfort. Being a Volvo, the company who's vision is zero road deaths in their cars by 2020, you're also statistically safer in this car than when lying in your pyjamas in your own bed. The end.
Well, not quite………
Oh, I nearly forgot to mention something. Being a Polestar, it's packing a turbocharged 367bhp engine which drives all four wheels, it sits on adjustable Öhlins suspension that's been honed for hours upon hours around a certain German racetrack and it'll do 0-60mph in 4.5s & 155mph. Not your usual Volvo estate, then.
The visual changes over a standard V60 are on the understated side. This is surely no accident as Volvo maintain their grip on the 'subtle yet cool manufacturer of the year' title. A rear splitter with twin 3.5" Polestar emblazoned tail pipes and some 20" rims housing 6-piston Brembo brakes are probably the most obvious indication of the car's intentions. There's also a revised front splitter and some ultra-cool blue badges that give the game away.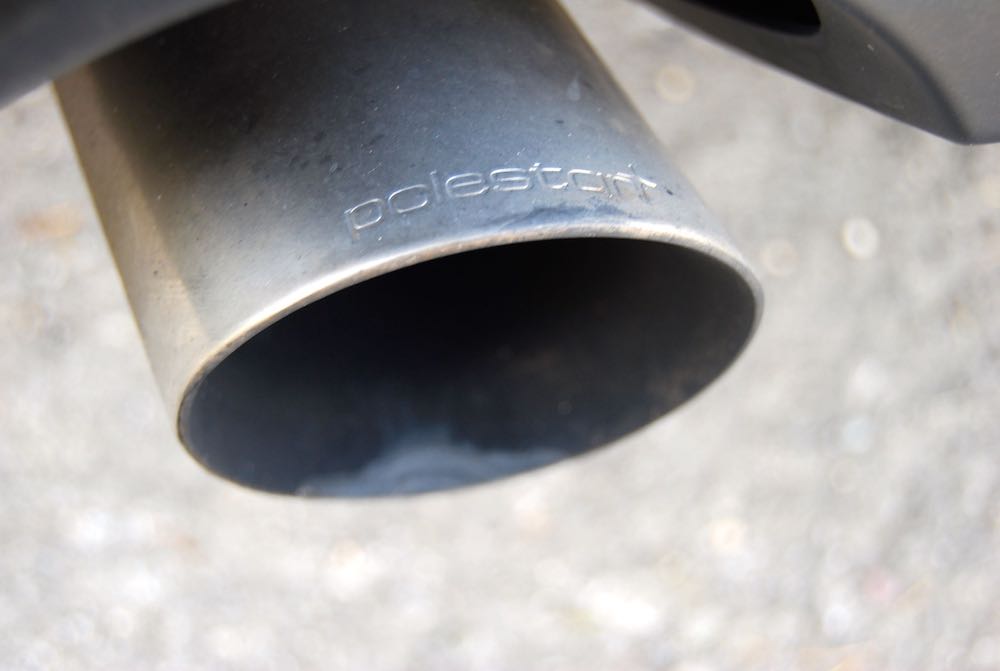 Splashes of Polestar blue
This not-in-your-face-at-all approach continues on the inside of the V60 Polestar. The floating centre console still looks good but that's standard Volvo fare, it does now have a carbon-fibre fascia though. There's splashes of Polestar blue around the cabin, most noticeably the illuminated gear-knob and the stitching keeping the leather trim and nubuck seats together.
Volvo's interiors have been some of my favourite places to be for some time now, and the likes of the XC90 show others exactly how to do vodka-bar cool. This V60's cabin is still very pleasant but the infotainment system is showing its age. It's not the largest screen and it's not crammed full of the most up to date features. Apple CarPlay and its Android equivalent aren't available for example.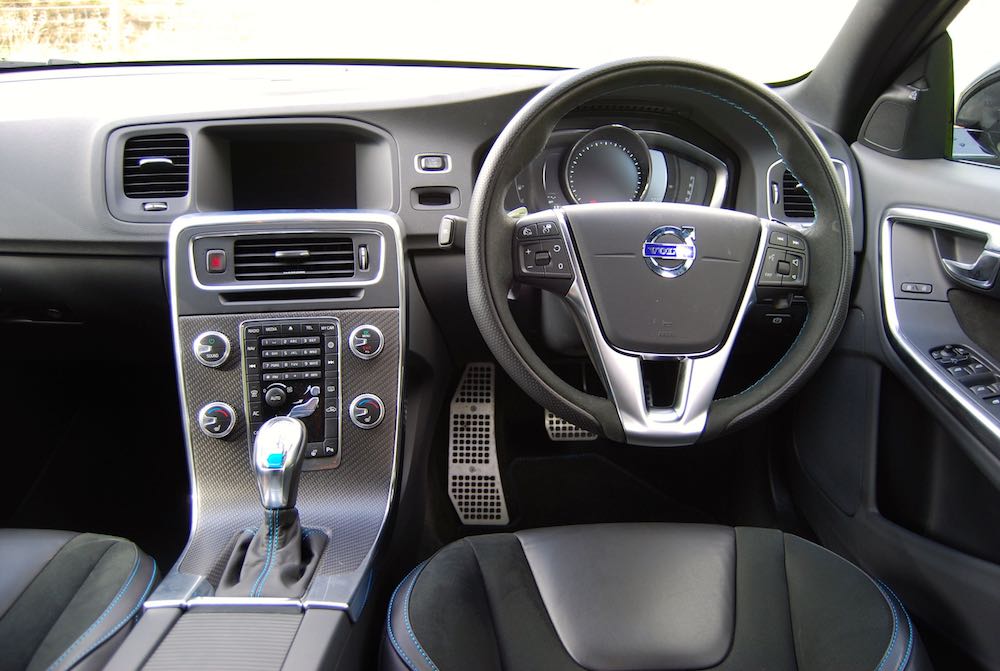 What you do get, though, are the majority of Volvo's other features such as a rear-view camera, parking sensors, xenon headlights, climate control. They've really gone to town on making the V60 Polestar as much of a comfortable mile-muncher as a rapid point to point weapon.
The drive
And that's where the V60 Polestar comes into its own…….
Let's just reiterate that 0-60mph time; 4.5s. That in itself is impressive to say the least, but it's only half of the story. This Volvo has launch control. Yes, launch control. It's something of an oxymoron if you think about it – a Volvo with launch control. The company have spent their entire existence making the effects of stopping too quickly, i.e. crashing as manageable as possible, yet this one is fully focussed on getting fast asap. It does involve some navigation around the car's operating system to put into effect, but when you do, the effects are memorable.
More power?
I couldn't help but feel that for all the V60 Polestar's notable performance, though, it could easily handle even more power. Maybe a Polestar S or whatever nomenclature they'd use could be on the horizon?
The 8-speed Geartronic transmission is smooth and unruffled in normal mode, but slide it over into sport and it's far more responsive, allowing the engine to rev higher too. Not only this, but the exhaust takes on a deeper, louder rumble as it can breathe more freely. Changing gear yourself is doable, via the most tactile rubber-backed paddles I've come across, but, to be honest, one of the automatic modes will probably suffice this side of a racing track.
Those adjustable Öhlins and Polestar tuned chassis mean it's 80% stiffer than the car it's based on, and that sounds rather a lot. In reality, though, it's no bone-shaking go-kart that'll rattle your teeth out of your gums. It works well with the 4WD system to handle and respond to corners, but it's not noticeably uncomfortable.
Should I buy a V60 Polestar?
Polestar are obviously Volvo's answer to BMW's M-cars, Mercedes' AMGs and Audi's RS or S range. Priced at just under £50k before options, the V60 Polestar is a tricky one to place, competition wise. It's not powerful or focussed enough to take on an M4, but it's over £10K cheaper. It's an estate, too, which would put it closest to the Audi S4 Avant in terms of price and performance, but it just feels more exclusive and special than that.
By Ben Harrington
Volvo V60 Polestar Specifications:
Engine – 2.0l turbocharged 4-cyl petrol, Layout – Front engine, 4WD, Transmission – 8-speed automatic, Power – 367bhp, Acceleration – 0-60mph – 4.5s, Maximum Speed – 155mph limited, Maximum Torque – 470Nm @3100 – 5000rpm, Economy – 34.9mpg combined, Emissions – 186g/km CO2, Price – £49,665 OTR
The Volvo V60 Polestar is available now. For full details go to; www.polestar.com