Audi A6 Avant
The big three German uber-marques continue to bring us new versions of their oh-so-practical estate cars, despite the seemingly endless stream of SUVs to hit the market. Many of the SUVs are from their own factories, though, so it's kind of win/win.
Audi have always been good at estates (Avants), so good in fact that I used to own one. The ones that make the headlines are the S versions or the rip-snorting RS's, clearly, but it's the slightly less sexy 'normal' variants that keep the car companies' accountants happy.
Bigger, & Longer Wheelbase
This new, slightly sleeker A6 Avant actually loses out in terms of boot space (565 – 1680 litres) to its BMW & Mercedes equivalents (5 Touring & E-Class Estate), and that's probably due to its more sloping rear end and cavernous amounts of space for rear passengers. The A6 Avant has always felt like it gives its occupants generous leg, head & just about everything room, but when you mount your engine as far forward as possible, stretch your wheelbase and you send power to your front wheels only (unless it's a 4WD A6, of course), you're going to buy yourself some precious living space.
Spacious it may be, but when you're spending upwards of £41K on your family estate, you're probably going to expect a fairly high standard of quality inside, too. Audi make some pretty cool interiors these days, leading the way in some ways for others to follow. The A6 Avant is a bit more reserved than, say, a TT – you won't find any aircraft inspired heater vents, for example. It's inspired more by the grown-up A8 than the playful TT, put it that way.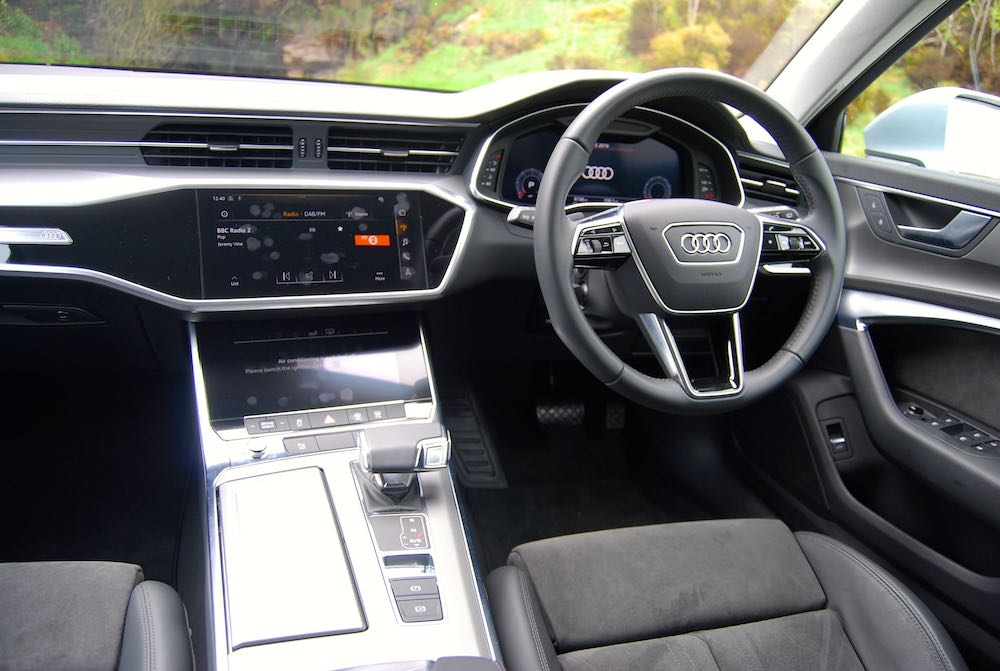 Excellent Infotainment
Audi do seem to have cracked the whole immersive infotainment thing, though. Every A6 Avant comes with Audi's excellent, dual screen system – MMI Navigation with MMI Touch. Like similar, pad-based interfaces where you draw numbers and letter with your finger, this one turns the bottom-most screen into a giant touchpad. It's a far more convenient place than near a handbrake, you're not waving your fingers around, trying to turn the volume up like a loon and it even managed to decipher my left-handed scribbles.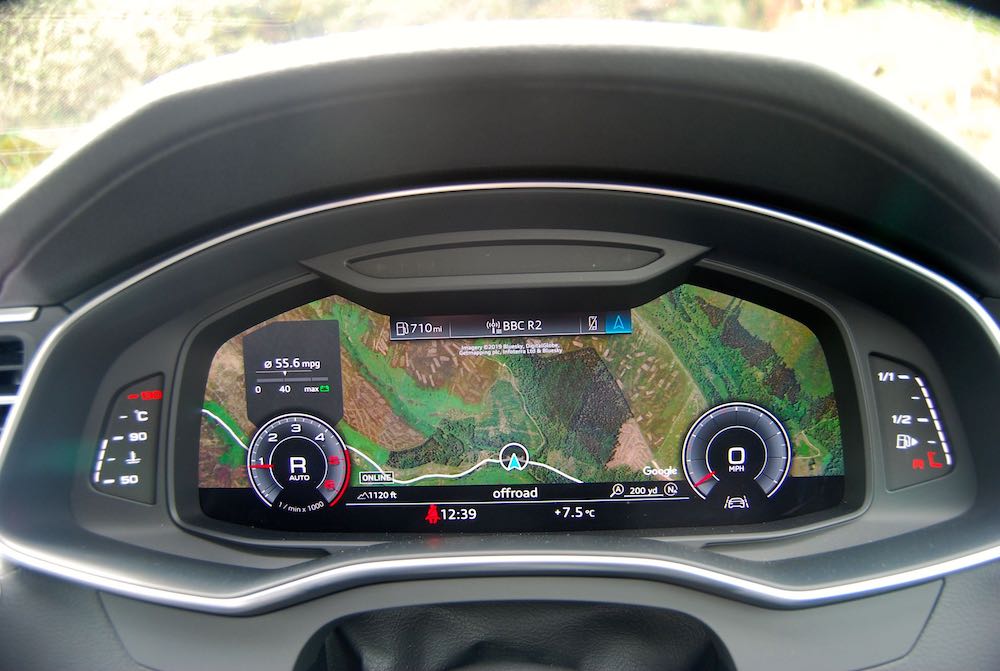 One aspect of the A6 Avant that really trumps its rivals, especially SUVs is visibility. Clearly you're not sat as high up in an estate but Audi have managed to slightly reduce the width of the A6's pillars. This, coupled with acres of glass all around means you have real confidence in what's around you.
So, you can see everything you need to and you'll not be found wanting knee or elbow room. My only grumble would be that the sports seats are on the firm side; it might be worth saving yourself £800 and sticking with cloth.
Massive Potential Range
And you'll really want those more comfortable seats if you're planning on taking advantage of the A6 Avant's vast range. Our test car had the larger 73 litre fuel tank fitted (£115), admittedly, but we think that even without hypermiling, with some sensible driving it could manage 800 miles on a single tank of fuel.
Engine Choices
And that brings us neatly round to what drives the new A6 Avant. There's a choice of 2 diesel engines and 2 petrol engines; a 2.0l variant of each and a 3.0l of each in various power outputs. Oh, and all A6's are mild hybrids; the 4-cylinder engine being 12V, the 6-cylinder = 48V. If you want a petrol A6 Avant it's Quattro only, diesel is 4WD or FWD. In case you were wondering about Audi's new number-based nomenclature, it ranges from 30 to 70, going up in multiples of 5 with 30 being the least powerful, naturally. Got it? – great.
40, 45, 50 or 55?
In the case of the new A6 Avant, the diesel comes in either 40 or 50 flavour, the petrol in 45 or 55. Our test car is the 40 version which means it has the 2.0l diesel with 201bhp powering the front wheels. There's no manual option for the A6 Avant anyone – it's S Tronic (DSG) or Tiptronic only, so at least you can still change gear yourself if you really want to.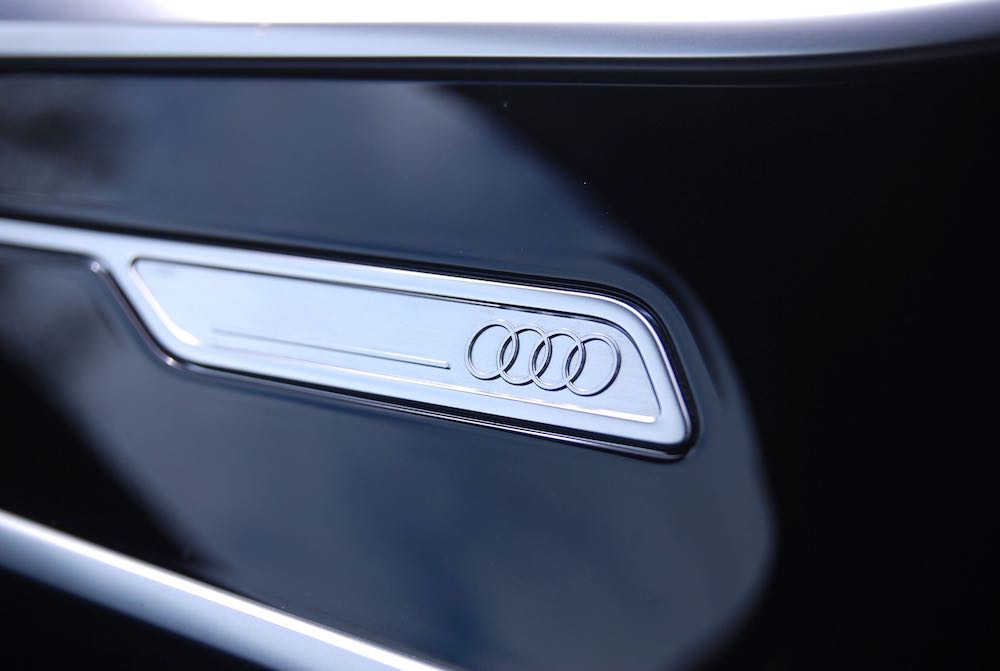 Cleaner Quattro
Even with 201bhp & 400Nm torque, this engine/transmission combination manages over 60mpg whilst getting from 0-62mph in 8.3 seconds. This is where things get a bit odd, though. You'd expect that going for the Quattro option would impact on your economy – yes? Well, according to Audi's official figures, the 4WD system with 'Ultra' technology actually makes your A6 Avant cleaner as well as quicker, plus it'll handle better and you'll avoid the front wheels scrabbling if you try putting too much power through them all at once. At a £1,600 option, surely it's a no-brainer?
Should I Buy an Audi A6 Avant?
Prices start at around the £40K mark, perhaps unsurprisingly almost identical to its BMW and Mercedes rivals. What it loses in road presence to the competition, the A6 Avant makes up for in terms of its interior and ride; just make sure you get the Quattro.
By Ben Harrington
Audi A6 Avant 40 Sport Specifications
Engine – 2.0l 4-Cylinder diesel, Transmission – 7-speed DSG, Layout – Front engine, FWD, Power – 201bhp, Torque – 400Nm, Emissions – 124g/km CO2, Economy – 60.1mpg combined, Maximum Speed – 149mph, Acceleration – 8.3-s 0-62 mph, Price – £40,350 OTR, £45,085 As Tested
The Audi A6 Avant is available now, priced from £40,350. For full details go to: www.audi.co.uk