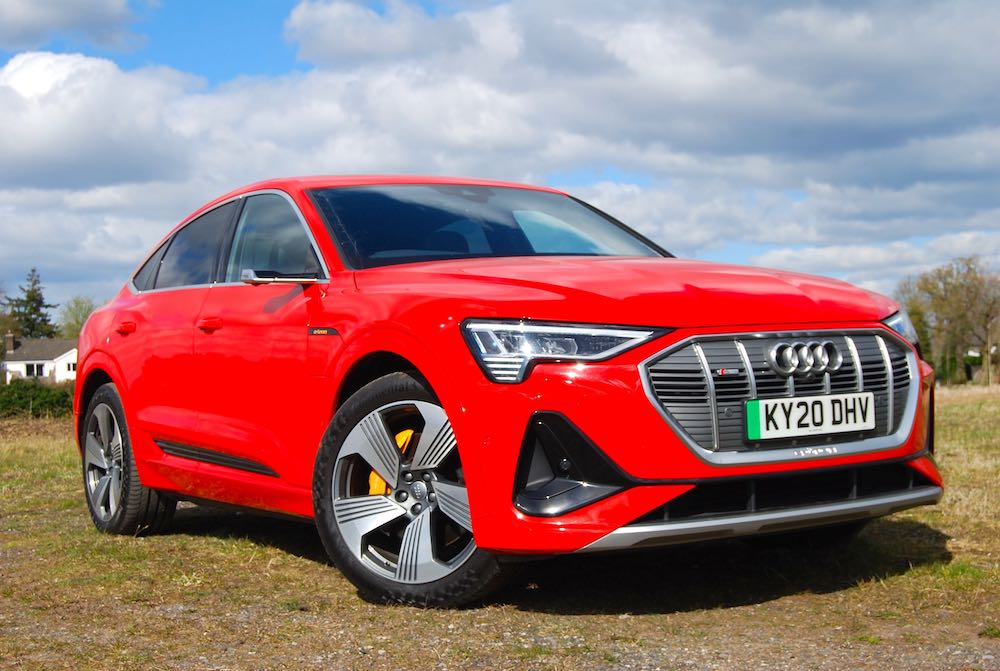 Audi e-tron Sportback
The Audi e-tron Sportback is here to save the world! Ok, there's probably more to the future of mass mobilisation than that, but I'm pretty confident that electric cars are here to stay in some substantial capacity. Putting the potentially sticky issue of where the electricity and batteries to power your new-fangled motor comes from aside, there's no disputing that electric cars are mightily cleaner than anything powered by fossil fuels. They all zip around, emission free, plus they all do infinite miles to the gallon, as the nearest thing to a gallon in an electric car is the contents of the windscreen washer reservoir.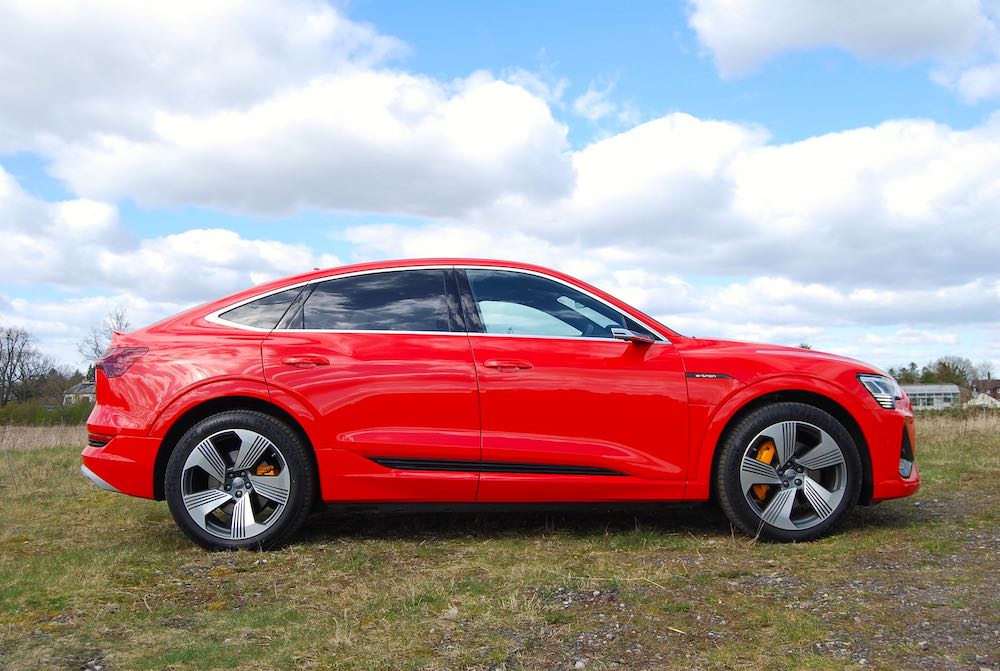 A happy side effect of electrified cars is the torque that comes on in spades, instantly. This can make for some pretty impressive performance, possibly best demonstrated by the self appointed king of silent performance – Mr. Musk, with his aptly named ludicrous mode. But you don't have to pay Tesla Model S money to get some useable performance. Take the ubiquitous Nissan Leaf; even the slowest version will get from 0 – 62mph in 7.9 seconds, the quicker version does it in 6.9 seconds – not very often before range anxiety kicks in, granted, but it will do it.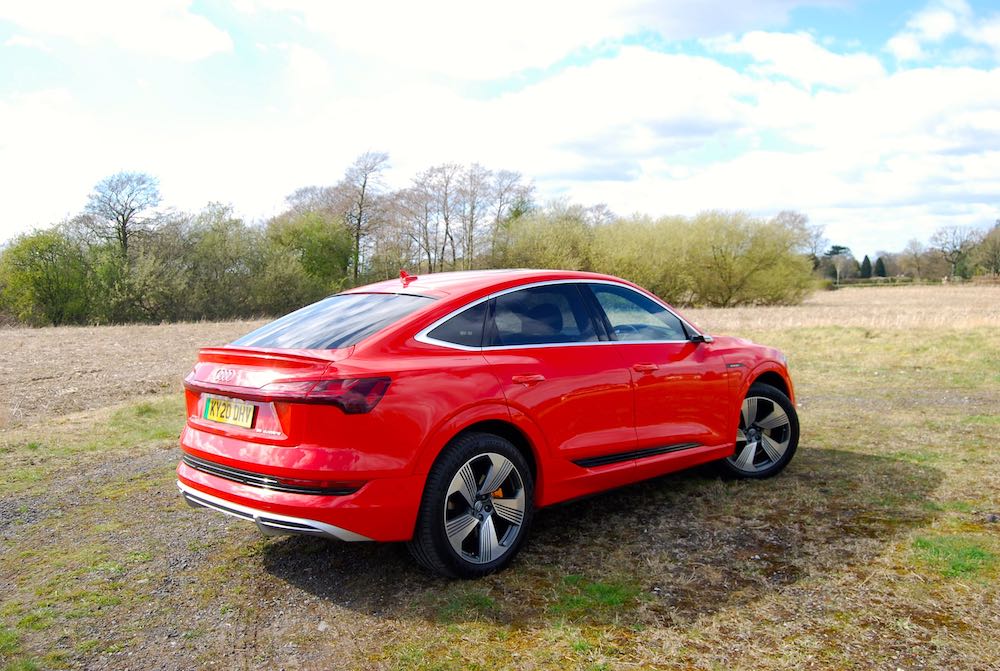 What is an e-tron, anyway?
But where does that leave the likes of Audi, and in particular, its Quattro models, usually marketed at those that live for fast, grippy bends? E-tron has been the name associated with all electric Audis for over a decade now and we've had the Audi e-tron as a standalone model since 2019. The e-tron name is expanding, though; the Taycan-based e-tron GT and RS GT grabbed the headlines recently, and then we've got this; the e-tron Sportback. Yes; it's a SUV-coupe and yes; we also thought they were a silly idea when BMW and Mercedes broke the genre to the world, but they've very-much become part of the scenery now, and the idea does lend itself well to electrification; practical performance.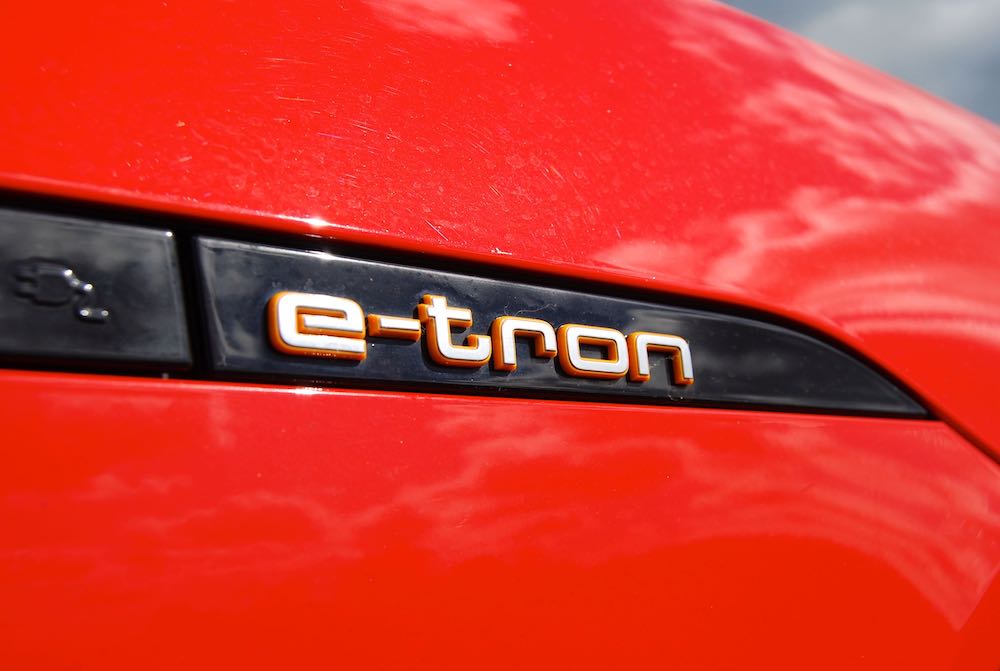 If it looks like an Audi…….
So much so, that on first glance you wouldn't know there wasn't a turbocharged V6 under the e-tron Sportback's bonnet. And that's the way Audi have decided to roll with their electric offerings; they don't want them to look like spacecraft, they want them to look like cars – Audi cars to be precise. What you do get providing the go to the e-tron Sportback depends on which version you go for. Like the ICE Audis, the electrical models come with a number or letter that signifies how powerful they are; in this case, 50 or 55 with 309bhp or 402bhp respectively. There's also an e-tron S with 503bhp. What's more impressive is the inevitable torque the e-tron comes with – the 50 comes with 540Nm, the 55 gets 664Nm.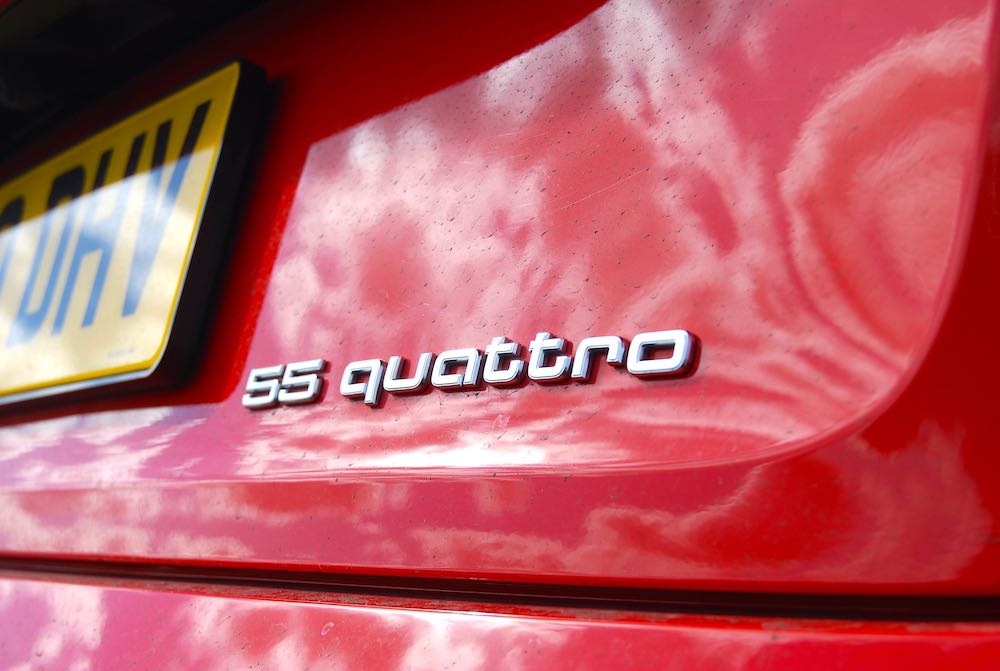 The e-tron ain't light
All e-trons are Quattros so there's one motor powering the front wheels and, perhaps unsurprisingly, another one powering the rears, or in the case of the S – two motors at the back. In between is where the batteries sit – under the floor, providing a low centre of gravity for improved handling characteristics – this does feel more like a traditional 'car' than most electrics. At getting on for 2.5 tonnes, the e-tron Sportback isn't exactly svelte and that does have an impact on performance. The 50 does 0-62mph in 6.8 seconds, the 55 does it in 5.7. If you want real performance, the S version manages to get to 62mph in a very respectable 4.5 seconds and it'll also powerslide, apparently. On a more practical note, the e-tron Sportback has the ability to drive the rear wheels only, extending the available range.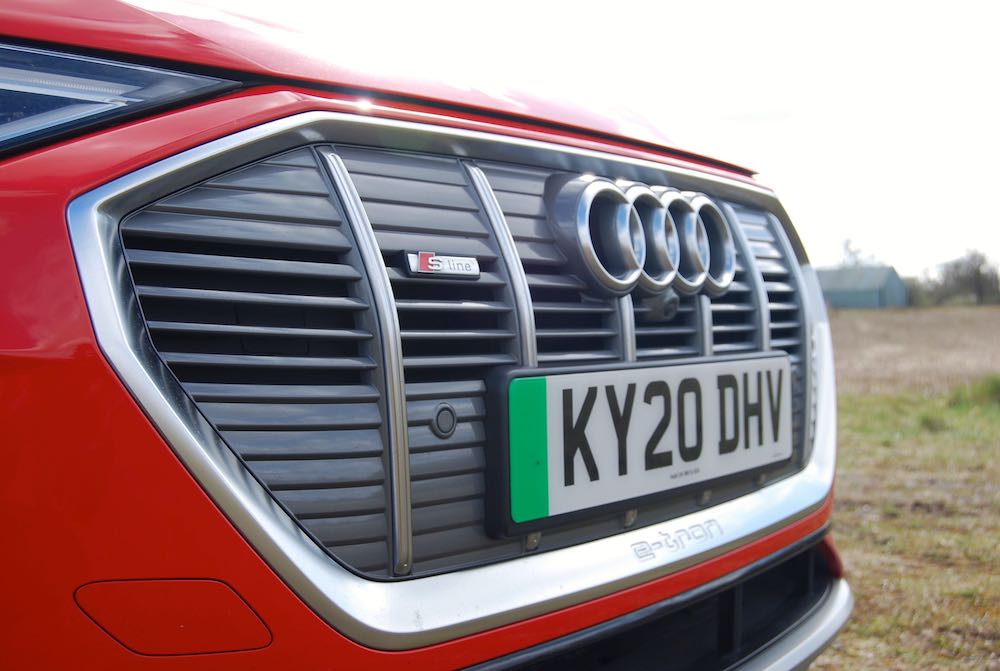 How far will the e-tron go?
And that brings us on neatly to the pertinent question with electric cars; range, and how much of it you get. Well, weather and driving style aside, that comes down to the size of the battery and how much bling you want for your rims. Putting it in simple terms, the 50 gets a 71kWh battery and that gives a maximum 199 miles range, the 55 has a 95kWh battery and that will get you up to 257 claimed miles. Those figures are based on the 21" wheels that come as standard, go for 22" alloys and the range drops to 185 miles and 237 miles respectively.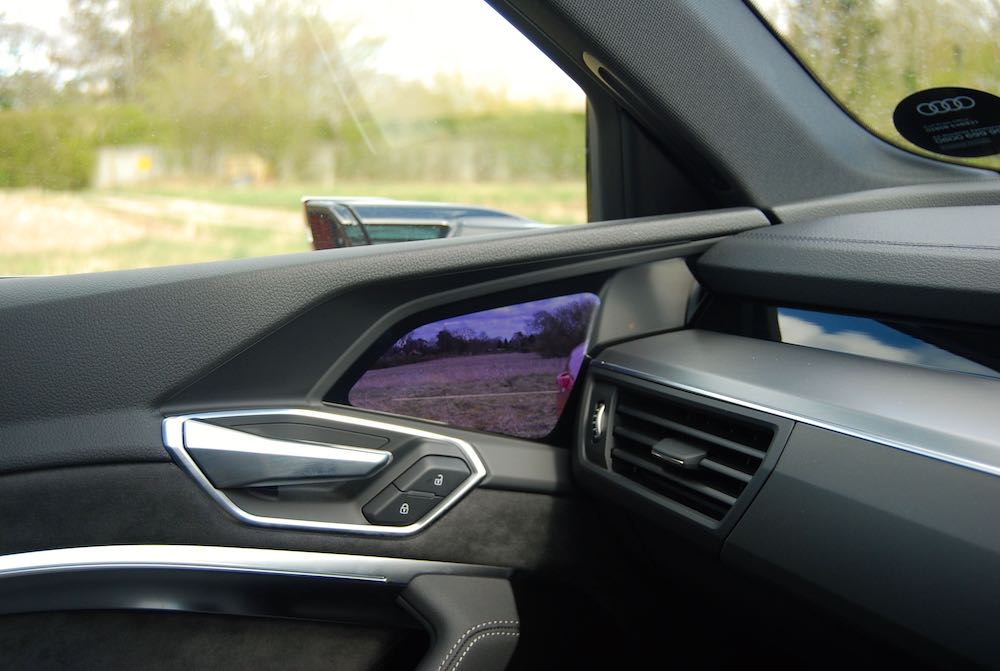 There's kinetic recuperation technology feeding back into the battery as you'd probably expect, but the way the Sportback goes about it is quite intelligent. You can manually select one of three settings but if you put it in automatic mode it will either apply the recuperation or allow you to coast, depending on the local topography and any features you're approaching such as roundabouts.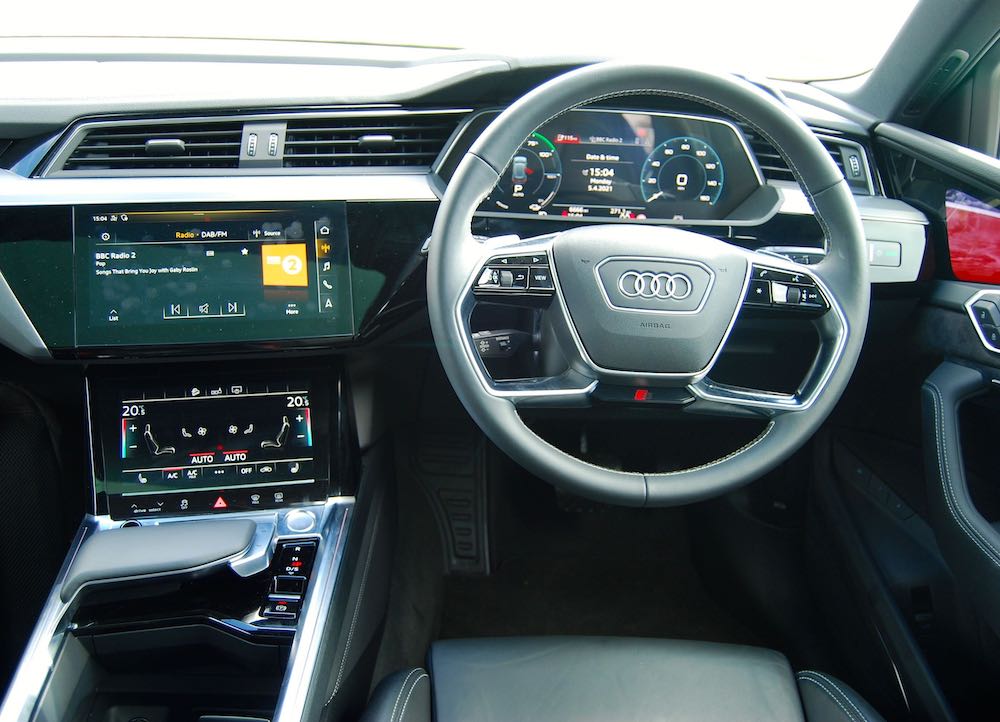 No gimmicks. Well, except for the door mirrors maybe
Inside the e-tron Sportback continues in much the same vein as the outside. Sit in the driver's seat and you'll find it all very familiar if you've sat in an Audi SUV recently. There's two centrally mounted touchscreens and some actual buttons dotted around a tasteful, well appointed cabin. The 'gear selector' is slightly different but anyone after Easter eggs or giant iPads probably needs to look elsewhere. One innovative option are Audi's £1,250 virtual door mirrors; essentially rear-facing cameras in the place of bulky door mirrors to improve aerodynamics. We got more used to them as our time with the e-tron Sportback went on, but I think I'd save my money and stick with mirrors, especially in hours of darkness when the clarity of a camera can struggle. What's undeniably a clever move is the Sportback's dual charging ports – one on either side to take the guesswork out of charging.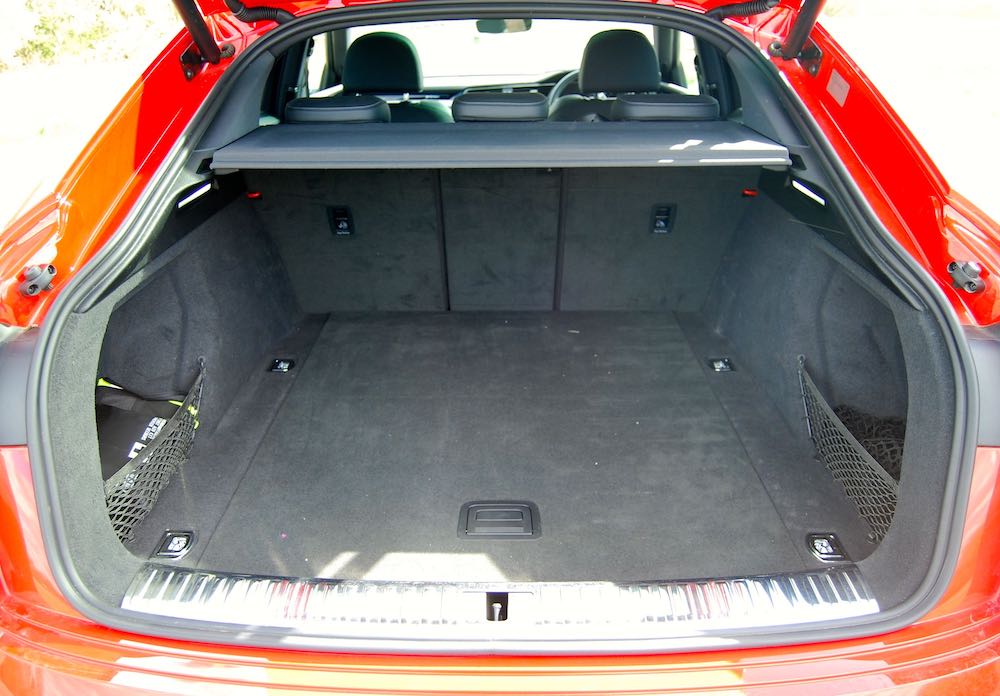 Being a coupe-ish shape, the Sportback loses out in terms of rear headroom when compared to a regular e-tron and taller passengers will notice the difference. The boot space doesn't overly suffer, though, with a maximum 615 litres available (enough for 15 carry on cases according to Audi), there's even a frunk but it's where the charging cables are stowed. The boot floor is flat for easy loading and unloading but the boot lip is high so you may end up giving canine passengers a lift up.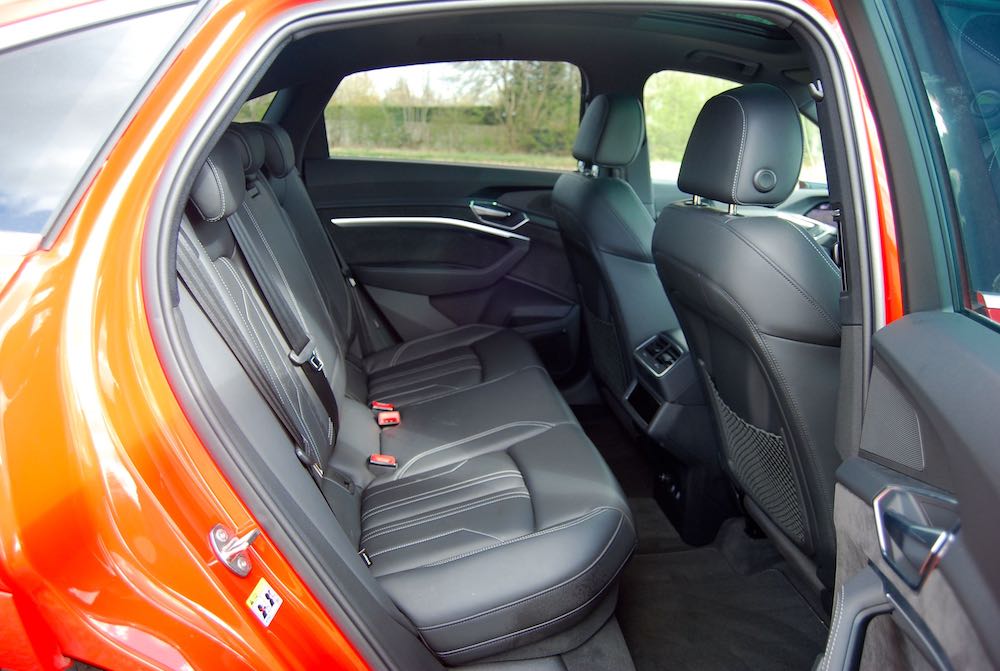 Should I buy an Audi e-tron Sportback?
Audi is dispelling fears that all electric cars will end up identical by going their own way about things. The e-tron Sportback looks like a 'regular' Audi, it handles like one too and the cabin is the understated class we've come to expect from Audi. It isn't the quickest and at nearly £80k for this 55 S line version, it's not the cheapest either, but both the refinement levels and build & ride quality are amongst the best on offer.
By Ben Harrington
The Audi e-tron Sportback is available now, priced from £70,625. For full details go to: www.audi.co.uk