Volvo C40 Recharge
If any of you were under the misconception that Volvo was leaving sister company, Polestar to handle the transition to electrification, you couldn't really be more wrong. Volvo doesn't sell any passenger vehicles that run solely on fossil fuels anymore; all those that do use petrol or diesel are either a mild or plug-in hybrid.
But what about the slightly more tricky task of switching to full, 100% electric power, allowing the Swedish firm to keep up with the likes of Audi, BMW and, of course, Tesla?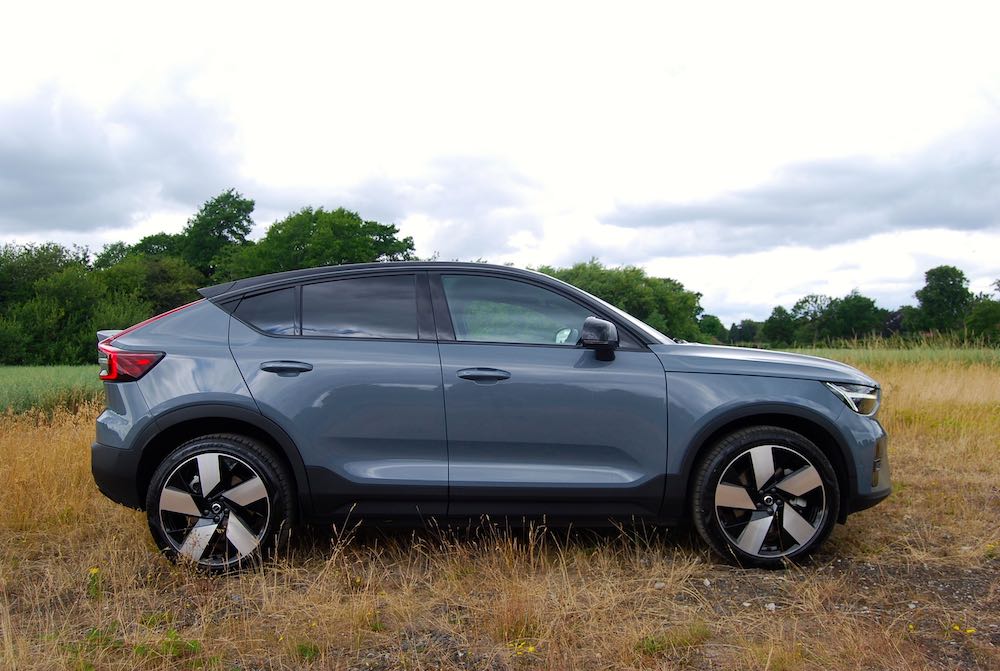 The clue's in the name
At present Volvo have two pure electric models on offer; the XC40 Recharge and what we have here, the C40 Recharge. Just to clarify, Recharge is the moniker given to any Volvo you plug in i.e. full electric and plug in hybrids because, well, you recharge them, see?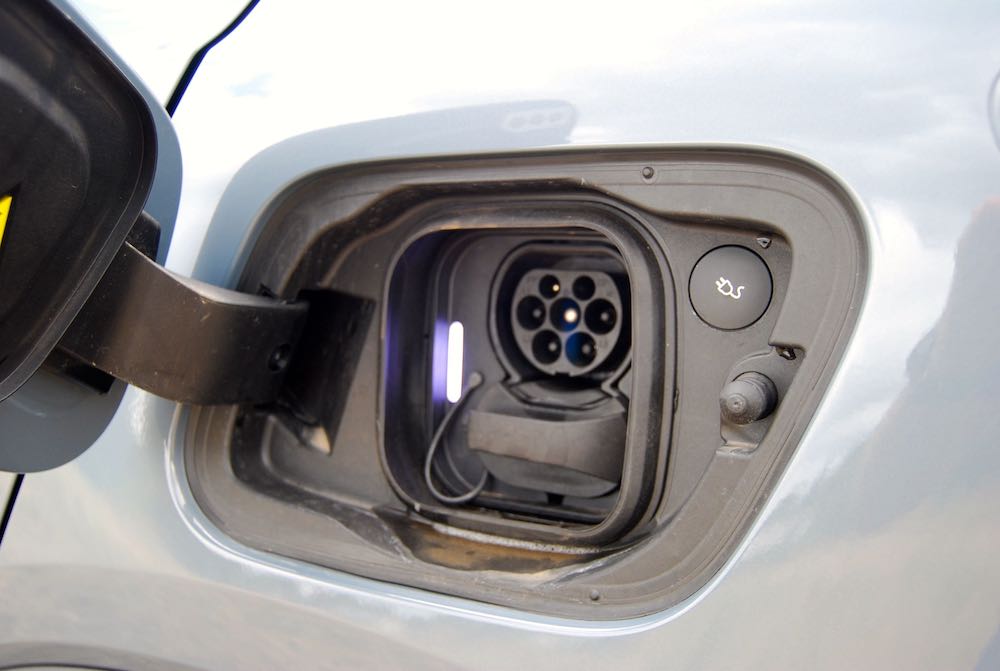 The difference between the XC40 and the C40? – the extra X means it's a little SUV, whereas the C40 is a little SUV with a coupe-esque shape from the C-pillar rearwards. Think miniature X6 or Q8, that kind of thing. Now, we're well aware that SUV-coupes come with a certain stigma. It's essentially a partnership that shouldn't happen and opting for an SUV to then rob yourself of rear headroom is somewhat contrary. On pure aesthetics, though, it's hard to argue against the C40; put it next to the XC40 and the C40's clean, shallow sloping roof line is by far the prettier of the two.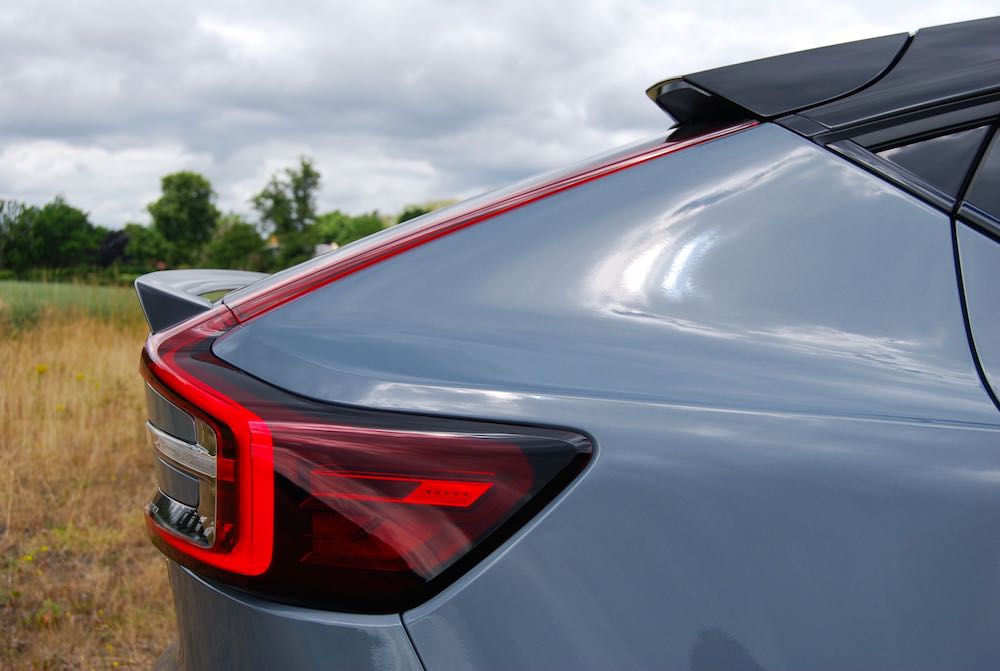 Single motor only at the moment
Volvo's website currently lists details of the single motor, FWD C40's in Core, Plus and Ultimate specs (our test car is Pro spec but Volvo don't currently list details on their UK site). These come with a 231 hp motor that gets the C40 from 0-62mph in 7.4s and all models officially have a range of around 270. Officially. Prices start from £47,100 for the Core, Plus and Ultimate will set you back £53,100 & £56,700 respectively. All C40 models come ready for 150 kW rapid-charging which would provide a full charge in 32 minutes in the single motor version, 37 minutes in the twin.
When they're available, the twin-motor C40 Recharge costs around £3k more than their single motor alternative. But, you can't order one right now, and that's a shame, because it's actually something rather special.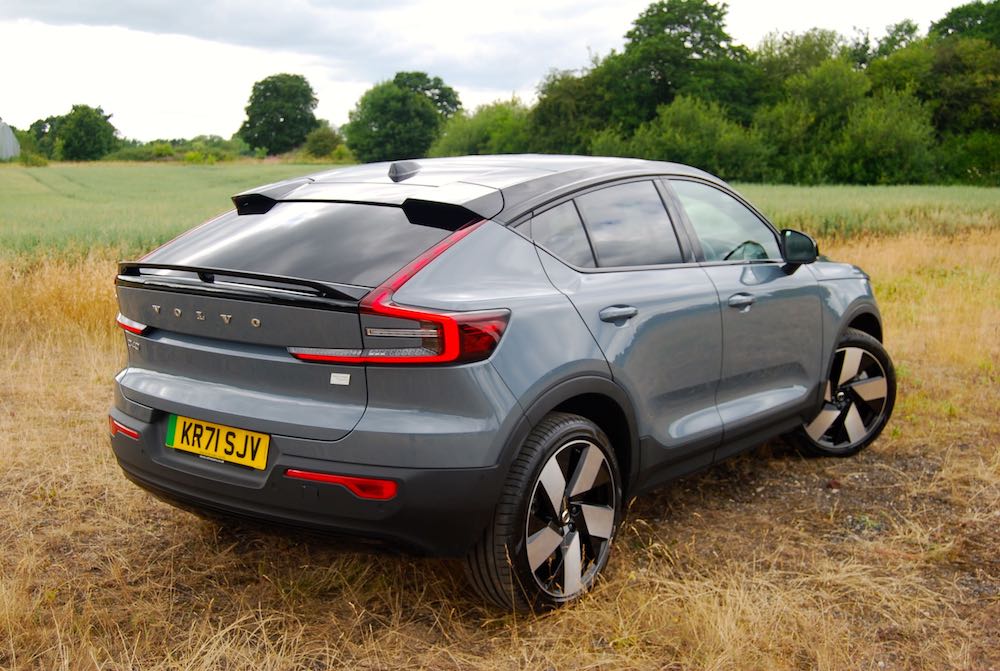 How quick is the C40 Recharge?
It comes with 408 hp, for one. Ok, it weighs over 2.1 tonnes thanks to all that electric gubbins – that's around 400Kg more than a mild-hybrid XC40. Despite this extra baggage, however, the C40 Recharge Twin Motor manages to get from 0-62mph in 4.7 seconds, and that's pretty impressive. Outright acceleration is only half the story, though, it's most electric car's party-piece if we're frank about it. What makes the C40 Recharge stand out is the way it handles all that power, and how, despite its own weight and elevated centre of gravity, there's real competence in the twisty bits.
Ok, and what about handling
Obviously having all wheels driven helps with grip, but the C40 Recharge Twin doesn't just robotically go from corner to corner well, the chassis actually has character built in, encouraging the driver to push on to the next challenge.
Downsides? That coupe roofline was always going to have an effect on rear headroom so it's no surprise that it's compromised. It also leaves the door aperture a less user-friendly shape so if it's out-and-out practicality you're after, the XC40 will be the better option.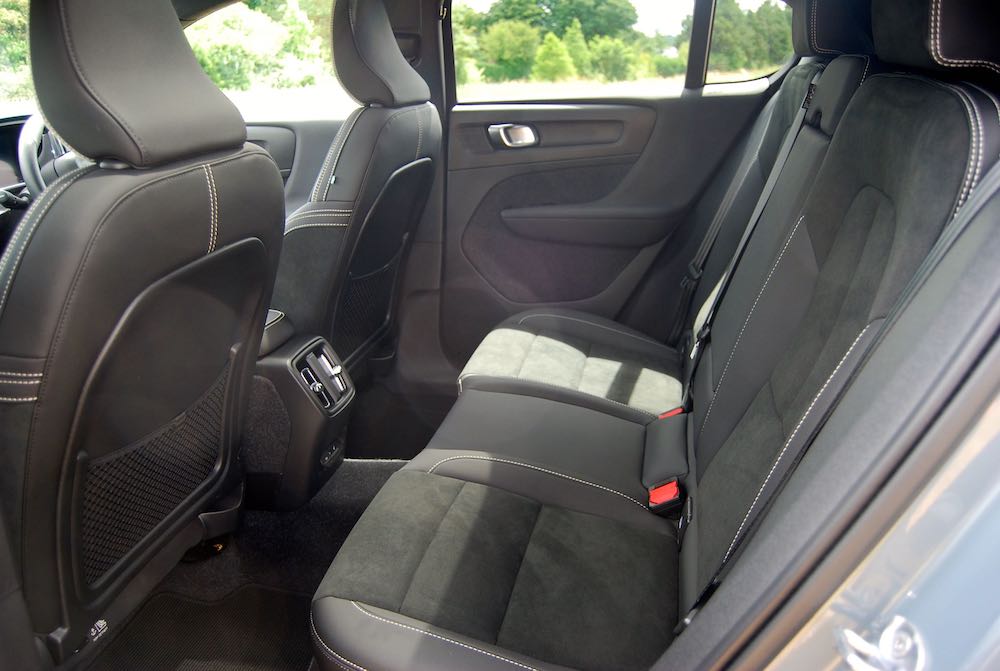 Being a Volvo, the C40 Recharge packed full of safety features that can bing and bong to alert nearby objects as much as your heart desires. And that's probably for the best as rear visibility is severely hampered; almost obliterated is perhaps closer to the truth and the only way of truly seeing rearwards is via those compensatorily oversized door mirrors.
Turning an XC40 into a C40 only equals a 39 litre loss of capacity in the boot (452 l vs 413 l). It's clearly not quite as practical as the XC due to its compromised shape but it's still not as poky as you might think.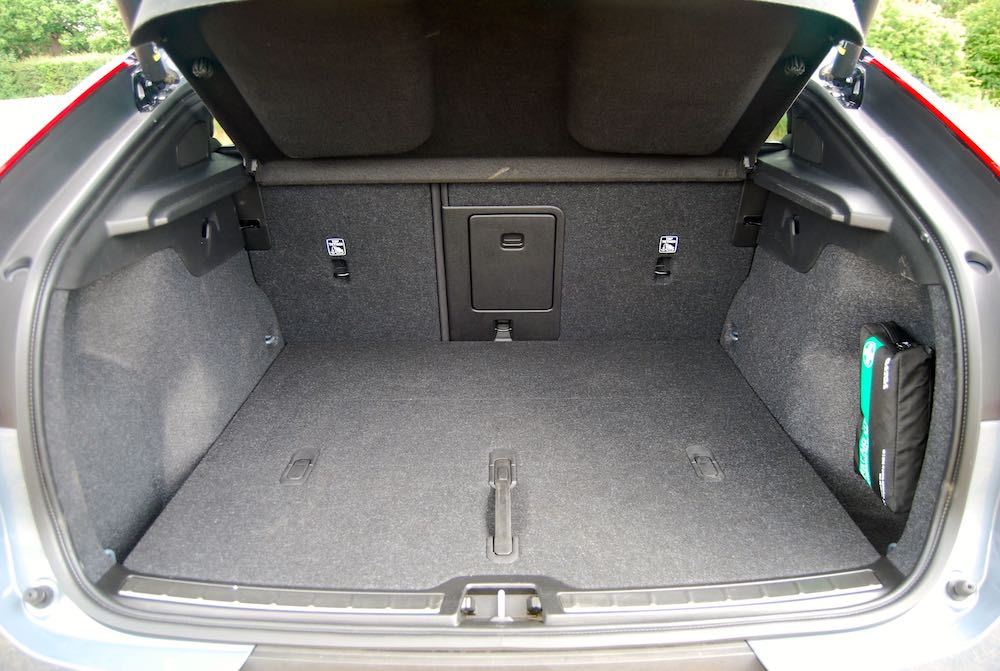 Volvo has built a well-deserved reputation over the last decade for turning out object lessons in understatedly cool interiors. Sit in the C40 Recharge and it's definitely subdued, the only real focal point being the portrait-mounted 9" infotainment screen that comes as standard across the range. Ultimate and Pro spec cars come with some slightly odd looking, camouflage light strips on the doors and dash but there's no crystal gear knob we've come to love in Volvos, regardless of spec. £55k+ apparently isn't enough to qualify for a bit of Swedish glass bling.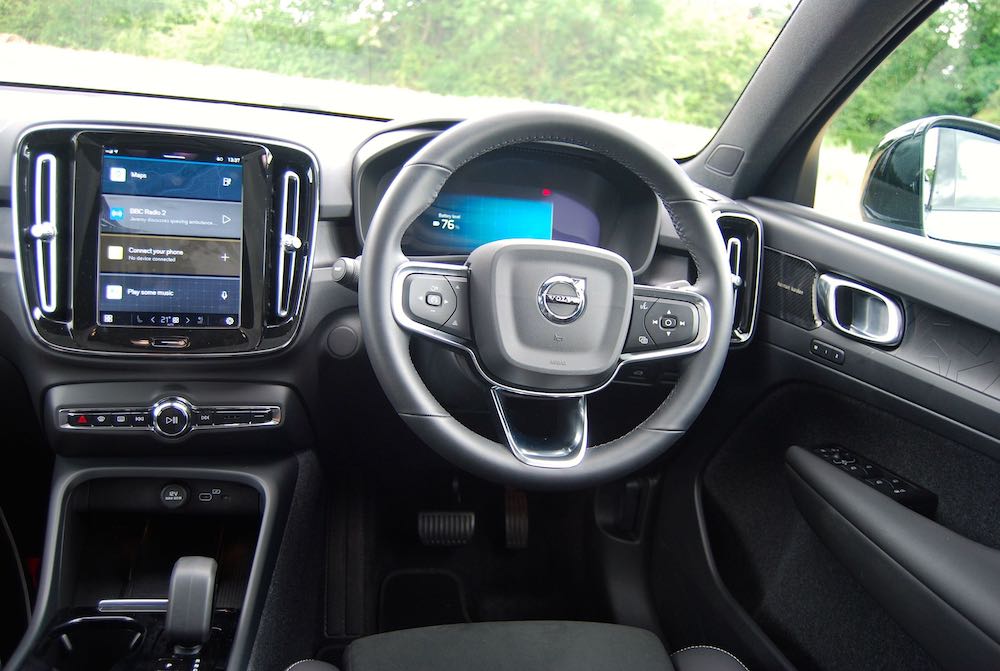 Should I buy a C40 Recharge?
The C40 Recharge looks great, regardless of spec and how many motors it's got. It's more practical than you may think, but that rear view is severely compromised. The twin motor version's USP is how much fun it is to drive, but at time of writing it's unavailable so it's single motor only at the moment which we've not driven. It may well be worth hanging on for the AWD C40 Recharge to return to the market, though.
By Ben Harrington
The Volvo C40 Recharge is available now, priced from £47,100 or £669 per month. For full details go to: www.volvocars.com