Insignia Grand Sport
Vauxhall's large exec-mobile has gone through something of an identity transformation. No longer can you buy a 'normal' Insignia, now it's a choice of the Insignia Sports Tourer (estate), Insignia Country Tourer (chunky estate) or this – the Insignia Grand Sport, which is a 5-door hatchback.
Vauxhall haven't just made an adjustment to their name-badge-making machine,  (that must be what it's called) though. The Insignia Grand Sport is infinitely more appealing than the somewhat rather beige model it replaces. It's sleeker and sportier, and it's taken on a kind-of coupe look; think Arteon, A5 – that kind of thing.
That said, even without the Griffin perched on its nose, the Insignia Grand Sport's bloodline is still easily recognisable. This is due not only to the family trapezoidal grille and severe headlights, but also to that signature line running rearwards from the base of the front wheel arch, kinking up to meet the top of the rear wheel arch.
Even more room 
So, visually more appealing it may be, but the Insignia Grand Sport is now a more pleasant place to inhabit, too. Thanks to an increase in length and wheelbase of 55mm and 92mm respectively, it's positively palatial inside and anyone sat in the rear seats will be grateful for added space all-round, despite the more rakish roofline.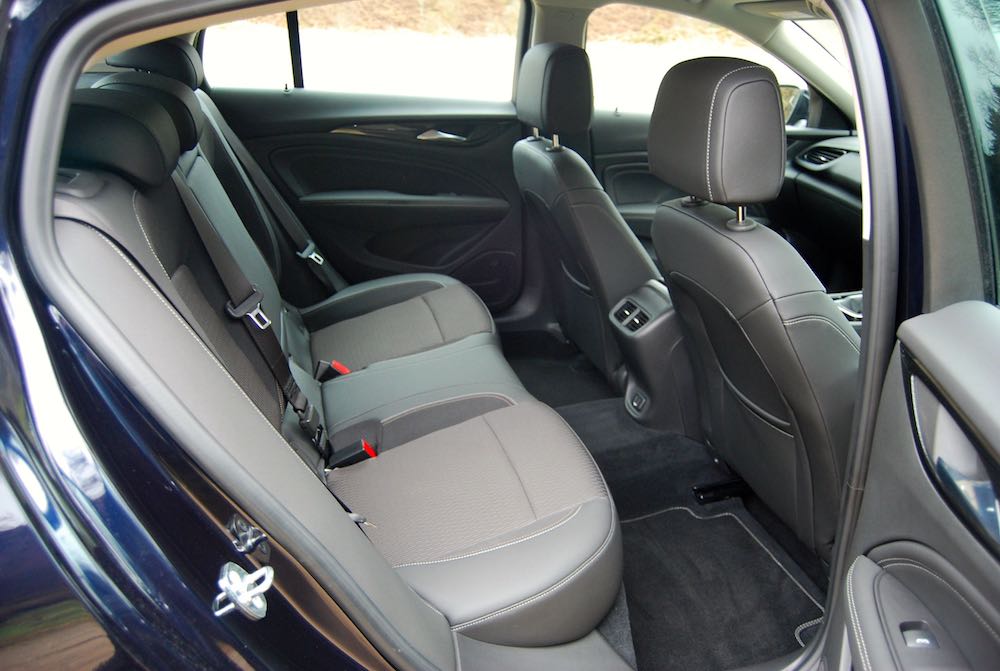 Some boot space has apparently been sacrificed to allow even more room inside for actual people, but it's still a whopping 490l, 1450l if you collapse the rear seats. Not only this, but it's a long boot with a shallow drop so getting any large items in and out is a doddle.
The Insignia Grand Sport is available in a choice of no less than 7 trim levels, although two of them are simply existing ones with sat-nav bolted on. As you might expect, the selection of engines are dominated by diesels with a 1.6l in 109bhp or 134bhp guise and a 167bhp 2.0l, both of which can be mated to manual or automatic transmissions, with the more powerful engine available with an 8-speed 'box.
Not just about diesel power
It's not all about the diesels, though, Vauxhall are also keeping some faith in petrol power, which is probably a sensible decision these days. There's a 1.5l turbo in either 138bhp or 163bhp outputs and right at the top top the pile is a 2.0l 257bhp unit that drives all four wheels via an 8-speed automatic transmission.
There's been a huge improvement to Vauxhall's interiors of late, and the Insignia Grand Sport is no different. The switchgear feels solid, the seats are comfortable and well positioned and the stitching on our optional leather trim has reassuring attention to detail. Function gives way to form slightly as rear visibility is impeded by those wide C-pillars. They're an important part of the Grand Sport's new image, though, so that's a sacrifice worth making.
The Intellilux LED headlights our car's fitted with may be a £1010 option, but they really are clever. Their 64 (sixty-four) elements adjust to oncoming traffic, as well as not blinding drivers in front. If that fails to impress, perhaps the little dancing light show you're treated to when the car's locked or unlocked might justify the expense. Or maybe that's just me.
Our 1.6l, 109bhp Insignia Grand Sport is the least powerful of the bunch, and it does feel like it struggles with the car's overall weight. That said, it is impressively economical, with a claimed combined mpg of 70.6 whilst emitting just 105g/km CO2. Performance naturally improves with the more powerful models, but despite the Grand Sport name tag, its heavily assisted steering and eerily quiet sound deadening keep the Insignia more suited to comfortable motorway munching.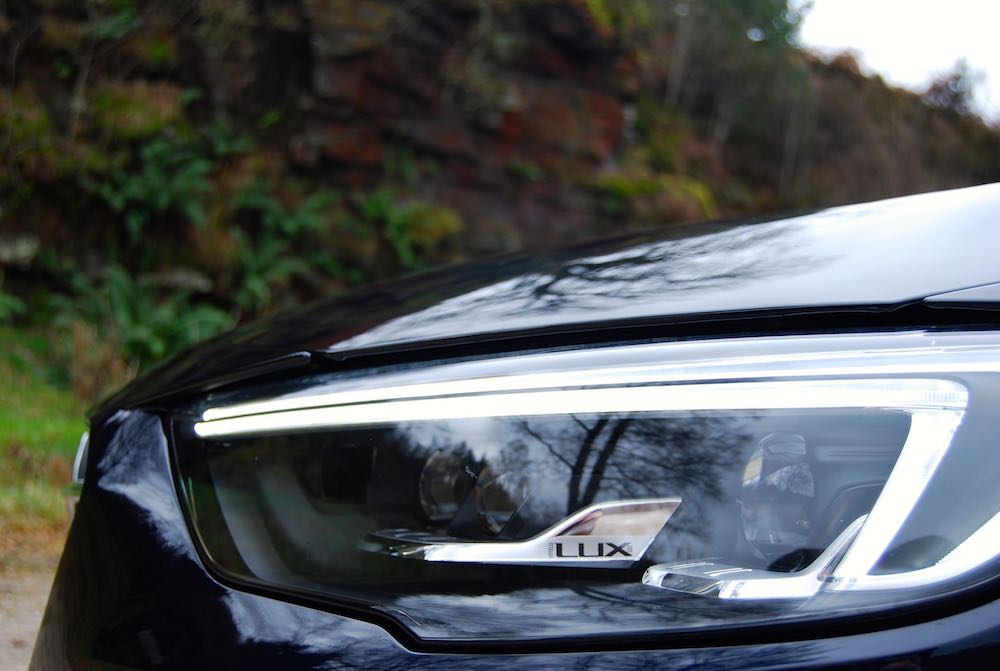 Should I buy an Insignia Grand Sport?
One thing that's hard to argue with is just how cheap the Insignia Grand Sport is when compared to the traditional competition. The 163 & 138bhp petrol Insignia Grand Sports are the lowest priced, starting at £17,935 & £17,635 respectively. They inevitably lose out to the diesels in terms of economy and emissions, but they're both returning over 47mpg and the CO2 they produce is under 140g/km, so they're not ridiculous. Unless you're planning on doing mega-miles, they're definitely worth a look, especially if you want a bit more performance.
The Insignia Grand Sport has come a long way since it was just an Insignia. It's far more appealing to look at and drive, and it's also bloomin' massive. Just don't expect too much in the way of Sport, it's still a car that's happiest covering large distances.
By Ben Harrington
Vauxhall Insignia Grand Sport Tech Line ecoTEC Specifications:
Engine – 1.6l 4-cyl diesel, Layout –Front engine, FWD, Transmission – 6-speed manual, Power – 109bhp,Acceleration –0-62mph – 10.9s, Maximum Speed –131mph, Maximum Torque –300Nm @ 1750 rpm, Economy – 70.6 mpg combined, Emissions –105g/km CO2, Price – £21,670 OTR, £25,995 as tested
The Vauxhall Insignia Grand Sport is available now. For full details go to: www.vauxhall.co.uk